Latest News and Results ...
Please send any Harriers results to news@ilkleyharriers.org.uk - they'll be forwarded to Paul for this web site and to Alison W for the newspaper report.
Harriers races coming up ...
The Ilkley Incline, Wed 7 Sep
The only way is up, so start training now! Details
The Ilkley Aquathlon, Sat 17 Sep
Swim, run, pre-entry only and filling up fast! Details
Santa Fun Run, Sun 20 Nov
Ho ho ho, we are organising Santa races on Ilkley Moor this year to raise money for the new athletics facilities. The races are in November but you need to enter now to book your Santa suit (it takes the elves a while to make the suits). More information and entry forms on the junior website's fundraising page
Pomona King of the Mountains, Sun 24 Jul
From Mark Mon-Williams ... Pomona is a small town in the hinterland of Noosa (Queensland, Australia) that has a single distinguishing feature - a large lump of volcanic rock named Mount Cooroora. In 1958, a bloke called Bruce (what else?) ran to the top of Mount Cooroora (438m) and told his mates in the bar (where else?) that he'd managed it in under an hour. Bruce's mates didn't believe him and so he did a demonstration run and thereby started the annual "King of the Mountain" race. The KoM race is now a big event in the area and attracts a large crowd. The race itself makes Coniston Gullies look like a parkrun...there is a large rock section with a chain that runners need to negotiate to get to the top. Ruaridh Mon-Williams was holidaying in Queensland with his family (returning to Brisbane - his birthplace - for the first time in 18 years) and decided he'd enter the race. The race was a fantastic affair with the runners first doing a short run down the main street (where the race starts and ends) and being introduced to the crowd. The whole community line the route and there are more rescuers on the mountain than runners. Ruaridh had a great run to finish in third place and first under 20 year old, with first place going to the 2016 Australian Mountain Running champion (Mark Bourne) and second place to a New Zealand runner. Ruaridh's parents were delighted (primarily with the fact that the small print about competitive sports in the travel insurance didn't need to be contested...) but now worrying about how to get his prize (a unicycle) home...
Results ...

(1 23:53 Mark Bourne)
3  27:18 Ruaridh Mon-Williams (1st Mens Junior)
94 finished

Trans d'Havet Harrier, Sun 23 July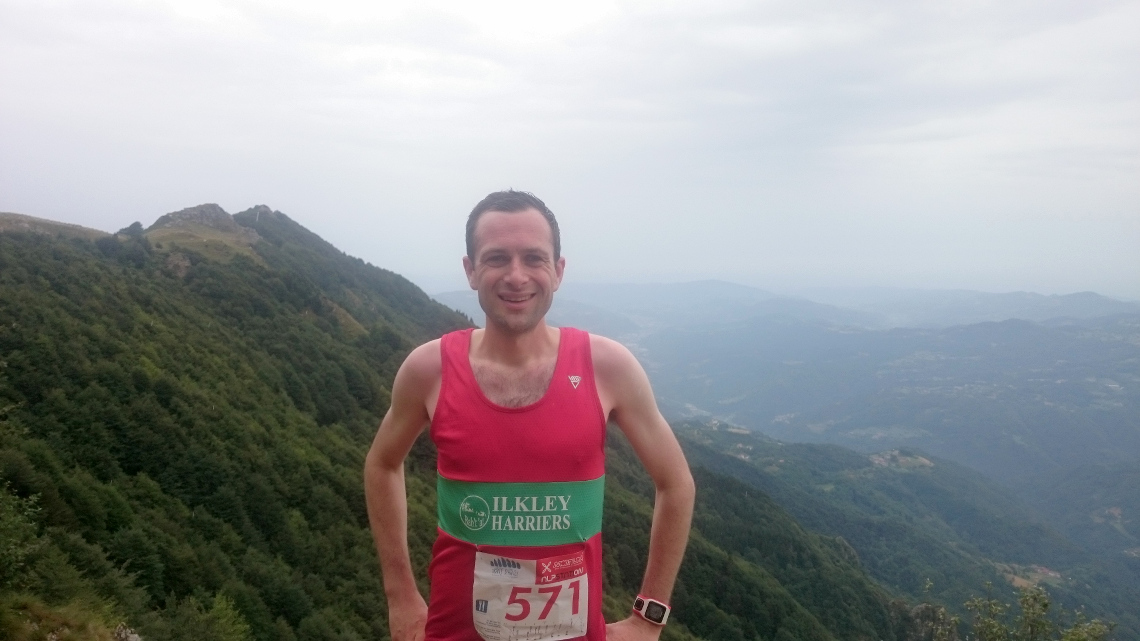 From Alex Hirst ... on Saturday I completed the Trans d'Havet mountain marathon in the Italian Alps. Running up and down some pretty intense peaks for 40k (the short race!)
Out of 250 on the start line only about 150 completed the race (of which I was 74) with my good friend from the States Braden who currently lives in Florence alongside me. As the only Brit and American we gave the event an international flavour!
Results(not a marathon PB event) ...
Bingley Show fell race, Sat 23 July
Photos and provisional results on woodentops.org.uk

1  38:17 Tom Adams
11 47:11 Martin Archer
12 48:06 Gavin Lamb
144 finished?

Cracoe fell race, Sun 17 July
From Mary Gibbons ... 2.6 miles, 900 feet of climbing. Straight up, around the 'pointy thing' and back down again... the tried and tested fell formula. Well done to the Gibbons pair (not related) out for Ilkley Harriers.
Results ...

(1 21:05 Simon Bailey, Mercia)
13 25:25 Iain Gibbons
52 31:31 Mary Gibbons
86 finished

Bramham 10k, Sun 17 July
From Harry Sime ... Robert Sime and I were at this inaugural 10k run in Bramham. It was a very friendly event ran by the Parish council. Lots of marshals and a large pavilion with changing rooms and most importantly lots of home made cakes and refreshments at the end plus a medal and loads of free photos. A nice quick first km on the road was as easy as it got with some fairly rough tracks making up most of the course. It was quite undulating and a very steep 200m climb in the final km. Virtually no shade and very little breeze so it felt much warmer than 19 degrees. We were quite steady paced ignoring the first km and glad to both cross the finish at 49.37 or thereabouts. Within hours got a message about improvements planned for 2017. Nice car and tractor free course.
Results ...

(1 35:46 Paul Milgate, Wetherby)
36 49:36 Harry Sime
37 49:38 Robert Sime
64 56:17 Timothy Ratcliffe
103 finished

Snowdon Internation mountain race, Sat 16 July
From Alison Weston ... Four Harriers took part in the Snowdon Internation mountain race up and down from Llanberis. It was wet and misty but not unpleasant running conditions. Michael Lomas had a great race to be first back for the Harriers in 1:29:07, followed by Kate Archer 7th lady in 1:36:15, Alison Weston 1:47:02 (2nd LV50) and Martyn Stocker 1.52:15. Results ...
Ingleborough fell race, Sat 16 July
From Dan Wilkinson ... A classic up and down gala race from Ingleton to the top of Ingleborough. Billed as an AM category race, it's got to be the easiest of this category on the calendar, useful for anyone wanting qualifying races for the likes of the 3 Peaks. I managed to place in the top 10 and with the V40 prize so I came home with my best prize haul at a race ever £35 in Pete Bland vouchers. Nick Pearce won the V60 category and Paul Carman and Jane McCarthy also ran placing well.
Results ...

(1 48:53 Nick Leigh, Horwich)
6  53:12 Dan Wilkinson
17 56:25 Paul Carman
42 63:15 Nick Pearce
47 64:20 Jane McCarthy
76 68:35 Jann Smith
128 finished

DT 30 Muker, Sat 16 July
From Gavin Lamb ... Great series of races which I will be putting all 3 in my diary for next year, albeit I was underprepared on this one when my legs packed in with 10km to go!
  
(1 2.30:21 Ben Hukins)
11 2.53:03 Gavin Lamb
217 finished

parkruns, Sat 16 July
From Petra Bijsterveld ... Results ...

Harrogate Stray
(1  17:18 Ciaran Forde, Horsforth Harriers)
189 26:45 Julie Elmes
348 ran

Hilly Fields Lewisham
(1  18:16 Mark Callaghan, Dulwich Runners)
2   18:27 Alex Hirst
207 ran

Temple Newsam
(1  17:59 Dominic Petersen, Leeds City AC)
25  22:27 Tom Worboys
181 ran

Skipton Aireville Park
(1  16:53 Matthew Merrick, Bingley Harriers)
84  27:05 Polly Crawley (junior)
182 ran

Washburn Valley relays, Fri 15 July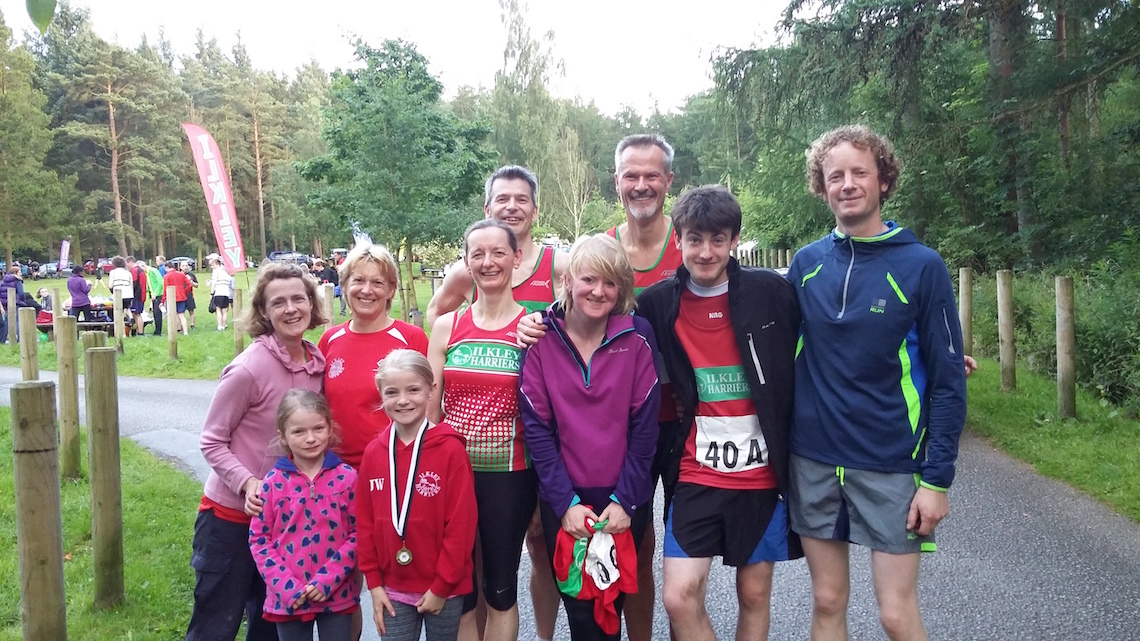 From Val Kerr ... We had 3 mixed teams and 1 men's team in these relays, run around Fewston and Swinsty reservoirs in the Washburn Valley. As is customary for this event there was a lovely friendly atmosphere with plenty of support on the final 'hill' at the end of each leg. The evening was warm and muggy, which made the running more difficult than it should have been for the distances involved and brought the midges out in force as the evening went on. There were some great performances with Jack Cummings finishing in 2nd place and Paul Carmen finishing in 6th place on Leg 1 and Martin Archer finishing in 7th place on Leg 2.

Ilkley Late Arrivals
Leg 1    Paul Carmen          18:49 (6)
Leg 2    Martin Archer        24:31 (7)
Leg 3    Andrew Sheldon       22:24 (27)
(1:05:44 - final position 8)

Ilkley Mixed Bag
Leg 1    Jack Cummings        17:27 (2)
Leg 2    Ben Joynson          26:25 (10)
Leg 3    Mary Gibbons         23:45 (40)
(1:07:37 - final position 15)    

Ilkley Mixed Spice
Leg 1    Jean Sullivan        23:44 (39)
Leg 2    Jane McCarthy        27:34 (35)
Leg 3    Richard Joel         21:17 (14)
(1:12:35 - final position 27)

Ilkley Allsorts
Leg 1    Val Kerr              25:15 (55)
Leg 2    Andrew Jackson        30:04 (50)
Leg 3    Petra Bijsterveld     28:04 (65)
(1:23:23 - final position 57)
(72 teams took part)

Ilkley Harriers Race League
From Jane McCarthy ... The Harriers League is now up to date to include the three races in June - Wharfedale Trail Half Marathon, HDSRL(3) at Thirsk (Road) and Buckden Pike Fell Race. There were many strong Harrier performances - including top 3 finishes for Matt Cox at Wharfedale Half and Jack Wood second at Buckden Pike. From a League perspective, the best scores (age adjusted) were earned by Matt Cox and Nick Pearce (102 and 101 points for the Wharfedale Half), Norman Bush with 101 points at Buckden Pike, and Sally Malir with 98 points for Thirsk. With results to the end of June, Jack Wood still leads the Fell category (4 races), Hilda Coulsey now leads Trail (4 races) and Steve Murray leads Road (3 races). Overall, Lucy Williamson is still in top position after 8 races and 674 points, followed by Michael Duffield. Peter Lewis cleverly nominated an excellent result at Beamsley Fell as his Wildcard and moves to 6th place. Nick Pearce, after recent superb results is in 5th, with the highest average race score after completing 5 League races. Plenty more to come! We have had Addingham Gala last weekend, and next races in August are Round Hill in Fell (7th August) and Burnsall 10 in Road (24th August). Good Luck Everyone! More ...
Ilkley Harriers of the Month, June
Runner of the month:
Paul Carman
parkruns, Buckden Pike, Beamsley Beacon, Kettlewell results
Other nominations were:
Matthew Cox (results at Wharfedale half marathon and Beamsley Beacon fell race)
Outi Kamarainen (Jura and Highlander results)
Jack Cummings (results at Beamsley Beacon and Badgerstone relays)
Dan Wilkinson (results)
men's Badgerstone relay team (Ruraidh M-W, Dan H, Jack C)
Mary Gibbons (progress and dedication to training)
Jann Smith (commitment to fell races and parkruns)
Volunteer of the month:
Andy Wolfenden
'Away runs'
Other nominations were:
Hilda Coulsey (beginner's group)
Jane Bryant (beginner's group)
Jane McCarthy (encouraging updates on Harriers league).
More Harriers of the Month ...
Leeds 10K, Sun 10 July
From David Green ... Eleven Harriers took part in the 10th Jane Tomlinson Race for All Leeds 10

(1   31:51 Jamil Parapia, Leeds City A.C.)
417  44:22 Rhys Jones
476  44:41 Erin Keating
526  45:44 Harry Sime
543  45:52 Robert Sime
1323 49:47 David Green
1443 52:26 Charlotte Smithson
1684 52:35 Alex Hyde
3001 62:24 Abigail Bailey
3389 52:12 William Woodhead
3594 52:57 Donna Hattersley
5421 68:13 Annabel Bailey
6733 finished

Addingham Gala fell race, Sat 9 July
From Dan Wilkinson ... The Gala Race, now in its 7th year, was won by Liam Dunne and our own Jemima Elgood who smashed the women's course record by 45 seconds and came 4th overall. A great turnout from Harriers with Paul Carman and Jann Smith both in the top 3.
Results

(1 44:08 Liam Dunne, Otley)
2  44:40 Paul Carman
4  46:17 Jemima Elgood
5  46:40 Gavin lamb
8  48:13 Dave Robson
9  49:07 Richard Joel
10 49:36 David Foyston
18 52:05 Julian Carter
20 52:19 Stephen Murray
22 52:27 John Hayes
26 54:10 Paddy Hagan
30 55:12 Jann Smith
44 62:25 Geoff White
48 65:03 Peter Lewis
56 finished

Borrowdale half marathon, Sat 9 July
From Paul Sugden ... results ...

(1  1:40:07 Oliver Smith)
42  2:17:55 Stuart Herrington
83  2:38:10 Dave Ibbotson
120 3:04:43 Paul Sugden
121 3:04:45 Donna Hattersley
150 ran

Sedbergh Sports fell race, Sat 9 July
From Alison Weston ... Kate, Martin and myself took part in the Sedbergh English and British fell race on Saturday. A short and steep marked route (5.6km/400m) in wet, misty weather. It was very competitive with men and women racing separately and runners packed closely together. Graham's photos (though much appreciated) are not very complimentary to many runners - everyone looks pretty spent by the time they got to the final descent!
Graham Weston's photos.
Results

Men
(1  24:58 Simon Bailey, Mercia)
122 31:30 Martin Archer
232 ran

Women
(1 29:05 Victoria Wilkinson, Bingley)
36 36:36 Kate Archer
48 37:33 Alison Weston
98 finished

Baildon Canter, Sat 9 July
From Robin Nicholson ... results ...

(1 1920 Micaael Malyon, Bsildon)
8  23:00 Robin Nicholson

parkruns, Sat 9 July
From Petra Bijsterveld ... A first finish for Alex Hirst down at Hilly Fields this week. Results ...

Leeds Woodhouse Moor
(1  16:54 unknown)
14  18:49 Oscar Stapleton (junior)
289 ran

Harrogate Stray
(1  18:04 Mark Bryant, Harrogate Harriers)
30  21:01 Tom Worboys
185 26:13 Julie Elmes
379 ran

Skipton Aireville Park
(1  17:45 Sam Watson, Wharfedale Harriers)
63  27:14 Polly Crawley (junior)
130 ran

Hilly Fields Lewisham
1   17:24 Alex Hirst 
192 ran

Stirton fell race, Wed 6 July
From Jann Smith ... 5.6miles / 1181ft

(1 38:55 Sam Watson, Wharfedale)
3  40:18 Paul Carman
28 50:10 Jann Smith
76 ran

Danefield Relays, Tue 5 July
From Val Kerr ... It was fantastic to get five teams out for these relays on Tuesday evening (three men's and two ladies teams). Conditions were perfect for running - sunny and slightly breezy, which kept the midges at bay. There were some great performances especially from Jack Cummings, Dave Wilby (making a return to running after injury) (12th team) and Rosie Darwood, running one of her first races for the club. I was a spare but ran round the course anyway and received much support from the marshalls! The race was won by a team from Pudsey and Bramley. 113 teams took part. Results ...
Skiddaw fell race, Sun 3 July
From Robin Nicholson ... Results ...

(1 65:18 Jonathan Albon, U/A)
46 88:04 Ruaridh Mon-Williams
59 89:33 Robin Nicholson
135 finished

Saunders Lakeland Mountain Marathon, 2-3 July
From Sarah Edwards ... For those that don't know the Saunders is a two day event where competitors set off from an event centre somewhere in the lakes on Saturday morning. This year we started at Pooley Bridge. They must navigate through a number of control points to end the day at a mid camp, which was in Deepdale this year. You carry your kit for two days including tent, sleeping bag, stove, food, spare clothes etc, camp overnight Saturday then return to the event centre via an alternative route through Sunday. There are a number of different courses of varying length and difficulty, most of which require you to work as a team of 2. I did the Wansfell (bottom) class this year with my dad. He completed the Joss Naylor challenge last weekend in 13 hours 39 so we thought we'd best stick to the easiest option. The weather was wet and windy on Saturday making for a chilly day in the hill for all. We were lucky to arrive at mid camp at 12.00 noon and avoided the worst of the weather snuggled in our tent. Others were not so lucky. Sarah and John Hayes had a gruelling 8 hour day in Kirkfell class and arrived very cold a wet late in the afternoon. Visibility was pretty good allowing for quick navigation. Sunday dawned much brighter and warmer with beautiful views across the lakes. Dad and I set off 4th in the chasing start and made up a place despite a navigation error that cost us a good 15 mins. We finished 3rd overall. My wife and mum did their first mountain marathon as a team and finished 53rd after some great navigation and effort by both.
From Mary Gibbons ... I agreed to do the Kirkfell Class with my friend Simon Freytag in a moment of madness. Outi Kamarainen and Edward Ingham (Aire) finished 21st overall. They were the fourth mixed pair in 11:09:02. Simon and I were 41st overall and seventh mixed team in 14:16:29.
This was my first mountain marathon: I throughly enjoyed it, despite the unrelenting rain on Day One and falling over on the top of High Street! The exhilarating landscapes and sense of achievement on crossing the line made it memorable. I strongly recommend it. Special thanks to Outi, Alison, Ben and Jack for sound advice (and kit). Your encouragement has been greatly appreciated; we are lucky to have you at the club.
Eccup 10, Sun 3 July
From Petra Bijsterveld ... Results ...

(1    53:46 Jason Cherriman, Leeds City AC)
102 1:11:10 Rachel Carter 2nd F40
304 1:21:10 David Ibbotson
377 1:24:00 Caroline Howe
475 1:28:53 Donna Hattersley
479 1:29:13 Alex Stanley-Hyde
559 1:33:40 Petra Bijsterveld
821 ran

Lakeland Trails 110km, Sat 2 July
From Jane McCarthy ... Dick Waddington, Andrew Merrick and I took on the 110km Ultimate Trails Challenge (second year for Dick and I, Andrew Merrick doing it for the first time to make the 3-strong Harrier 'team') at the weekend. This as a tough, challenging ultra marathon course over (almost) 110km through some of the most dramatic mountain scenery in the Lake District. It includes 6 mountain passes, 5 lakes, 14,000 ft ascent/descent, and with (thank goodness) 8 feed stations. The weather was also challenging this year, with our midnight start shortly preceded with torrential rain that resulted in a 'waterproof trousers on/ trousers off' routine on the start line. This set the tone for most of the next 16 hours, which, while still showcasing our beautiful Lake District, was evenly soggy and boggy aswell. From my own personal viewpoint, it felt harder than last year. Not as much training as I should have done, coupled with a cold last week, and I thought I might pull out early on. But having made it halfway, and being met by Helen (Waddington) who provided hot tea and a restaurant-style selection of food, I started to feel a lot better and decided it would be a bit rubbish not to continue. Especially as Helen was going to be at the rest of the checkpoints, along with lots of friendly supporters giving us a welcome cheer and reassurance that it wasn't too far to go (even though it really was). Andrew, Dick and I stuck together for most of the way which made the whole experience much more enjoyable. Dick ran strongly throughout and Andrew put in an amazing performance for his first time at this sort of distance. I would recommend the event to anyone looking to take on a big distance challenge, but without the stress of navigating. There is also a 55km option, which looking at the relatively fresh and bright finishers coming in amongst the 110km finishers (the 55km having started at 10am) might be worth considering.
Results ...

(1 12h36:07 Andrew Horrobin, U/A)
42 16h19:09 Jane McCarthy 3rd lady
43 16h19:10 Dick Waddington
49 16h35:22 Andrew Merrick
211 finished

European Mountain Running Championships, Sat 2 July
Well done to Tom Adams, 17th overall and part of the Bronze-winning GB team.
parkruns, Sat 2 July
From Petra Bijsterveld ... A first finish for Alex Hirst down at Hilly Fields this week. Results ...

Leeds Woodhouse Moor
(1  16:52 Nick Little, U/A)
74  22:05 Harry Stead (junior)
428 ran

Harrogate Stray
(1  16:59 unknown)
45  21:40 Jann Smith
362 ran

Leeds Roundhay Park
(1  18:09 unknown)
25  21:27 Tom Worboys
270 ran

Hilly Fields Lewisham
1   17:44 Alex Hirst
210 ran

Skipton Aireville Park
(1  18:00 Jake Ridding U/A)
3   18:24 Oscar Stapleton (junior)
9   20:37 Steve Murray
22  22:50 Robert Budding
26  23:11 Will Worboys
57  25:34 Polly Crawley (junior)
134 ran

Fountains Abbey
(1  16:56 Gary Dunn, Thirsk and Sowerby Harriers)
78  23:39 Norman Bush
302 ran

Summer Mile, Wed 29 June
From Petra Bijsterveld... Helen Waddington and I were the only two Harriers running at the annual Summer Mile in Hyde Park, efficiently and cheerfully organised by Hyde Park Harriers. Tom Adams was prevented from defending his 2015 win by being in Italy for the European Mountain Running Championships. The mile is run over an almost flat two lap course on the tarmac paths, with chip timing and a beautiful medal for all. We were set off in 14 consecutive heats of about 20 runners each, matched for predicted pace and gradually getting faster. There was also a heat of race walkers (winning time 6:08!!). After heavy rain much of the afternoon we had a lovely sunny evening which made the whole event very pleasant, apart from the small inconvenience of having to run that mile.
How hard can it be? Though I had never raced a mile before I was under no illusions that it was going to be anything other than very unpleasant. And I was right. The start was just ever so slightly uphill and after about 200 meters I already felt like stopping and lying down. However, by focussing on overtaking one of my office colleagues I managed to gain momentum, and by the second lap it actually felt slightly easier, within the spectrum of terrible agony that is. The going was not entirely without hazard as it was slippery after the rain, the tarmac was broken and uneven in some places, there were a few corners to negotiate and the setting sun was in our eyes. All good excuses! Helen ran a fantastic 7:02 to come second in her category and I was pleased enough with 7:48. I also managed to stay ahead of my colleague so the office hierarchy has been maintained. Thanks to Neil Chapman for coming down especially to support and encourage us from the sidelines which I am sure knocked a couple of seconds off.
Results ...

(1  4:48 Adam Stacey, U/A)
135 7:02 Helen Waddington
170 7:48 Petra Bijsterveld
216 ran

HDSRL Handicap race, Tue 28 June

(1   44:27 Kevin-Malachy Murphy, Harrogate Harriers, first finisher)
(132 30:05 Paul Millgate, Wetherby, fastest runnner)
43   35:22 Steve Murray
58   42:08 Geoffrey White
110  51:46 Tracy Russell
111  51:46 Sally Wright
203  42:04 Sarah Hayes
208  51:39 Laura Dawes
215  37:50 Lucy Williamson
218  51:27 Donald Macrae
232  53:23 Sue Williamson
240 finished

Wharfedale 2 Peaks Challenge, Sat 25 June
From Val Kerr ... I had decided to enter this 13.5 mile event (run by the Upper Wharfedale Fell Rescue Association) as a road back to fitness as it was billed as a challenge rather than a race and I knew that I could always walk if the going got tough. Adela Reperecki had also entered so we decided to go round together. The first part of the challenge involved a very hot 2 mile run along the Dales Way footpath from Kettlewell to Starbottom. This was followed by a long, hot ascent of Buckden Pike via the lead mine path and an extremely boggy descent down past the war memorial to Cam Gill Road. After drinking copious amounts of water at the refreshment station we headed up Great Whernside and finished off with a lovely run down through the grassy fields back into Kettlewell. A paddle in the river, pie and peas and lovely cakes greated us in Kettlewell village hall. Our finishing time was not impressive (3:22:00) but was immaterial as we had both enjoyed being back on the fells again.
Buttermere Horseshoe, Sat 25 June
From Jack Wood ... Me and Dan took on the Daz Holloway Buttermere race on Saturday and were beaten! The route is a 22mile (2500m climb) horseshoe going up one side of the Buttermere valley to Honister Pass and coming back the other. I felt fine for the first couple of hours but then the wheels started coming off and spent much of the second half walking. Dan made it to Newlands Hause but the refreshments put on there by the marshals were so good he just couldn't go on. A great selection of cakes were a consolation at the finish.
Results ...

(1 4:18:06 Simon Booth, Borrowdale)
18 5:14:03 Jack Wood
76 finished

parkruns, Sat 25 June
From Petra Bijsterveld ... Results ...

Leeds Woodhouse Moor
(1  16:30 John Hobbs, Valley Striders AC)
29  20:35 Tom Worboys
346 ran

Bradford Lister Park
(1  16:51 Craig Shearer, KCAC)
95  25:37 Alex Stanley-Hyde
352 ran

Harrogate Stray
(1  16:25 Andy Grant, Harrogate Harriers)
184 25:58 Julie Elmes
369 ran

Skipton Aireville Park
(1  18:12 Jake Ridding, U/A)
5   18:59 Paul Carman
31  21:44 Jann Smith
108 27:43 Polly Crawley (junior)
181 ran

Hilly Fields Lewisham
(1  17:12 Jonathan Tipper, U/A)
4   18:05 Alex Hirst
205 ran

Beamsley Beacon fell race, Thu 23 June

(1  36:47 Ali Burns, Valley Striders)
7   38:00 Matthew Cox
10  38:36 Jack Cummings
13  39:50 Paul Carman
15  40:35 Ben Sheppard
36  43:01 Paul Calderbank
40  44:07 John Hayes
45  44:48 David Fotsyon
48  44:59 Jane McCarthy 2nd lady
72  48:36 Chantel Busby
83  49:08 Lucy Williamson
88  49:42 Mary Gibbons
89  49:46 Jann Smith
91  50:11 Paul Stephens
93  50:17 Outi Kamarainen
103 54:19 Alison Weston
115 58:12 Peter Lewis
124 63:51 Amanda Newham
128 finished

Solstice Saunter, Mon 20 June
From Alex Hyde ... A beautiful evening on the longest day saw the inaugural Solstice Saunter 5 mile race at Bolton Abbey. A challenging course with some serious slopes through Strid Wood out to Barden bridge and back finishing opposite the Cav Pav. The small matter of a clash with England v Slovakia meant that the field was 75% female which gave me a rather flattering finishing place of 98th out of 457 in a time of 47:01 .... but I'll take that!! Great organisation, lovely atmosphere and a medal and bottle of Timothy Taylor's at the finish made it all worthwhile.
Pudsey 10k, Sun 19 June
From Paul Stephens ... A superb multi-terrain 10k which I first ran in 1994 although the course has changed a couple of times since. Well organised and friendly with markers every kilometre and plenty of marshalls and spectators. I was a couple of minutes off the pace this year and finished 116 out of 476 in 49:22. The first 2km are on the road followed by about 5km on rough tracks and a muddy footpath through the woods in the Fulneck valley before a steep climb back into Pudsey and the final 3km on the road. At the finish, fruit - I had a banana - and a flourescent orange technical t-shirt. Sue Williamson was the only other Harrier there. Her first time. I hope she enjoyed it.
Results ...

(1  35:26 Tesfaye Debele, Leeds)
116 49:22 Paul Stephens
386 67:50 Sue Williamson
476 finished

Buckden Pike fell race, Sat 18 June
From Sarah Edwards ... This was a short 4 mile fell race but threw as much as they could at us in that distance (including 1500ft of climb): very steep scramble up from the start, not so steep runnable up, a bit of flat then a runnable descent followed by a leg wobbling final downhill. Throw in a river crossing, stile and a wall to jump over at the end and there's nothing more a fell race needs. Except tea and ice cream afterwards (which was available at the gala)! Great afternoon. Results ...

(1 34:17 Jamie Parkinson, P&B)
2  34:51 Jack Wood
8  38:52 Jack Cummings
9  39:05 Paul Carman
14 42:14 Alex Hirst
18 43:56 David Robinson
27 45:28 Nick Pearce
29 45:32 Richard Joel
55 49:31 Norman Bush
57 49:48 Mary Gibbons
63 51:09 Jann Smith
73 52:43 Sarah Edwards
98 finished
Ilkley had 1st and 4th men's teams
and 1st ladies team

This was a counter in the Ilkley Harriers Race League.
parkruns, Sat 18 June
From Petra Bijsterveld ... Results ...

Leeds Woodhouse Moor
(1  15:50 Benjamin Douglas, Notts AC)
31  20:14 Tom Worboys
355 ran

Bradford Lister Park
(1  16:48 Sam Clegg, Idle AC)
274 31:29 Alex Stanley-Hyde
408 ran

Harrogate Stray
(1  18:02 unknown)
209 26:45 Julie Elmes
357 ran

Rushcliffe
(1  17:31 Oliver Matharu, U/A)
11  19:29 Adam Rhodes
358 ran

Skipton Aireville Park
(1  18:27 Tom Pratt, Leeds and Bradford Tri Club)
99  27:11 Hilda Coulsey
101 27:24 Polly Crawley (junior)
186 ran

Barrowford Grand Prix 5k, Fri 17 June
Well done to Tom Adams on breaking the Club 5k record of 15:06, first set by Jack Brown at Meanwood track in 1990 and equalled by Tom at this year's John Carr race 1.
Results ...

A race
(1 14:59 Ben Fish, Blackburn)
2  15:02 Tom Adama
19 16:08 Matt Newell
22 16:12 Cameron Reilly
37 ran

B race
(1 17:05 Martin Fillingham, Saltaire)
41 19:17 Mark Iley
62 ran

From Pete Shields ... Mark Iley ran well in the B race as 3rd V50. In the A race Ilkley had Tom Adams, Matt Newell and Cameron Reilly on the start line. Tom was looking to get under 15 mins, he very nearly succeeded running a very close second to Ben Fish of Blackburn Harriers in 15:02, the sub 15 is not far away from him on this form. The other Ilkley interests both ran very mature races in top class company, both got PB's - Cameron was timed at 16:12 which still keeps him as 2nd fastest for his age in the country.
Ilkley have hit a rich seam of young male athletes alongside tonight's three runners there is Jack Wood, Ruaridh Mon-Williams, Oscar Stapelton and others who can hold their own in any company, relays come to mind!!
Applause must go to Steve and Arthur the supportive fathers and Tom's wife for adding to the Ilkley presence in the inclement conditions.
HDSRL race 4, Thu 16 June

(1  26:16 Jamil Parapia, Otley)
28  30:13 Daniel Hayes
75  33:35 Steve Murray
86  34:07 Sally Malir
105 35:01 Lucy Williamson
132 36:19 Sarah Edwards
164 37:43 Sarah Hayes
197 39:53 Geoffrey White
241 41:46 Hilda Coulsey
243 41:49 Peter Lewis
256 42:47 Julie Elmes
287 45:04 Donald Macrae
299 46:22 Sue Williamson
306 46:49 Kate Lofthouse
317 48:12 Laura Dawes
319 48:45 Sally Wright
337 finished

This was a counter in the Ilkley Harriers Race League.
Swaledale marathon, Sun 12 June
Report from Alison Weston ... I decided to enter the LDWA Swaledale marathon this year, getting close on 20 years since I last ran it! A lovely route from Fremington near Reeth climbing 4,000ft in 23 miles on mainly gradual ascents. Unfortunately the mist was down at Great Punchard Gill where the only tricky navigation bit is and I did a rather long detour on tussocks with 10 other runners to find the path again!
Over 400 runners/walkers with good meal at the end and endless cups of tea. My final time was 4hrs 33 and the winner was just under 3 hours.
Howtown fell race, Sun 12 June
From Dan Wilkinson ... lovely low key long race on the eastern fells from Howtown, this race was rescued from the brink of cancellation this year. £3 gets you 14 miles and 4,200ft of climb and more cake than you can shake a stick at. Super day and I managed 4th and 1st M40, a trend for the week.
Results ...

(1 2:12:35 Matk McGoldrick Wharfedale & Phil Winskill Keswick)
4  2:15:17 Dan Wilkinson
68 finished

Hawkswick Dash Sun 12 June
From Paddy Hagan ... As steep as the last time I tried it...just as you reach the top (having scrambled up on all fours) and think you can finally stretch out, it turns out your legs have deserted you. Gravity does the rest.
Results ...

(1 11:23 Simon Bailey, Mercia)
9  13:21 Jack Cummings
13 14:02 Iain Gibbons 
37 16:33 Paddy Hagan 
44 17:41 Mary Gibbons 
73 finishers

Weets fell race, Sat 11 June

(1 38:08 Thomas Corrigan, Barlick)
33 49:00 Kate Archer
137 finished

Ennerdale fell race, Sat 11 June
From Steve Turland ... as preparation for my forthcoming BG attempt, I did the Ennerdale race at the weekend. At 23m with 7500ft of climb it was the first time the full route had been run in the last 3 years due to previous bad weather. However, the weather didn't disappoint with low cloud for much of the route making the navigation 'interesting' although spirits were high on the first summit with Joss Naylor manning the checkpoint and offering words of encouragement. A small field of 65 (due to the British Champs that day), and I finished in 20th position in just over 5 hours.
Scottish road trip - Jura fell race and Highlander Mountain Marathon
From Outi Kamarainen ... I got an entry to the Jura fell race this year and was very excited to head up to the island after all the tales of great racing and atmosphere from Dave Wilby. I had decided to cut the drive North short and left the car in the port of Ardrossan and boarded the ferry with my bike. I cycled across to the North of Isle of Arran, a short ferry ride and a cycle across Mull of Kintyre and two more ferries later, I landed in Jura on late Friday afternoon. My 'shortcut' saved about 100 miles and quite a few hours of driving in favour of nice scenery and just over 20 miles of cycling which was a good warm up for bigger things to come. The Jura fell race starts at the Jura distillery before climbing up to the Paps of Jura and then back along the seashore and the route is 28 km long with just under 2400 m of climb. The race day dawned slightly overcast but the cloud soon lifted to reveal the rocky tops in all their glory. I had been warned of the rough terrain and steep ascents and descents so took the start steady and still felt to have something left on my legs for the last decent towards the seashore 4 hours later. That feeling soon disappeared, especially once I hit the tarmac after nice and long springy descent and the last 5 kilometres on the shore road towards the finish felt really long and tough. Finlay Wild was fastest around the course in 3:09 and Jasmin Paris was the first female in 3:41 but I was very pleased that I got around succesfully in 5h 19 minutes with still being able to walk the day after. Some of the descents were very rocky as well as steep and you had to concentrate hard not to dislodge any large boulders as there were lots of runners below as you were sliding down scree. That night there were lot of happy and slightly sunburned people in the pub and later in ceilidh too and Dave was definitely right about the great atmosphere.
I spent the rest of the week cycling across Islay and Arran and visiting friends close to Edinburgh before heading up towards Cannich by Lochness for the Highlander Mountain marathon (this time in my car). It was the 10th and last edition of the race, which is a shame as it was once again a great weekend. I ran with Kirsty Bryan-Jones from Dark Peak and after slightly bad start on Saturday when we were trying to find a random boulder in hillside with only 5 meter visibility, we picked up the pace and lots of more controls to finish first day as first females and 13th position on the Score course. The mid camp had a marquee again and lots of food to buy as well as a ceilidh band but this time I managed to restrain myself to only a handful of dances as my legs were feeling the 7 hours spent running around the hills. Sunday morning was misty first thing like the day before but this time we managed to find the early controls without any problems and there was a fantastic cloud inversion once we got on top of the first peak of the day. The cloud soon cleared completely and we were trying to hunt streams for water as well as controls under the relentless sun. My legs were feeling very tired by mid day and bit later I could feel my whole body flagging, probably partly due to the heat and our progress was steady but navigation remained spot on. We decided to go for one more 15 point control with 20 minutes before our 6 hour time limit was up and ended up having to sprint the last 2 kilometres in order of not to get any time penalties. Despite not feeling that fast, we were pleasently surprised to discovere that we were 7th overall on second day's course, which also got us a first female pair and 7th overall place in the whole score class of 89 teams with some good runners behind. A great week away with two fantastic races, though I do feel like I may need another holiday to recover...
parkruns, Sat 11 June
From Petra Bijsterveld ... A first finish this week for junior Oscar Stapleton at Skipton!
Results ...

Leeds Woodhouse Moor
(1  15:57 Benjamin Douglas, Notts AC)
45  21:03 Tom Worboys
409 ran

Bradford Lister Park
(1  17:05 Will Kerr, Saltaire Striders)
31  21:34 Rhys Jones
394 ran

Harrogate Stray
(1  17:54 Stephen Ellison, U/A)
30  21:16 Helen Thurston
342 ran

Hilly Fields Lewisham
(1  17:23 Hugh Salway, U/A)
2   17:33 Alex Hirst
274 ran

Skipton Aireville Park
1   18:15 Oscar Stapleton (junior)
3   19:05 Paul Carman
20  21:59 Jann Smith
64  26:14 Polly Crawley
130 ran

League update
From Jane McCarthy ... After 9 races the league competition is hotting up! Over 100 Harriers have run in at least one League race and over 50 have run at least two. In May there were 5 races on the League calendar and some fabulous performances including wins for Jack Wood at Jack Bloor, and two wins for Tom Adams, in John Carr (1) and Ilkley Trail Race (in which a fantastic 46 Harriers ran!).
In the Overall League Competition Lucy Williamson continues to lead with 588 points from 7 races. Last year's winner Michael Duffield is in close second with 574 points, also from 7 races. Adela Reperecki and Steve Murray are currently in 3rd and 4th place. Only Matthew Cox - winner of Dick Hudson's Fell Race - has so far posted his wildcard result, gaining him 106 points.
Jack Wood leads the Fell League, Adela Reperecki the Trail League and Michael Duffield the Road League.
After the Wharfedale Half Marathon which was on June 4th the next league counter is the HDSRL Race in Thirsk on the 16th June.
Full results, calendar, and wildcard information on the Ilkley Harriers Race League page.
Ilkley Harriers of the Month, May
Runner of the month:
Donna Hattersley
for her first sub 2 hour HM at Leeds, after trying for several years, and training very hard recently
Other nominations were:
Steve Murray, a relatively new member, for dedication to racing (10 races in May!)
Dave Robson, for improving times (Wharfedale HM, Jack Bloor)
Paul Sugden, for improving times (Wharfedale HM, Over the Odda)
Tom Adams, for outstanding results (John Carr, Ilkley Trail Race, European Trials)
Adela Reperecki, for excellent results (John Carr, Over the Odda, Ilkley Trail Race)
Volunteer of the month:
Andrew Jackson
for taking the Saturday morning session in Neil's absence
Other nominations were:
Neil Chapman, for organization of the HDRSL race
Jan Carrier, for taking special care of a new runner when help was required
More Harriers of the Month ...
Kettlewell Anniversary fell race, Thu 9 June
From Dan Wilkinson ... Lovely evening race from Kettlewell, well supported by Harriers, if there was a ladies prize I think Ilkley would have won it. Chantale Busby was 3rd lady and there were vet prizes for Paul Calderbank and myself.
Results ...

(1 36:44 Ted Mason, Wharfedale)
4  39:37 Dan Wilkinson
10 41:44 Paul Carman
21 47:33 Paul Calderbank
35 50:58 Chantale Busby
38 51:03 Jann Smith
40 51:41 Mary Gibbons
72 finished

Will Ramsbotham Badger Stone Relays, Wed 8 June
From Mark Mon-Williams ... A great night of racing - many thanks to everyone who made it happen (named in the attached report). It was a great night for Ilkley Harriers and it was wonderful to see the three young and upcoming male Harriers show a clean pair of heels to Pudsey and Bramley. It's the first time in a long time that an IH team has managed to get its name on the WRBR trophy... too many P&B entries for my liking! The IH female team have had more recent success but it was great to see them complete the IH winning streak and ensure that IH won the male and female team prize in the trail race and the WRBR. Hopefully an omen for the FRA relays and the Hodgson brother relays? Special mention needs to be made of Mary Gibbons as this was her first victory - but I am sure that she will have many more wins notched against her name before long. Thanks to all runners and volunteers for making this such a special evening.
Ilkley had first men's team Ruaridh Mon-Williams, Dan Hayes, and Jack Cummings; and fastest ladies' team Alison Weston, Jann Smith, and Mary Gibbons.
Archive results etc. on the Badger Stone Relays page
Otley 10, Wed 8 June
From Helen Waddington ... perfect conditions and another great result for Jack Wood and plenty of PBs . . .
Results ...

(1  55:23 Jason Cherriman, Leeds City AC)
2   56:41 Jack Wood PB
48  68:33 Michael Lomas	 PB
77  71:37 Jane McCarthy	PB
78  71:45 Paul Calderbank
93  73:25 Tom Worboys PB
168 81:16 Martyn Stocker
180 82:45 Helen Waddington  PB
210 84:53 Jean Sullivan
367 ran

Kettlewell fell race, Sun 5 June

(1 11:33 Simon Bailey, Mercia)
11 13:57 Iain Gibbons
49 16:58 Kate Archer
102 finished

Pen y Gent fell race, Sat 4 June
From Paddy Hagan ... Run under clear blue skies: sun tan cream the main requirement!
Graham Weston's photos

(1 49:59 Ted Mason, Wharfedale)
24 59:47 Steve Turland 
53 66:35 Kate Archer
66 68:44 Paddy Hagan
82 72:03 Alison Weston
91 73:32 Jann Smith
164 finishers

Wharfedale Half Marathon, Sat 4 June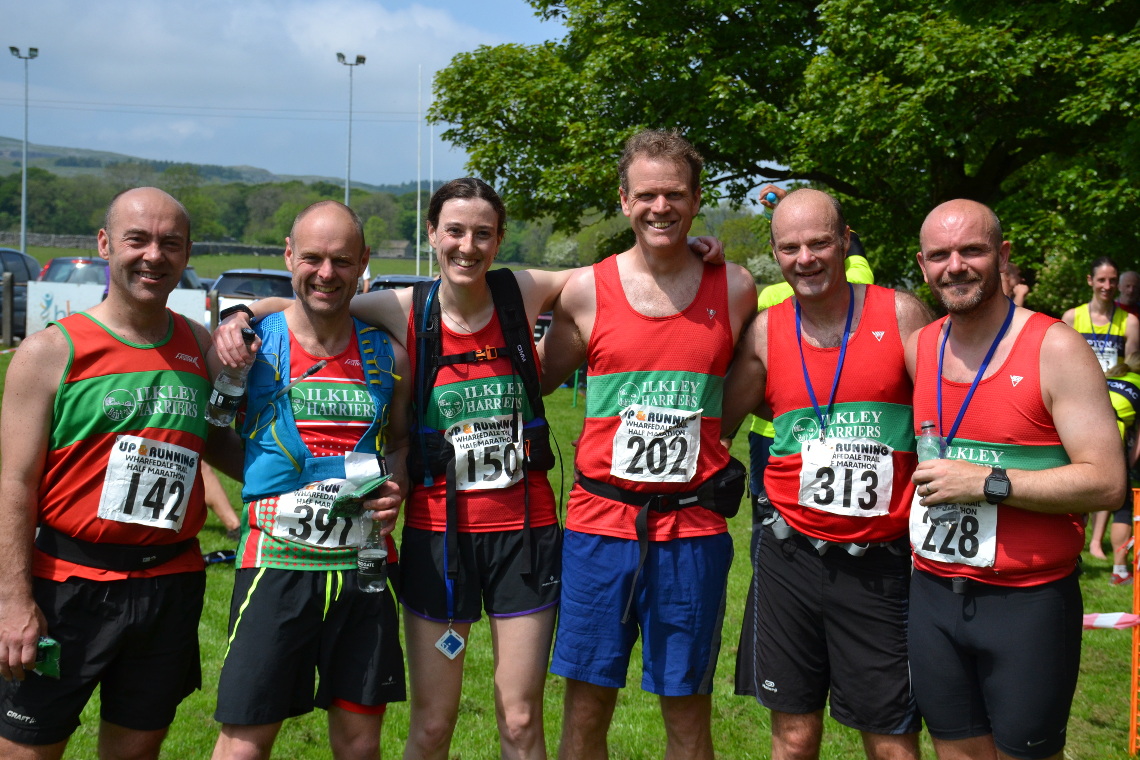 From Hilda Coulsey... an amazing 25 Harriers ran the Wharfedale Half this year. Wow it was hot, slowing most of us but, on the very positive side, the views were stunning. Congratulations to all who finished. Mathew Cox was 3rd and 1st MV40, Nick Pearce was 1st MV60 and Hilda Coulsey 1st FV60. I was held a couple of minutes 400m from the end by the ambulance but a great job done by the finished Harrier who supported the unfortunate passenger.
This was a counter in the Ilkley Harriers Race League.
Results ...

(1  1;28:31 Harry Coates, Wallsend)
3   1:31:56 Matthew Cox
30  1:48:16 Dave Robson
32  1:49:22 Nick Pearce
40  1:50:07 John Hayes
42  1:50:23 Paul Calderbank
63  1:54:17 Michael Duffield
97  2:02:22 Andrew Merrick
116 2:04:58 David Howe
168 2:13:48 Richard Morris
182 2:15:47 Sarah Edwards
197 2:17:57 Helen Horton
212 2:20:05 Eleanor Bradley
242 2:26:08 Sarah Hayes
243 2:26:22 Chantal Busby
249 2:27:30 David Taylor
263 2:30:06 Geoffrey White
274 2:31:16 Jan Carrier
281 2:32:55 Paul Sugden
293 2:35:43 Alison Dawson
296 2:37:13 Hilda Coulsey
324 2:45:30 Jayne Fort
346 2:53:01 Sally Wright
352 2:57:50 Joanna Taylor
364 3:07:05 Sue Williamson
365 3:07:07 Julie Elmes
389 finished	

Duddon fell races, Sat 4 June
From Alison Weston ... Jack Wood was a very impressive 3rd overall in the long event (29km / 1830 m) in 3:11:17 and Mary Gibbons was 20th in the medium event (14km / 900m) in 2:23:37. Great runs by both.
parkruns, Sat 4 June
From Petra Bijsterveld ... Results ...

Leeds Woodhouse Moor
(1  15:41 Benjamin Douglas, Notts AC)
27  19:42 Adrian Bastow
421 ran

Harrogate Stray
(1  18:07 Stephen Ellison, U/A)
337 34:03 Lyn Towers
376 ran

Hilly Fields Lewisham
(1  17:20 Robert Laing, Kent AC)
2   17:25 Alex Hirst
214 ran

Skipton Aireville Park
(1  18:18 Jake Ridding, U/A)
30  23:33 Will Worboys
65  26:36 Polly Crawley (junior)
157 ran

Otley Chevin fell race, Wed 1 June
From Ali McInnes ... A great run from Jack Wood to win the 40th Otley Chevin fell race. There was a few tired legs around after the Ilkley Trail race on Monday (mainly mine) and swaledale the night before so Numbers were a little down on previous years. Great little local race well done to all the Harriers that finished. Results ...

1  17:45 Jack Wood
14 20:51 Alistair McInnes
40 22:45 Paul Calderbank 1st V50
43 23:11 Nick Pearce 1st V60
65 24:30 Mary Gibbons
69 25:20 Mike Baldwin
83 26:47 Alison Weston 1st LV50
104 finished

HDSRL #3, Swaledale, Tue 31 May

(1  31:54 Marc Scott, RZH)
70  41:43 Lucy Williamson
81  42:08 Sally Malir
84  42:18 Steve Murray
230 53:37 Julie Elmes
257 57:21 Donald Macrae
285 finished	

Ilkley Trail Race, Mon 30 May
Hilda Coulsey reports ... Stunning performances by so many Harriers today. Congratulations to Tom Adams who won in a new record time of 38:44. Ilkley Harriers took both men's and ladies' team prizes with Tom Adams, Ruardith Mon-Williams, Ben Shepherd and Jack Cummings for the men and Rachel Carter, Jann Smith and Lucy Williamson for the ladies. Ruardith was 1st U23, Nick Pearce was 1st V60. Rachel Carter took 1st V40, Jann Smith 1st V45, Adela Reperecki 1st V55 and Hilda Coulsey 1st V60. Lots of Harriers took part in this League counter, a special mention for Ruth Jones in her first race. The weather was not too hot, it was dry underfoot. A great race again and a good social occasion. Thank you to Lawrence and all the helpers.
Photos on the Woodentops website.
This was a counter in the Ilkley Harriers Race League.
Edinburgh Marathon, Sun 29 May
From Fiona Schneider ... We had a very sunny weekend in Edinburgh, really enjoying the course. This was my second marathon this year with a son. After Paris with David, it only seemed right to join Edinbugh with Jonathan. It was a first marathon for them, but this has brought me up to finish a tenth. I didn't see any other Harriers ? Results ...

(1   2h19L53 Boaz Kiprono)
1018 3h35:45 Jonathan Schneider
4525 441m:00 Fiona Schneider
6568 finished

European Mountain Running Trial, Sat 28 May

(1 50:24 Andrew Douglas)
8  52:10 Tom Adams
11 53:29 Jack Wood
21 finished

Hutton Roof Crags fell race, Sat 28 May
Jann Smith reports ... Great cakes! Results ...

(1 51:06 Adam Osborne, Leeds City)
19 59:19 Paul Carman
141 75:33 Jann Smith
293 ran

HDSRL #2, Nidd Valley, Tue 24 May

1   29:03 Jack Wood
3   29:16 Matthew Cox
15  31:59 Daniel Hayes
46  34:58 Ben Joynson
80  36:21 Steve Murray
89  37:10 Lucy Williamson
92  37:24 Sally Malir
121 38:57 Paul Stephens
153 40:49 Philip Hirst
169 41:32 Sarah Hayes
184 42:28 Geoffrey White
198 43:00 Alison Bennett
269 47:15 Julie Elmes
298 49:30 Donald Macrae
318 51:08 Tracy Russell
323 51:30 Laura Dawes
325 51:56 Bernadette Gibbons
329 52:27 Sue Williamson
330 52:27 Kate Lofthouse
333 53:02 Sally Wright
352 finished

Roseberry Romp, Tue 24 May
From Dan Wilkinson ... A great evening race up Yorkshire's own Matterhorn, Roseberry Topping, quite popular this year with a field of over 150. I found some surprising good form and managed 2nd place.

(1 34:28 Harry Hiolmes, York Knavesmire)
2  34:52 Dan Wilkinson
153 finished

Old County Tops, Sat 21 May
From Kate Archer ... Brian Melia and I decided to have a go at this 37 mile race with 10,000 feet of climb. A lovely route taking in Helvellyn, Scafell Pike and Old Man of Coniston. It's a pairs race. Brian had done the race a few times before and trotted off at the start and I spent most of the day trying to keep up. The morning was wet and tough going with little to be seen from the tops. At one point I fell into a bog up to my middle and had to be pulled out by Brian (to much laughter from other runners)! But by the afternoon the rain had cleared and with two peaks done we had a welcome stop at the Cockley Beck checkpoint for sandwiches and cake before tackling the climb up to Coniston Old Man. From this last hill the views were amazing and well worth the hard work and aching legs! We completed the course in 61st place in 10hrs 25 mins. Results ...

(1  6h53:51 Paul Tierney & Matt Reedy, Ambleside)
61 10h25:10 Kate Archer & Brian Melia
93 teams finished

Buttermere Sailbeck fell race, Sat 21 May

(1  1:29:52 Carl bell, Keswick)
108 2:17:21 Alison Weston
175 finished

Keswick Mountain Festival, 25K Trail Run, Sat 21 May
From Ben Joynson ... Results ...

(1 1:51:15 Eoin Lennon, Team Mountain Fuel)
26 2:24:42 Ben Joynson
419 finished

Charlesworth Chase, Sat 21 May
Jann Smith reports ... Appletreewick to Simons Seat and back and you must down a pint of beer before you go through the finish line! Results ...

(1 36:31 Ian Holmes, Bingley)
14 43:21 Paul Carman
53 51:35 Norman Bush
70 55:28 Jann Smith
118 finished

parkruns, Sat 21 May
From Petra Bijsterveld ... Results ...

Bushy
(1  16:47 Matt Atkins, Kingston AC)
101 20:40 Neil Thurston
1136 ran

Hilly Fields
1   17:45 Alex Hirst
232 ran

Leeds Woodhouse Moor
(1  16:47 Dale Worton, Wakefield Harriers)
30  20:08 Adrian Bastow
466 ran

Skipton Aireville Park
(1  16:55 unknown)
80  27:06 Polly Crawley (junior)
112 21:09 Bradley Brennand (junior)
192 ran

Fountains Abbey
(1  16:58 Ben Pease, Ripon Runners)
54  23:05 Neil Bloor
161 28:27 Alison Bloor
238 ran

European Masters 10k, Fri 20 May
From Geoffrey Howard...The European Masters' Road (officially "Non Stadia") Championships are usually hosted each year by different countries. Vila Real de Santo Antonio in Portugal must have done a good job in 2005 because it was given the job again this year (or maybe its just that it's a very pleasant place for all concerned - officials, competitors and supporters). The runners who enter these events (no selection is involved and the field included an 85+ German guy) tend to be those who fancy their chances of a medal and those who see it as a part of a longer holiday in the competition area. My only previous participation was in fact in 2005, and I knew that Santo Antonio would fit in well with a walking holiday the previous week along Portugal's Alentajo coast during its peak wildflower period. I entered the flat two lap10k race which was held at 7.20 on the evening of 20 May when the day should supposedly have cooled to about 20C. In reality it was still 25C. Everyone seemed anxious to get on with it and, to me, the first lap was fast and furious so I found myself going stride for stride with a couple of v60s completing 5k in about 20m 30s but feeling like a steaming pressure cooker and wondering if another lap at that pace was possible. Unfortunately, however, this question turned out to entirely hypothetical as, just re-passing the start my hamstring went and I had to drop out. A disappointing outcome regarding the race but still it was exhilarating while it lasted and great to be a part of what in reality is a festival of running. I would normally recommend to anyone thinking of having a go in this type of event to do so and I have never (in about a dozen events) had any problems re entry, accommodation, transfers etc. until this year when going through the officially designated travel company for the World Masters' Mountain Running Championships in Susa, Italy. If any Harrier is thinking of going to Susa and using this company I would be happy to explain the difficulties I have had with the company.
Kildwick fell race, Wed 18 May

(1 26:17 Sam Watson, Wharfedale)
6  28:21 Paul Carman
11 29:03 Gavin Lamb           
65 35:39 Chantal Busby       
68 36:28 Jann Smith            
116 finished

John Carr 5K 2016 series race report
From Petra Bijsterveld ... The ever popular John Carr 5k race series in Esholt was run on a new course this year. Efficiently organized by Saltaire Striders and held on closed roads within the Yorkshire Water estate, the race (which has previously been a net downhill course) is now an out and back course, starting and finishing in the same place at Apperley Bridge. Still fairly flat with only 84 ft of elevation to contend with, but without the fast downhill finish of previous years. Chip timing had been introduced for the first time this year. The only downsides to the venue are the unmistakable odour of the water treatment works and the plentiful midges. Ilkley Harriers were present in large numbers, especially for the first race which was a club league counter. Tom Adams won race 1 in 15:06, thereby making the record for the new course a tough one to beat straightaway. He also equalled our 5K club record which has been set in 1990 by Jack Brown on the track.
Cameron Reilly came first in his category (Junior M11) at each of the 3 races. Bethan Morley and Lucy Haines came first in their respective categories (Junior F11 and F16) in races 1 and 3, both missed race 2 and could therefore not compete for the series wins. Geoff Howard, last year's V70 trophy winner, won his category in race 1 but missed races 2 and 3. Perhaps Geoff is running out of space in his trophy cabinet by now anyway!
Taking part in all 3 races means, apart from collecting a nice bottle of ale, a chance of winning a series trophy, and we saw some excellent Ilkley performances here. Cameron Reilly and Oscar Stapleton were 1st and 2nd in their category (Junior M11) and Ella Shouler-Harris 3rd (Junior F11). For the seniors, Lucy Williamson was 3rd FSEN, Mark Iley 3rd M50, and Adela Reperecki 2nd F55.
Trophies aside there was a lot of dedicated, eyeballs-out, lactate-zone racing from all, resulting in several new 5K PB's, amongst others for Helen Waddington and Steve Murray. On the lighter side, Tom Worboys still ran a good time in race 1 despite setting off several minutes late, unable to find the relocated start (hurrah for chip timing at least). Peter Lewis and myself ran with matching right arms in plaster, which I am certainly using as my excuse for being a little slower than I would have liked. The Saltaire Amarillo Gold Ale will surely taste good regardless. Thanks must also go to several Harriers who came along to offer support and cheer from the roadside which is much valued.
Final positions (runners taking part in 3 races) by category:...

Junior M11
1 Cameron Reilly
2 Oscar Stapleton

Junior F11      
3 Ella Shouler-Harris

MSEN        
5 Jack Cummings
20 Robert Sime

FSEN        
3 Lucy Williamson

M35        
9 Tom Worboys

M45        
5 Steve Murray

F45        
5 Jean Sullivan
6 Helen Waddington
7 Julie Elmes

M50        
3 Mark Iley
11 Harry Sime

F50        
7 Sue Williamson

M55        
7 Phil Hirst

F55         
2 Adela Reperecki

M65         
5 Peter Lewis

John Carr race 3, Wed 18 May
From Petra Bijsterveld ... Results ...

(1  15:58 Matthew Grieve, Border Harriers)
7   16:20 Matt Newell
10  16:27 Cameron Reilly
14  16:43 Euan Brennan
17  16:57 Jack Cummings
47  18:08 Oscar Stapleton
62  18:29 Francis Westhead
85  18:59 Mark Iley
96  19:08 Bethan Morley
106 19:27 Lucy Williamson
110 19:34 Steve Murray
139 20:23 Tom Worboys
148 20:38 Lucy Haines
195 22:05 Harry Sime
196 21:56 Robert Sime
199 22:02 Harry Stead
203 22:09 Helen Waddington
216 22:28 Jean Sullivan
217 22:26 Phil Hirst
220 22:34 Adela Reperecki
240 23:07 Ella Shouler-Harris
249 23:36 Stephanie Fox
276 25:01 Julie Elmes
283 25:14 Peter Lewis
296 25:50 Petra Bijsterveld
329 27:49 Sue Williamson
354 29:39 Sally Wright
391 ran

Two Ilkley Harriers winning GOLD for YORKSHIRE
Tom Adams and Jack Wood were representing Yorkshire at the Inter-county FRA championship race at Moel Eilio 12.8km, 915m on Saturday 14th May. Yorkshire claimed 1st position with Tom Adams 5th overall in 62:15 and Jack Wood 22nd in 65:45.
Over the Odda, Sat 14 May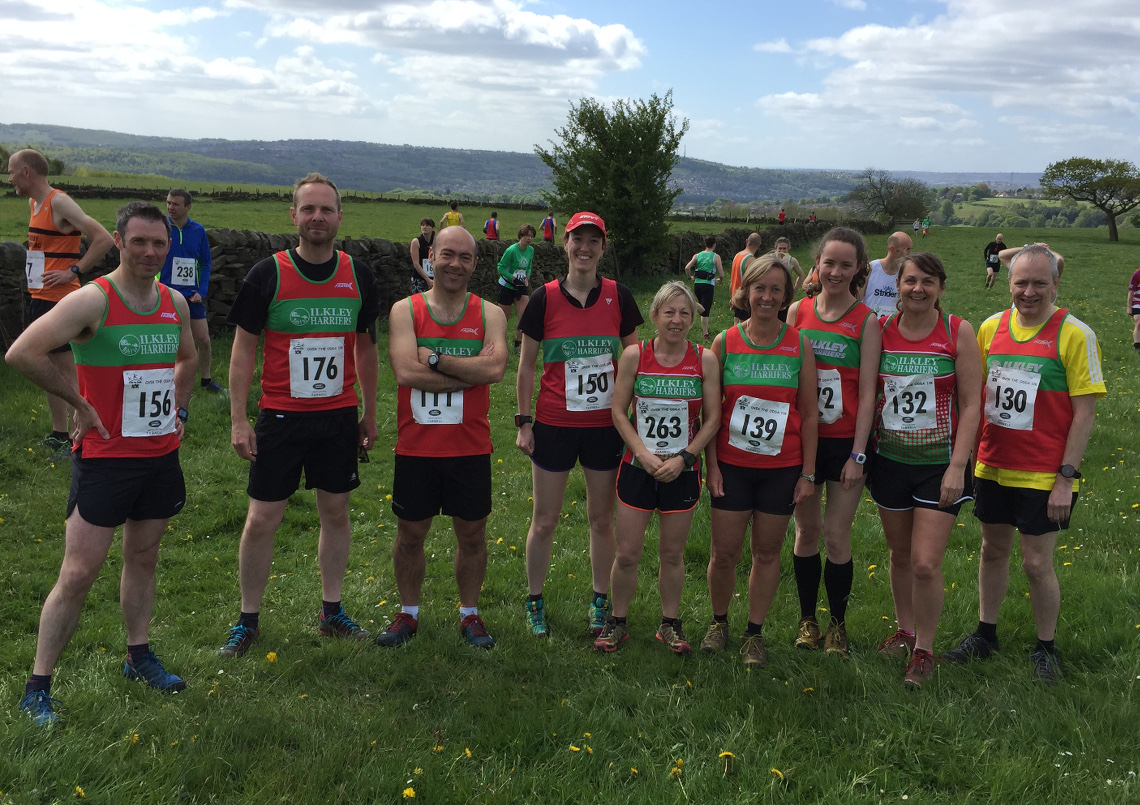 David Green reports ... My first attempt at this hilly off road 10k. The race starts near Hawksworth Primary School and is well organised and marshalled. The course is hilly but thankfully and perhaps unusually was dry underfoot, taking in picturesque land south of Hawksworth village, before turning back again for a long climb back up the hill, past the start line and continuing up the Odda. From there the course runs to the rear of High Royds, crossing Mire Beck before another climb past Tranmere Park, back up the Odda before a final fast descent through woodlands and finishing in Hawksworth School. First Harrier home was Robin Nicholson in 44.37 with Lucy Williamson third female in 50.42.
From Hilda Coulsey ... What a super Saturday morning; the weather was good and the trail was dry for this friendly, local, approx 10k run over the fields from Hawksworth with plenty of challenge. Robin Nicholson was first Harrier home, Lucy Williamson 3rd Lady and Adela Reperecki 1st F55 (beating 1st F50 and F35 times!). I was savagely beaten to the post by Paul Sugden who had been reeling me in for the last mile and if I'd known I'd have had a go at reeling in the lady ahead of us, beating me to 1st F60 by 8secs - aargh! Ho ho what fun.

(1  39:31 Michael Malyon, Baildon)
10  44.37 Robin Nicholson 
28  48.30 Michael Duffield 
34  49.20 Steve Murray
43  50.42 Lucy Williamson  3rd Female
64  54.13 Sarah Edwards 
81  55.49 Adela Reperecki 1st F55
82  56.24 Philip Hirst
89  57.45 Jonathan Fountain
126 63.01 Liz Price
133 63:43 David Green
134 63:44 Peter Lewis
142 64;44 Paul Sugden
143 64:45 Hilda Coulsey
185 70:08 Deborah Nicholson
206 74:04 Julie Elmes
207 74:04 Sue Williamson
251 ran	

Malham Kirkby fell race, Sat 14 May

(1 22:06 Jack Hindle, Blackburn)
2  22:31 Ruaridh Mon-Williams
4  24:12 Paul Carman
36 30:28 Norman Bush 1st V70
38 31:25 Alison Weston 2nd lady
40 32:05 Jann Smith 3rd lady
58 finished

parkruns, Sat 14 May
From Petra Bijsterveld ... Results ...

Leeds Woodhouse Moor
(1  16:40 Ben Rhodes, Heanor RC)
43  20:28 Adrian Bastow
492 ran

Bradford Lister Park
(1  18:59 Andrew Dovernor, Queensbury RC)
79  23:41 Tom Worboys
211 27:38 Petra Bijsterveld
465 ran

Harrogate Stray
(1  18:02 Graham Powell, U/A)
76  22:42 Neil Bloor
252 28:26 Alison Bloor
387 ran

John Carr race 2, Wed 11 May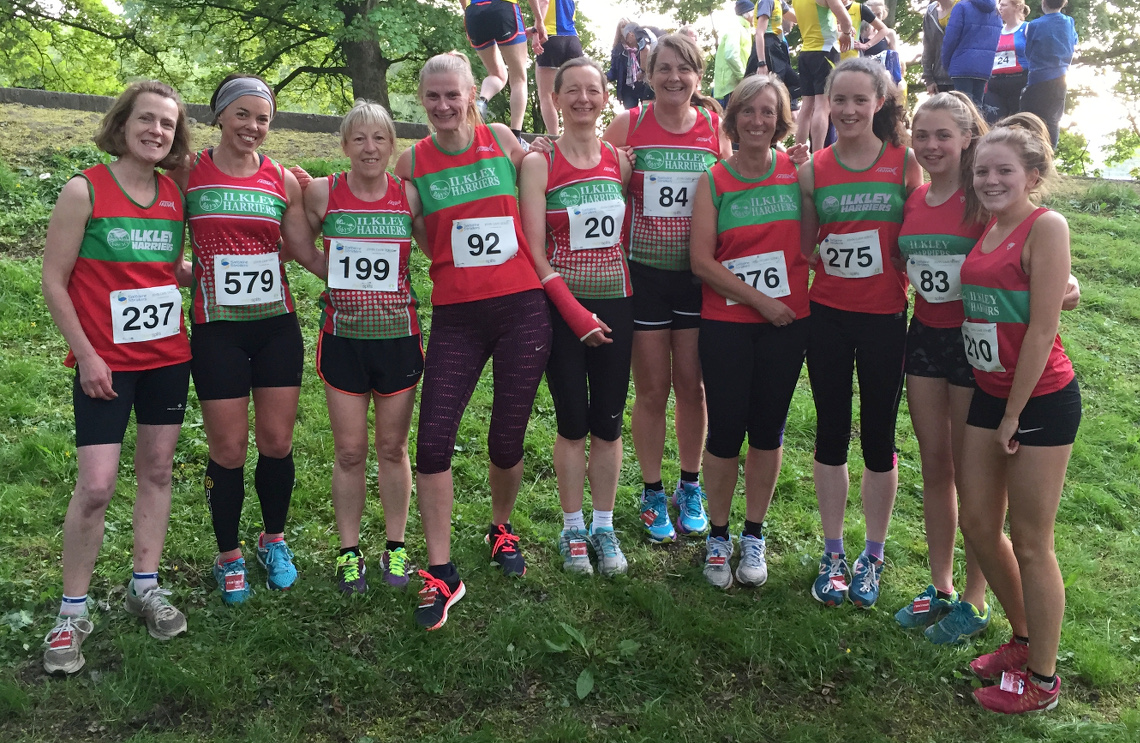 (1  15:41 Scott Harrington, Otley)
9   16:35 Cameron Reilly
13  16:51 Euan Brennan
18  17:15 Jack Cummings
33  17:58 Oscar Stapleton
55  18:36 Francis Westhead
87  19:38 Lucy Williamson
95  20:00 Steve Murray
99  20:09 Mark Iley
127 20:59 Tom Worboys
166 22:02 Harry Sime
167 22:02 Robert Sime
182 22:34 Jean Sullivan
183 22:37 Helen Waddington
190 22:43 Adela Reperecki
201 23:10 Philip Hirst
213 23:34 Ella Shouler-Harris
222 23:52 Stephanie Fox
224 24:03 Emily Elmes
242 25:14 Julie Elmes
252 25:50 Peter Lewis
266 26:13 Petra Bijsterveld
294 28:15 Sue Williamson
333 finished

Jack Bloor races, Tue 10 May
Congratulations to Jack Wood on his 2nd consecutive win and Lucy Haines on 2nd lady. The men were first male team with Jack, Matt Cox, Dan Wilkinson and Jack Cummings to count. Results ...

1   39:26 Jack Wood
5   42:07 Matt Cox
10  43:19 Dan Wilkinson
15  44:33 Jack Cummings
16  44:40 Paul Carman
23  45:56 Daniel Hayes
24  46:07 Gavin Lamb
31  47:38 Michael Lomas
44  49:17 John Hayes
45  49:20 Dave Robson
46  49:31 Richard Joel
49  49:39 Ben Joynson
53  50:10 Lucy Haines 2nd lady
56  50:22 David Foyston
59  50:34 Nick Pearce
78  52:59 Michael Duffield
85  53:31 Steve Murray
88  53:55 Paddy Hagan
99  54:58 Lucy Williamson
101 55:02 Laura King
111 55:58 Mary Gibbons
113 56:13 Outi Kamarainen
120 57:18 Paul Stephens
124 57:52 Jann Smith
127 58:12 Alison Weston
128 58:42 Robert Budding
136 61:04 Ian Marshall
143 62:14 Philip Hirst
148 62:44 Joyce Marshall
158 65:35 Geoffrey White
164 66:47 Rose Hagan
176 71:39 Sophie Brown
187 80:32 Sally Wright
198 finished

Yorkshire Selection
Tom Adams and Jack Wood have been selected to run for Yorkshire in the Fell Inter Counties at Moel Eilio, North Wales on 14th May.
Leeds Half Marathon, Sun 8 May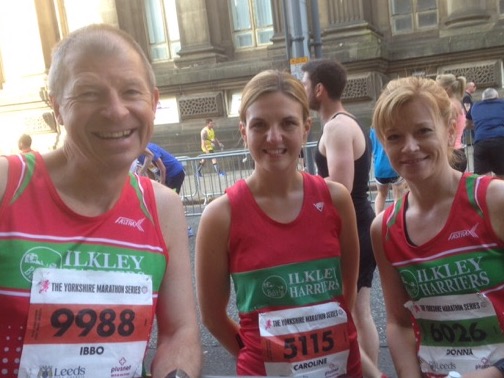 (1   1:07:12 Mohammed Aburezeq, U/A)
62   1:24:22 David Westhead
121  1:27:46 Jonathan Sinclair
448  1:36:27 Andrew Merrick
799  1:42:48 David Howe
1351 1:49:13 Caroline Howe
1413 1:50:23 David Ibbotson
1717 1:47:48 Rhys Jones
2002 1:58:38 Donna Hattersley PB 
2050 2:00:43 Charlotte Smithson
2051 1:59:36 Elizabeth Westhead
3688 2:10:13 William Woodhead
4053 2:06:39 Sally Lynch
4777 2:28:21 Emma Curran
6334 finished

Hawkswick Fell Race, Sat 7 May
From Jann Smith ... Results ...

(1 33:19 Ashley Holt, Rosssendale)
4  34:41 Paul Carman
14 38:14 Steve Turland 
23 39:47 Kate Archer (2nd lady)
46 46:15 Jann Smith
61 finished

This was also the Yorkshire Junior Championships, with many good Ilkley results.
Malhamdale Trail Challenge, Sat 7 May
From Paul Sugden ... If you like the Wharfedale half then this is a must for you. This is a well organised and excellent event around Malham. Starting in Kirkby Malham with a flat mile, then a steep climb of 1100 feet up Predaw Hill to to the top of Kirkby fell. This gave excellent views of Malham Tarn in the distance. It was then downhill to Malham Cove and then through Janets Foss into Malham and back into Kirkby Malham. To finish off there was cake and meat pies. An excellent day out. May be next year we may think about the 22 mile route. Results ...

(1 1:08:05 Julian Hood, Barlick Fell Runners)
4  1:17:2 Jamie Hutchinson
11 1:29:42 Stuart Herrington
28 1:44:50 David Taylor
37 1:51:42 Paul Sugden
38 1:51:46 Jan Carrier
56 1:57:04 Joanna Taylor	

Kentmere Trail Race, Sat 7 May
From Ben Joynson ... A glorious sunny day in the Lakes for a very hard race. There were 3 other races before mine and spotted a few Harriers in there. I had a good start up the 2 mile road section with the front end of the race and kept up with a front group. I was aware I had maybe not done enough miles for the task in hand but thought to give it a go. Plenty of climbing in this race and nice trails to run on. Enjoyed most of the race until the wheels fell off with about 2 miles to go. Put this down to not enough water and a empty stomach!. It was amazing how quickly I dropped down the field :(. The ice cream and food at the end was welcomed. Recommend the trail race series and well done to the other Harriers who made the other races. Results ...

17k Trail Race
(1 1:08:56 Ben Livesey, Lincolnshire)
63 1:37:09 Ben Joynson
191 finished

17k Trail Challenge
(1 1:26:35 Andy Rees, U/A)
85 1:52:32 Neil Pomfret
464 finished

Up the Nab fell race, Sat 7 May
From Dan Wilkinson ... Congratulations to Jack again, 6th at the English Championship race Up the Nab, beating lots of fell running's big names again! Results ...

(1 34:04 Simon Bailey, Mercia)
6  35:06 Jack Wood
72 39:49 Dan Wilkinson
267 finished

parkruns, Sat 7 May
From Petra Bijsterveld ... Results ...

Bradford Lister Park
(1  17:28 Will Smith, Keighley and Craven AC)
43  23:00 Tom Worboys
444 54:11 Amy Del Sol Brown Carrera (junior)
452 ran

Hilly Fields Lewisham
(1  16:33 David Morgan, Serpentine RC)
4   18:06 Alex Hirst
241 ran

Fountains Abbey
(1  16:45 Shaun Lawson, Easingwold RC)
51  22:59 Norman Bush
278 ran

HDSRL #1, Thu 5 May
Great feedback on the race we hosted, the first of this year's League, with comments on friendly marshals and good organisation. Thanks to Neil Chapman and anyone who helped. Results ...

(1  26:16 Jamil Parapia, Otley AC)
4   27:18 Matthew Cox
16  29:14 Jack Cummings
20  29:25 Daniel Hayes
44  31:29 Adrian Hall
60  32:27 Mark Iley
69  33:01 Alex Murphy
70  33:12 Lucy Williamson 2nd lady
115 35:13 Steve Murray
135 36:16 Mary Gibbons
153 36:56 Paul Stephens
179 38:22 Philip Hirst
193 39:06 Sarah Hayes
231 40:42 Jane Bryant
245 41:20 Geoffrey White
308 44:53 Julie Elmes
324 46:13 Donald Macrae
326 46:27 Laura Dawes
347 49:01 Bernadette Gibbons
357 50:54 Tracy Russell
359 51:09 Kate Lofthouse
378 finished

Lothersdale fell race, Wed 4 May
From Jann Smith ... results ...

(1 23:27 Jack Smith, Wharfedale)      
2  26:07 Paul Carman
31 32:14 Paddy Hagan
43 33:37 Jann Smith 
82 ran

John Carr race 1, Wed 4 May
From Petra ... Tom Adams equalled the (1990!) club record for 5K in 15:06, results ...

1   15:06 Tom Adams
17  16:39 Ruaridh Mon-Williams
18  16:48 Cameron Reilly
29  17:22 Jack Cummings
38  17:57 Oscar Stapleton
80  18:59 Mark Iley
95  19:35 Bethan Morley
102 19:46 Lucy Williamson
105 19:54 Steve Murray
116 20:17 Michael Duffield
123 20:34 lucy Haines
147 21:22 Geoffrey Howard
164 21:43 Harry Sime
165 21:43 Robert Sime
179 22:12 Sarah Edwards
192 22:36 Jean Sullivan
200 22:57 Philip Hirst
208 23:04 Helen Waddington
209 22:58 Adela Reperecki
214 23:18 Joanne Williamson
221 23:28 Alison Bennett
226 23:53 Ella Shouler-Harris
234 24:16 Tom Worboys
265 25:15 Julie Elmes
268 25:37 Kate Wilkinson
292 26:54 Peter Lewis
318 28:08 Sue Williamson
339 29:58 Sally Wright
371 finished

Beginners 0-5k Challenge
Starting Tuesday 3rd May 2016, Ilkley Harriers are starting a six week beginners' running course. The aim of the course is to introduce others to the joys of running and show that everyone can run and enjoy it! More info and application form.
A great start, with over 70 new runners taking part, welcome!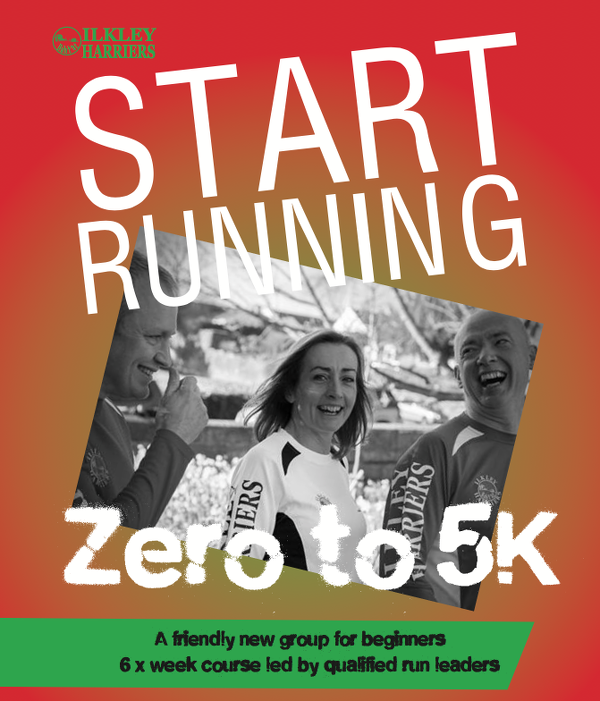 Ilkley Harriers of the Month, April
Runner of the month:
Tom Worboys
for his 3 marathons this spring plus 3 last autumn for charity
Other nominations were:
Alex Hyde for Paris and London
Jane McCarthy for Open 5
Jack Wood for 3 Peaks
Alison Weston for Anniversary Waltz and3 Peaks
Ruaridh Mon-Wiliams for Pendle
Matt Cox for Dick Hudsons
Mary Gibbons for Dick Hudsons
Outi Kamarainen for Teenager with Altitude
Jann Smith for Blubberhouses
DanWilkinson for Blubberhouses
Tom Adams for Baildon Boundary Way
Volunteer of the month:
Peter Lewis
Newsletter
Other nominations were:
Hilda Coulsey for committee work
Petra Bijsterveld for social media
From Petra ... We would like to give a special mention to Jack Wood for an astounding result of 3:02 at his first 3 Peaks Race, coming 6th in an elite field, and winning a silver Yorkshire Championship medal at the same time
More Harriers of the Month ...
3 Peaks fell race, Sat 30 April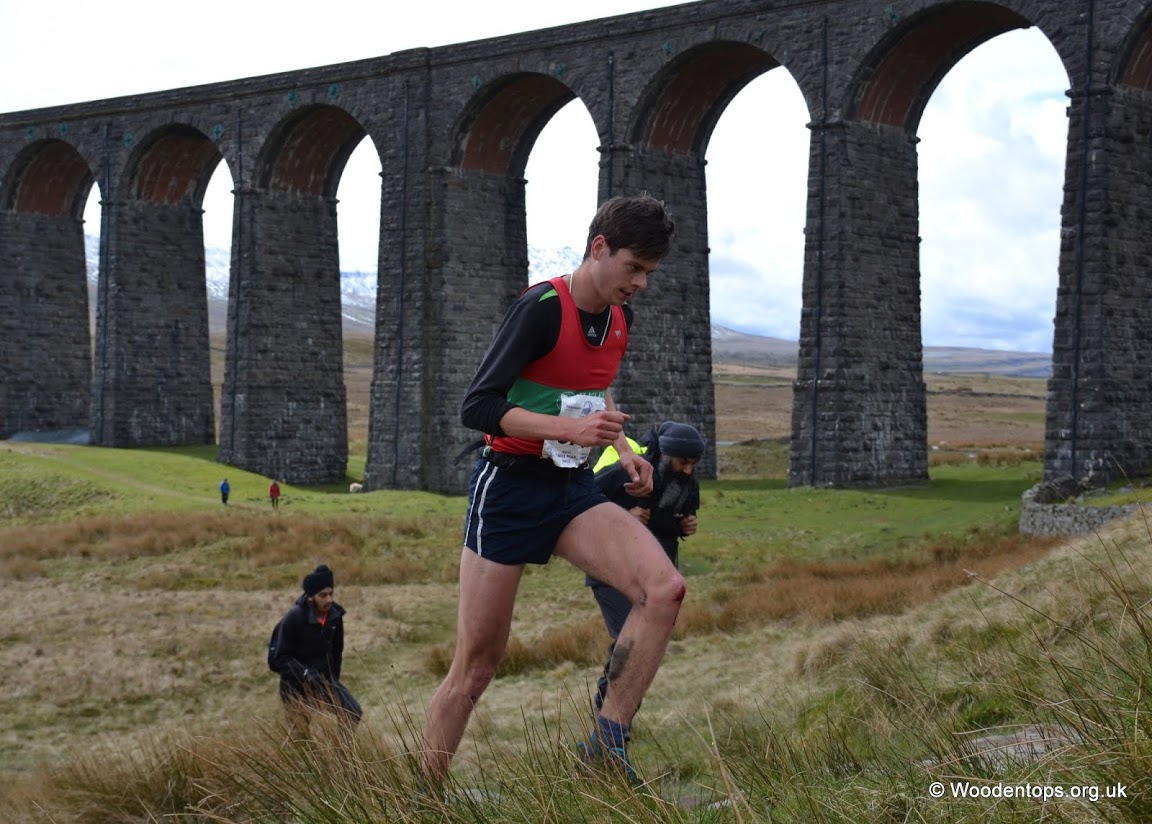 From Jack Wood ... hanks to all the people supporting the Three Peaks on Saturday, it gives you a boost when you hear your name or see someone you know. One of the highlights from my race was running down the track after Penyghent and being encouraged by runners who were on their way up. Enjoyed the run and happy with my result, the beers at the end tasted good. Well done to the other Harriers who ran, especially those with PB's and Alison who was 2nd V50 in her 17th Three Peaks!
From Alison Weston ... A good turn out at the 62nd Yorkshire 3 Peaks Race on Saturday and I think every Harrier with the exception of Jack Wood found the race hard going this year with frequent hail showers and snow on the tops. It was Jack's first 3 Peak's race and he came an amazing 6th position in a very competitive field in an incredible elite time of 3:02 hours, also claiming a silver Yorkshire medal as the race was also the Yorkshire Championship race for 2016. Next Harrier home was Michael Lomas (PB) closely followed by Steve Turland. Dick Waddington, Richard Joel and John Hayes finished within 4hrs 30 and great run by Dave Robson and Michael Duffield in their first 3 Peak's race, closely followed by Michael Duffield, Martyn Stocker, Richard Morris, David Chandler (first 3 peaks race) and Paul Langan. Unfortunately due to recent injuries there were fewer Ilkley ladies this year. Alison Weston came in 4:36 hrs (2 nd LV50) followed by Caz Farrow and Chantal Busby. This year there was a long queue to cross the fence before the climb up Whernside and Sarah Hayes, though running well to Hill Inn did not quite make the tight cut-off time. Hopefully she will be back next year.
Graham Weston's photos, Woodentops' photos

(1  2:48:58 Marc Lauenstein, Team Salomon)
6   3:02:32 Jack Wood 
264 4:13:50 Michael Lomas
267 4:14:06 Steve Turland
340 4:25:38 Dick Waddington
365 4:28:49 Richard Joel
347 4:29:56 John Hayes
409 4:36:47 Alison Weston
533 4:55:13 Dave Robson
538 4:55:53 Michael Duffield
606 5:07:54 Martyn Stocker
675 5:23:15 Richard Morris
679 5:24:19 David Chandler
693 5:31:04 Chantal Busby
698 5:36:48 Paul Langan
703 finished

Coniston Fell Race, Sat 30 April
From Robin Nicholson ... I ran Coniston fell race on Saturday. Alternate course due to heavy snow on the peaks.
Results ...

(1 60:08 Carl Bell, Keswick)
43 75:37 Robin Nicholson
180 finished

parkruns, Sat 30 April
From Petra Bijsterveld ... Results ...

Skipton Aireville Park
(1  18:33 James Raven, Cardiff AAC)
5   19:26 Paul Carman
18  21:16 Tom Worboys
69  25:46 Polly Crawley (junior)
192 ran

Hilly Fields Lewisham
(1  15:59 Shaun Dixon, Highgate Harriers)
4   17:37 Alex Hirst
218 ran

Dick Hudsons fell race, Wed 28 April
From Matt Cox ... A chilly start to Dick Hudson's race which now starts form the barrier at White Wells car park. A hailstorm greeted us as we registered, and continued until just after the race started. This meant for a difficult clothing choice - full hat, Jacket and leggings were appropriate when we set off, but 10 minutes in the sun came out and we were greeted with a snowy but sunny moor on the climb up. I opted for long sleeves and bottoms, I could have done with shorts in the end!
I followed Dan Wilkinson off at the start, taking a line up the side of the waterfall and on to the top of the moor. A few followed us, some went up the main path past White Wells and on up the steps -a longer line in my opinion! Once on top, the snow made it difficult to see the sheep track that provided the best line to the main flagged path, so after some slight deliberation I chose a line and made the best of it. The others seemed to follow ...!
I led up the main flagged path to the 12 Apostles, but was passed by another runner once we were on top. It seemed however that he was unsure of the route. I managed to keep 2nd place up to the turn, and on heading back saw that there were a couple of other runners hot on my heels... Dan Wilkinson was in about 6th / 7th place at this point. Heading back, the leader was running strongly and pulled away, and was 4-500 yards in front by the time we got back up to the 12 Apostles, but he failed to make the right turn back down on to the Millennium Way flagged path towards the finish. After a quick shout fell on deaf ears (honest!), I found myself leading once again, with Ali Burns of Valley Striders hot on my heels.
I stretched out on the descent, managed to open up the gap on Ali, and led home for my first race win in a long time. Very happy.
The rest of the field took varying route choices back down to the finish, with a number of others carrying straight on along the top of the moor, and missing the turn back towards Ilkley. This worked to Dan Wilkinson's advantage, finding himself finishing in 3rd. Great race, well done to all that braved the weather.
Results ...

1  49.59 Matt Cox
3  51:45 Dan Wilkinson
4  52:53 Martin Archer
5  53:03 Paul Carman
18 58:07 Ben Joynson
20 58:38 David Foyston
31 62:45 Paddy Hagan
34 63:46 Mary Gibbons
39 64:46 Alison Eagle
49 68:08 Paul Stephens
53 70:59 Helen Waddington
55 73:50 Phil Hirst
65 84:35 Petra Bijsterveld
66 finished

Notice: Tuesday Night Training 26th April
From Petra ... the building work at ILTSC has almost been completed but the car park will be out of bounds on Tuesday April 26th. We will meet at the Old Bridge at 7 pm for the Tuesday night club runs once more..
London Marathon, Sun 24 April
From Alex Hyde ... I was lucky enough to be one of the thousands running London on Sunday and eventually came in as the last Harrier in 4:46:13, critically a full 59 seconds quicker than my Paris time 3 weeks ago! Conditions were pretty much perfect - cool and dry except for a light flurry of snow early on - but my legs were telling me that 3 weeks between marathons isn't long enough for an old boy!! The atmosphere was absolutely amazing - I thought Paris was good but London trumped that many times over and the noise from the crowds throughout was awesome.
Results ...

(1    2:03:05 Eliud Kipchoge, Kenya)
2703  3:06:08 Steve Weston
3669  3:13:14 Derek Oliver
5395  3:24:33 Steve Newell
12155 3:53:52 Claire McLoughlin
13955 3:59:02 Tom Worboys
15963 4:06:47 Caroline Howe
23086 4:34:08 William Woodhead
25967 4:46:13 Alex Hyde

YVAA Grand Prix, Honley, Sun 24 April
From Alison Eagle ... First race of the Grand Prix series and a good race for me as mainly off road, with short hills up and down. Not bad weather or underfoot conditions. Feel as though finally may be on way back to racing, hopeful the result will motivate to get back to speed training, need it!
Well organised race as usual and great food after, lots of great tray bakes! These are well worth doing next one is at West Park Tues 24th May.
Results ...

Ladies
(1 40:57 Tanya Seager, Stainland)
7  50:32 Alison Eagle 1st LVet 50
49 65:20 Amanda Newham
62 finished

parkruns, Sat 23 April
From Petra Bijsterveld ... A first-place finish this week for Jack Wood at Skipton. Results ...

Skipton Aireville Park
1   16:45 Jack Wood
5   18:39 Oscar Stapleton (junior)
92  27:14 Polly Crawley (junior)
191 ran

Leeds Woodhouse Moor
(1  16:50 Daryl Hibberd, Valley Striders)
176 25:51 Gaenor Coy
445 ran

Bradford Lister Park
(1  18:20 Graham Corbett, Saltaire Striders)
37  22:39 Ethan Thompson (junior)
78  24:16 Stephanie Fox
406 ran

Harrogate Stray
(1  17:50 Stephen Ellison, U/A)
71  23:18 Phil Hirst
197 26:54 Julie Elmes
349 ran

Mile End
(1  16:44 Rick Weston, Serpentine RC)
115 24:17 Tom Worboys
314 ran

Hilly Fields Lewisham
(1  17:53 Thomas Humphrey, Plymouth Harriers)
2   17:56 Alex Hirst
227 ran

Fountains Abbey
(1  16:43 Daniel Holdsworth, Richmond & Zetland Harriers)
61  23:17 Norman Bush
287 ran

Horton
(1  18:40 Al Chapman, Pudsey Pacers)
11  22:32 Harry Stead (junior)
68 ran

Lancaster
(1  17:26 Ewen Malloch, Team Bath AC)
73  25:11 Alison Bennett
280 ran

Anniversary Waltz and Teenager With Altitude, Sat 16 April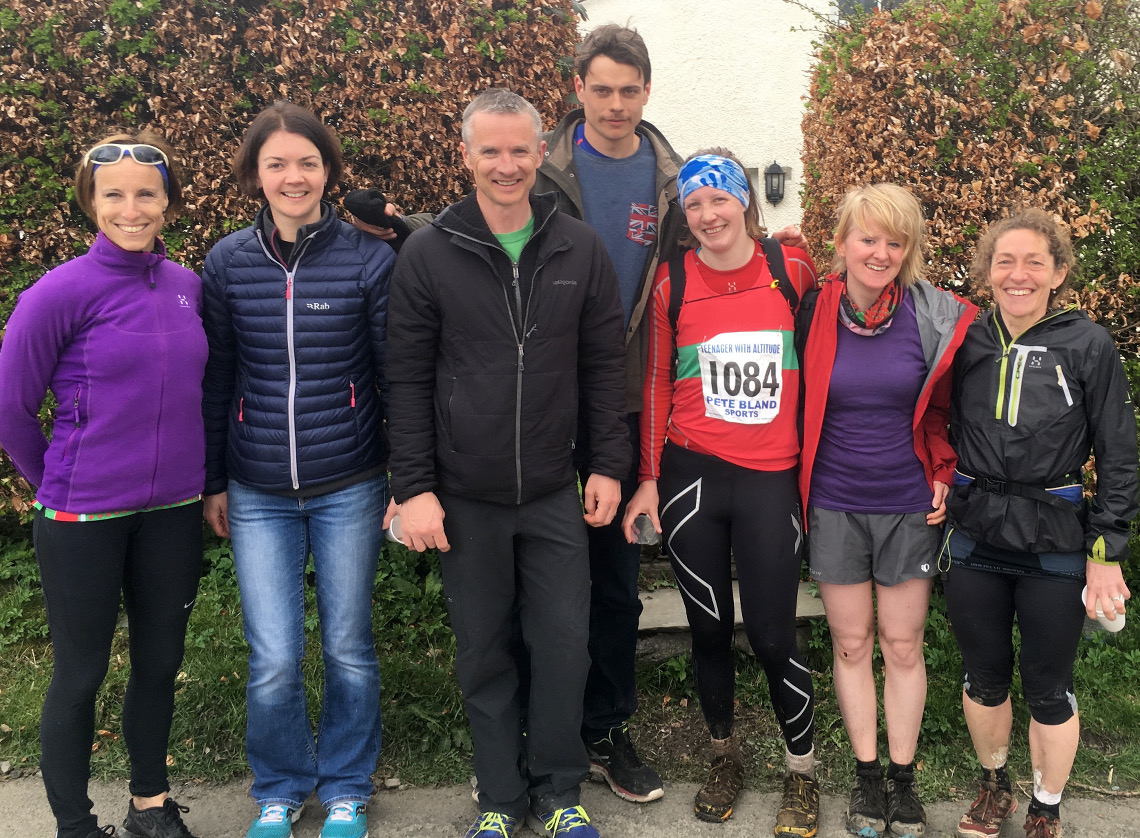 From Alison Weston... Two great races from Newlands valley in the Lakes on Saturday. Jack Wood came an amazing 3rd overall in the gruelling Teenager with Altitude (15.4 miles with 7600 foot of ascent). Outi Kamarainen also successfully completed the race and finished well in the ladies results.
A good turn out in the shorter Anniversary Waltz (a mere 11.5 miles with 3600 foot of ascent) with Dan Wilkinson first Harrier home followed by Jane McCarthy (1st LV40), Dick Waddington, Kate Archer, Alison Weston (1st LV50) and Mary Gibbons (as her first lakeland race!). It was a beautiful day with stunning views, making all the climbing well worthwhile.
Dick Waddington adds ... The Anniversary Waltz takes a turn around the Newlands valley over peaks including Robinson, Hindscarth, Dale Head and Catbells. It is about 11 miles long with 3500ft of climbing. The Teenager adds about 4 miles and doubles the climbing, taking in Grassmoor, Whiteless, High Snock Rigg before going the Waltz at Robinson. It is a very pretty route with something for everyone - a flat mile on a nice track at the start, a steep path, then a steeper Whernside-like heather slope, smooth moorland, rocky outcrops to scramble up and down, very steep grass down Dale Head, then a few tourists to dodge on Catbells.
Ilkley put in a good number of runners with Outi Kamarainen and Jack Wood taking on the Teenager and Kate Archer, Mary Gibbons, Jane McCarthy, Alison Weston, Dan Wilkinson and me taking on the Waltz.
Jack was 3rd in the Teenager with Altitude. Jane was 1st FV40 and Alison 1st FV50 in the Anniversary Waltz. Well done everyone!
Bunny Run #3, Tue 12 April
Tom Adams 12th Bunny and 18th Egg Stage - matching Ian Holmes' 18 Egg Stage wins. Ilkley's men won the team prize. Photos and results ...

1   15:55 Tom Adams
5   16:48 Jack Wood
18  18:15 Dan Wilkinson
19  18:17 Paul Carman
32  19:08 Oscar Stapleton
58  20:25 Ben Joynson
61  20:33 Richard Joel
76  21:15 Lucy Williamson
80  21:18 James Pickering
96  22:00 Charlie Tiger Smith
98  22:02 Poppy Anderson
100 22:13 Malcolm Pickering
103 22:24 Mary Gibbons
122 23:10 Bernadette Raven
128 23:30 Tom Jackson
129 23:34 Andrew Jackson
134 23:42 Joanne Williamson
139 24:14 Alison Weston
157 25:33 Helen Waddington
158 25:34 Geoffrey White
217 30:57 Anna Pickering
223 31:35 Sally Wright
243 finished

Overall results (all 3 races)
1 Tom Adams
7 Paul Carman

Female
11 Mary Gibbons

U16
7 Charlie Tiger Smith

Manchester Marathon, Sun 10 April
From Tim Buckingham ... I completed the Greater Manchester Marathon in 3h29m30s Really happy with the run and really recommend the Manchester Marathon to anyone interested as a good alternative to London!
From Tom Worboys ... This month I completed the second set of three marathons for the Huntington's Disease Association, the first three being in October. Manchester was incredibly tough, a struggle from 16 miles in but something managed to keep me running. Brighton was much better with excellent support and sunshine, an excellent race except for the somewhat soul destroying lap of the power station towards the end. London was bloody marvelous and the most fun I've had running despite it being my slowest ever marathon. Just under 4 hours of high fives and tomfoolery. Over £800 raised for charity and all the marathons under four hours, though the times weren't all that important.

(1   2:22:34 Steven Bayton, Hallamshire Harriers)
1781 3:39:30 Tim Buckingham
3952 3:56:38 Tom Worboys
15149 finished

Open 5, Sun 10 April
From Jane McCarthy ... A few Harriers (Sue Booth, Paul Sugden, Dick Waddington and I) travelled to Todmorden on Sunday to take part in the final Open 5 in the Series, enjoying beautiful sunshine and stunning course scenery covering Stoodley Pike and parts of the Calderdale Way/Pennine Way. Sue Booth and her partner Louise Hanley had an excellent day out, winning the female pairs category. Paul Sugden finished a tough course with his second highest score of the Series, and Dick and I partnered in a mixed pair and had a good day out!
There have been six events in the Open 5 Series (November - April), in which competitors have 5 hours to visit as many checkpoints as possible, either by bike or on foot. There is a map for each course, and it is entirely up to you to decide route and split between run and MTB. The scores for the checkpoints are only released as you start the event, normally requiring some quick re-planning of route. These are excellent events for runners looking to improve navigation whilst enjoying some fantastic courses put together by the Open Adventure Team. Also great training for longer events and a great, fun atmosphere.
In the Overall Series, Outi Kamarainen finished 2nd overall in the Female Solo Category, only narrowly behind me. Sue Booth and Louise Hanley were 2nd in the Female Pairs, John Houlihan and his partner were 1st in the Male Pairs category, Helen and Dick Waddington competed in 2 events in the Mixed Pairs and Harriers were represented by Paul Sugden, Dick W and Jamie Hutchinson in the Male Solos. Apologies if I have missed anyone. Check the www.openadventure.com website if interested for next year!
Jo Taylor adds: ... Can't resist adding to the Open 5 report as this was mine and Dave's 16th event and having accumulated a career 5000 points so far we were delighted to pick up certificates and champagne for our effort. The weather was kind but the terrain was a horror and it was notable how many teams lost points going over the 5 hour limit. We managed to come in on time for 9th mixed pair and 9th mixed pair in the series overall this year. The atmosphere at these events is second to none and the score format makes them especially suitable for those wanting to try a longer event but nervous about finishing a long event at the back.
parkruns, Sat 9 April
From Petra Bijsterveld ... Results ...

Woodhouse Moor
(1  17:15 unknown)
29  20:25 Adrian Bastow
95  23:31 Ethan Thompson (junior)
404 ran

Bradford Lister Park
(1  17:25 Nathan Martin, Wharfedale Harriers)
387 36:38 Abbie Reynier (junior)
446 ran

Harrogate Stray
(1  18:30 Tom Mitchell, U/A)
153 27:18 Julie Elmes
293 ran

Hilly Fields Lewisham
1   18:13 Alex Hirst
168 ran

Skipton Aireville Park
(1  18:14 Neil Maloney, Skipton AC)
11  21:04 Lewis Carr (junior)
111 28:45 Dylan Carr (junior)
181 ran

Fountains Abbey
(1  16:52 Nathan Smith, City of York)
60  23:07 Norman Bush
319 ran

Bramley 
(1  20:27 Duncan Spence, U/A)
24  24:14 Harry Stead (junior)
134 ran

Lancaster
(1  18:49 Harvey Lord, Black Combe Runners)
5   19:35 Oscar Stapleton (junior)
231 ran

Ilkley Harriers Race League update
From Jane McCarthy ... After 4 races in the Harriers League Lucy Williamson is at the top of the Leaderboard with 245 points from 3 races. Michael Duffield, last year's winner, is in second place having also raced in 3 events. The next 3 races are all in May, starting with Road with the first John Carr 5K on 4th May, Fell with the Jack Bloor on 10th May, and Trail with Over the Odda on the 14th May. John Carr Series is pre-entry only from Saltaire Striders.
Updated 2016 League results after 4 races
More on the League page.
Bunny Run #2, Tue 5 April
Well done to Tom Adams who won his 11th Bunny and 17th Egg Stage - can Tom match Ian Holmes' 18 Egg Stage wins next week (no pressure!). Photos and results ...

1   15:22 Tom Adams
22  18:16 Paul Carman
62  20:17 Ben Joynson
80  20:57 Jane McCarthy
109 22:11 Mary Gibbons
111 22:15 Poppy Anderson
125 22:54 Bernadette Raven
151 24:11 Andrew Jackson
167 25:04 Adela Reperecki
175 25:21 Tom Jackson
178 25:28 Helen Waddington
189 25:28 Ella Shouler Harris
278 finished

Wilmslow Half Marathon, Sun 3 April
From Steve Weston ... Steve Newell and I travelled over to Cheshire for the Wilmslow Half Marathon, a large event for 5000 runners run on entirely closed roads.
On the trip over the weather the weather was a bit grim but thankfully the drizzle cleared below the M62 to allow the race to be run in sunshine with a little bit of breeze, almost perfect conditions. The course follows a gently undulating route around the Wilmslow lanes.
I started off well running what seemed like a comfortable pace of 6.10 and had Rob Cunningham in my sights for half of the race before overhauling him at around mile 7. Unfortunately it all went south then, with wheels coming off at mile 10 and Rob pushing on into the distance after 11. Steve Newell ran a great race despite less than ideal prep to come in well within his expected time.
Results ...

(1  1:04:59 Josphat Kipkemoi, Run Fast)
165 1:24:52 Rob Cunningham 
184 1:25:50 Steve Weston
255 1:28:37 Andrew Overend
415 1:33:24 Steve Newell
3796 finished

Baildon Boundary Way, Sun 3 April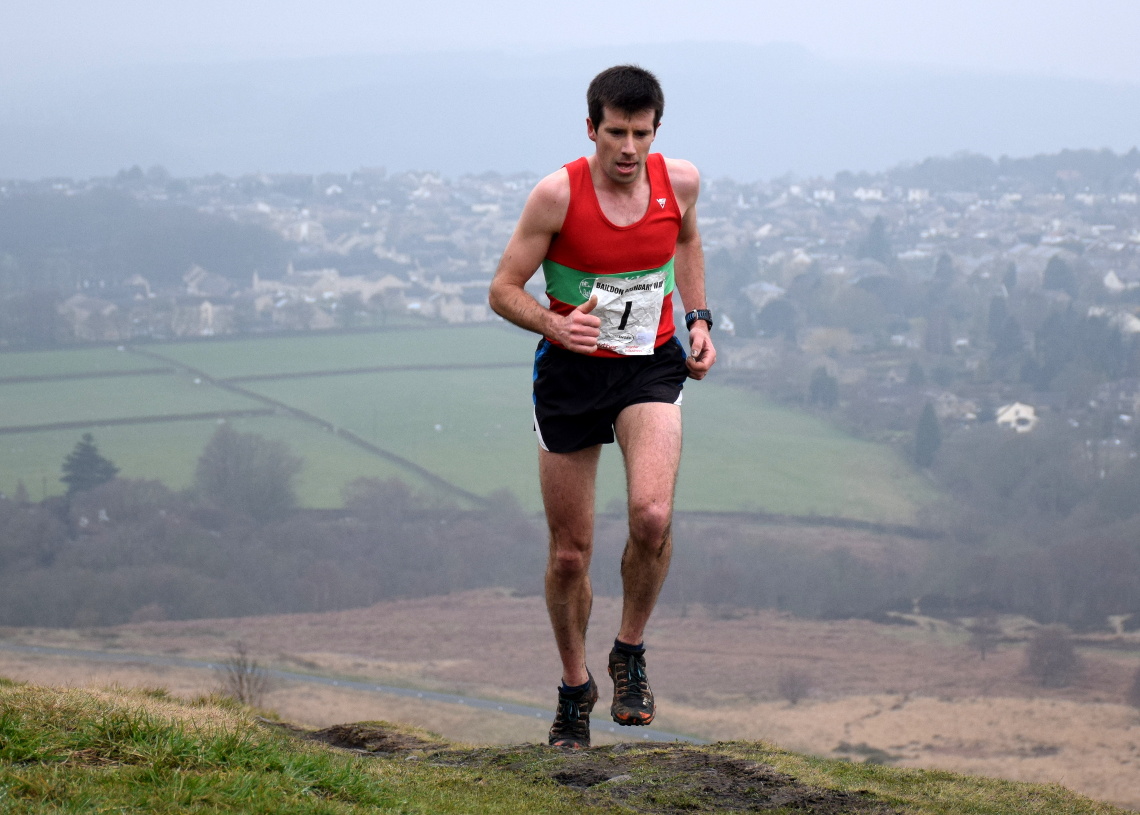 Dave Woodhead reports ... Tom Adams won by an astonishing 15 minutes - results ...

1   1:16:41 Tom Adams
38  1:43:44 Richard Joel
153 2:05:01 Neil Bloor
173 2:09:11 Adela Reperecki
252 2:22:28 Helen Horton
254 2:22:38 Nigel Tapper
280 2:29:54 Stephanie Fox
288 2:33:02 Jayne Fort
331 2:51:44 Julie Elmes
345 finished

Paris Marathon, Sun 3 April
From Petra Bijsterveld ... I signed up for Paris with several other Harriers. Only my 2nd marathon and my 1st one on road. Warm sunny weather had been predicted for Sunday and the forecast, sadly, turned out to be very accurate, a stunning day for spectators but it made it hard for runners having trained in the Yorkshire winter.
The race is huge with over 40.000 finishers, starting and finishing near the Arc de Triomphe and taking in many of the major sights of Paris as well as going out into the Bois des Vincennes and Bois de Boulogne. The atmosphere was really positive, the route lined with spectators and bands providing music and especially lots of drumming, which is great when you are running. There were massive water stations every 5km with fresh oranges, bananas, dried fruit and sugar cubes. Les pompiers de Paris (fire brigade) also provided additional water stations and had their hoses out providing a welcome spray.
The entire course was quite congested with so many runners, many were walking quite early on and one had to weave in and out a lot which was tiring. Parisian spectators have an interesting way of just carrying on with their normal Sunday morning routine, and there was a constant stream of little old ladies and families with prams tackling the zebra crossings in the face of thousands of runners. I just mumbled 'vous etes fou' under my breath hundreds of times.
I had planned to do 10 minute miles all the way and this worked very well for the first half, but just as I was beginning to get quite impressed with my pacing (fatal) the wheels gradually came off as the heat and the relentlessness of the road running (and some cobbles!) caught up with me. The slopes out of the underpasses were becoming a problem that I had to walk, much as I was trying to tell myself they were barely worthy of the name hill and that I am from Ilkley after all! The last 6 miles I had to run/walk and was not fun, finishing eventually in 4:49, disappointed as I had hoped for 4:20. However, having seen several collapsed runners along the course being attended to by de Croix Rouge I was glad to finish in one piece. More fresh fruit on offer at the finish, and a very shiny large medal. There were some excellent results from other Harriers; Dave Ibbotson and Alex both struggled with cramp hampering their times which was likely related to the heat.
For anyone wanting to run a big city marathon I can very much recommend Paris, it is easy to enter, no ballot, just pay your money and you are in. The organization was faultless without losing its french relaxed character, and very friendly. Just hope for an overcast day.
Results ...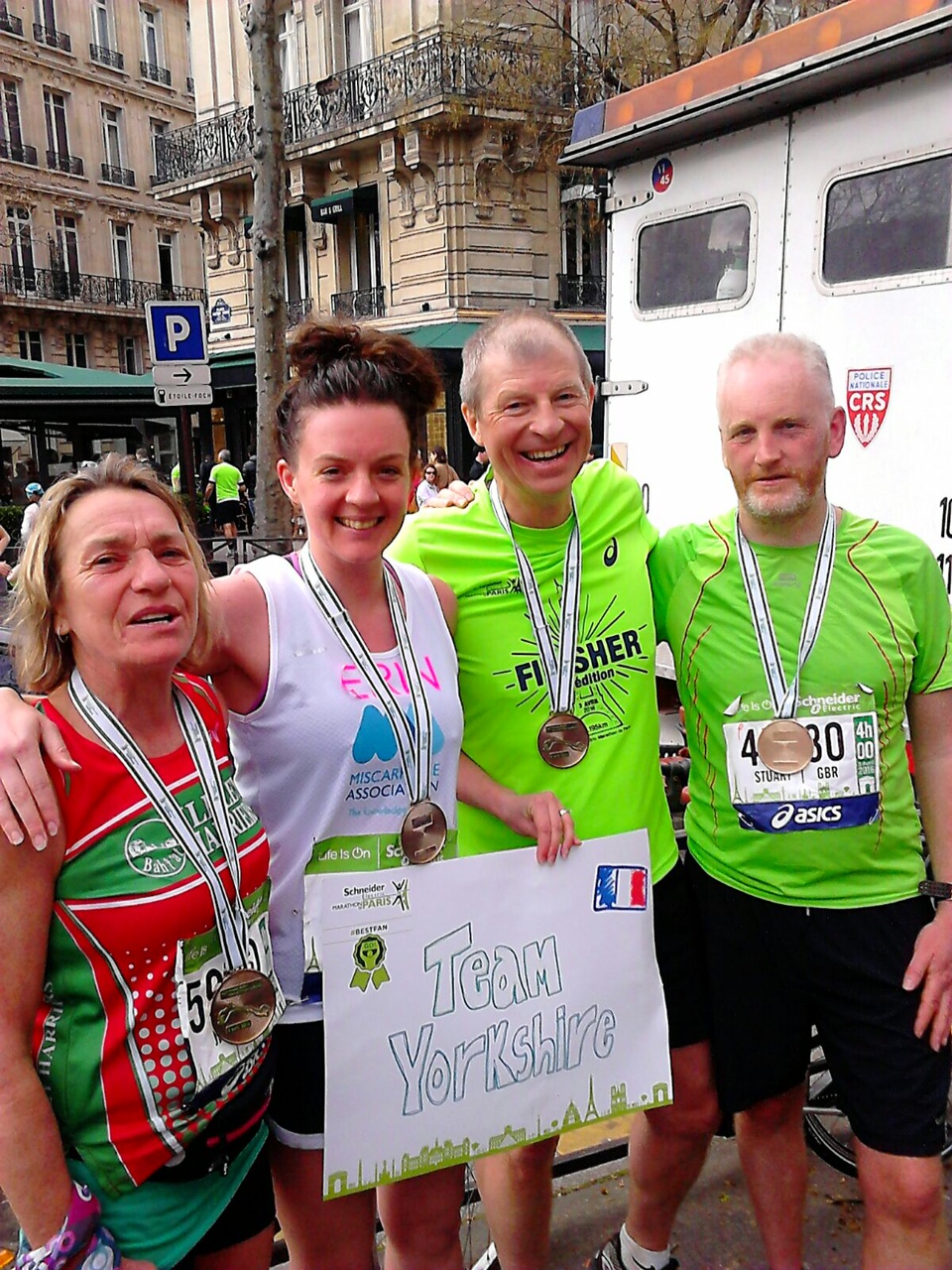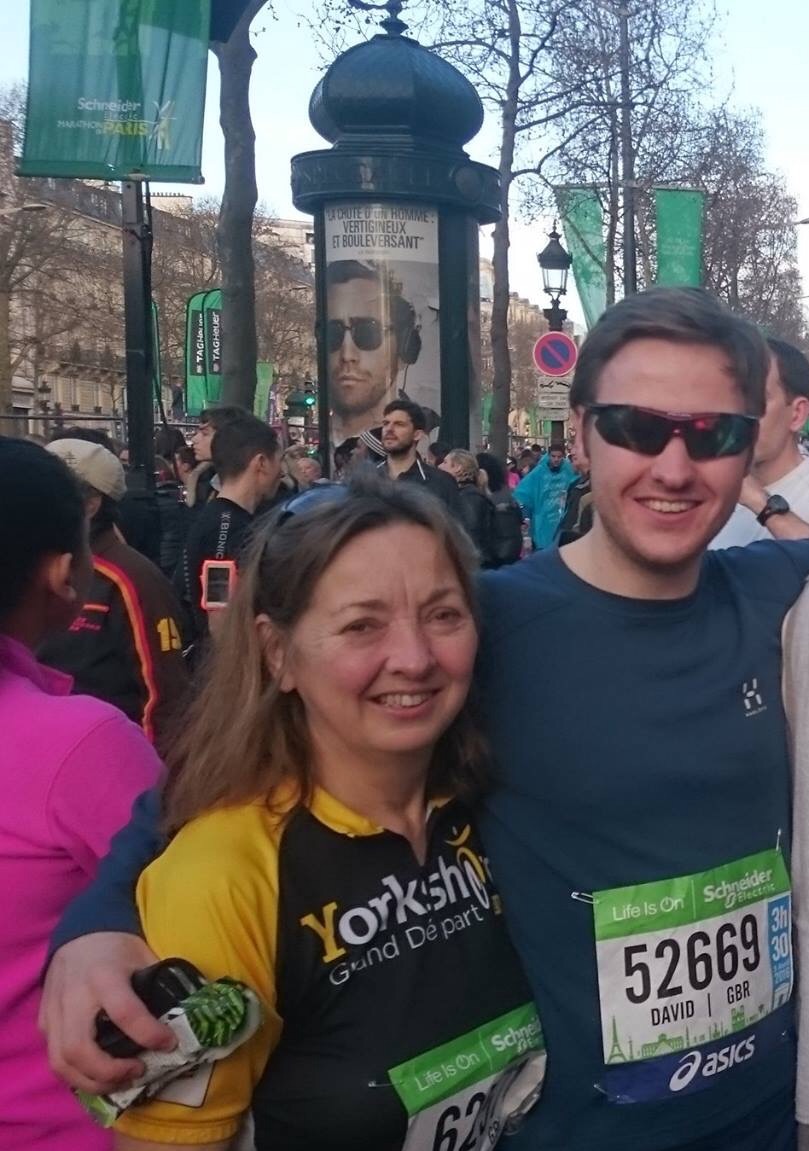 (1    2:07:11 Cybrian Kotut)
9697  3:47:16 David Schneider
12313 3:54:57 Stuart Herrington
12587 3:55:40 Erin Keating
17518 4:08:52 Jan Carrier 
25841 4:32:17 Dave Ibbotson
30454 4:47:12 Alex Stanley-Hyde
31163 4:49:53 Petra Bijsterveld
31810 4:52:34 Fiona Schneider
41708 finished

Blubberhouses 25, Sun 3 April
From Dan Wilkinson ... This really well organised LDWA event seemed to be well attended by Harriers, I saw several at the start. I was hoping for a good run after completing my recovery from injury and a group of 4 of us, including Ben Sheppard set off together and opened up an early lead. We ran together for the first 15 miles or so and at Beamsley Beacon I could tell the other guys were working a bit harder than me so I decided to see if I could open up a lead. It worked and I managed to drop Ben and the others to come home first in 3:06, despite getting momentarily lost on the run in (something I seem prone to in recent months!). Ben Was 3rd and John Hayes was 3rd Harrier home in around 3:25.
From Jann Smith ... A great route which takes in Beamsley Beacon, Round Hill, Rocking Moor, Timble and the all the Washburn reservoirs with an interesting section of bog around 8 miles in length ! Lots of Harriers there. I was doing well up to mile 23 when my calf popped and ruptured. The man behind basically told me to man up and jog it out so I hobbled to the finish. 1st lady.
Results ...

1  3:06 Dan Wilkinson 
3  3:12 Ben Sheppard
10 3:31 John Hayes
27 3:49 Jann Smith  1st lady
34 3:58 Andrew Merrick
38 4:02 Paul Calderbank
46 4:17 Chantal Busby
56 4:42 Sarah Hayes
65 4:52 Richard Morris
179 finished

Pendle fell race, Sat 2 April

(1 33:46 Sam Tosh, Rossendale)
5  36:12 Ruaridh Mon-Williams
23 40:55 Martin Archer
95 51:23 Norman Bush
172 finished

BMAF 10k Champs, Sat 2 April
From Geoffrey Howard ... A sunny day in London town, and an inspiring setting, for the latest race in a monthly summer series of 10k races. The occasion last Saturday (2nd April) also doubled as this year's BMAF 10k Championship. The start was from the Podium Cafe next to the controversial Orbit sculpture in the Queen Elizabeth Olympic Park (set between the Olympic Stadium to the West across a stretch of water and the Olympic Pool to the East also across a waterway). The three lap, mainly flat but loopy, course soon had us having to look out for locals out enjoying an early morning constitutional with the overall atmosphere very similar to that of a Park Run. There were 505 finishers with Tom Payn (unattached) winning in 31m 16s. I managed 93rd in 42m 40s as second v70 well behind Martin Ford of Cheltenham (72nd and first v70 in 41m 16s) who has been virtually untouchable in his age group in road races over at least a decade. For anyone fancying trying the event during a weekend trip to the capital, it can be reached from St Pancras in only 15 mins, has chip timing and ritual goodie bag but weighs in at a hefty £15 entry fee.
parkruns, Sat 2 April
From Petra Bijsterveld ... Results ...

Woodhouse Moor
(1  16:26 Scott Harrington)
19  20:12 Tom Worboys
272 ran

Bradford Lister Park
(1  18:08 Michael King, Tunbridge Wells Harriers)
15  20:54 Theo Clay (junior)
290 35:08 Abbie Reynier (junior)
348 ran

Hilly Fields Lewisham
(1  17:48 Noah Armitage-Hookes, U/A)
2   18:57 Alex Hirst
183 ran

Fingal Bay
(1  19:39 Daniel Hutchinson, U/A)
7   22:25 Eve Whitaker (junior) 1st female
36  27:02 Alexandra Whitaker (junior)
44  27:50 Helene Whitaker
92 ran

Skipton Aireville Park
(1  17:07 Joe Mercer, Horwich RMI Harriers)
5   19:26 Oscar Stapleton (junior)
25  22:05 Lucy Jacques
67  26:00 David Taylor
94  27:40 Polly Crawley (junior)
110 28:50 Neve Tennant (junior)
129 30:44 Jo Taylor
171 ran

Fountains Abbey
(1  16:58 Ben Pease, Ripon Runners)
88  25:56 Emily Elmes (junior)
123 27:36 Julie Elmes
236 ran

---