Latest News and Results ...
Please send any Harriers results to news@ilkleyharriers.org.uk for this web site and the newspaper.
Junior sessions 3rd-20th March
For parents of juniors doing sessions with Shirley (Sportshall Athletics at IGS or High Jump at Ghyll Royd), there are no sessions for 3 weeks, info on the junior site. Sessions led by other coaches will continue as normal.
Harriers League Update, 5 March
From Martin Wright ... Peter Lewis has submitted a wild card for the recent Bradford Parkrun and recorded a score of 94.85. This shoots him up to 2nd in the league overall. League page
25th Ilkley Moor fell race, Sun 2 March
231 runners enjoyed the senior race, in its 25th year, with a fine win by Tom Adams. Over 170 juniors ran too, the junior races now in their 12th year. Yet another super Ilkley Harriers event, well done to all the organisers and helpers. Results and photos on the Ilkley Moor fell race page.
Harriers results summary ...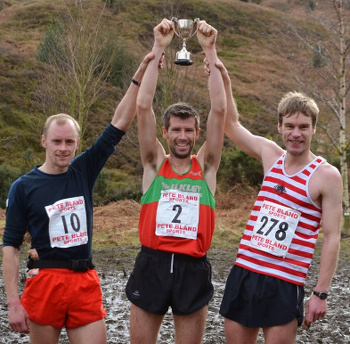 1   36:41 Tom Adams 
15  44:27 Gavin Lamb 
19  45:28 Will Buckton 
20  45:32 James Wood-robertson 
26  46:45 Ben Sheppard 
34  47:23 Jim Ryder 
42  48:11 Dick Waddington 
44  48:41 Ian Rowbotham 
48  48:54 Adam Bennett 
55  49:57 Nick Pearce 1st V60
56  50:02 Rob Cunningham 
62  50:21 Jane Mccarthy 3rd Lady
63  50:26 Richard Joel 
66  50:54 Andy Brook-dobson 
69  51:08 Alistair Barlow 
71  51:29 John Hayes 
77  51:59 Kate Archer 5th Lady
80  52:11 Johnathan Whittaker 
84  52:24 Alison Weston 2nd FV40
85  52:36 Malcolm Pickering 
92  53:17 Jack Cummings 
102 54:19 Alison Eagle 1st FV50
103 54:22 Emma Barclay 
136 58:05 Tom Bennett 
142 58:32 Lucy Williamson 
150 59:01 Michael Duffield 
158 61:09 Sarah Edwards 
180 64:28 Alison Bennett 
202 70:04 Amanda Newham 
214 72:47 Sue Morley 
217 73:28 Kate Wilkinson 
221 76:35 Sarah Hayes 
231 finished


Ilkley won both the men's and ladies team prizes.
Peco XC race 5, Northcliffe Park, Sun 2 March

(1  30:25 Simon Pass, Saltaire Striders)
38  33:10 Steve Coy
269 47:49 Lynn Donohue 
277 48:11 Hilda Coulsey 
339 52:35 Julie Elmes 
356 54:29 Petra Bijsterveld 
410 finished

Black Combe fell race, Sat 1 March
AM 13km/1000m Will Buckton reports ... Results ...

(1 1h08:50 Rob Jebb, Bingley)
49 1h30:35 Will Buckton
182 finished

Trollers Trot, Sat 1 March
From Jez Hellewell ... heard a couple of excellent results at today's Trollers Trot: Jann Smith 3rd overall in a fantastic 3h27 & Toni Melechi, returning to racing after injury, was 2nd in the half in 1h40. trollerstrot.com

Run 25
(1 3h19:00 Paul Carman, Wharfedale)
3  3h27:29 Jann Smith
52 4h16:17 Adela Reperecki
84 4h35:33 Neil Bloor
142 6h02:39 John Coates
152 finished

Run 12
(1 1h37:38 Phil McGeever, Horsforth)
2  1h40:25 Toni Melechi
12 2h10:25 Susan Short
13 2h10:26 Ian Conyers
25 finished



Parkruns, Sat 1 March

Skipton Aireville Park
16 23:25 Lewis Carr (junior)
41 31:32 Dylan Carr (junior)

Bradford Lister Park
53  23:39 Joe Reynier (junior)
89  25:19 Peter Lewis
287 39:39 Abbie Reynier (junior)

Preston 
19 20:54 Oscar Stapleton (junior)

Seville Marathon, Sun 23 Feb
Claire Mcloughlin reports ... I did the Seville Marathon with my Harrier Dad Mike Baldwin - 3:56:48
Huddersfield 10k, Sun 23 Feb

(1  35:54 Simon Cook, U/A)	
331 56:58 Jean Sullivan
527 finished

National XC, Sat 22 Feb
Sally Malir reports ... The English National Cross Country Championships was held at the beautiful venue of Wollaton Park in Nottingham. The weather was sunny but very breezy and the course was varied and challenging including log jumps and stream crossings.
There were many records broken, from the number attending the event to record fields of finishers from the 10 races in the programme. There were over 10,000 spectators and entrants at the event and this made for a fantastic atmosphere. The first Ilkley Harrier to race was George Hardesty (U15 Boy) Who finished 282nd in a time of 17:45.
The Junior Women's race was next, Georgia Malir ran well to finish in 8th position in a time of 22:39. This race was won by Georgia Taylor Brown in a time of 21:03 who led from start to finish and had nearly a minute on the chasing pack of which Georgia Malir was part. There was a record number of finishers in this race 134.
In the Under 13 girl's race there was again a record number of finishers, 431, and the Ilkley girls came 47th team. Individual results were 116th Bethan Morley 13:28, 295th Emily Elmes 14:44, 316th Eva Jeffels 14:50, 361st Ella Shouler Harris 15:20 and Alessandra Ricci 402nd in 14:04.
The Ilkley Under 15 Girls finished 25th team being led home by Lucy Haines 94th in 17:46 with Tilly Melechi in 146th position in a time of 18:11, 178th Jemima Elgood 18:27, 296th Georgia Flaxman 20:49, 302nd Molly Jeffels 20:49 and Elizabeth Westhead 311th in 20:54.
The Under 13 Boys race was the last junior race of the day with another record number of entrants, 385. The two Ilkley boys ran brilliantly and gained fantastic finishing positions of 72nd Euan Brennan in 12:11 and Dominic Coy 188th in 13:00
Next were the senior races, the Women's race finished a record number of competitors 708. Ilkley had three women in this event. Sally Morley ran well and came in 54th in 31:49, Allison Ricci 536th in 42:57 and Julie Elmes 641st in 47:08.
Ilkley had two men in the spectacular finale to the day. Stephen Coy was 728th in 47:37 and Will Buckton also ran ( but I can t find his result).
The whole day was very exciting and well organized a fantastic event to take part in, a definite for me next year!

Junior Women
(1 21:03 Georgia Taylor-Brown, Sale)
8  22:39 Georgia Malir
134 finished

Senior women
(1 27:42 Gemma Steel, Charnwood AC)
54 31:49 Sally Morley
536 42:57 Alison Ricci
641 47:08 Julie Elmes
708 finished

Senior men
(1  36:23 Steve Vernon)
728 47:37 Steven Coy
1657 finished


And, as usual, some excellent performances from our junior Harriers, with a minibus going downto Nottingham.
Flower Scar fell race, Sat 22 Feb

(1  47:11 Simon Bailey, Mercia)
112 83:04 Nick Mellor
127 finished

Parkruns, Sat 22 Feb
Tom Adams won the first 'all-tarmac' Skipton Parkrun (it's moved off the woodland circuit for the rest of the winter).

Skipton Aireville Park
1  15:51 Tom Adams
12 23:11 Lewis Carr (junior)
38 29:20 Dylan Carr (junior)

Leeds Hyde Park
139 24:41 John Marshall

York
8  18:21 Adam Bennett

Ilkley Harriers of the Month, January
Julie Elmes
Improvement, stepping in as ladies XC Captain, participation in WYXC, PECO, Yorkshire and Northern XC races
Other nominations were:
Georgia Malir - XC races and international results
Caz Farrow - 1st woman in Central Lancs Half Marathon
Steve Weston - 1st Harrier at the Brass Monkey
Tom Adams - 1st places in Stoop Fell Race and Peco XC at Golden Acre
Matt Newell - good performance at PECO XC
Jacqui Weston - organising Annual Awards Do
Dan Wilkinson
Stanbury Splash result
Other Harriers of the Month ...
PECO XC 3, Middleton Park, Sun 12 Jan
The first counter in this year's Ilkley Harriers Race League. Will Buckton reports... Tom Adams recorded another win for Ilkley Harriers in the third PECO Cross Country race at Middleton Park. Tom finished over a minute clear of second place. Next home for Ilkley was 16 year old triathlete Matt Newell. Matt finished 20th overall out of 619 runners, just three minutes behind Tom. Alison Eagle was the first of the Ilkley ladies to cross the line, taking 33rd lady out of 231. Hilda Coulsey ran well to take 1st F60 and 89th overall, after running Bradford Parkrun the previous day. Results ...
PECO XC, Sun 16 Feb
Round 4, results ...

(1  33:25 Colin Walker, P&B)
13  35:25 Matt Newell
32  36:36 Steve Coy
67  39:20 Rob Cunningham
119 41:45 Steve Newell
150 43:36 Ben Joynson
184 45:05 Alison Eagle
299 50:55 Hilda Coulsey
305 51:24 Peter Lewis
320 52:01 Eric Morley
326 52:33 Lynn Donohue
380 56:41 Julie Elmes
402 58:29 Sue Morley
407 58:37 Sally Wright
416 59:24 Petra Bijsterveld
422 60:14 Sue Williamson
472 finished
4th ladies' team
9th men's team


Parkruns, Sat 15 Feb

Skipton Aireville Park
1 22:27 Dick Waddington

Bradford Lister Park
5  18:57 Will Buckton
26 21:48 Oscar Stapleton (junior)

Leeds Hyde Park
15  19:59 Jack Wood
121 25:56 John Marshall

Primary Schools XC, Sat 15 Feb
Well done to the 315 runners this morning, results are now up on the junior site.
Wadsworth Trog, Sat 8 Feb
Will Buckton reports ... I had been told this (BL 32.2km/1220m )was harder than the Three Peaks, and I wasn't disappointed. A real battle through energy sapping bogs and tussocks, with a strong headwind thrown in for good measure. Photos on Woodentops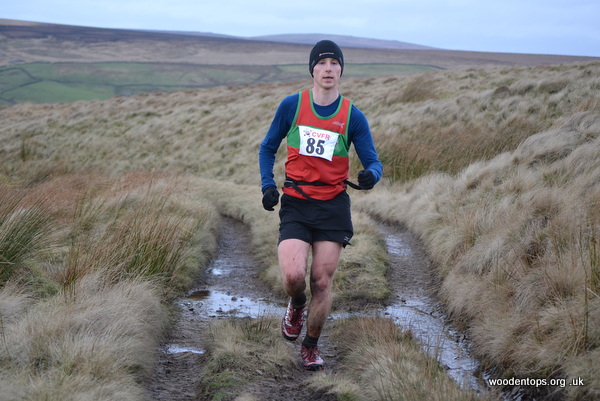 Results...

(1 3h00:22 Simon Harding, Macclesfield)
17 3h36:42 Will Buckton
61 4h06:03 Brian Melia
140 5h16:10 Adela Reperecki 
158 finished

Parkruns, Sat 8 Feb

Skipton Aireville Park
5  24:26 Sarah Pickering
7  25:00 Malcolm Pickering
9  26:11 Lewis Carr (junior)
28 35:03 Dylan Carr (junior)

Bradford Lister Park
40  22:28 Cameron Reilly (junior)
91  24:53 Hilda Coulsey
105 25:29 Paul Sugden
107 25:41 Oscar Stapleton (junior)
126 26:28 Peter Lewis
215 29:20 Emma O'Looney

Leeds Hyde Park
177 John Marshall

York
81 22:53 Adam Bennett

Dewsbury 10k, Sun 2 Feb

(1  30:24 Mohammad Abu-Rezeq, Altrincham AC)
68  36:10 Matt Newell
139 38:32 Mark Iley
148 38:42 David Brown
179 39:41 Jane McCarthy
180 39:41 Andrew Merrick
182 39:55 Sally Malir
222 41:11 Steve Newell
250 41:36 Adrian Bastow
313 42:28 Rachel Carter
402 44:49 Helen Horton
482 46:29 Helen Waddington
560 49:11 Hilda Coulsey *
790 54:35 Petra Bijsterveld
920 58:02 Fiona Schneider
1063 finished


Hilda's time is a new LV60 Club record, beating Margot Dale's 2006 time of 49:21 (also from Dewsbury.) And Sally Malir has equalled Alison Bennett's 2008 Abbey Dash time for LV45's
This was a counter in the Ilkley Harriers Race League.
YVAA GP 1, Sun 2 Feb
Alison Eagle reports ... the 2014 YVAA Grand Prix series began on a lovely sunny day over in the Fulneck Valley, Pudsey. A wonderful muddy two laps of the woods with a steep climb to finish. Just two Harriers running but plenty of support, both Sue and I gaining good points in our respective categories...

Ladies
(1 36:24 Tanya Seager, Stainland)
5  40:11 Alison Eagle (2nd V50)
25 50:21 Sue Morley (5th V55)
49 finished

Rombalds Stride, Sat 1 Feb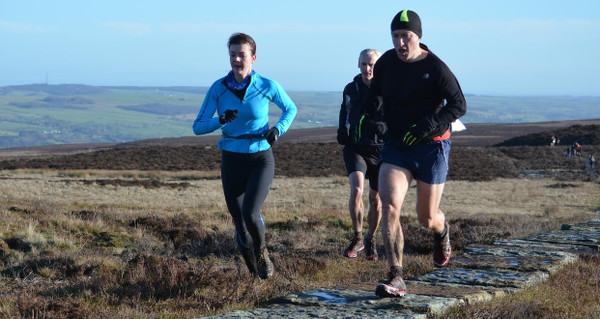 Three Harriers in this Woodentops photo and lots in Graham's photos and on Woodentops.
Dick Waddington reports ... Good weather, but icy on the flagstones over Ilkley Moor and boggy everywhere else - if there were a team prize, I reckon we'd have won it.
Results ...

(1  2h54L41 Edward Davies)
6   3h00:26 Mark Mon-Williams
7   3h00:45 Will Buckton
8   3h02:08 Dan Wilkinson
12  3h13:33 Ben Sheppard
14  3h16:42 Dick Waddington
15  3h17:29 Duncan Cooper
26  3h24:17 Neil Smith 
    3h24    Kate Archer 3rd lady
28  3h24:41 John Hayes
30  3h26:14 Rob Cunningham
51  3h38:26 Rebecca Mon-Williams
58  3h41:15 Outi Kamarainen
72  3h52:51 Alison Weston
78  3h54:25 Paul Stephens
110 4h11:40 Adela Reperecki
131 4h22:46 Val Kerr
149 4h34:07 John Coates
151 4h36:24 Sharon Meadows
160 4h42:10 Lyn Donohue
168 4h46:58 Dave Taylor
170 4h46:58 Gavin Burgess
177 4h50:07 Nick Mellor
185 4h53:58 Stephen Rhodes
206 5h10:03 Rebecca Moores
251 5h53:16 Jacqui Weston
253 5h54:35 Jo Taylor
452 finished


Shout if we've missed anyone - no club given in the results...
Parkruns, Sat 1 Feb

Skipton Aireville Park
12 25:44 Dan Hayes (junior)
26 29:05 Joshua Waddington (junior)

Leeds Hyde Park
177 26:14 John Marshall

Ilkley Harriers Presentation Evening, Fri 31 Jan
A good crowd enjoyed Elvis, a curry supper, and the presentation of the annual awards ....

More photos from Anna on our Facebook Group page
Ilkley Harriers Awards for 2013
| | | |
| --- | --- | --- |
| Best Runner | Tom Adams | Sally Morley |
| Most Improved Runner | Rob Cunningham | Jane McCarthy |
| Best Endurance Runner | Dave Wilby | Clare Smith |
| Best Runner, Under 23 | Bradley Chapman | Georgia Malir |
| Contribution to the Club | Paul Stephens | Jane Bryant |
| Captains' Award | Will Buckton | Hilda Coulsey |
See the previous holders in the roll of honour here.
Ilkley Harriers Running League 2013, Champions
| | |
| --- | --- |
| Overall: | Henry Heavisides |
| Road: | Henry Heavisides |
| Fell: | Martin Archer |
| Trail/XC: | Henry Heavisides |
The final results of the 2013 League and the dates for the 2014 League are on the League page.
Northern XC, Sat 25 Jan

(1  41:17 Daniel Garbutt, Durham City)
147 50:03 Dave Wilby
288 54:14 Will Buckton
322 55:38 Stephen Coy
613 finished

Women
(1  30:22 Katie Walshaw)
231 49:43 Julie Elmes
262 finished

Junior women
(1 21:48 Katy Wood, York)
2  22:28 Georgia Malir
51 finished


Some great junior results, report on the junior pages.
Parkruns, Sat 25 Jan
Helen reports ... Joshua's first attempt - he nearly got me ...

Skipton Aireville Park
16 26:23 Lewis Carr (junior)
19 26:37 Helen Waddington
35 28:31 Joshua Waddington  (junior)
36 28:31 Dick Waddington
54 28:31 Dylan Carr (junior)

Bradford Lister Park
50 22:36 Cameron Reilly (junior)

Leeds Hyde Park
213 27:20 John Marshall

Georgia's international win, Sun 19 Jan
From Sally Malir ... Georgia Malir was selected to run for England for the second time this season. The race was The Cross Internacional de Italica, Seville, Spain, on January 19. The race attracts a strong international field, but the junior men's and women's races were dominated by England with the first four positions taken by them in both events. Georgia ran strongly to win the Junior Women's race. Results and report on British Athletics website and eightlane.org
Soreen Stanbury Splash, Sun 19 Jan
From Paul Stephens ... A beautiful morning for another canter round the Bronte moors (or a gallop if you're Tom). We all know how grim it can be at Penistone Hill, but not on Sunday. It was great to be out, albeit with 400 others and plenty of Harriers. To be fair the course coped, and it didn't feel like that many. The mud was sticky, the climbs were hard, and the 3 river crossings, well..... My time wasn't great, but I've usually been about half way down the field and this year was no exception. I had thought this used to be a relatively small race - 100+, but I was wrong, it's always been popular. It was twenty years ago that I first did the Stanbury Splash and there were 299 people finished that day. And thanks to Nick for the lift.
Results from the Woodentops (photos there too)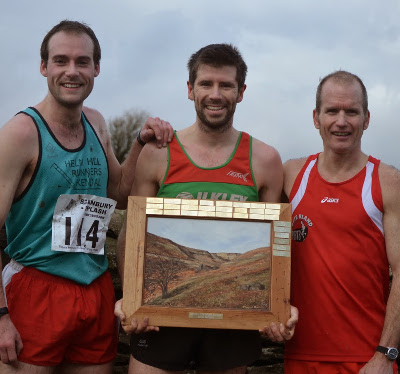 1   43:50 Tom Adams
25  52:03 Dan Wilkinson
37  53:20 Will Buckton
96  58:00 Duncan Cooper
97  58:04 Dick Waddington
100 58:13 Paul Calderbank
103 58:23 Jane McCarthy
108 58:44 Nick Richardson
156 62:40 Jann Smith
181 64:36 Alison Weston
209 66:31 Paul Stephens
220 67:23 Alison Eagle
235 68:20 Norman Bush
250 68:52 Diane Haggar
251 68:56 Chantal Brisby
306 72:32 Sarah Edwards
356 77:42 Nick mellor
365 78:57 Peter Lewis
379 80:50 Sue Morley
385 83:24 Sophie Brown
388 83:52 Geoff White
395 84:54 Amanda Newham
399 85:47 Jayne Sort
401 85:53 Sally Wright
410 87:19 Eric Morley
412 87:48 Kate Wilkinson
429 97:43 Julie Elmes
437 finished


The IH Race League has been updated and Jane McCarthy has a great lead not just from this race but from playing her wild card to great effect.
Many super runs from the juniors too U8-U18!
Brass Monkey, Sun 19 Jan
Interestingly, both the Brass Monkey and the Stanbury Splash are in their 31st year!
Justin Phillips reports ... I managed to secure a last minute entry to run the Brass Monkey and joined a car load of Harriers for the trip to York. Chilly weather had us all shivering on the start line but by mile 1 the rain was replaced by sunshine and made way for a beautiful day.
Steve Weston shot off from the Ôwhistle' (the hooter had succumbed to the rain) and by the time I finished he'd already had a massage and a tuna sandwich.
The course is one of the fastest around and after swapping post-race stories it seems the Harriers contingent were pretty pleased with their morning's work.
Results ...

(1  1:10:19 Matthew Peirson, U/A)
78  1:21:39 Steve Weston
86  1:22:10 Rob Cunningham
112 1:23:44 Justin Phillips
132 1:25:07 Caz Farrow
148 1:25:43 Andrew Merrick
173 1:26:57 Stephen Coy
567 1:40:02 Helen Horton
921 1:51:40 Gaenor Coy
1459 finished

Parkruns, Sat 18 Jan

Skipton Airevile Park
9  22:38 Jane McCarthy  1st lady
20 26:39 Diane Haggar
55 35:30 Dylan Carr	
	
Bradford Lister Park
34 22:13 Arthur Reilly
65 23:56 Andrew Wilson

Harrogate Stray
180 28:33 Petra Bijsterveld

Leeds Hyde Park
118 23:44 Will Worboys

Ilkley Harriers of the Month, December
Ben Sheppard
1st Harrier at Ribble Valley 10k
Other nominations were:
Val Kerr for HOM for organising the Gathering Winter Fools Relay and her race results in December
Dave Wilby - 1st Harrier at Chevin Chase
Hilda Coulsey for 1st FV60 at the Ribble Valley 10K
Tom Adams for 1st places in Stoop fell cace and Peco XC at Golden Acre
Geogia Malir for 2nd place at Brussells Lotto Cross Country Cup - England selection - and other excellent results
Rob Cunningham, good month of race results and achieving second in the Harriers Race League
Helen Horton, Eric and Sue Morley
for organising the fun Club Christmas Relays and Quiz
Other Harriers of the Month ...
PECO XC 3, Middleton Park, Sun 12 Jan
The first counter in this year's Ilkley Harriers Race League. Will Buckton reports... Tom Adams recorded another win for Ilkley Harriers in the third PECO Cross Country race at Middleton Park. Tom finished over a minute clear of second place. Next home for Ilkley was 16 year old triathlete Matt Newell. Matt finished 20th overall out of 619 runners, just three minutes behind Tom. Alison Eagle was the first of the Ilkley ladies to cross the line, taking 33rd lady out of 231. Hilda Coulsey ran well to take 1st F60 and 89th overall, after running Bradford Parkrun the previous day. Results ...

1   26:13 Tom Adams
20  29:14 Matt Newell
36  30:07 Gavin Lamb
129 33:35 Steve Newell
168 34:43 Henry Heavisides
261 37:18 Alison Eagle
280 37:43 Adrian Bastow
409 42:02 Hilda Coulsey
429 42:49 Eric Morley
434 42:56 Peter Lewis
462 44:09 Lynn Donohue
494 45:13 Sue Morley
505 45:46 Julie Elmes
536 47:25 Sue Williamson
562 49:07 Petra Bijsterveld
599 53:28 Kate Lofthouse
619 finished

Parkruns, Sat 11 Jan

Bradford Lister Park
6   18:57 Will Buckton
100 24:55 Hilda Coulsey
296 32:29 Christine Reilly

Skipton Aireville Park
10 24:43 Lewis Carr (junior)
57 37:15 Dylan Carr (junior)

Central Lancs Half Marathon, Sun 5 Jan
Caz Farrow reports ... I finished first woman (28th overall) in 1 25 53 I think. 'Undulating' and nice and windy! Results ...

(1 1:16:45 Peter Bains, U/A)
28 1:25:53 Caz Farrow, 1st woman
418 finished

Yorkshire XC Championships, Sat 4 Jan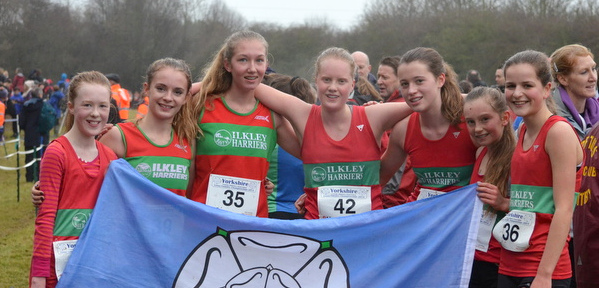 From Dave Wilby ... Superb run from Georgia Malir today, she gave fell and XC expert Katie Walshaw, and World Marathon Champs 10th place finisher Susan Partridge a real run for their money to finish 4th overall and 2nd junior. The first 4 put over a minute into the rest of the field, including Annabel Mason which just shows the quality they produced.
Results ...

Women
(1  23:51 Katy Wood, York)
4   25:56 Georgia Malir (2nd junior woman)
25  28:31 Sally Morley
129 40:36 Chloe Haines
132 41:15 Julie Elmes
147 finished
14th team

Men
(1  40:48 Andrew Heyes, Hallamshire)
68  48:24 Dave Wilby
121 51:41 Steve Coy
133 52:29 Will Buckton
150 53:39 Mark Iley
178 56:05 Arthur Reilly
260 finished


There were 25 Junior Ilkley Harriers racing, with some super team results, including the girls in the photo who won U15 Bronze.
Parkruns, Sat 4 Jan

Skipton Aireville Park
1  23:18 Jane McCarthy  *WINNER*
16 28:00 Helen Waddington
52 finished

Harrogate Stray
181 28:20 Petra Bijsterveld

Leeds Hyde Park
217 28:59 John Marshall


Nine Standards, Wed 1 Jan
Will Buckton reports ... Epic conditions for the New Years Day run up and down Nine Standards Rigg from Kirkby Stephen. BM 12.9km/549m Snow, hail and high wind made it a real battle on the climb.

(1 57:57 James Dunn, Edinburgh Uni)
42 1h12:46 Will Buckton
118 finished

Giant's Tooth, Wed 1 Jan

(1 17:10 James Hall, Wharfedale)
33 21:41 Toni Melechi
44 23:01 Tilly Melechi (junior)
124 finished

Captain Cook's race, Wed 1 Jan
Roy Ruddle reports ...8km/318m I was 95th in about 43:19
New Years Day Parkrun

Aireville Park, Skipton
(1 19:53 Lucas Payne, Barlick FR)
4  21:04 Rob Cunningham
40 33:12 Petra Bijsterveld
58 finished

Auld Lang Syne, Tue 31 Dec
Photos and results on woodentops.org.uk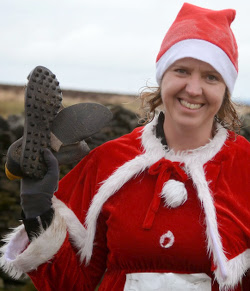 (1  42:09 Tom Addison, Helm Hill)
52  51:48 Alistair Mcinnes
72  53.21 Ian Rowbotham
74  53:26 Sally Morley
125 56:57 Kate Archer
147 58:17 Jann Smith
178 60:25 Steve Weston
198 61:33 Alison Weston
230 64:05 Dan Wilkinson
248 65:24 John Coates
272 67:03 David Ibbotson
299 69:20 Alison Ricci
326 72:06 Adela Reperecki
379 78:53 Emma Payne
382 79:46 Sally Wright
394 82:42 Julie Elmes
421 98:59 Sophie Brown
425 finished

Ribble Valley 10k, Sun 29 Dec
Henry Heavisides reports ... Conditions were very good for today's Ribble Valley 10k at Clitheroe. The quality of the field was really high with runners from all over the country taking part, 5 people managed to get under 30 minutes. As usual Ilkley Harriers were well represented. In a sprint finish Ben Sheppard was just ahead of Rob Cunningham with Justin Phillips not far behind. For the ladies Caz Farrow & Beth Massey both ran really well but somehow missing from the first official results (faulty chips). Amongst the prize winners, Hilda Coulsey was 1st F60, Christine Cox 3rd F55, Henry Heavisides 3rd M55 & Beth 2nd F40. Results ...

(1  29:12 Jonny Mellor, Liverpool)
149 37:11 Ben Sheppard	
153 37:20 Rob Cunningham
156 37:22 Justin Phillips
164 37:44 Henry Heavisides
187 38:21 Will Buckton
235 39:22 David Brown
237 39:37 Caz Farrow  (gun time)
254 39:49 Mark Iley
336 41:58 Beth Massey (gun time)
344 41:45 Andrew Sheldon
381 42:30 Adrian Bastow
424 43:44 Neil Chapman
493 45:31 Alison Weston
560 46:54 Val Kerr
659 48:36 Christine Cox
672 49:24 Hilda Coulsey
1019 1:01:03 Carole Cunningham
1086 finished


This was the final counter in the Ilkley Harriers Race League 2013
Jolly Holly Jog, Sun 29 Dec

(1 33:28 Jack Simpson, Leeds)
98 46:56 Norman Bush
607 finished

Wansfell, Sat 28 Dec
Will Buckton reports ... after being reminded that Saturday morning training wasn't on this week I checked the FRA website and sure enough there was a Lakeland fell race to do instead, Cat A, 3.3km/405m I felt the extra weight of the Christmas food and drink on the climb but I dug in and managed to make up a few places on the steep grassy descent.

(1 19:48 Rob Jebb, Bingley)
24 26:05 Will Buckton
75 finished

Parkruns, Sat 28 Dec

Harrogate Stray
124 26:26 Eric Morley

Guisborough Woods, Fri 27 Dec
Jez Hellewell reports ... had a tough race at Guisborough in 70 mph winds. The moor section, in particular, seemed like one step forward & 2 back. The course, I was told, had been extended by 1 mile to 7 this year. I finished 30th, in 55 mins, out of around 125. The winning time was 43 mins, a full 5 minutes ahead of 2nd place. A great morning out in North Yorkshire.
Chevin Chase, Boxing Day
John Hayes reports ... If the organisers of the Tour de France need any reassurance about the size of cheering crowds in Yorkshire next year, they need only attend this event. Huge crowds line the route giving encouragement and laughing at those in fancy dress. It's a great race - a lovely route and a lively atmosphere especially at the top of the Chevin on the way back. The race is also a good way to burn off all those excess Christmas calories. I had a good run although I still only narrowly beat a man in an inflated clown outfit. In my defence, his costume was SO big he was hard to overtake. But I squeezed past him on the road section and sprinted for home.
Results ...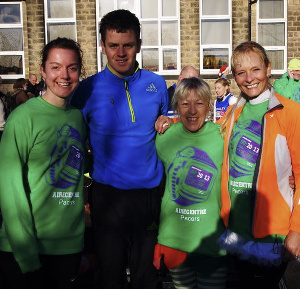 (1    39:01 Jonny Brownlee, Bingley)
16    43:33 Dave Wilby
23    44:33 Alex Sinclair
25    44:39 Martin Archer
36    45:30 Rob Cunningham
48    46:51 Ralph Tench
49    46:50 Adam Bennett
60    47:24 Alistair McInnes
62    47:41 Justin Phillips
73    48:14 Steve Turland
87    48:52 Jonathan Sinclair
90    48:58 Caz Farrow
99    49:24 David Brown
106   49:36 Dick Waddington
118   50:08 Sally Malir
122   50:17 John Hayes
127   50:35 Kate Archer
140   51:06 Steve Weston
150   51:28 Jane Mccarthy
214   53:27 Andrew Merrick
256   55:49 Paul Stephens
286   56:48 Andrew Jackson
349   58:48 Keith Wood
352   58:44 Alison Bennett
364   59:20 David Ibbotson
380   59:36 Helen Horton
381   59:42 Ruth Kitchen
443 1:01:42 Tim Brear
456 1:02:05 Adela Reperecki
489 1:02:33 Sharon Meadows
533 1:04:01 Ros Brown
543 1:04:15 Gaenor Coy
558 1:05:26 Allison Ricci
566 1:05:32 Emily Kerr
567 1:05:33 Val Kerr
578 1:05:40 Will Worboys
605 1:06:41 Martin Wright
614 1:06:56 Chloe Haines
631 1:07:46 Sue Bickerdike
643 1:07:42 David Green
651 1:08:35 Julie Elmes
664 1:08:31 Emma Payne
679 1:09:30 Paul Sugden
707 1:09:59 Sarah Hayes
723 1:11:27 Sally Wright
745 1:12:22 Andrew Kitchen
774 1:13:40 Sophie Brown
782 1:14:05 Peter Lewis
794 1:14:16 Jacqui Weston
831 1:16:19 Michael Picken
892 1:20:15 Fiona Schneider
962 finished

Christmas Day Parkrun, Aireville Park, Skipton

(1  18:44 Jack Smith, Wharfedale)
11  24:21 Lewis Carr (junior, PB)
17  26:01 Sam Wood
27  28:00 Emily Wood
41  32:10 Dylan Carr (junior)
43  33:29 Shirley Wood
50 finished


Well done to Miranda, Run Director
The Stoop, Sun 22 Dec

Steve & Duncan amongst 400 Santa hats at the Stoop race. Tom Adams won in 30:51, beating some quality opposition again and his time from last year, and Ilkley had first ladies team.
From John Hayes ... I've never done The Stoop before. My favourite part of the whole day was arriving to a sign at registration saying "Santa Hats MUST be worn". These are handed out at with a Curly Wurly and race number. By some miracle we persuaded all four of our kids to run the Junior races. These involved a circuit of a kamikaze course of mud and rocks. They all survived and then huddled in the car munching on their goody bags of sweets whilst Sarah and I ran the Senior race. I beat a man in a full length Santa outfit and an elf in a sprint finish. On reflection, this was not in the spirit of the race or Christmas. So I'm a bit worried my stocking may be empty this year...
Results and photos on woodentops.org.uk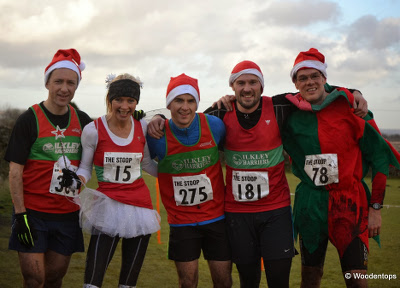 1   30:51 Tom Adams
15  35:38 Jack Wood
25  36:21 Martin Archer
27  36:32 Gavin Lamb
41  38:11 Steve Turland
88  41:10 Duncan Cooper
89  41:11 Richard Joel
91  41:17 Steve Coy
93  41:22 Rob Cunningham
95  41:29 Dick Waddington
100 41:45 John Hayes
117 42:29 Alistair Barlow
124 42:44 Neil Smith
155 44:26 Jane McCarthy
169 45:14 Jann Smith
195 46:57 Alison Weston
203 47:16 Di Haggar
204 47:18 Chris Oxlade
246 49:27 Norman Bush
253 49:59 Sarah Edwards
257 50:22 Val Kerr
281 51:49 Andy Jackson
295 52:43 Helen Waddington
300 53:39 Anna Barlow
339 57:37 Eric Morley
343 58:10 Amanda Newham
354 59:12 Sue Morley
356 59:29 Sarah Hayes
363 61:12 Kate Wilkinson
381 65:16 Julie Elmes
383 67:33 Jacqui Weston
402 finished

And 42 Ilkley juniors raced in the Quarry Runs!


This was the final fell counter in the 2013 Ilkley Harriers Race League.
Run Sunday, Sun 22 Dec
Jez Helewell reports ... Jacob put his growing pains behind him today to come 2nd, beating his own J13 record, in 20:37
Lotto Cross Cup, Sat 21 Dec
Georgia Malir reports ... Last Saturday I headed to Brussels to compete in my first ever England cross country vest. Having never raced cross country in Europe before I was unsure what the course would be like after the recent debates following the European championships being held on a firm, flat and almost track like course. However, in Brussels it was muddy and hilly, just like in the UK but with the addition of a few surprise hurdles which took me a while to master! My 4km race took place over 4 1km laps, with a lap counter and a bell to signal the final lap, which did remind me of a track race! I had no idea what the standard of competition would be so it was nice to find myself at the front of the pack with the rest of the England girls after the first lap. As the race went on me and teammate Alex Clay pulled away from the rest of the group. Alex when on the win the race and I finished second. Racing in Europe was a great experience and hopefully I'll get more opportunities to do it again in future! This is the England Athletics report and a picture of me on the podium www.englandathletics.org
A great photo of Georgia on the Lotto Cross Cup website
Parkruns, Sat 21 Dec

Skipton Aireville Park
(1 19:08 Jack Smith, Wharfedale Harriers)
2  19:45 Matt Newell
6  23:17 Steve Newell
18 25:10 Diane Haggar
52 32:09 Dylan Carr (junior)
68 ran

Christmas Relays and Quiz, Tue 17 Dec
A big thank you to Helen Horton who organised the Christmas Fancy Dress relays. A super turnout (60+ people?), lots of fun, and super organisation.
And to Eric and Sue Morley who organised the Christmas Quiz (45+ people there).
As people said 'a great Harriers tradition', and 'it feels like Christmas has started now'.
PECO XC 2, Golden Acre Park, Sun 15 Dec

A very good turnout of junior and senior runners. A special thanks to everyone who helped with the junior races: Dave Westhead, Steve Newell, Gaenor Coy, Sue Williamson, Dale Bramham Butts, Francis Westhead, Sam Wood, Paul Wood, Sally Wright, Kim Anderson, Sam Bramham Butts, Elizabeth Westhead, Sian Dover, Shirley Wood, Kate Lofthouse, Lucy Williamson, and Joanne Williamson.
Woodentops photos
Results ...

Men: 2nd team in Premier Division (2nd overall)
1   26:59 Tom Adams
20  29:43 Matt Newell
36  30:34 Martin Archer
42  31:08 Gavin Lamb
45  31:13 Rob Cunningham
60  31:41 Steve Turland
66  31:54 Steve Coy
75  32:14 Jim Ryder
112 33:30 Henry Heavisides
140 35:00 Steve Newell
169 35:52 Adrian Bastow
237 38:22 Andrew Jackson
300 41:39 Nick Mellor
326 44:16 Eric Morley
329 44:33 Peter Lewis
362 49:10 Andrew Kitchen
371 finished

Ladies: 3rd team in the First Division (2nd overall)
(1  Heather Sellars, Abbey Runners)
48  39:51 Helen Horton
49  39:52 Adela Reperecki
83  42:09 Anna Barlow
84  42:11 Janet Grace
87  42:15 Hilda Coulsey
91  42:33 Gaynor Coy
141 46:05 Julie Elmes
150 46:32 Sue Morley
156 46:50 Sue Williamson
171 47:42 Sally Wright
191 49:54 Kate Lofthouse
227 finished

Really Wild Boar fell race, Sun 15 Dec
Will Buckton reports ... two of us made the trip to Kirkby Stephen for the AS Really Wild Boar fell race. The 8km/427m route climbs the Pennine Bridleway to the shoulder of Boar Fell with a loop to the summit and a steep descent back to the Bridleway. Dave Wilby battled the really wild weather and ran well to finish 16th in his first race since October. Will Buckton ran through the high wind and hailstones to take 43rd, results ...

(1 42:55 Danny Hope, P&B)
16 46:53 Dave Wilby
43 50:10 Will Buckton
132 finished

Run Sunday, Sun 15 Dec
Junior Harrier Tilly Melechi finished 6th, and set a new women's course record of 20:38 (beating Emma Barclay's 20:58) for this 3 mile timed run at Danefield, 45 finished this week. www.runsunday.com
Gathering Winter Fools Relay, Sat 14 Dec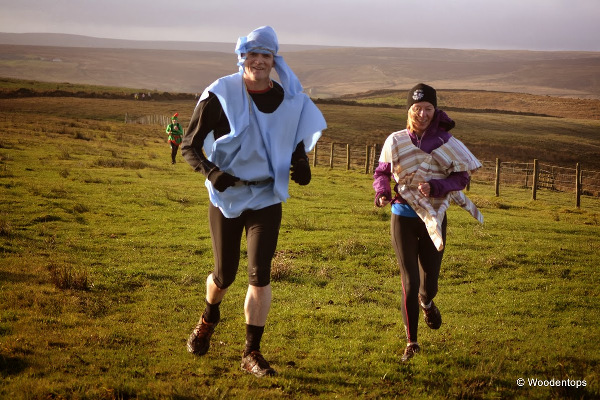 From Val Kerr ... Well done to the two teams that took part in a very enjoyable GWF and thanks to Dan Hill and Martin Wright for standing in at the last minute.
The winning team was Bingley Harriers (male team) who completed the course in 3h23:11.
IH team 2: Leg 1 - Sharon Meadows + Dan Hill; Leg 2 - Christine Cox + Keith Wood; Leg 3 - Amanda Newham + Val Kerr + Cleo (woof); Leg 4 - Jan Carrier + Llyn Donohue - finished 24th team in 5h19:05.
IH team 1 ran as 'the nativity': Leg 1 - Sue Bickerdike + Martin Wright (shepherds); Leg 2 - Jan Smith (fairy) + Stephen Rhodes (Rudolph); Leg 3 - Clare Smith + Elle Bradley (sheep) + Betty (woof - shepherd); Leg 4 - Emma O'Loony (king) + Paul Sugden (reindeer) - finished 30th in 5:33:10.
34 teams took part (more teams each year) Results ...
Parkruns, Sat 14 Dec
Adam Bennett set his 3rd PB in 3 weeks at York, 5s off last week's PB. More Parkrun results ....

Leeds Hyde Park
110 25:37 Harry Stead
177 29:35 Michael Duffield
209 32:48 William Duffield

Skipton Aireville Park
17 25:13 Lewis Carr
43 33:46 Dylan Carr
46 35:05 Elaine Ibbotson

York
6  18:11 Adam Bennett

England Selection
From Sally Malir ... Georgia Malir has been selected to run for England in The Lotto Cross Cup Brussels on the 22nd December from her great run in Liverpool. This is Georgia's first vest for cross-country. Read about it on England Athletics news pages.
Stockport 10, Sun 8 Dec
Pete Shields reports ... this is a well established race on the calendar and attracts a huge field with plenty of big names at the sharp end. Although not a fast course, it has many undulations, winning times are generally under 50 minutes. Ilkley's 3 athletes coped with the course extremely well, Mark Hall, although not feeling at his best, ran a very good race finishing in a time of 57:51 which gave him 13th place overall and 1st V50. Nicky Green and Caz Farrow ran really well considering they were only running a marathon in Nice less than a month ago, Nicky finished in 71st place in a time of 64:04 giving her 1st FV40, Caz finished in 104th place in a time of 66:30 giving her 4th FV35.
Nicky Green beat Sally Malir's Snake Lane 2006 Club F40 record of 65:06
Results ...

(1  49:41 Mohammed Abu Rezeq, Altrincham & District AC)
13  57:51 Mark Hall
71  64:04 Nicky Green
104 66:30 Caz Farrow
938 finished

Mytholmroyd fell race, Sun 8 Dec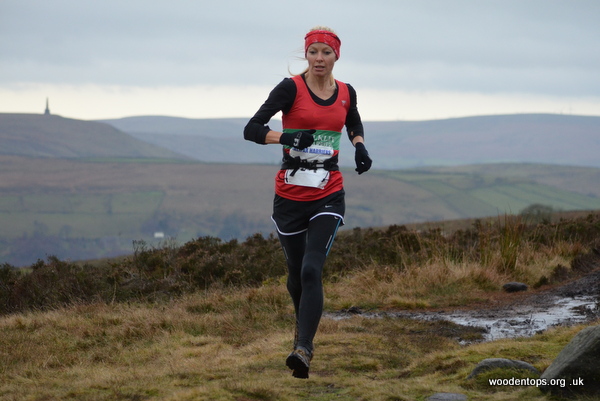 From Will Buckton ... A great race in Calderdale, 11.3km/411m, a good mix of runnable terrain with a couple of tough climbs and steep slippy descents. Good to see Jann back out on the hills taking 2nd lady, beaten only by V50 British Champion Sally Newman.

(1 48:46 Joseph Crossfield, CVFR)
14 54:42 Will Buckton
49 62:58 Jann Smith 2nd lady
108 finished


Leeds Christmas 10k, Sun 8 Dec

(1 35:48 Michael Elgie, Ripon)
8  38:59 Nick Richardson
328 finished

Run Sunday, Sun 8 Dec
Junior Harrier Euan Brennan was 3rd in 18:34, setting a category age record at the event and one of the fastest IH times at this weekly 3 mile timed run at Danefield, 25 finished this week. www.runsunday.com
Frostbite 30, Sat 7 Dec
Ben Sheppard reports ... Thirty scenic miles in Nidderdale starting and finishing at Pateley Bridge, the Frostbite 30 follows the Nidderdale Way for much of the route, passing Gouthwaite, Scar House and Angram resevoirs and then over the moor to Middlesmoor, through How Stean Gorge and cross country back to Ramsgil and along the river home. For my first ultra marathon race I was fortunate and grateful to benefit from Jez's experience as he paced us to our comfortable target time of five hours - the emphasis being on enjoyment rather than endurance. We crossed the line together in 5:00:41. A low key, friendly and well organised local ultra - highly recommended.
Jez Hellewell adds ... A fantastic choice for anybody tempted by the thought of an ultra. At "only" 30 miles this would be the perfect option as it was only £15 (including a quality Berghaus technical top, plenty of post race food & as many 9 bars as you can eat) & was impossible to get lost as it was so well marked out & on very obvious tracks/trails. Ben & I ran "within ourselves" to make sure we got to the 20 mile mark as easily as possible & reach our target of 5 hours. I think it would have been a few minutes extra had Ben not dragged me along, at pace, over the last 5 miles or so, beckoning me to overtake anybody that came in to view. A great day out, in stunning countryside, with great company. What more could you ask for?

(1 3h56:40 John Lloyd)
28 5h00:42 Ben Sheppard (32nd?)
29 5h00:42 Jez Hellewell (33rd?)
65 finished (94 incl. ladies, listed seperately)

Parkruns, Sat 7 Dec
Adam Bennett set his 2nd PB in 2 weeks at York, 18:16 Almost a minute off last week's PB. More Parkrun results ....

Skipton Aireville Park
(1  20:39 Tony Booth, )
13  23:55 Adrian Bastow
15  24:33 Richard Morris
18  24:52 Lewis Carr (Junior)
36  29:28 Dylan Carr (Junior)
46  33:49 Elaine Ibbotson
51 finished

Bradford Lister Park
14  19:07 Steve Turland

Edinburgh
36  19:58 Lucy Haines (Junior)

Harrogate Stray
170 25:41 Julie Elmes
211 27:27 Rebecca Moores

Leeds Hyde Park
10  18:36 Will Buckton

Oxford 
2   18:03 Ben Stevens

York
6   18:16 Adam Bennett PB

WYXC, Sun 1 Dec
From Will Buckton ... Sally Morley had another great run to finish 8th and Sally Malir and Kate Archer finished in the top half of the field to help Ilkley to 6th team on the day and 6th in the final standings. Sally Morley's excellent cross country season means she has taken 1st LV40 in the West Yorkshire League, winning her age category in all three of the races she competed in. In the men's race Jim Ryder was again first Harrier to finish, after a close battle with the improving Steve Coy. Ilkley's men were 13th team on the day and 7th team in the overall league. Results ...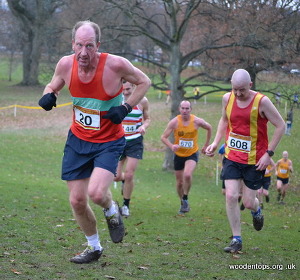 Ladies
(1 19:09 Katie Walshaw, Holmfirth)
8  20:42 Sally Morley
24 22:18 Sally Malir
31 22:48 Kate Archer
59 24:49 Sarah Edwards
75 27:04 Gaenor Coy
82 28:13 Di Kitchen
86 29:41 Emma Payne
91 30:19 Julie Elmes
93 finished
6th team, 6th team

Men
(1  29:07 David McNameee, Skyrac)
72  34:33 Jim Ryder
74  34:41 Steve Coy
95  35:31 Will Buckton
109 36:09 Mark Iley
130 38:09 Nick Pearce
162 42:36 Paul Sowden
172 finished
13th team, 7th team overall


There were 39 juniors racing with excellent results on the day and in the League, report in the junior section.
Run Sunday, Sun 1 Dec
Steve Turland was 3rd in 19:12 at this weekly 3 mile timed run at Danefield, Lynn Donohue was 17tth in 25:44 and 29 finished this week.
---