Latest News and Results ...
Please send any Harriers results to news@ilkleyharriers.org.uk - they'll be forwarded to Paul for this web site and to Will for the newspaper report.
Ilkley Trail Race, Mon 25 May
Don't forget our Trail Race on Monday, entries on the day available.
Ilkley Aquathlon, Sun 19 Sep
Just a note that entries are open and filling up fast (nearly 100 of 250 places gone already.) See our Aquathlon page.
A new club vest!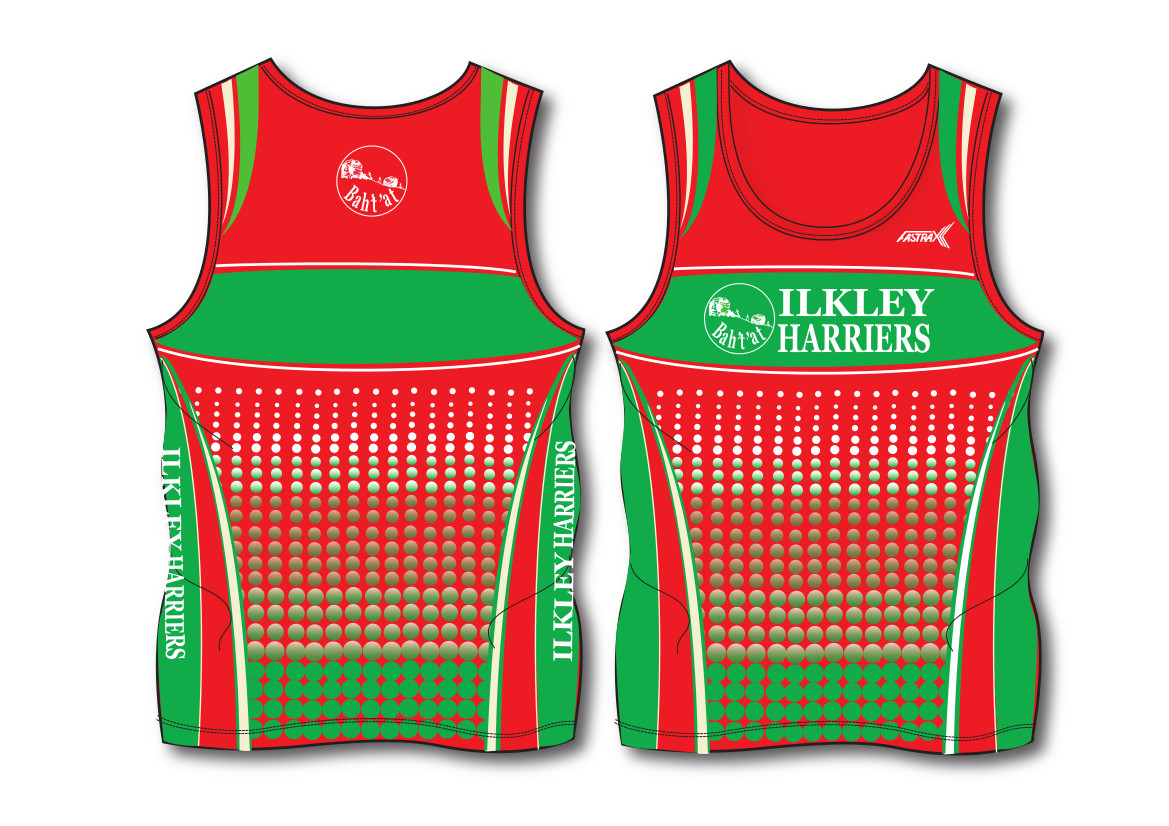 From Jann Smith ... here's a 'sneak preview' of the new Ilkley Harriers vest which is being developed (by Jann, and) the Complete Runner. The new vest will be made using a new printed process rather than being panelled like the previous ones so it should chafe/rub less across the chest and will be in a nice lightweight fabric. It will be available in men's, women's and kids' sizes to buy at The Complete Runner, Ilkley in a short while. We are also trying to develop a new t-shirt too.
HDSRL 2, Guiseley, Thu 21 May
Another great win for Jack Wood. Results ...

1   31:32 Jack Wood
25  37:02 Andrew Merrick
33  37:50 Andrew Sheldon
51  38:58 Tom Worboys
84  41:19 Caz Farrow
89  41:34 Paul Stephens
91  41:46 Will Worboys
99  42:08 Philip Hurst
121 43:36 Julie Watson
127 43:54 Keith Wood
136 44:16 Caroline Craske
147 44:44 Adrian Weatherly
156 45:14 Sarah Hayes
195 47:56 James Rochfort
196 47:57 Geoffrey White
202 48:18 #360 ?
208 48:43 Nick Mellor
215 49:16 Allison Ricci
226 50:15 Sandra Rochfort
240 51:26 Paul Sugden
285 56:38 Don Macrae
288 56:58 Emma O'Looney
300 59:30 Laura Dawes
306 61:10 Claire Murphy
312 ran

Kildwick Trial, Wed 20 May
From Dan Wilkinson (pictured) ... A cracking little evening race with a bit of everything, fast and furious start through the streets of the village, a drag up to the summit and then some tracks over open moorland, road, and then finally a sprint along the canal to the finish field. Highly recommended! Results ...

(1 26:05 Matt Lockyer, P&B)
5  27:25 Dan Wilkinson
48 35:14 Mike Baldwin
86 finishers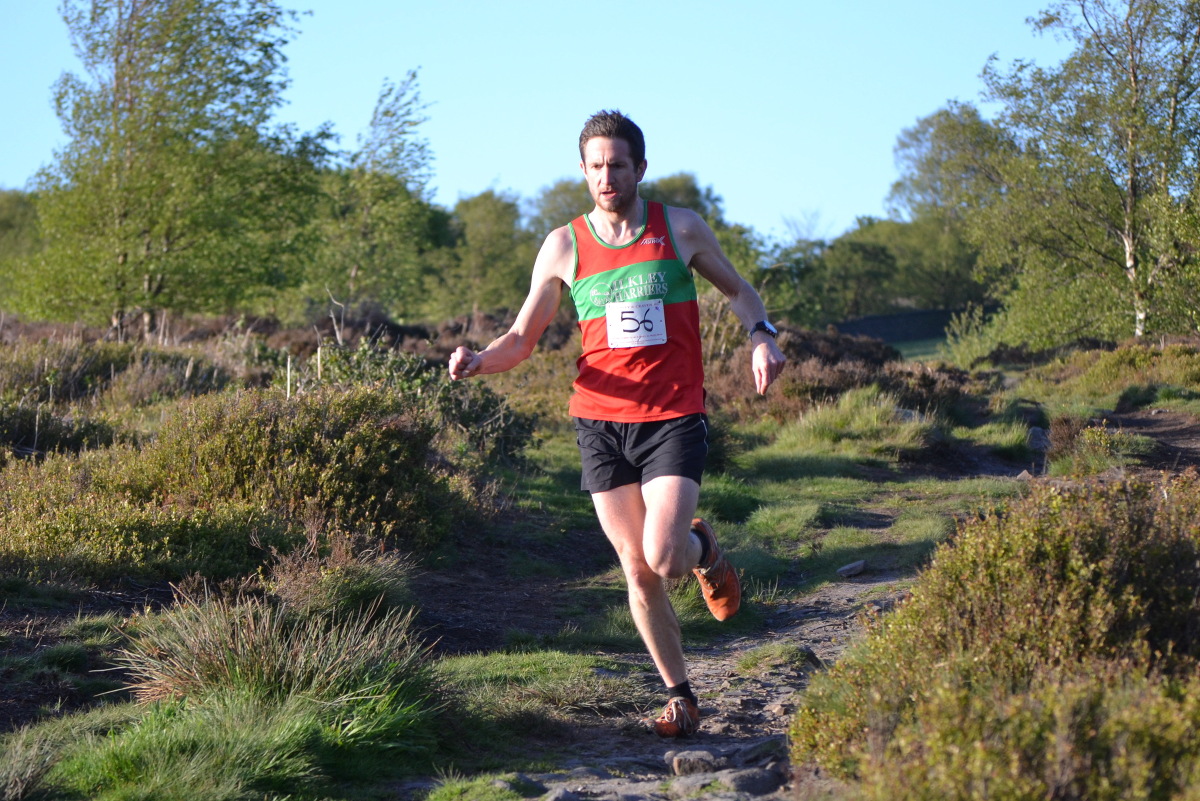 John Carr #3, Wed 20 May
From Petra Bijsterveld ... The John Carr series at Esholt provides plenty of opportunities for points, prizes and PB's every year. A very fast 5K course with a downhill finish, it is a true 'lactate zone, eyeballs out' effort which makes me ask myself repeatedly how I manage to enjoy it so much. It is certainly not the 25 minutes (in my case) of sheer pain. Perhaps it is the snickers bar at the end that keeps me coming back for more! This year the first race was a YVAA championship event, the second was a counter in our own Harriers league, and the third just had to be run to get the bottle of ale, and have a chance to win a series category prize. Over the 3 weeks Ilkley Harriers collected a bounty of silverware and chocolate for the juniors, as well as a crop of new PB's. Sadly there was a hitch with the tape measure at the first race which had to be declared short which was a disappointment for those who ran a PB. Thankfully several people managed to run an equal or better time in the 2nd race despite it being longer, notably Paul Sugden who brilliantly broke the 24 minute barrier! The short first race did not stop Ilkley vets winning YVAA trophies: Geoff Howard, Jann Smith, Sally Morley, Helen Waddington and myself were the lucky recipients. At the second race there were notable performances from Euan Brennan and Jack Cummings, coming 1st and 2nd in their youth and junior categories, and from Sally Morley again. Jack was the first Harrier home last night at the 3rd race and won his MJ category, with strong running from fellow younsters Cameron Reilly, Oscar Stapleton and Bethan Morley. Sally Morley and Jann Smith were second again in their age categories. Last night prizes were awarded for the series, Sally Morley was 2nd woman overall as well as 1st in the F40 category, a brilliant achievement. Helen Waddington 1st F45 and yours truly 1st F50. Mark Iley 3rd M50 and Cameron Reilly 1st MY.

(1  15:36 Jamil Parapia, Otley AC)
17  17:07 Jack Cummings 1st MJ
64  18:25 Sally Morley 2nd F40
66  18:31 Cameron Reilly 1st MY
73  18:45 Mark Iley
74  18:48 Oscar Stapleton 2nd MY
105 19:25 Arthur Reilly
111 19:31 Steve Newell
131 19:54 Ben Joynson
139 20:05 Mike Helme
152 20:20 Jann Smith 2nd F45
188 21:24 Bethan Morley 2nd FY
192 21:27 Harry Stead (junior)
193 21:28 Nicky Hopwood
208 21:44 Darryl Stead
221 22:09 Andrew Wilson
223 22:11 Jean Sullivan
234 22:28 Helen Waddington
255 23:25 Nea Weston (junior)
273 24:07 Paul Sugden
307 25:30 Petra Bijsterveld 1st F50
313 25:48 Ella Shouler-Harris (junior)
386 finished

Final positions (3 races)
31  Sally Morley 1st F40, 2nd F
32  Mark Iley 3rd V50
33  Cameron Reilly 1st MY
49  Arthur Reilly
83  Harry Stead
100 Helen Waddington 1st F45
118 Paul Sugden
137 Petra Bijsterveld 1st F50


Ilkley Harriers of the Month, April
Petra Bijsterveld
Twitter feed and website updates
Other nominations were:
Sally Malir - London Marathon time
Helen Waddington - 3 Peaks time
Dan Wilkinson - 3 Peaks time
John Hayes - 3 Peaks time
Kate Archer - Baildon Boundary and Pendle results
Jann Smith - Bunny Run results
Tom Adams - Bunny Run Results
Natalie York - leading Tuesday runs
Antonio Cardinale - leading Tuesday runs
Jacqui Weston - 3 Peaks support
Jack Wood
Dick Hudsons and Anniversary Waltz wins
More Harriers of the Month ...
Ripon 10, Sun 17 May
From Petra Bijsterveld ... I was the only Harrier this morning at this mixed terrain 10 miler. This is the 3rd year in a row that I have run this race and I can recommend it to those who like an undulating mix of road and good trails with some lovely scenery thrown in, as the course takes you through Studley Royal. Well organized with chip timing and a nice mug as a momento this year.

(1  58:48 Mike Jefferies, U/A)
244 94:02 Petra Bijsterveld
355 ran

Howgills Trail Marathon and Half Marathon, Sun 17 May
Ewan Welsh reports ... Three 'arriers embraced the Montane Trail marathon and half marathon (distances are roughly) in the Howgills on Sunday, Lyn Donohue came home as 1st FV50, Ewan Welsh and Mike Baldwin decided to adopt some metaphorical tree hugging and ran around together, there was even a joint combined effort in missing a marker and adding a bit more distance and time through a very nice wood.
The half marathon route is rather enjoyable, long climb at the start out of Sedbergh (long and sweeping I would say) a couple of sharp descents, then a long run in along undulating single track, followed by a few miles down by the river, a lap of Sedbergh, followed by a wee uphill lane before the run into the finish. I believe the marathon extended into another climb or two then onto the same run in. I would say both events are another couple of excellent races on our doorstep, easy drive up, no big crowds, easy parking etc, fine scenery and a quality post race spread with a very pleasant all round friendly ambience, I've pencilled it in for another go. Results ...

Half Marathon
(1 1:48 Jonathon Cox, Eden Harriers(he won by 8 mins))
26 2:29 Ewan Welsh
29 2:30 Mike Baldwin 4th V50
107 ran

Marathon
(1  3:39 Daniel Miller)
123 5:50 Lynn Donohue 1st F50
59 ran

Inter-counties Fell Championships, Sat 16 May
Well done to Tom Adams, part of Yorkshire's Gold-winning men's team, Jemima Elgood in Yorkshire's Gold-winning FU16 team, and Joanna and Lucy Williamson in the FU18 Silver team. More results, narrative, and photos on the Woodentops website.

Men
(1 45:26 Andrew Dougla, Scotland West)
3  47:14 Tom Adams
87 ran

FU18
(1 20:48 Heidi Davies, Brecon)
6  24:36 Lucy Williamson
8  26:17 Joanne Willimason
13 ran

FU16
(1 21:57 Scarlet Dale, Cumbtria)
2  22:09 Jemima Elgood
15 ran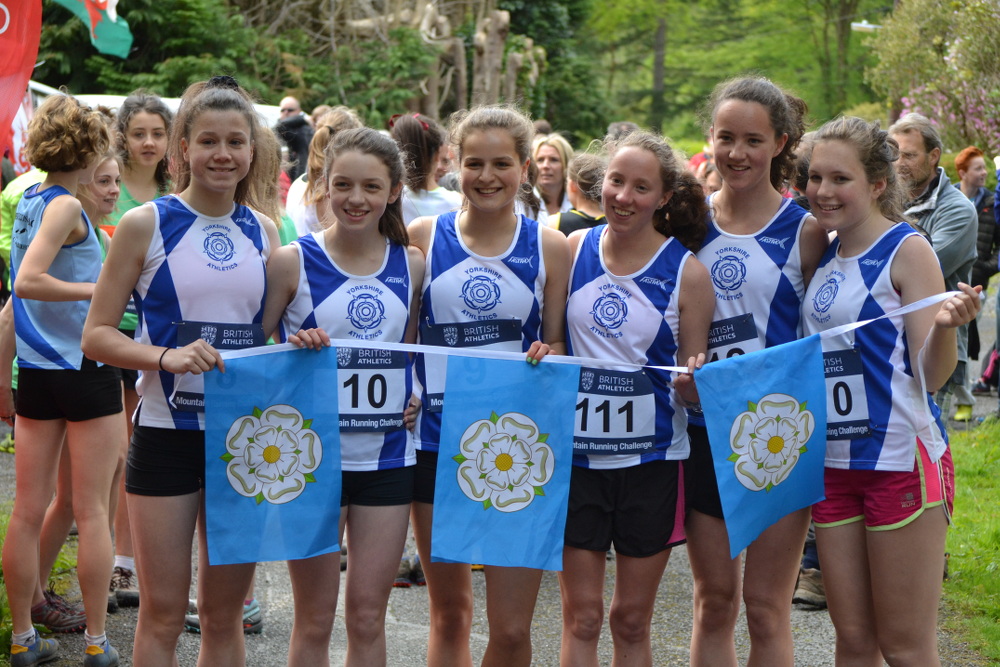 Over the Odda 10k, Sat 16 May
From Hilda Coulsey ... another first for Jack Wood. An excellent entirely off-road, local, friendly run where we braved a gusty chilly wind with lots of up hills, over fields and through bluebell woods. A brilliant Saturday morning. Results ...

1   39:19 Jack Wood
10  46:30 Alex Hirst
25  48:21 David Chandler
27  48:38 Ben Joynson
66  54:05 Outi Kamarainen
77  54:56 Phil Hirst
89  56:40 Adela Reperecki 1st F50
110 60:01 Peter Lewis
123 60:55 Stephanie Fox
149 65:32 Hilda Coulsey 1st F60
157 66:37 Paul Sugden
236 finished

Simon's Seat Fell race (Charlesworth Chase), Sat 16 May
From Paddy Hagan ... Inspired by the Jack Bloor's on Tuesday and with so much choice on Saturday, I went for this local event, the only one where drinking a pint at the end was a part of the race! Jonathan Sinclair and Alec also ran (Alec 3rd home!). (Times not up yet. Ted Mason won.)
Old County Tops, Sat 16 May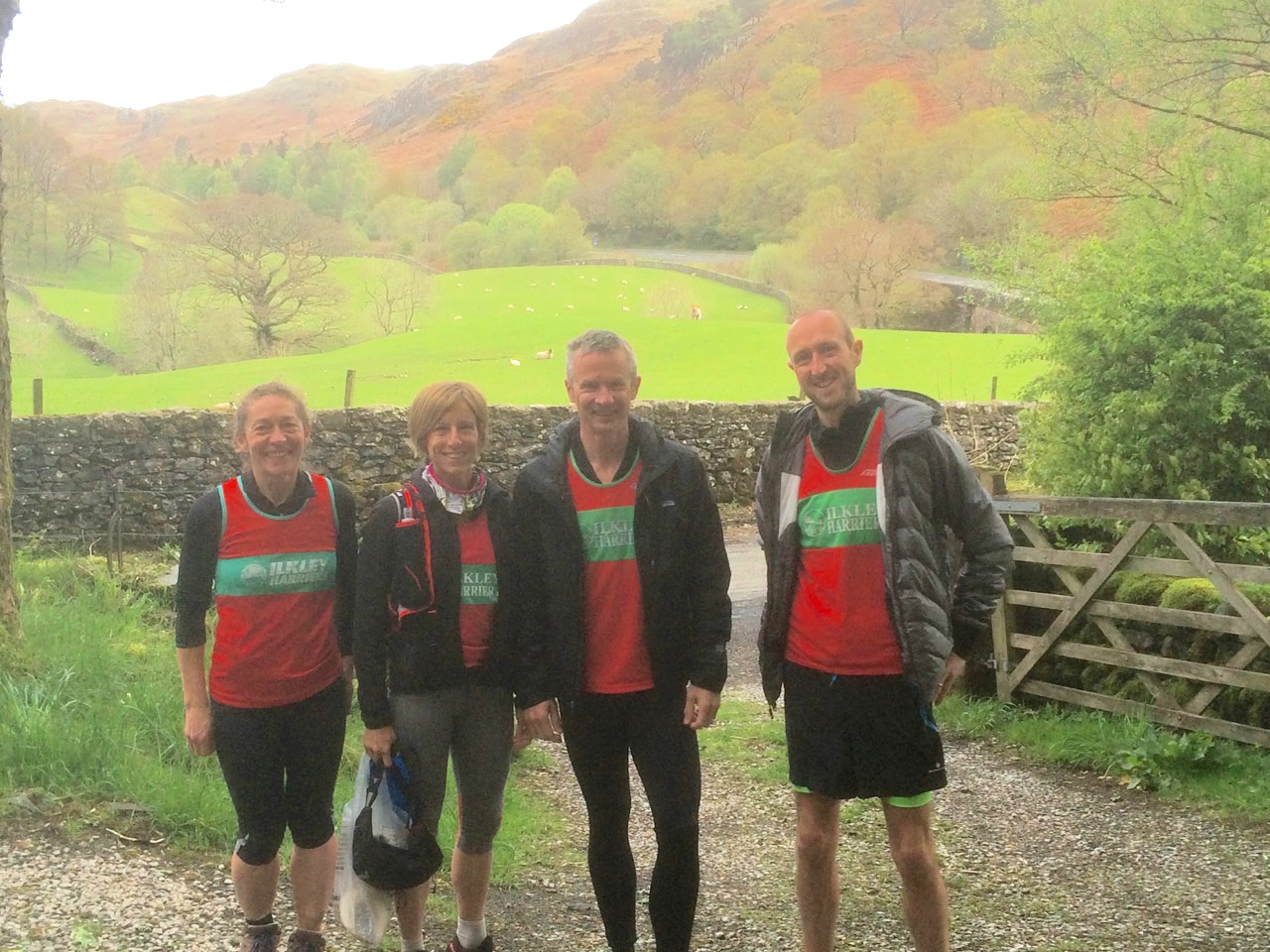 From Dick Waddington ... The Old County Tops is a classic race starting in Langdale and taking in Helvellyn, Scafell Pike and The Old Man of Coniston. It's pretty long at 56km or so and may be 3500m of climbing. You race in pairs and I teamed up with Ben Sheppard, with Alison Weston and Jane McCarthy forming one of a handful of ladies teams. Paul Calderbank ran with Tom Hollins from Wharfedale. It was the first time on this one for Ben, Jane and me and the first race over 25 miles for Jane and me.
The conditions must have been good, because the records for ladies pair and mixed pair were broken. It's a beautiful and varied route with some of the steepest, longest grassy descents I've ever come across. The crowd on Scafell Pike was so big it was hard to pick out the marshalls at the check point. Down in the wilds of upper Eskdale it was much quieter - especially on the route I took Ben on (he showed great confidence and support in my flawed navigational plan on more than one occasion).The feed station at Cockley Beck was well stocked with tea, sandwiches and flapjack and the marshalls were all very jolly and enthusiastic. Even the marshals on top of the Old Man of Coniston were smiling as they lay in their tents with only heads poking out. The wind was strong and cold up there.
If they were giving prizes to the Ilkley Harriers, Alison would get hard as nails fell runner for head butting a rock about half way round and carrying on despite lots blood, and grimaces from the squeamish. Ben and Jane would share the prize for looking as fresh as daisies at the finish. I would get the prize for flawless execution of a flawed navigational plan. Ben and I got home in just under 9 hours and Jane and Alison about 40 minutes later, with Paul and Tom between the two. Many thanks to Brian Melia for putting us up at the Gritstone Club hut on Friday and for some very welcome support from Helen Waddington. Results to follow.
parkruns, Sat 16 May
From Petra Bijsterveld ... Results ...

Leeds Woodhouse Moor
(1  16:36 John Sanderson, Guildford and Godalming AC)
32  19:57 Adrian Bastow PB
35  20:06 Tom Worboys
435 ran

Skipton Aireville Park
(1  18:25 Neil Maloney, Skipton AC)
3   19:50 Oscar Stapleton (junior)
21  22:42 Harry Sime
22  22:43 Robert Sime
47  25:15 Alex Hyde
151 ran

Fountains Abbey
(1  17:18 Mike Appleton, Ripon Runners)
53  23:30 Norman Bush
89  25:29 Emily Elmes (junior) PB
96  25:45 Julie Elmes PB
246 ran

John Carr #2, Wed 13 May
From Petra Bijsterveld ... Results ...

(1  15:41 Marc Fenwick, Tyne Bridge Harriers)
18  16:57 Euan Brennan (junior) 1st MY
24  17:13 Jack Cummings (junior) 2nd MJ
60  18:23 Sally Morley 2nd F40
62  18:27 Oscar Stapleton (junior)
63  18:29 Mark Iley 
70  18:40 Stephen Coy
94  19:20 Cameron Reilly (junior)
97  19:28 Arthur Reilly
110 19:51 Tom Worboys
130 20:22 David Chandler
149 20:46 Will Worboys
151 20:48 Geoff Howard 1st M70
159 21:01 Phil Hirst
171 21:22 Harry Stead (junior)
199 22:15 Jean Sullivan
207 22:21 Helen Waddington
251 23:55 Paul Sugden PB
254 24:10 Nick Mellor
263 24:26 Nea Weston (junior)
269 24:34 Peter Lewis
278 24:58 Petra Bijsterveld 1st F50
279 25:00 Julie Elmes
306 26:03 Christopher Brown
311 26:21 Sue Williamson
341 27:52 Christine Reilly
376 ran

Jack Bloor Races, Tue 12 May
Val Kerr reports ... A great turn out of Ilkley Harriers for this league counter and another great win for Jack Wood who busy collecting trophies at the moment. Conditions were very blustery and wet underfoot although the rain kept away and the sun came out briefly. Over 200 runners took part.
From John Hayes... Another fabulous Jack Bloor race over the footpaths, bogs and flagstones of Ilkley Moor. The race has changed over the years as stone slabs have been laid on the upper part of the route (making it faster underfoot and eliminating the choice of different routes to the summit control). Surprisingly for a relatively short race, there remain some interesting route choices in the latter section of the race. Picking the right line between the last knoll and the finish, in particular, can gain you quite a few places. Huge thanks to the organisers and marshals and well done to everyone who ran it. Results ...

1   40:10 Jack Wood
7   43:35 Dave Wilby
9   43:47 Ben Sheppard
22  46:01 Jack Cummings
49  49:58 John Hayes
55  50:21 Richard Joel
60  50:41 Alistair Barlow
69  51:08 Duncan Cooper
70  51:16 Jonathan Sinclair
75  51:28 Lucy Haines
83  51:46 Malcolm Pickering
84  51:49 Kate Archer
91  52:49 Ben Joynson
94  53:08 Paddy Hagan
102 55:06 Alison Weston
105 55:15 David Foyston
107 55:54 Sarah Edwards
108 55:59 Outi Kamarainen
110 56:10 Jann Smith
112 56:13 Paul Stephens
118 57:09 Peter Haines
127 58:04 Steve Weston
136 59:19 Dave Taylor
139 59:59 Ian Marshall
149 62:06 Chloe Haines
160 64:05 Sarah Hayes
168 65:13 Joyce Marshall
171 65:21 Val Kerr
174 66:27 Anna Barlow
179 67:21 Sue Morley
182 68:03 Geoffrey White
186 68:22 Juliet Hammond
216 83:17 Sophie Brown
225 85:00 Rachel Hagan
226 finished

2nd team
1st ladies' team

Yorkshire selection
Congratulations to Jemima Elgood, Joanne Williamson, Lucy Williamson, and Tom Adams selected to run for Yorkshire in the fell inter-counties on 16 May ... more ...
Great Manchester Run, Sun 10 May

(1   27:30 Stephen Sambu)
229  36:23 Rob Cunningham
710  45:45 Chris Cunningham
2922 48:35 David Ibbotson
25535? ran

Leeds Half Marathon, Sun 10 May
From Hilda Coulsey ... Thousands turned out to run and it was great to see a fine contingent of Harriers. Support around the course was amazing, though calling out our names took a little getting used to (on our numbers!). As Sally says on Facebook it was HOT. I started near the 1:50 pacer but that lasted only until the first hill at mile 3 and with the 1:55 pacer passing me half way round on the ring road hill I was very pleased with my 1:56 on the day. Congratulations to all. Results ...

(1   1:11:18 Mohammad Aburezeq)
152  1:27:31 Jonathan Sinclair
282  1:31:58 Michael Duffield
303  1:30:31 Andrew Merrick
466  1:34:33 Tom Worboys
797  1:40:06 Phil Hirst
1106 1:45:16 Will Worboys
1392 1:49:31 Christine Cox  3rd F55
1751 1:45:55 Kevin Lawson
1948 1:44:34 Dave Robson
2029 1:57:23 David Green
2070 1:56:46 Hilda Coulsey 3rd F60
tbc  2:00:59 Donna Hattersley  PB
3360 2:01:49 William Woodhead
4502 2:17:13 Sally Lynch
6663 finished

This was a Ilkley Harriers Race League counter.
Hackney Half Marathon, Sun 10 May
From Jonathan Schneider ... I ran the Hackney Half Marathon in a time of 1:37:48 finishing 1094th overall. The winner was Matthew Kimutai in a time of 1:03:21. In total 10267 finished. Results
Stretton Six Summits, Sat 9 May
Jann Smith reports on this English champs race. 6.3miles/ 3248ft.... A killer of a race in Shropshire devised especially as a Championship race. Short and fast up and down near vertical ascents to six summits in just over six miles...Tough! Results ....

(1    59:01 Tom Addison, Helm Hill)
201 1:29:54 Jann Smith   5th F40
310 finished

Buttermere Sailbeck Fell Race, Sat 9 May
From Dave Wilby ... The superb Buttermere Sailbeck may be fairly short (9.4m/4300ft) but more than rivals some of the long Lakeland races in terms of overall height gain. The course offers a couple of stretches of fabulous ridge running, and the notorious climb up Causey Pike in particular is one which will stick in the memory (and the legs) for quite a while afterwards. I think I was the only Harrier at the race this year, I was pretty pleased with a 7th place finish and a PB by just under a minute, but the gnarly old mountain goats proved I've got a few pounds to lose before I can get back to competing on the tougher ascents. Put this one on your 'must-do' list, particularly if you don't mind walking downstairs backwards for a day or two afterwards! Results ....

(1 1:34:29 Simon Booth (Borrowdale)
7 1:44:30D Dave Wilby
115 finished

Malhamdale Trail Challenge, Sat 9 May
From Caz Farrow ... ... Despite not the best weather a few Harriers travelled over to Kirby Malham for the above. Stunning route (changed to avoid Gordale Scar due to the weather) with 9 (Mark & Rebecca Mon-Williams) & 22 mile (myself & Sharon) options & pie at the finish. Highly recommended. Results ....

9M female
1 1:30:40 Rebecca Mon-Williams
15 finished

2M female
(1 3:46:10 Sally Houghton, Ripon)
2  3:50:12 Caz Farrow
20 4:53:00 Sharon Meadows
61 finished

9M male
1 1:12:27 Mark Mon-Williams
32 finished

parkruns, Sat 9 May
From Petra Bijsterveld ... Quite a bit of parkrun tourism this week, including a win for Tom Adams at Enfield. Results ...

Cardiff
(1  16:39 Michael Gaunt, North Devon AC)
26  19:02 Micheal Lomas
650 ran

Grovelands, Enfield
1   15:45 Tom Adams
137 ran

Bradford Lister Park
(1  16:59 Will Kerr, Saltaire Striders)
21  21:47 Tom Worboys
415 ran

Skipton Aireville Park
(1  18:46 Neil Maloney, Skipton AC)
6   21:05 Lewis Carr (junior)
21  23:11 Harry Sime
22  23:11 Robert Sime
98 ran

Fountains Abbey
(1  17:35 Shaun Lawson, Easingwold RC)
73  25:55 Emily Elmes (junior)
74  25:56 Julie Elmes
173 ran

Cleethorpes
(1  18:15 Tom Sanigar, U/A)
38  25:17 John Brown
95 ran

Lothersdale fell race, Wed 6 May
From Will Buckton ... Two Harriers took on this BS 5.8km/180m out and back route. This was my first time at this race and it felt like a good warm-up for the BOFRA Championship season. A small field and a nice low key atmosphere. Results ....

(1 24:10 Jack Smith, Wharfedale)
28 32:27 Paddy Hagan
45 39:15 Will Buckton
63 57:04 Emily Pearson
64 finished

John Carr 1, Wed 6 May
NB "Unfortunately the course was laid out incorrectly for this race which meant it was short of the full 5K."
This race was the YVAA 5k road championship.
Results ...

(1  15:03 Jamil Parapia, Otley)
2   15:04 Tom Adams
22  16:49 Ruaridh Mon-Williams
60  17:50 Cameron Reilly
61  17:44 Mark Mon-Williams
68  18:08 Steve Weston
69  18:09 Sally Morley
72  18:14 Mark Iley
90  18:50 Richard Joel
104 19:10 Arthur Reilly
111 19:21 Steve Newell
116 19:24 Ben Joynson
127 19:36 Tom Worboys
134 19:49 Jann Smith 1st F45
147 20:09 Malcolm Pickering
164 20:28 Geoff Howard 1st V70
181 20:53 Harry Stead
205 21:39 Nicky Hopwood
212 21:49 Andrew Wilson
225 22:23 Helen Waddington
263 23:49 Nick Mellor
275 24:09 Paul Sugden
279 24:14 Peter Lewis
299 24:58 Petra Bijsterveld
317 25:55 Christopher Brown
331 27:02 Christine Reilly
378 finished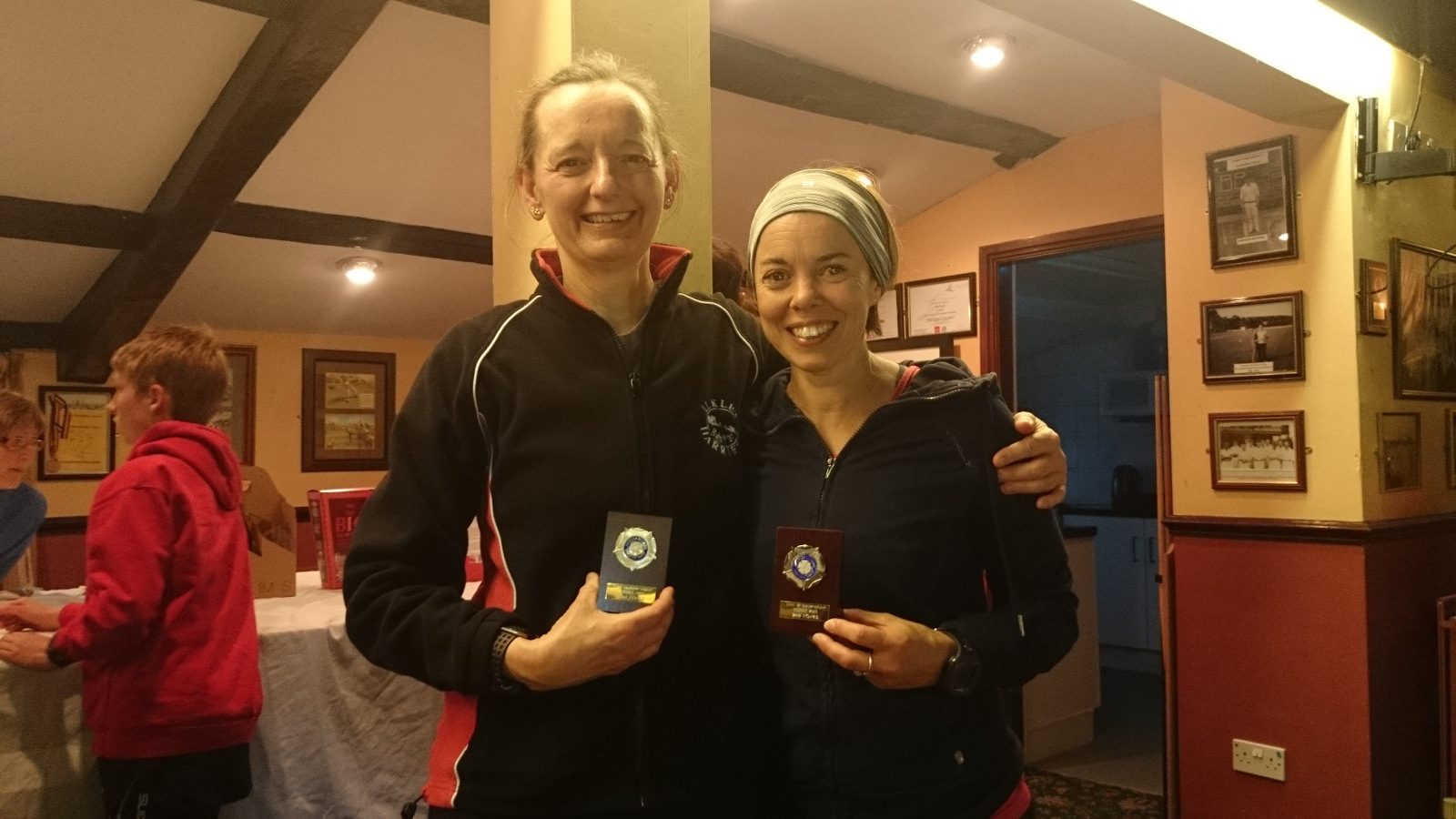 From Peter Lewis ... Helen Waddington (2nd FV45) and Petra Bijsterveld (2nd FV50) with their YVAA 5Km road championship awards.
HDSRL 1, Tue 5 May
A record 412 runners and a super event, we hear, at the first Harrogate League race, in Harrogate. The next League race is in Guiseley on Thu 21 May - if you plan to run but do not yet have a League number you'll need to get one from Andrew Sheldon soon.

(1   33:00 Mike Burrett, Harrogate)
3    33:40 Jack Wood
53   40:54 David Brown
71   42:10 Tom Worboys
77   42:35 Ben Joynson
99   43:48 Philip Hurst
122  45:11 Paul Stephens
133  45:51 Will Worboys
167  47:38 Julie Watson
168  47:39 Adrian Weatherly
176  47:56 David Ibbotson
179  47:59 Jane Bryant
186  48:18 Jean Sullivan
197  48:49 Caroline Craske
235  50:32 Stephanie Fox
237  50:40 Christine Cox
239  50:46 Will Buckton
260  51:54 Allison Ricci
267  52:08 Peter Lewis
278  52:29 Paul Sugden
280  52:35 James Rochfort
283  52:46 Geoffrey White
288  52:55 Hilda Coulsey
296  53:17 Julie Elmes
303  53:29 Sandra Rochfort
331  55:57 Sue Williamson
350  57:34 Emma O'Looney
367  59:57 Natalie York
380  60:42 Claire Murphy
381  61:04 Don Macrae
399  65:02 Laura Dawes
412 ran

Coiners fell race, Mon 4 May

(1 1:05:47 Keith Holmes, Dark Peak)
22 1:10:51 Paul Calderbank
63 1:26:46 Sue Morley
85 ran

And a huge turnout of junior Harriers for the Championship races there, results and report on the junior pages soon.
Coniston fell race, Sat 2 May
From Ben Sheppard ... Apparently it's usually sunny for this race. Not this year, when blizzards made route finding difficult between the tops of Wetherlam, Swirl How and the Old Man on this 8 mile course with 3,000 ft ascent and a hair raising descent. Surprisingly there were only 5 retirements out of 235 starters and all got home safely. Course record holder and now veteran Ian Holmes stuck close to winner Tom Addison and second place Ted Mason.
From Alison ... Winter is still here it would seem going up Wetherlam on Bank Holiday weekend! A brilliant race though navigation was a bit tricky on the tops. I made the mistake of hanging onto a group of runners in the mist who suddenly stopped and said they didn't know which way to go. My head was saying one way but map and compass said another! Descent wet and wicked but thankfully quite short.

(1  1:12:32 Ted Addison, Helm Hill)
35  1:29:23 Ben Sheppard
108 1:46:04 Alison Weston
172 2:00:00 Jamie Partovi
186 2:03:47 Will Buckton
230 finished

parkruns, Sat 2 May
From Petra Bijsterveld ... A win for Jack Wood at Woodhouse Moor this week, and a flurry of PB's all round. Results ...

Leeds Woodhouse Moor
1   16:32 Jack Wood PB
21  18:34 Cameron Reilly (junior) PB
187 25:04 John Marshall
451 ran

Cardiff
(1  16:31 Joseph Beech, U/A)
9   18:07 Mark Mon-Williams
60  21:20 Rebecca Mon-Williams PB
493 ran

Bradford Lister Park
(1  17:10 Tom Collinge, Queensbury RC)
131 25:37 Alex Hyde PB
158 26:31 Petra Bijsterveld
506 ran

Harrogate Stray
(1  16:29 Reece Dalton, Ripon Runners)
169  26:27 Emily Elmes (junior)
172  26:34 Julie Elmes
377 ran

Skipton Aireville Park
(1  17:10 Matthew Thompson, Southport Waterloo AC)
4   18:49 Oscar Stapleton (junior) PB
11  20:35 Tom Worboys
35  22:40 Harry Sime PB
36  22:42 Robert Sime PB
42  23:12 Reuben Foster (junior)
72  25:53 Jacob Smithson (junior)
84  26:26 Charlotte Smithson
164 ran

London Marathon, Sun 26 April
Sally Malir was 4th in her class. 3:07:36 a new club record for FV50 and also beating her own club F45 record from last year's VLM by 2 minutes. Provisional results ... ....

(1    2:04:42 Eliud Kipchoge, Kenya)
2656  3:07:36 Sally Malir
5308  3:25:52 Michael Duffield
6089  3:29:23 Tim Buckingham
11032 3:51:00 David Howe
20711 4:26:44 William Woodhead
26819 4:51:00 Julie Elmes
34451 5:46:58 Abigail Bailey
37,675 finished

Big Sur International Marathon, Sun 26 April
From Philip Hirst ... Philip and Alex Hirst ran the Big Sur International Marathon on Sunday in California. In constant sun and with stunning scenery along the Pacific coast, the race included head winds and brutal hills. Alex finished 73rd out of 4299 in 3:17:17 and Philip 759th in 3:59:27.
Three Peaks race, Sat 25 April
From Dan Wilkinson ... Everyone loves the 3 Peaks don't they? Whatever happens with the weather in the preceding week, heat wave, ice age, it will usually be snowing at some point on the day of the 3 Peaks. Today was no different with blizzard conditions reported on Ingleborough by later runners. Despite the weather there was fabulous support for Ilkley on the course from fellow Harriers and others. Brilliant performances all round, notably tremendous PBs for Ben Sheppard, who surprised himself with a 1st class time, John Hayes for going sub 4 and nearly half an hour faster than 2014 and Helen Waddington who smashed 5 hours! I also managed to slice a further 13 minutes off my PB despite suffering what felt like hypothermia, cramp and hallucinations all at the same time on Ingleborough. I was planning a hiatus next year but actually, I think I'll be back!

(1  2:51:42 Ricky Lightfoot, Salomon)
51  3:30:07 Dan Wilkinson
87  3:38:31 Ben Sheppard
172 3:55:07 Dick Waddington
186 3:57:19 John Hayes
200 3:59:00 Jamie Hutchinson
217 4:02:29 Brian Melia
259 4:10:24 Jann Smith
327 4:19:29 Michael Lomas
390 4:26:23 Alison Weston
395 4:27:01 Andrew Merrick
399 4:27:26 Richard Joel
423 4:31:53 Paul Calderbank
483 4:38:36 Steve Weston
578 4:54:54 Helen Waddington
636 5:06:40 Chantal Busby
642 5:10:21 Adela Reperecki
701 finished
Timed out:
Eleanor Bradley
Jane McCarthy

From Jann Smith ... this year's 3 Peaks race felt more like a Bear Grylls style endurance challenge. There were gale force winds, snow blizzards, sleet and heavy rain making the limestone treacherous and the runners soaked to the skin. The support for Ilkey was amazing and so helpful even though a little crazy in those conditions (the Morley family on the top of Whernside in the -4 windchill!) and camaraderie between runners was great. Mild hypothermia set in after the top of Whernside and the fall down Ingleborough was inevitable. There were some great performances from Ilkley and some great PB's despite the conditions. Alison Weston was presented her prize for 15 3 x Peaks and Ilkley ladies won 2nd ladies team and I managed 3rd F40.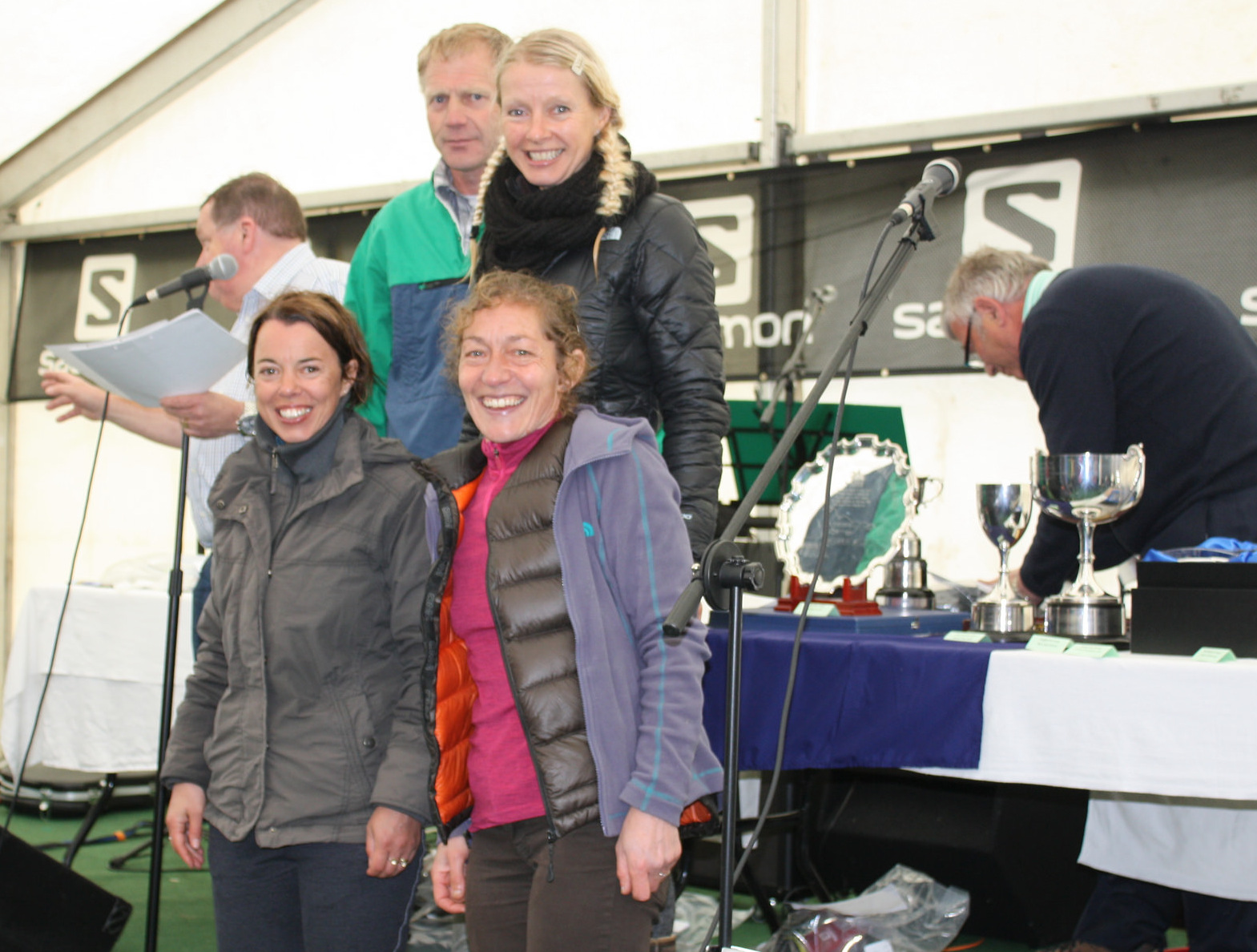 From Helen Waddington ... Just to say a massive thank you to ALL the Harriers/family members who turned out yesterday to support us all - what an amazing effort given the awful weather conditions. I don't want to name individuals in case I miss anyone out (tricky to make out faces in the mist and rain) but you know who you are!!! It gave us all a huge lift and kept spirits up! Also huge congratulations to Alison Weston who picked up her prize for running 15 races (having finished her 16th yesterday!) and the icing on the cake for me was getting the second place ladies team prize - all thanks of course to Jann and Alison who put in amazing performances. Well done everybody, whatever the time/outcome - and commiserations to Elle and Jane who were not 100%, so even starting the race shows true grit!!!
More from Alison ... Wow, what a weekend for results! Well done to everyone who took part in the 3 Peaks or London Marathon. Lots of brilliant times and PBs. Such a temperature change yesterday with many very cold runners on Whernside and Ingleborough, though Dan was so quick he missed all the sleet. Jann, Helen and I had blue lips for quite some time afterwards. THANK YOU so much to all the Harriers and friends/family of Harriers running who supported, especially Mike Baldwin near the top of Pen-y-ghent and family Morley on top of Whernside, but also to Val, Andy, Jackie (with the cow bell), Dave, Pete, to name only some... The ladies did really well to come 2nd team but best result was definitely Helen's with a magnificent 15 minute PB!
Woodentops photos, Graham Weston's photos
parkruns, Sat 25 April
From Petra Bijsterveld ... Results ...

Newcastle
(1  17:13 unknown)
178 23:35 Harry Sime
182 23:39 Robert Sime
601 ran

Bradford Lister Park
(1  17:19 Will Kerr, Saltaire Striders)
31  21:56 Geoff Howard
161 26:45 Petra Bijsterveld
491 ran

Skipton Aireville Park
(1  17:18 Lee Athersmith, RAF AC)
2   19:02 Mark Mon-Williams
20  22:24 Oscar Stapleton (junior)
26  23:01 Chris Cunningham
62  26:05 Charlotte Smithson
69  27:10 Archie Budding (junior)
136 ran

Lyme
(1  18:59 Lucas Parker, Macclesfield Harriers)
48  27:27 Alison Eagle
98 ran

Dick Hudsons fell race, Thu 23 April
Quite a few Harriers, and Jack in the lead, in the Woodentops' photos of this BOFRA race. Results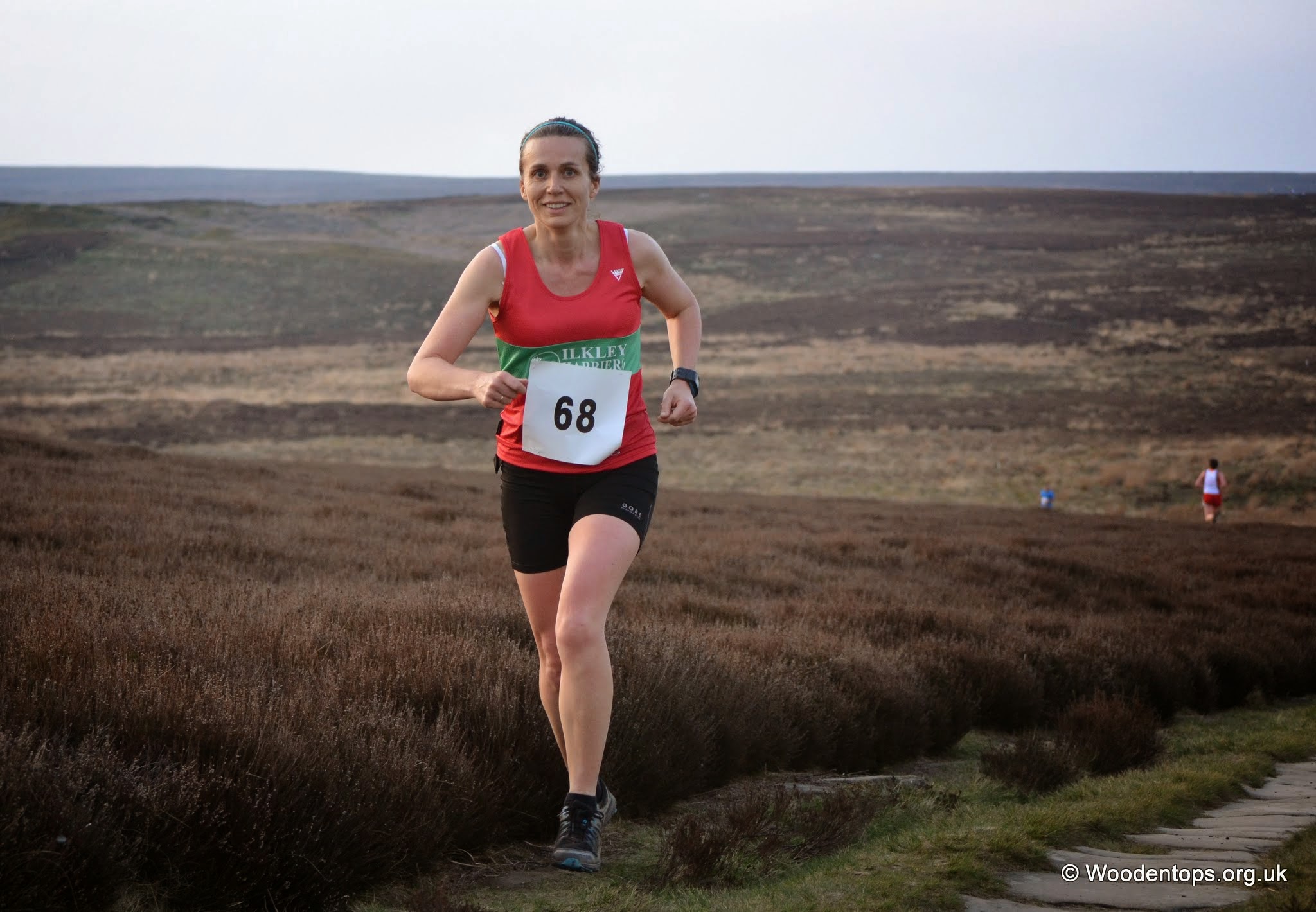 (1 42:07 Bob Addey, on a bike)
2  46:25 Jack Wood  equalled record
(4 46:59 Dave Wilby, bike)
7  49:15 Alex Sinclair
16 57:24 David Chandler
18 58:15 Duncan Cooper
29 61:57 Paddy Hagan
32 62:39 Mike Baldwin
33 62:41 Will Worboys
36 64:37 Paul Stephens
46 69:00 Sarah Hayes
51 73;14 Keith Wood
52 73:26 Rose Hagan
57 82:53 Sheena Pikersgill
60 85:30 Rachel Hagan
61 finished

Bunny Relays, Tue 21 April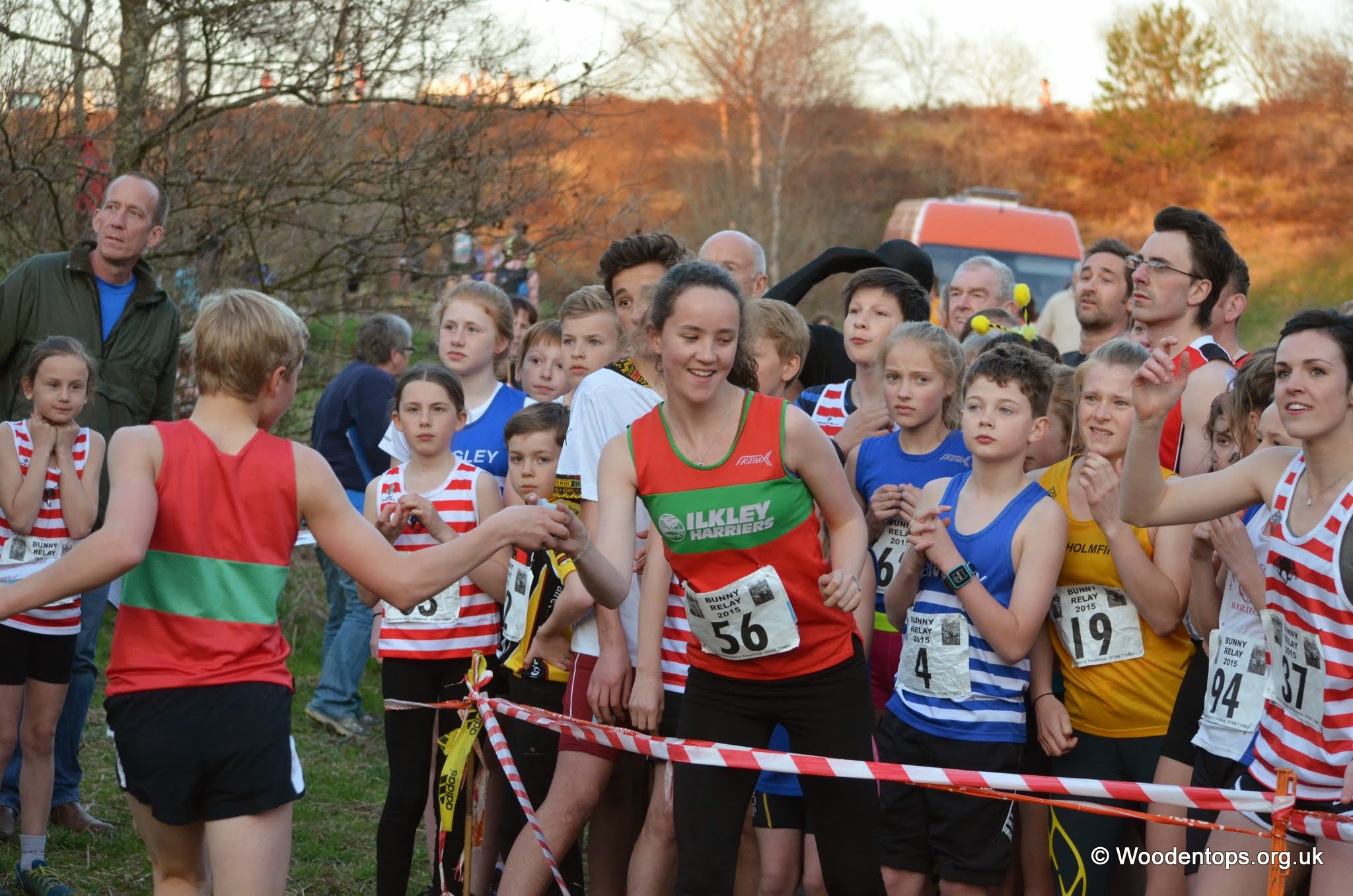 Lots of Harriers mixing and matching as part of a record 117 teams. Tom Adams was in the winning team as an honorary Holmes, Jack Wood and sister Helen were 7th team, amongst many others. Results and photos.
Website revamp, Sun 19 April
You might notice the website looks a bit different. It now uses the 'Twitter Bootstrap' approach which is 'responsive' and 'mobile-first'. An increasing proportion of users are using smartphones and tablets (1,716 and 1,653 sessions respectively in the last month) compared to traditional desktop/laptop users (3,092 sessions) and the new approach should accomodate everyone. And of course there is a 'Googlegeddon' deadline approaching fast where Google may 'downrank' sites that are not mobile-friendly. So, here it is, and if you spot a glitch then please let Paul know.
Manchester Marathon, Sun 19 April
From Alex Hyde ... First ever marathon ran yesterday, coming in at 4:48:15 6839th out of 7805. Was going great guns and hoping to get inside 4.15 until hitting the wall like a sledgehammer at 20 miles!! Fantastic atmosphere and amazing sense of achievement though and if anyone is contemplating running their first marathon .... go for it!!
Anniversary Waltz, Sat 18 April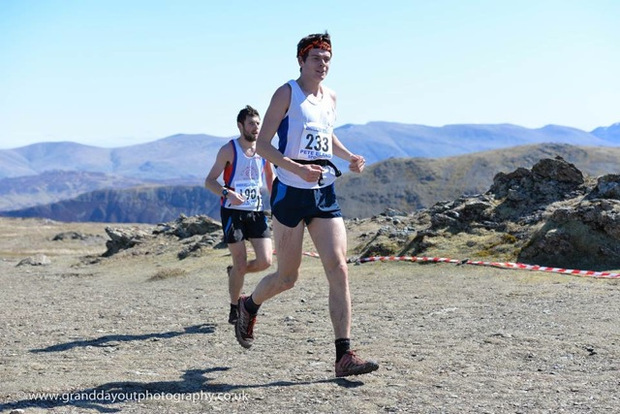 Dan Wilkinsion reports ... The Anniversary Waltz is an 11.5M race with 3,700ft of climbing around the beautiful Newlands Horseshoe. A spectacular day for racing - a fine spring day with clear blue skies. Studying the entry list I was convinced this race would turn into a battle between Jack Smith and Jack Wood and they didn't disappoint. We watched from the chasing group as they disappeared off into the horizon. Jack was a little tentative as he was leading but didn't know the racing lines, eventually it came down to a sprint for the line with our Jack winning by 13 seconds. A brilliant achievement and a great reflection of the hard work he has put in getting back into form over the last 9 months. I also found some decent form after recent setbacks and finished 6th. For anyone who hasn't tried fell racing in the Lakes this is a superb place to start in my opinion, apart from the steep climb up Robinson the route is generally grassy or not too harsh underfoot and much less daunting than some of the longer races. Plus the views are spectacular, there is plenty off support on course from the tourists on Catbells and there is free chilli and beer at the finish. A brilliant day out (PS Jack's vest was still in the wash from the Bunny Run!)
Results ...

1   1:41:47 Jack Wood
6   1:48:52 Dan Wilkinson
187 3:36:34 John Pickering
191 finished

Meanwood Valley Trail, Sat 18 April
From Petra Bijsterveld ... Having studied the Harrier entries beforehand I knew I would definitely be the last Harrier home in this race, but hey, someone has to be. Despite this being a local race I had never run it, and I found it quite tough. A lot of up and down, and underfoot it is a pretty relentless mixture of tree roots and small rocks, not my forte. I almost yearned for the tedium of the canalside stretch you get in the Guiseley Gallop or the Baildon Boundary Way, which make up the other 2 events in this 3 race series. However, I did enjoy it, the weather was glorious, there was an abundance of cheerful marshals to guide us through the woods, a drinks station half way, and a bottle of Meanwood Meander ale for all finishers. There were particularly strong performances from Steve Coy (22nd), Jamie Hutchinson (28th), Steve Weston (34th) and Nick Pearce (40th). Results ...

(1  41:36 Jonathan Wills, Leeds City)
22  47:39 Stephen Coy
28  48:48 Jamie Hutchinson
34  50:04 Steve Weston
40  50:38 Nicholas Pearce
161 59:29 Neil Bloor
169 59:54 Tom Worboys
209 63:19 Sarah Hayes
235 65:14 Harry Sime
236 65:18 Robert Sime
267 68:11 Bethany Bloor
301 71:27 Petra Bijsterveld
385 finished

Yorkshire Junior Fell Championships, West Nab, Sat 18 April
Well done to Lucy and Joanne Williamson, Gold & Silver medallists in FU18. Jemima Elgood took U16 Silver, and Euan Brennan U14 Bronze, in some very competitive races. Champions! More on the Woodentops site.
Sue Morley reports ... I had a good race over a somewhat complicated but well marked route with 450m of climb over 9k taking LV 60 prize behind Sally Newman who took 1st Lady.
 
(1 40;36 Jack Willis, Middlesborough and Cleveland)
74 71:30 Sue Morley 

Podium 5k, Sat 18 April
Geoff Howard reports ...the reuslts of the 5k races at Barrowford in a stiff wind were:
Race A:
(1 15:08 Chris Livesey, Preston Harriers)
23 18:05 Ruaridh Mon-Williams
 
Race B:
(1 16:59 Kevin Hunt, Preston Harriers)
13 19:13 Mark Iley
21 20:55 Geoffrey Howard

parkruns, Sat 18 April
From Petra Bijsterveld ... A win this week at Skipton for Mark Mon-Williams, followed by junior Oscar Stapleton in second place. Tom Worboys ran at Woodhouse Moor and followed it with the Meanwood Valley Trail, a good morning's running! Results ...

Leeds Woodhouse Moor
(1  16:39 Thomas Hughes, U/A)
65  22:19 Tom Worboys
400 39:31 Abbie Reynier (junior)
404 ran

Skipton Aireville Park
1   18:23 Mark Mon-Williams
2   18:09 Oscar Stapleton (junior)
24  22:41 Chris Cunningham
52  25:12 Charlotte Smithson
130 ran

Fountains Abbey
1  17:09 Daniel Holdsworth (Thirsk and Sowerby Harriers)
101 26:50 Eve Whitaker
102 26:58 Helene Whitaker
222 ran

Rob Templeman
Sad to hear that Rob Templeman has passed away: Rob was an active member of the Club in its early days, Club Treasurer, and sponsor of the Ilkley Moor fell race.
Bunny 3, Tue 14 April
The sun shone for the finale of the 2015 Bunny series, Tom Adams continued his winning Egg Stage for the 15th time and the individual race for the ninth time. Tom will once again feature on next years Bunny Beer label by retaining the series title with three wins. Results, and photos

1   15:02 Tom Adams
5   15:54 Jack Wood
27  17:58 Michael Howard
31  18:16 Cameron Reilly (junior)
38  18:39 Oscar Stapleton (junior)
56  19:24 Richard Joel
71  20:00 Harry Barker (junior)
82  20:26 Lucy Williamson
95  20:51 Malcolm Pickering
98  21:00 Arthur Reilly
105 21:18 Jann Smith 1st F40
109 21:41 Charlie Tiger Smith
128 22:25 James Pickering
136 22:45 Jamie Partovi
142 23:06 Edward Bickerdike
149 23:21 Nicky Hopwood
159 24:02 Andrew Jackson
167 24:11 Nea Weston (junior)
193 25:13 Allison Ricci
207 25:47 Peter Lewis
254 28:24 Sue Williamson
255 28:26 Sophie Brown
260 29:02 Sally Wright
261 29:10 Julie Elmes
267 29:48 Anna Pickering
268 29:53 Christine Reilly
272 30:22 Angel Smith (junior)
283 finished

Sheffield Half, Sun 12 April
From Andrew Sheldon... The Sheffield Half Marathon took place on Sunday morning. It's a new course from previous years, which after a couple of miles on the flat then starts a long climb up to the 5 mile mark out on the hills by Ringinglow. There was a facing wind all the way and beyond to the 6.5 mile mark, then a welcome turn back and downhill on the main road. One more turn for home at 8 miles in the village of Dore, then at 11 miles it's a welcome downhill return with a couple more miles flat run in to the finish.
So a challenging course, and four Harriers took part.
Alex Hirst ran 1:23:27 to earn 54th place (chip time) out of 6014 finishers.
Philip Hirst ran 1:40:59 for 24th in category, Sally Lynch ran 2:16:44, congrats there as this was no PB course, that's an average of well under 10.5 minutes per mile, hard working especially as the wind became stronger and colder as the race progressed.
I figured to start in the 01:40 pen, and so was pleased to get back in 01:41:06 which is fine for where am at just now. Personally speaking, really enjoyed being out there, running a sensible race, paying attention to form, thinking about those Thursday night coached sessions and what we learn there. And the buzz of roads lined with cheering spectators for much of the course. This, combined with the vibe of the Northern Vets team event last month, I find very motivating.

(1   1:13:20 Dave Archer, Hallamshire Harriers)
54   1:23:27 Alex Hirst
931  1:40:59 Philip Hirst
943  1:41:06 Andrew Sheldon
4815 2:16:44 Sally Lynch
6014 finished

Baildon Boundary Way, Sun 12 April
From Steph Fox ... 10 Harriers turned out for the Baildon multi terrain half marathon on a dull Sunday morning. The weather threatened rain throughout the race, but it thankfully failed to properly provide the deluge we were expecting. There was a slight breeze in the air along the canal, of which the path seemed endless and even I began to crave a hill just to enjoy some rest-bite from the the monotony. Once the hills appeared - so did a little more wind, but I found it in our favour for some of the way and even managed to finish the race with a smile on my face. Some fantastic times - and possibly some PB'S but not sure. Kate Archer came second female - well done to her. Results ...

(1  1:17:23 Frank Beresford, Otley AC)
45  1:39:15 Andrew Merrick
47  1:39:36 Kate Archer
133 1:52:57 Neil Bloor
161 1:56:38 Will Worboys
166 1:57:33 Jean Sullivan
187 2:01:11 Andrew Wilson
191 2:01:50 Adela Reperecki
198 2:04:00 Stephanie Fox
276 2:19:08 Paul Sugden
278 2:19:14 Sue Bickerdike
320 ran

Coledale Horseshoe, Sat 11 April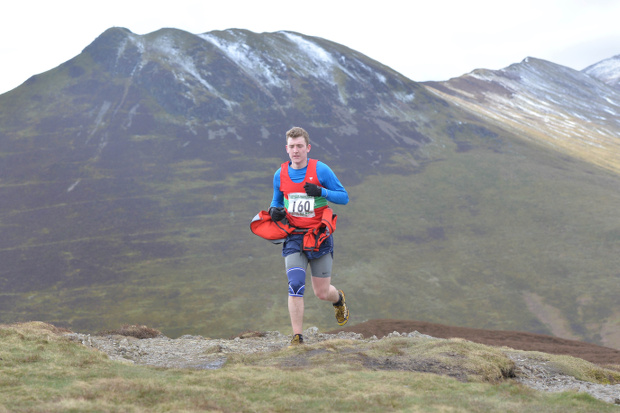 Will Buckton reports ... Five Ilkley Harriers made the trip to Braithwaite for the Coledale Horseshoe. The AM 13.7km/915 route was changed due to ice on Eel Crag to an 11km route with extra ascent, still taking in the Wainwright summits of Grisedale Pike and Barrow. Dave Wilby was first home for Ilkley in 22nd overall, less than a minute behind Steve Birkinshaw who recently completed all the Wainwrights in o

(1  1h06:49 Ricky Lightfoot, Ellenborough AC)
22  1h17:44 Dave Wilby
55  1h25:35 Dan Wilkinson
112 1h34:17 David Chandler
215 1h53:48 Will Buckton
234 2h00:53 Jamie Partovi
249 finished

parkrun, Sat 11 April
From Petra Bijsterveld ... Some brilliant parkrun results this week with a win at Skipton for Steve Coy, followed closely by a whole gang of felllow Harriers, and 1st female positions for Lucy Williamson at Skipton and Georgia Malir at Woodhouse Moor. Results ...

Leeds Woodhouse Moor
(1  17:14 Paul O'Callaghan, Tadworth AC)
9   18:17 Georgia Malir 1st F
21  19:33 Cameron Reilly (junior)
29  19:58 Arthur Reilly
32  20:09 Sally Malir 3rd F
325 ran

Colchester Castle
(1  17:20 Gareth Williams, U/A)
6   19:22 David Brown
61  23:48 Rosalind Brown
279 ran

Harrogate Stray
(1  18:01 unknown)
115 25:50 Julie Elmes
277 ran

Skipton Aireville Park
1   18:19 Steve Coy
4   19:00 Mark Mon-Williams
6   19:38 Oscar Stapleton (junior)
10  20:24 Dominic Coy (junior)
12  21:02 Lucy Williamson 1st F
37  23:32 Archie Budding (junior)
65  27:19 Sue Williamson
136 ran

Fountains Abbey
(1  17:24 Jack Brennan, Harrogate Harriers)
55  23:18 Norman Bush
233 ran

Bunny 2, Tue 7 April
In complete contrast to last week it was a balmy sunny evening on Penistone Hill, Tom Adams once again won, recording his 14th Egg Stage and 8th overall win, from 302 runners. Jann Smith was 1st F40. Results, and photos

1   14:59 Tom Adams
5   16:13 Jack Wood
18  17:17 Euan Brennan (junior)
37  18:35 Cameron Reilly (junior)
45  18:56 Jemima Elgood (junior)
56  19:23 James Pickering (junior)
58  19:28 Sarah Pickering (junior)
73  20:08 Harry Barker (junior)
80  20:23 Lucy Williamson
97  21:02 Lucy Jacques (junior)
98  21:03 Malcolm Pickering
102 21:13 Arthur Reilly
106 21:20 Jann Smith
150 23:14 Joanne Williamson
154 23:33 Nicky Hopwood
176 24:16 Nea Weston (junior)
205 25:31 Allison Ricci
232 27:03 Sue Morley
243 27:56 Angel Smith (junior)
263 28:58 Sue Williamson
264 28:58 Eric Morley
275 29:33 Sally Wright
276 29:37 Sophie Brown
291 31:07 Anna Pickering
292 31:17 Christine Reilly
302 finished

Guiseley Gallop, Sun 5 April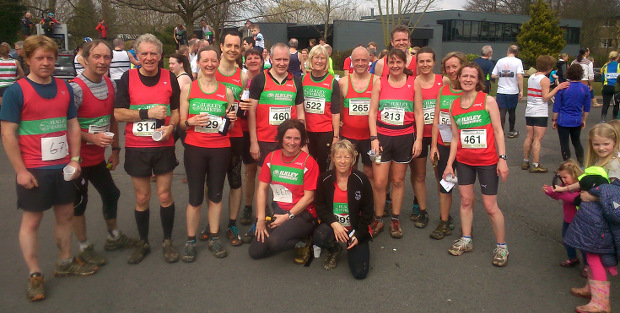 From John Hayes ... It was great to see so many Harriers out in the glorious Easter sunshine for this one. I hadn't done it before so I wasn't quite sure what to expect. The route is fast in places but the last part involves a muddy climb across Esholt Woods. Gratifyingly, it was then that I managed to overtake all the runners who had whizzed past me on the flatter bits of the course.


(1  36:08 Frank Beresford, Otley)	
35  42:32 Rob Cunningham
43  43:15 John Hayes
87  46:08 David Chandler
94  46:33 Duncan Cooper
106 47:15 Dave Robson
163 50:32 Philip Hirst
206 52:52 Will Worboys
213 53:18 Neil Bloor
217 53:22 Hannah Partner
246 54:47 Sarah Hayes
247 54:51 Adela Reperecki
259 55:37 Jean Sullivan
267 56:05 Jamie Partovi
288 56:45 Robert Meadows
301 57:19 Will Buckton
303 57:26 Peter Lewis
333 58:58 Bethany Bloor
363 60:42 Paul Sugden
364 60:44 Sharon Meadows
383 61:49 Petra Bijsterveld
389 62:16 Eric Morley
390 62:18 Sue Morley
408 63:17 Amanda Newham
411 63:38 Julie Elmes
414 63:46 Hilda Coulsey
472 67:18 Sue Williamson
615 finished


From Martin Wright ... This was an Ilkley Harriers Race League counter and Phil Hirst cannily played a wildcard from Parkrun and is now top of the League.
Pendle fell race, Sat 4 April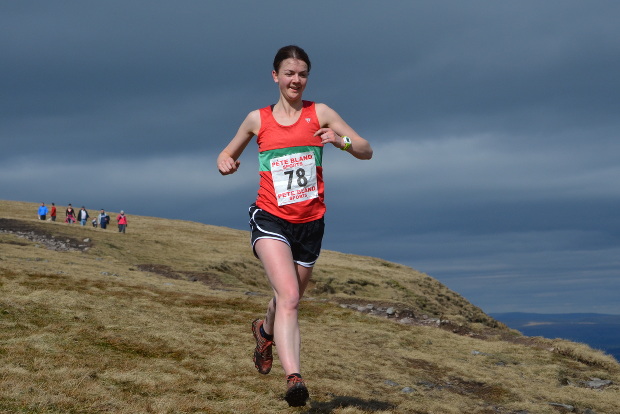 (1  32:40 Tim Addison, Helm Hill Runners)
99  45:21 Kate Archer
217 53:19 Jamie Partovi
291 ran

parkruns, Sat 4 April
From Petra Bijsterveld ... Results ...

Woodhouse Moor Leeds
(1  16:55 Daniel Fisher, Valley Striders)
25  19:39 Cameron Reilly (junior)
91  23:45 Harry Stead (junior)
361 ran

Bradford Lister Park
(1  17:41 Carl Kernick, U/A)
39  22:22 Phil Hirst
42  22:29 Joe Reynier (junior)
127 26:09 Alex Hyde
432 39:03 Abbie Reynier (junior)
471 ran

Skipton Aireville Park
(1  16:48 Julian Hood, Skipton AC)
8   19:47 Oscar Stapleton (junior)
9   19:53 David Brown
140 ran

Fountains Abbey
(1  17:11 Reece Dalton, Ripon Runners)
15  19:30 David Schneider
81  23:43 Jonathan Schneider
109 25:17 Alison Eagle
172 28:20 Fiona Schneider
306 ran

Salford 10k, Good Friday 3rd April
From Mark Iley ... 2 Harriers made the start line for this popular fast 2 lap 10k..a dreary morning affected times and they were a little slower than last year's.

(1  30:40 Gareth Raven)  
151 39:18 Mark Iley   
282 44:58 Harry Sime   
545 ran

---