Latest News and Results ...
Please send any Harriers results to news@ilkleyharriers.org.uk - they'll be forwarded to Paul for this web site and to Will for the newspaper report.
James Herriot 14km, Sun 26 July
From Jean Sullivan ... My 14km race seems very tame compared to the amazing undertakings by other Ilkley Harriers this weekend!
A multi terrain race along moorland tracks and paths, which starts and ends at Castle Bolton in Wensleydale. A big hill to be dealt with right at the start but well worth it for the amazing views to be seen when running along the tops. A lovely downhill finish.
I would definitely recommend this small and very friendly race which shows off Yorkshire's beautiful scenery to perfection! James Herriot's son was present to see us off and also to present the prizes at the end. Results ...

(1  55:21 Ed Hyland, Stainland Lions)
111 80:21 Jean Sullivan
239 finishers

Saltaire 15K trail race, Sun 26 July
From Harry Sime ... This event was run by Saltaire Striders and started near Roberts Park. If you like running along canal towpaths then you will love most of this course. The first and final kms were through a field and the 8th and 9th consisted of a short steep rise up and down via woodland paths and a bit of an obstacle course with a number of steps, stiles and railings to go over or under. The remaining 11Kms were along the canal towards Esholt and back which allowed you to get into a steady rhythm although there was the occasional cyclist and Sunday walkers with dogs to watch out for. The event was well marshalled and well supported by local clubs. It was Robert Sime's longest event to date, he was pleased with his time and was good prep for his first HM. Recommended as a pleasant change from the more undulating local challenges. Results ...

(1 54:48 Rob James, U/A)
54 73:20 Harry Sime
55 73:22 Robert Sime
194 finished

UTLD 100: Ultra Tour of the Lake District, 24-26 July
Sharon Meadows reports ... 6,300 metres of ascent (over 20,000ft) in 169 km (105 miles). This was my third attempt at completing this race and at last it's done! It was endless and I never want to see that course again. Today I feel remarkably well, but my feet are a bit trashed.
The race began on Friday at 6pm and there was quite a big crowd for the send-off. Cut off was on Sunday at 10 am. It is a circular route that takes in all of the Lakeland fells. Starting at Coniston then on to Seathwaite - Boot - Wasdale Head - Buttermere - Braithwaite - Blencathra - Dockray - Dalemain - Howtown - Mardale Head - Kentmere - Ambleside - Chapel Stile - Tilberthwaite and back to Coniston. There are 15 checkpoints on route including the finish and as ever all the many marshalls were really helpful. I thought it best not to stop and enjoy the disco music, fairy lights and braziers but to keep on going.
I can't really say I enjoyed it but I did meet lots of friendly runners who all helped to get me through. The success rate is usually 40 - 50% but this year was the highest ever with 65% finishing. The weather conditions were much better this year which helped a lot. The Lakeland 50 which runs over the same weekend saw 95% of competitors finishing. The 50 is a much more enjoyable experience.
If you are thinking of having a go there are lots of Youtube videos, and a really good one if you look up UK top ultra runs. Entries open on 1st September and this year the race was full in under 15 minutes!
1st Male finished in 20 hours 42 minutes.
1st Female finished in 25 hours 47 minutes
I finished in 39 hours 15 minutes, 198th out of 302.
Tomorrow I am going on holiday, was going to wear my recovery tights but the children have banned me. Too embarassing! Anyway, looking forward to a rest in the sunshine.
Thunder Run 2015, 25-26 July
From Phil Hirst ... Paul Sugden led a team that completed the 24 hour 2015 Adidas Thunder Run, as part of a 2000 strong field. The Ilkley Harriers in the team were Paul Sugden, Sue Bickerdyke, Alex Hirst and Phil Hirst, with non running support from Sue Hirst and John Sanderson. The team completed a very creditable 26 laps of the off road 10k course in conditions that varied from blazing sun to persistent rain. (The team finished 53rd out of 229 entered, the winning team completing 36 laps).
Ben Ledi, Sat 25 July
From 'travelling' Jack Wood ... The inner Yorkshireman thought it was bit expensive at £12 but it was a lovely route with great views and well organised with ski slalom-esque tall markers. Couldn't stay with the leader Prasad but got over the top in second and finished in third.
Bingley Show fell race, Sat 25 July

1  38:44 Tom Adams
14 50:38 David Chandler
42 57:37 David Chapman
93 finished

Cowling Gala fell race, Sat 25 July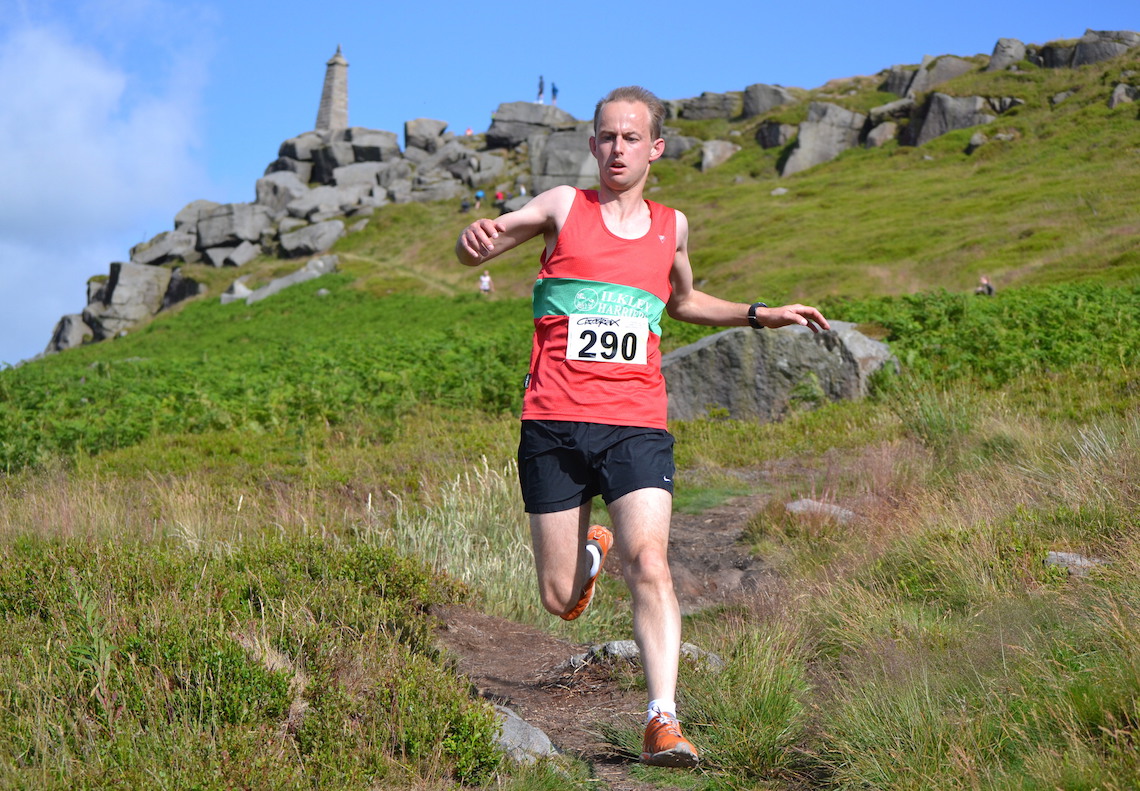 (1 20:09 Ian Willis, KCAC)
2  21:16 Martin Archer
13 25:38 Norman Bush  1st V60
31 finished

parkruns, Sat 25 July
From Petra Bijsterveld ... Results ...

Mile End
(1  16:40 Nathan Dunn, Preston Harriers)
34  20:18 Tom Worboys
211 ran

Skipton Aireville Park
(1  18:04  Daniel Bennett, Rochdale Harriers)
23  22:45 Harry Sime
24  22:47 Robert Sime
40  24:10 Archie Budding (junior)
136 ran

Fountains Abbey
(1  16:40 Reece Dalton, Ripon Runners)
53  23:40 Alison Eagle
239 ran

Cairn Table Race, Wed 22 July
From 'travelling' Jack Wood ... made it to Muirkirk for this informal race which was part of a 'Bog and Burn' series. Managed to get the win despite falling in a large bog.
Golden Acre Relays, Wed 22 July
Tom Adams broke Andy Hilton's 9 year old men's course record, running 13:47 in a mixed-club team that finished 2nd. Results
Kentmere Horseshoe, Sun 19 July
From Jack Wood ... After the cycling and previous days racing the body was saying no and it was a battle to keep running. Still, enjoyed the route and being out there on the fells in the Lakes. Narrowly missed out on being 40th in the 40th edition of this race but did manage to come home just ahead of the first lady.
Results ...

(1 1:31:23 Rob Jebb, Bingley)
41 1:52:07 Jack Wood
341 finished

Cracoe fell race, Sun 19 July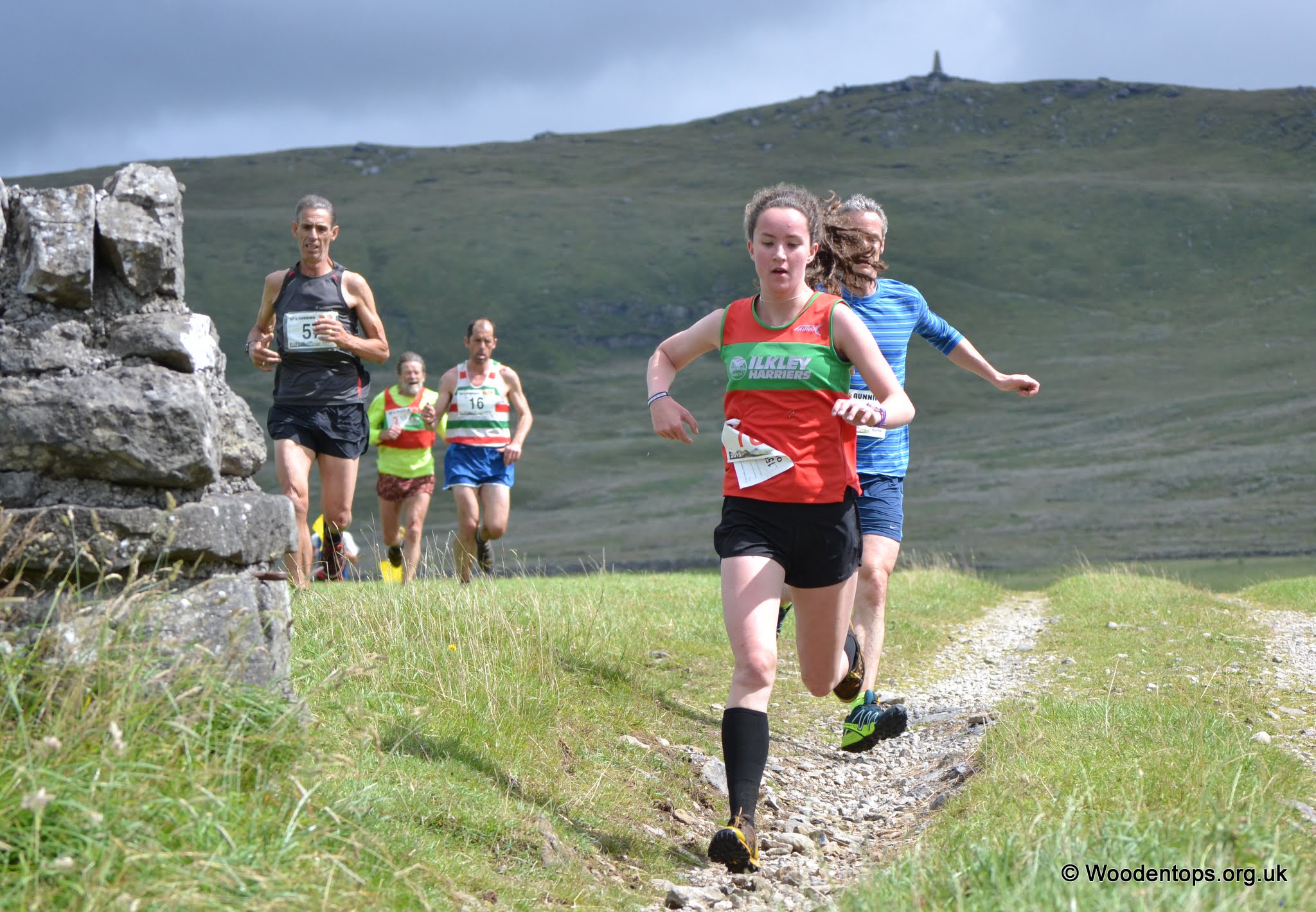 (1 19:58 Simon Bailey, Mercia)
11 24:52 Mark Mon-Williams
38 29:58 Lucy Williamson 1st LU23
41 30:15 Norman Bush
64 34:41 Joanne Williamson
81 finished

Windmill Half - Lytham, Sun 19 July
From Kevin Lawson ... Ran with a mate completing his first ever half. A lovely two loop run along the seafront though very windy in parts! Great to see a lot of local clubs represented. Results ...

(1  1:18:21 Conrad McKee, Blackburn)
418 2:08:10 Kevin Lawson
579 finished

League update
From Martin Wight ... the latest Ilkley Harriers Race League update, after 12 races.
Eiger trail, Sat 18 July
From Jamie Hutchinson ... Saturday 18th July and 5.45am I just made the start of the Eiger trail race starting from Grindlewald, Switzerland and taking in the Faulhorn at its highest point and 51km and 3100m height gain. The route is mainly on tracks with just the initial few kms and last 10km on tarmac with the Eiger, Monch etc as the backdrop. I started at the back of the field (a benefit of not setting my alarm correctly!) and slowly moved through the field until just before the half way point. The climb up the Faulhorn was really hard and relentless but rewarded with fantastic views and a gradual descent for most of the second half of the race. I descended well the last few miles to the valley floor before the last few miles along the road back into Grindlewald. I finished in 8 hours 21 minutes and 142 in my class with the winner (Martin Schedler) completing it in an astonishing 5 hours 22 minutes - 454 finished.
Ingleborough, Sat 18 July
From Jack Wood ... Fast and furious race mainly on a stony track to the top of Ingleborough and back. Reached the summit in third and caught first on the steep drop but couldn't stay with him on the long gradual descent. Nick and Norman ran well and were first M60 and M70 respectively.
Results ...

(1  47:132 Steve Hebbethwaite, Keswick)
3   47:47 Jack Wood
64  60:10 Nick Pearce
112 67:29 Norman Bush
195 finished

Snowdon International Mountain Race, Sat 18 July
Well done to Tom Adams, helping England to team Gold as second England counter! Results ...

(1  1:10:18 Emanuele Manzi, Italy)
5   1:13:24 Tom Adams
185 1:40:27 Michael Lomas
609 finished

parkruns, Sat 18 July

Harrogate Stray
(1  17:49 Stephen Ellison, UA)
4   18:10 Euan Brennan
380 ran

Skipton Aireville Park (100th event at Skipton)
(1  18:33 Andrew Chell, Barlick)
3   19:02 Oscar Stapleton (junior)
5   19:52 Jemima Elgood (junior) first lady
170 ran

Washburn Relays, Fri 17 July

1 59:58 Hyde Park Harriers

4 63:15 Ilkley Men A
 2  18:28 Jack Cummings
 5  23:45 Ben Sheppard
 13 21:02 Andrew Sheldon
 
17 71:49 Ilkley Men B
 31 23:08 Will Worboys
 21 27:11 David Chandler
 16 21:30 Ben Joynson

34 76:45 Ilkley Mixed A
 38 23:59 Jean Sullivan
 15 26:42 Richard Joel
 46 26:05 Stephanie Fox
 
49 83:31 Ilkley Mixed B
 65 27:19 Julie Elmes
 44 30:58 Andrew Jackson
 39 25:14 Caroline Craske
 
65 94:10 Ilkley Mixed C
 68 29:41 Sally Wright
 60 34:21 Petra Bijsterveld
 63 30:08 Don Macrae
 
71 teams finished

Fab results from the 7 junior teams too, see the junior pages
Ilkley Harriers of the Month, June
Brian Melia
Dragons Back race, 17th
Other nominations were:
Jane McCarthy - Ultimate Trails 110, 2nd lady
Ben Sheppard - Ultimate Trails 110, 15th
Jamie Hutchinson - Clif 10 Peaks
Helen Waddington - Clif 10 Peaks
Jamie Partovi - results as new member
Peter Lewis
Club newsletter
More Harriers of the Month ...
Lancaster 10k, Wed 15 July

(1 31:19 Stuart Robinson, Salford)
7  34:44 Dan Wilkinson
188 finished

Widdop, Wed 15 July
Jack Wood reports ... For the first race of my summer cycling tour I cycled out to Widdop. This is a 7 mile circuit of the area near Widdop Reservoir, running mainly along narrow trods with a lovely ever-steeper descent near the end. Having cycled up a horribly steep hill to get there (from Trawden), I told myself to take it easy but once the race started I couldn't help myself and was with the leaders Darren and Christian. After a couple of miles my legs started to go and I fell back through the field but then I started to feel better (or those around me felt worse) and recovered to get third. The prize giving was at the very friendly Packhorse Inn and I managed to pick up some chocolate and beer for my travels.
Leeds 10k, Sun 12 July

(1   31:33 Kevin Loundes, Manx H)
21   35:24 Alex Sinclair
145  39:52 Dick Waddington
606  44:53 Kevin Lawson
826  47:25 Christine Cox 1st F55
1124 48:55 William Woodhead
1484 50:53 Alex Hyde  PB
1678 53:45 Charlotte Smithson
2666 56:38 Sally Lynch
7127 finished

Martin Egan memorial 10k, Sun 12 July

(1 33:13 Matt Bidwell, Galway City)
3  37:53 Alex Hirst  PB


Addingham Gala fell race, Sat 11 July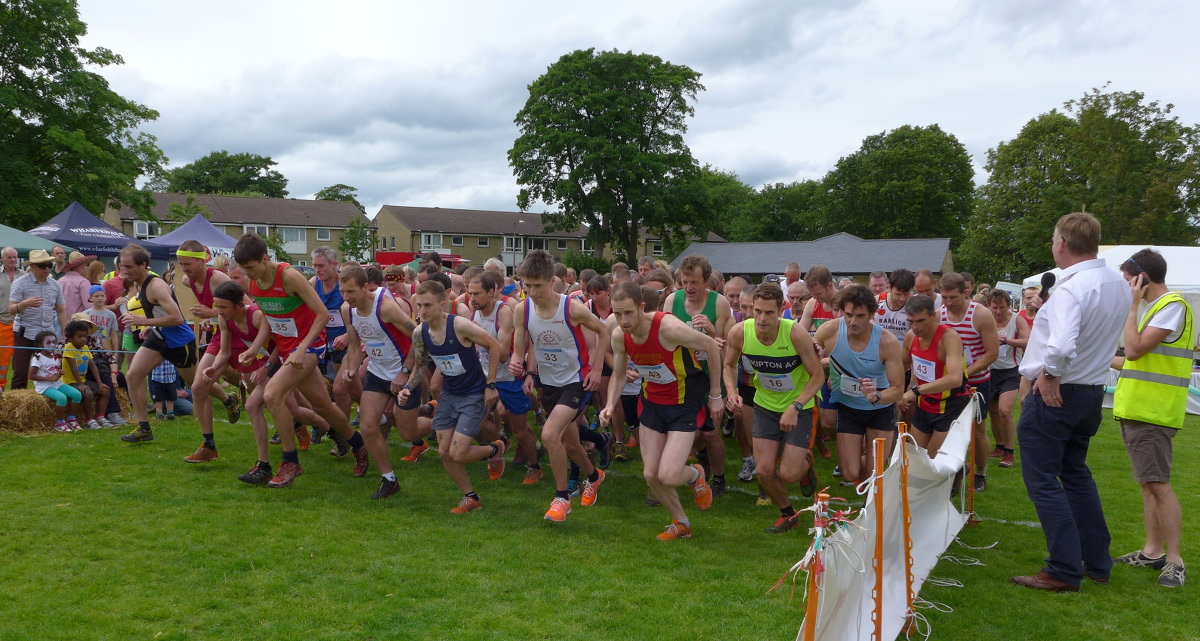 The Addingham Gala fell race, now in its 6th year with Ilkley Harriers, had a record field of 100 runners. Jack Wood won, making it a 'double' after winning the 'other' Beamsley Beacon fell race a few weeks ago. The sun shone (not too much), the crowds cheered, and Jonny Brownlee was there to cheer on the runners on the hill. Well done to RO Dan Wilkinson and all the helpers. Photos on woodentops.org.uk.

1  39:56 Jack Wood
11 46:12 Steve Turland
16 46:34 Rob Cunningham
20 46:57 Gavin Lamb
23 48:16 John Hayes
30 49:25 David Foyston
34 50:03 Ewan Farrow
37 51:04 Duncan Cooper
39 51:26 Michael Duffield
47 53:28 Dave Robson
48 53:37 Jann Smith 2nd lady
50 53:40 Norman Bush
53 54:19 Ben Joynson
56 55:28 Lucy Williamson
57 55:50 Geoff Howard
60 56:04 Will Worboys
71 57:20 Paul Stephens
72 57:29 Alan Chapman
83 60:28 Leanne Farrow
90 63:42 Sue Morley
96 68:08 Peter Lewis
97 73:18 Paul Sugden
100 finishers

This was a counter in the Ilkley Harriers Race League.
Joss Naylor Lakeland Challenge, Sat 11 July
Val Kerr reports ... WELL DONE to Alison Weston who successfully completed the Joss Naylor Challenge. This tour of the Lakeland peaks includes climbing 30 tops, crossing 48 miles of mountain terrain and climbing nearly 17000ft (all in less than 14 hrs). Fantastic Alison, an inspiration.
From Alison Weston ... A massive thanks to all those pacers and supporters who helped me compete the Joss Naylor Lakeland Challenge this weekend in just under 14 hours (~ 13hrs 40). Great company all the way round and accurate route finding despite a mixed bag of weather. And Joss Naylor there to meet us at the end!
Leg 1 Pooley Bridge to Kirkstone Pass over 12 tops with Jane and Kate
Leg 2 Kirkstone Pass to Dunmail Raise over 4 tops with Sarah and Nick
Leg 3 Dunmail Raise to Styhead tarn over 6 tops with Nicky, Outi and Roy
Leg 4 Styhead Tarn to Greendale over 8 tops with Helen, Dick and Roy (+ Nea over last top)
Road and Styhead support from Graham, Nea and Lyra
Many thanks!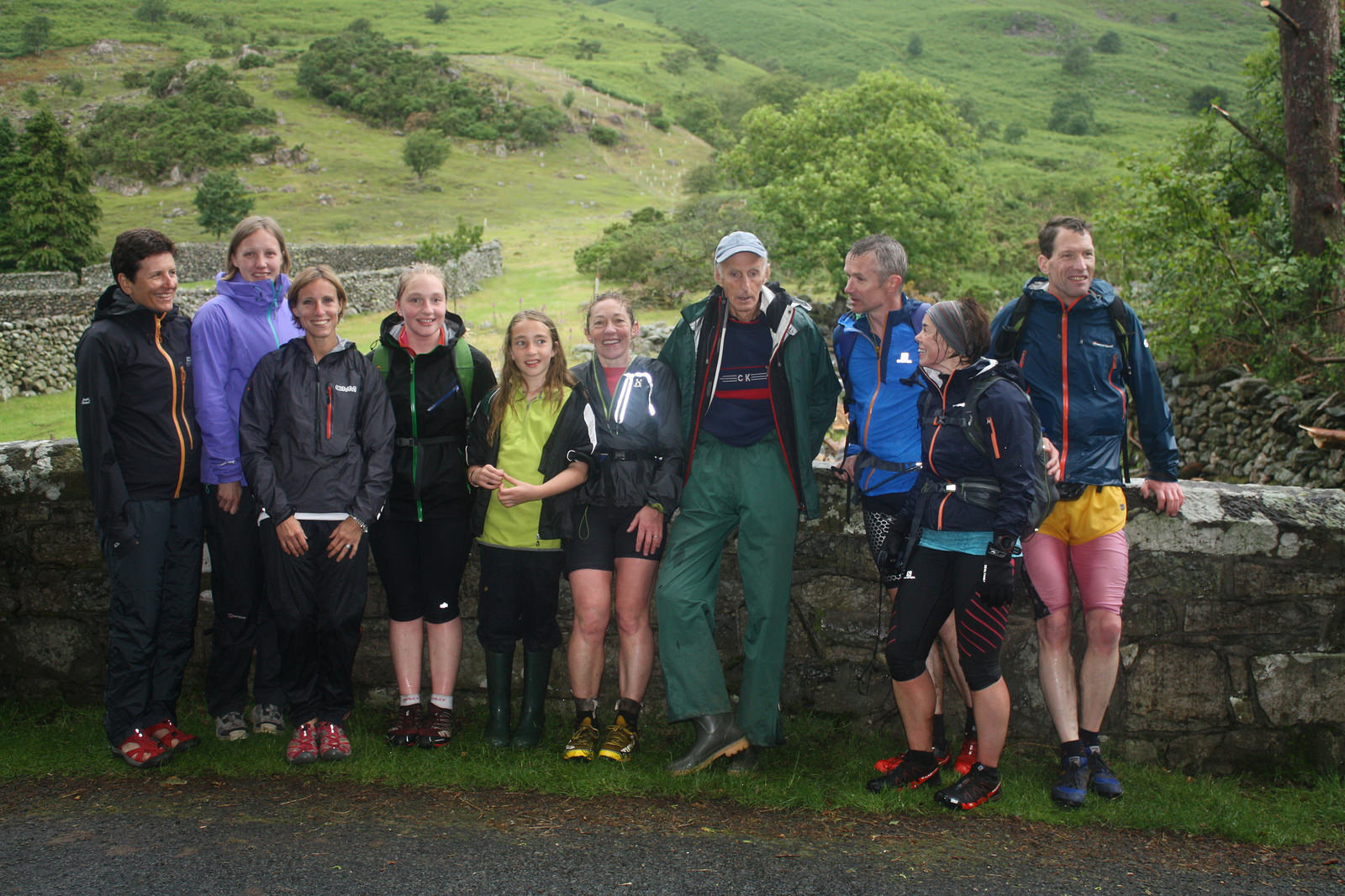 Dales Trail 30 Muker, Sat 11 July
From Jamie Hutchinson ... 10am on the start line of the Dales Trail 30k just outside Muker in Swaledale. A stunning place for a start line and ahead 30km taking in Tan Hill at the high point and half distance. The first five miles were pretty much uphill initially on the road before hitting the trails - I started well if not a bit too quick and settled into a steady trot. We were blessed with fine weather, just a bit blustery over the exposed tops. Ben Huskins won in 2hrs30, I finished in 3hrs5mins and 24th out of 115 finishers.
parkruns, Sat 11 July
From Petra Bijsterveld ... Results ...

Bradford Lister Park
(1  18:16 Christian Holmes, Wharfedale Harriers)
68  24:49 Alex Hyde
94  26:07 Tom Worboys
330 ran

Harrogate Stray
(1  17:26 Mark Bryant, Leeds City)
191 26:16 Julie Elmes
401 ran

Wycombe Rye
(1  18:28 Daniel Weathers, Wycombe Phoenix)
31  22:05 Ethan Thompson
281 ran

Temple Newsam
(1  17:25 Kristoff Boynton, York Acorn RC)
13  21:59 Geoffrey Howard
114 ran

Skipton Aireville Park
(1  18:34 Alan Walsh, Wharfedale Harriers)
6   19:15 Oscar Stapleton (junior)
37  23:54 Dylan Shinn (junior)
120 ran

Cleethorpes
1   15:14 Tom Adams
139 ran

Selection news
Well done to Harry Maslen who has been selected to compete for England in the home international U20 decathlon championships in Hexham on the 25/26 July.
Stirton fell race, Wed 8 July
From Dan Wilkinson ... A fabulous evening race over at Stirton that takes in Sharp Haw, twice. Yet another win for Jack as he continued his purple patch battling it out to the line with Barlick's Jimmy Craig. Outi Kamarainen also ran well to get 3rd lady. Results ...

1  36:26 Jack Wood
6  38:13 Dan Wilkinson
16 43:26 Steve Turland
47 49:10 Outi Kamarainen
59 50:52 Norman Bush
96 finished

HDSRL Norman Smith Handicap race, Tue 7 July
A record field of 245 finishers in the traditional League finale, staged by Otley AC this year. (Results below are in finish order so are out of order with the times.) Results ...

(1  42:48 Ronan Walsh, Swaledale)
(10 30:30 Andrew Grant, Harrogate (fastest))
19  44:33 James Rochfort
26  55:13 Laura Dawes
29  50:20 Don Macrae
32  36:28 Tom Worboys
92  43:06 Jean Sullivan
100 41:42 Julie Watson
112 46:18 Geoffrey White
118 42:53 Caroline Craske
139 37:04 Andrew Sheldon
181 40:56 Will Worboys
199 44:41 Christine Cox
223 38:47 Ben Joynson
232 49:04 Julie Elmes
245 64:21 Claire Murphy
245 finished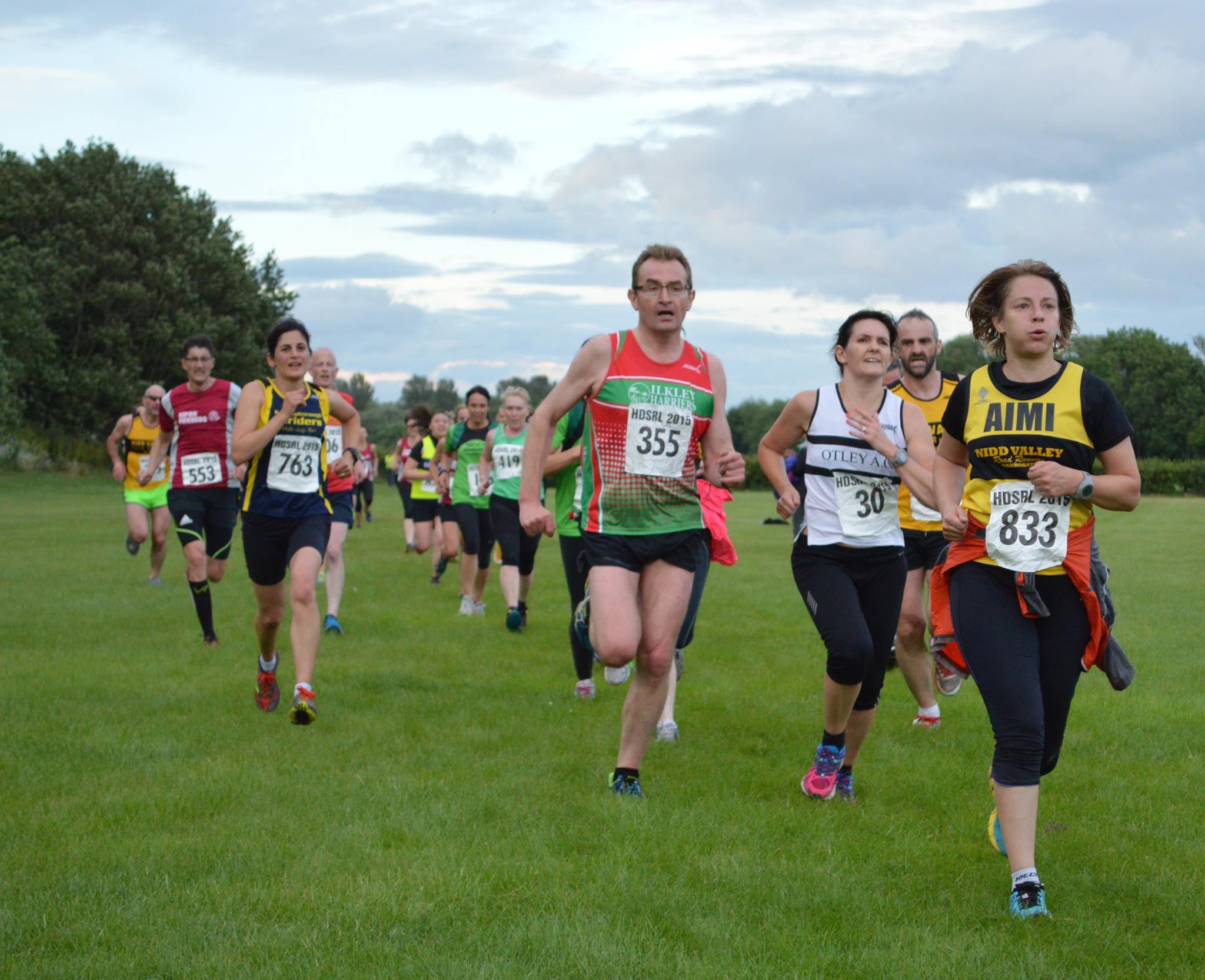 Photo by Dragons' Gary Waite: Andrew Sheldon, our HDSRL club coordinator, trying to beat his handicap.
Andrew Sheldon adds ... Christine Cox won the HDSRL 2015 FV55 individual medal, awarded for the most main team points best three results from the four races. Well done Christine!
Rochdale 10k, Tue 7 July
From Rob.Cunningham ... I dashed out to Rochdale to take part in this undulating 10k. Miserable Manchester conditions at the start as the rain absolutely bounced it down. It died off by the 2 mile mark, and by the end I was quite hoping it would start again. Results ...

(1 35:06 Rob James, Unattached)
12 37:21 Rob Cunningham
341 finished

Eccup 10M, Sun 5 July
From Petra Bijsterveld ... Ten Harriers travelled down the road to Adel for the Eccup 10 mile road race. Always in July and on an undulating course with little shade this race is tough on a hot day, and I have abiding memories of walking long stretches of it two years ago in sweltering conditions. Thankfully today was much more manageable. We were started off by Jonny Brownlee, I only found this out after the event from Twitter, as sadly the PA system failed and this fact completely passed me by.
Gavin Lamb was the first Harrier home in 51st place, followed by Tom Worboys who has been gaining a lot of pace this year and ran a PB. Kate Archer was the 3rd Harrier and also 3rd F35 (PB), Christine Cox 2nd F55 and Hilda Coulsey 3rd F60.
Alex Hyde passed me at 5 miles muttering something about enjoying too much of the good stuff the night before, but it did not seem to hamper his progress! It left me as the last Harrier to cross the finish line but I was pleased to find I had still run a 10 mile PB.
Results ...

(1    56:37 Chris Smith, Leeds City AC)
51  1:06:36 Gavin Lamb
66  1:07:40 Tom Worboys PB
94  1:09:27 Kate Archer 3rd F35 PB
98  1:09:34 Andrew Merrick
312 1:21:37 Christine Cox 2nd F55
345 1:23:08 Chloe Merrick
351 1:23:21 Jane Bryant
402 1:26:19 Hilda Coulsey 3rd F60
455 1:28:30 Alex Hyde PB
488 1:31:02 Petra Bijsterveld PB
726 ran

Harrogate Town Centre 10k, Sun 5 July

(1  31:28 Tesfaye Debele, Leeds City)
190 46:41 Robert Sime
191 46:43 Harry Sime
199 47:10 Chantal Busby
328 51:59 Ruth Kitchen
370 53:09 Chris Wilby
371 53:06 Louise Airey
409 55:38 Julie Elmes
622 finished

Blackfell fell race, Sat 4 July
From Dan Wilkinson... Blackfell fell race is a brand new AM race this year taking in the best of the landscape of Upper Wharfedale. The race requires navigational skills as, in parts it does not use paths and it was up to runners to establish the quickest route between checkpoints. Because the clag had lifted this made proceedings relatively simple and runners took slight variations in line rather than getting totally lost. 31 took part and the race was won by Sam Watson in 1:24:53, I managed 3rd and Jack was 5th home. A brilliant addition to the calendar and I would urge all fell runners to give this a go next year - it's superb and a firm favourite of mine already.
Results ...

(1 1:24:53 Sam Watson, Wharfedale)
3  1:28:07 Dan Wilkinson
5  1:36:35 Jack Wood
31 finished

Oakworth Haul, Sat 4 July
Norman Bush, V70, storming the Oakworth Haul ... Results ...

(1 40:05 Charlie McIntosh, P&B)
11 51:35 Norman Bush
20 finished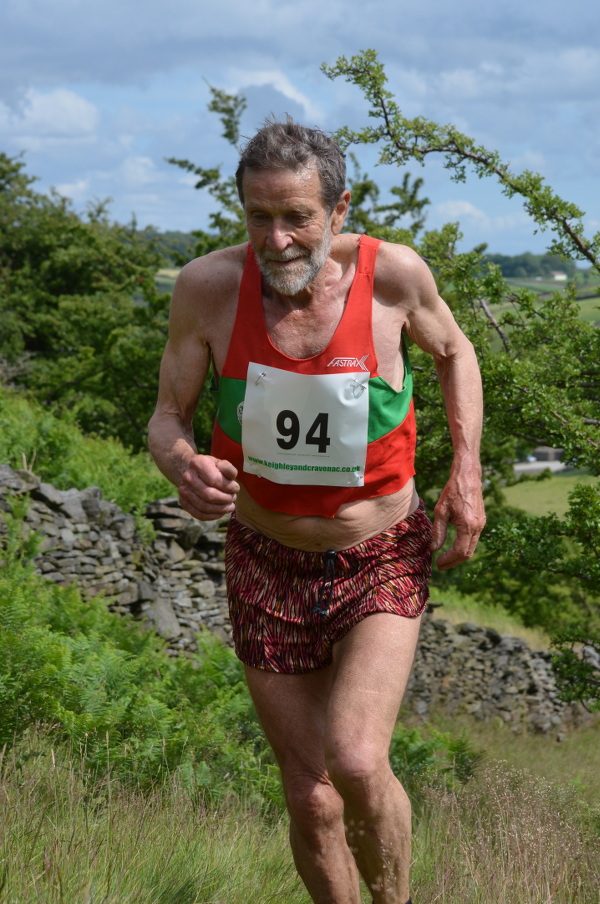 Heptonstall Festival fell race, Sat 4 July
Will Buckton reports ... A hot day on the Calderdale moors above Hebden Bridge. A nice run apart from being followed by swarms of flies for parts of the race!
Results ...

(1   50:57 Joseph Crossfield, CVFR)
77 1h13:24 Jamie Partovi
91 1h22:15 Will Buckton
100 finished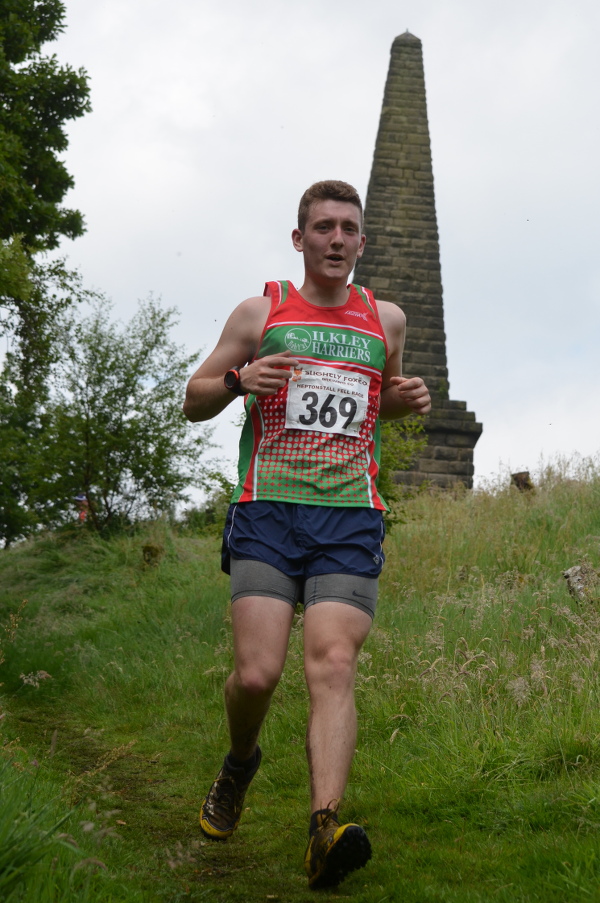 Kirkby Gala fell race, Sat 4 July

(1 31:59 Ted Mason, Wharfedale)
8  37:34 Mark Mon-Williams
10 37:47 Steve Turland
58 finished

Saunders Lakeland Mountain Marathon, 4-5 July
John Hayes writes ... One of the joys of running a mountain marathon is that warm glow of satisfaction when you stumble through the mist and find yourself right at the flag. Day one of the Saunders proved to be very misty and - whether by luck or judgement - we had a few of these moments. But then there are those occasions when you are convinced you are in the right place but there is no flag to be seen. Usually this causes mild irritation, then increasing panic as time ticks away, followed by running around madly and finally expletive-laden desperation. This is what happened (to me at least - Sarah stayed remarkably calm) when we reached control 5 of the Harter Fell course. We spent an hour or more searching and searching for a flag only to give up and head to the half-way camp forlornly. Just as we were pondering how we would live with the ignominy of being disqualified, we learnt that the flag had not been there (until a marshal arrived after us to put it out). So, with our spirits lifted, we lounged around in the sun (which came out in the afternoon), ate our quick-cook pasta, went to bed at 8pm, slept through the very loud baaing sheep, got up at 6am, stood in the toilet queue, got bitten by midges and ran a second day - without mishap - back to the finish. Sarah and I were very pleased to finish 21st and 1st mix vets. Sarah Edwards and her dad ran the Harter Fell class too and turned on the style on day two finishing 17th overall. Special mention also to Adrian Hall and his son Matthew (doing his first MM) who came a brilliant 4th in the Bedafell class.
Results
parkruns, Sat 4 July
From Petra Bijsterveld ... Results ...

Bradford Lister Park
(1  16:49 Matthew Merrick, Bingley Harriers)
8   19:05 Andrew Overend
327 ran

Harrogate Stray
(1  15:54 Jamil Parapia, Otley AC)
152 26:27 Julie Elmes
335 ran

Hilly Fields Lewisham
(1  17:54 Hugh Salway, U/A)
2   19:15 Alex Hirst
184 ran

Skipton Aireville Park
(1  18:18 James Raven, Cardiff AC)
32  22:52 Harry Sime
34  22:56 Robert Sime
68  26:14 Charlotte Smithson
133 36:09 Emma Curran
143 ran

Murder Mile, Thu 2 July

1   6:44 Tom Adama
13  8:36 Jemima Elgood 1st FU17, 1st lady
44  9:43 Lucy Haines
74 10:51 Chloe Haines
164 finished

Another England vest ...
Tom Adams is leading the England team at Snowdon this month ... details
BMW Relay, Sun 28 June
From Paul Stephens .... Great leg 5 in the Bradford Millenium Way relay today running with Joyce Marshall. A varied route, uphill on Burley Moor and then a long downhill all the way to the finish. An interesting finish along the river, then the canal and back along the river before the final stretch of road to Bingley Rugby Club. Well done team Ilkley.
We were 28th team home out of 50. Results ...

Leg 1, 15th, 1:33:29 Gavil Lamb & David Chandler
Leg 2, 40th, 1:39:45 Ian Conyers & William Woodhead
Leg 3, 32nd, 1:18:31 Adela Reperecki & Keith Wood
Leg 4, 24th, 1:30:07 Helen Horton & Andrew Merrick
Leg 5, 39th, 1:53:05 Joyce Marshall & Paul Stephens
28th team, 3rd Vets team, 7:54:57 (1st team 5:32:03)

Ultimate Trails 110, Sat 27 June
From Ben Sheppard...Ultimate Trails is the ultra in the popular Lakeland Trails series and comes in 110k or 55k versions. Dick Waddington, Jane McCarthy and I took on the 110, being for each of us a first time at anything like such distance. The route starts and finishes in Ambleside and includes 6 mountain passes, 5 lakes and (they say) 14,000 ft ascent/descent. The atmosphere was charged for the midnight start and carnival-like at the finish, drum band and all. The first three hours or so by head torch before sunrise by Haweswater - not a bad way to start a race. Kim Collison destroyed the field and earned himself hefty prize money by setting a new course record.
Special mention for Jane, second lady - what a class performance. I found it way tougher than expected, having underestimated the challenge of the ascent combined with tricky terrain over so many (almost 15) hours. Anyone fancying stepping up to ultra - give it a go.
Here are some GPS stats, and the Results ...

(1 10:48:57 Kim Collison, Borrowdale)
15 14:50:40 Ben Sheppard
18 15:03:10 Jane McCarthy 2nd lady
46 16:42:45 Dick Waddington
194 finished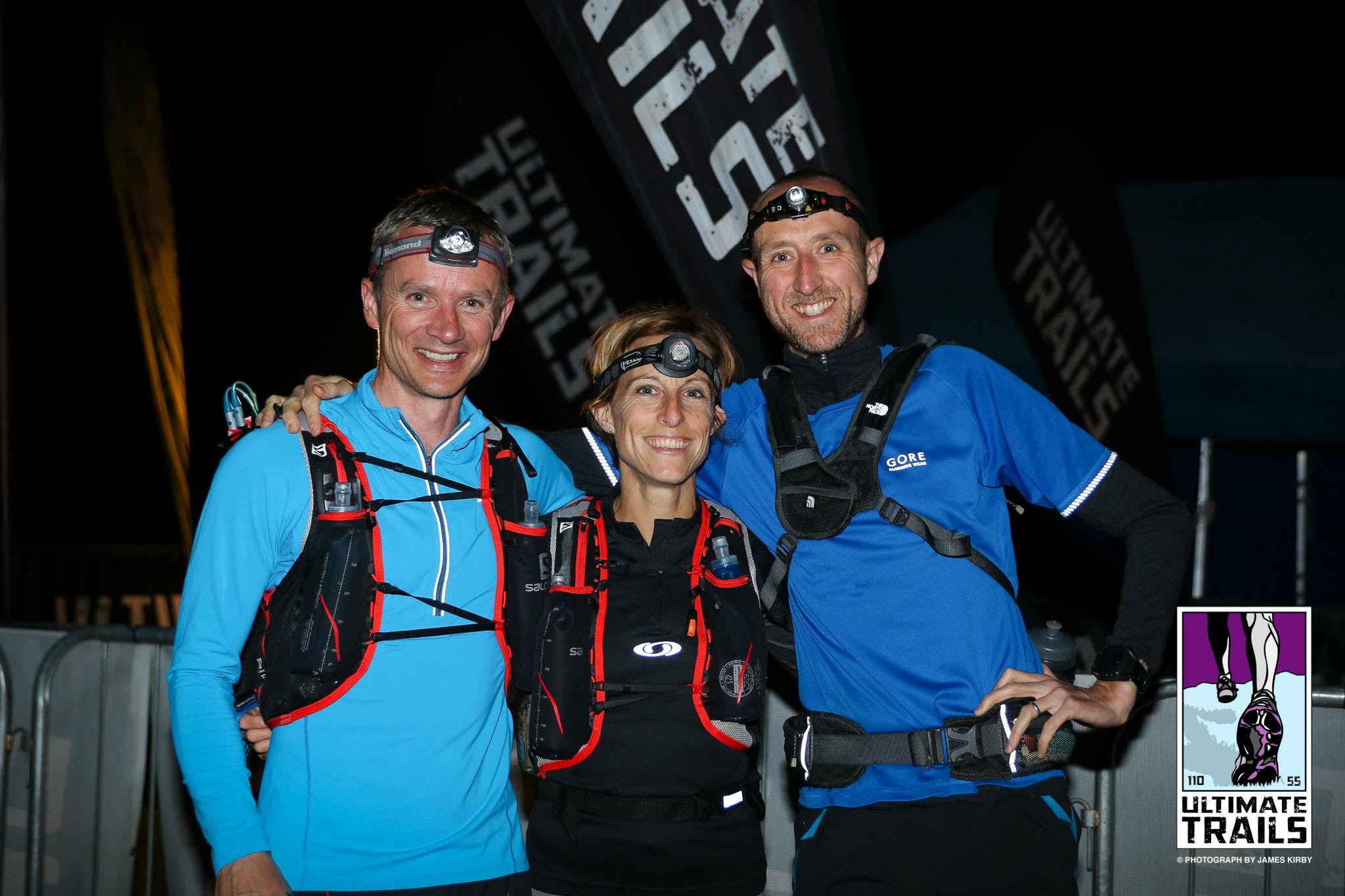 Dick Waddington adds ... What an experience! Nearly twice the length of any race I've have done before, this was always going to be a step into the unknown. The first three and half hours were in the dark and gave some exciting descending from Nan Bield pass, just to take your mind off the distance left to go. The three of us ran together for the first 10k or so, before Ben thought he would stretch his legs a bit. Jane and I settled into a nice rhythm, chatting with other runners as the race ebbed and flowed. At checkpoint 5, 55km and 7.5 hours into the race, we came across Ben again looking very relaxed and applying plenty of suncream - it was hot and sunny by now. We probably motivated him to press on. At 70km I mentioned to Jane the distance covered and without a hint of irony she commented that there was less than a marathon to go! I was quite happy with the thought too. At 75km though my legs decided that I hadn't been eating enough and I needed to slow down, so Jane pressed on and I had no option but to make more of the lovely views on offer. Ben and Jane performed brilliantly to keep up such good paces all the way round on their first attempts at this kind of distance.
Clif 10 Peaks, Sat 27 June
From Jamie Hutchinson ...10 peaks, 30 miles and 3000m starting at 6am from Thirlmere on a really beautiful day to be in the lakes I headed up onto Helvellyn well up in the field of about 100 runners. The race then descended back to Thirlmere and Steel end car park before heading up to High Raise, Bow Fell, Esk Pike. Next Esk Hause, then Great end, Ill Crag and Scafell Pike - at this stage I still felt pretty good and was trotting along nicely. Descending onto the corridor route across to Great Gable where the race started to bite, into the clag I made the summit and then made a nav error and got a bit disorientated losing about half an hour. Back on track I made it across to Honister and welcome food stop. A few bowls of rice pudding and I was ready for the climb up Dale Head and then the run in along Newlands valley and finally the finish in Kewsick. A tough day out on the fells I managed 11th out of about 90 finishers. The race was won by Tony Holland in 7:57. Great race, I did the 'short' there's also a long and an extreme for the more seasoned ultra racers! Results ...

(1 7:57:00 Tony Holland, Coniston)
11 10:00:22 Jamie Hutchinson
47 14:14:53 Helen Waddington
91 finished

ESSA Combined Events Regional qualifier, Doncaster, Sat 27 June
From Shirley Wood ... top decathlete Harry Maslen (now a member of the senior club) had been looking forward to this final Decathlon of the season competing for West Yorkshire at Doncaster in the ESSA regional qualifier. Unfortunately he was not well but the excellent training that he has been doing showed what a truly exceptional athlete he is even when not on par. On day 1 he ran 11.3 in the 100m, jumped a PB of 6m77 in the long jump, followed by a second PB of 13m25 in the shot an outdoor PB of 1m92 in the high jump and finished with a 53.3 in the 400m. He finished in the lead but overnight he was more ill and despite travelling to Doncaster for the second day decided to withdraw from the competition. Over the next few years I am certain that we will hear of Harry's further successes.
MRA International Youth Cup Mountain Running, Bulgaria, Sat 27 June
From Shirley Wood ... It was such a great honour for Ilkley Harriers to have 4 of its older juniors selected to compete for England in Bulgaria. Over the 3.6km ladies course Jemima Elgood was 23rd in 21:26, Lucy Haines 37th in 22:44 and Sarah Pickering 38th in 23:19. Jemima and Lucy were part of the England team placed 9th overall. There were 50 competitors in the race and the winning time was 18:50.
In the 5.4km mens race Ruaridh Mon Williams finished in 56th place in 30:44 (61 ran and winners time was 24:30).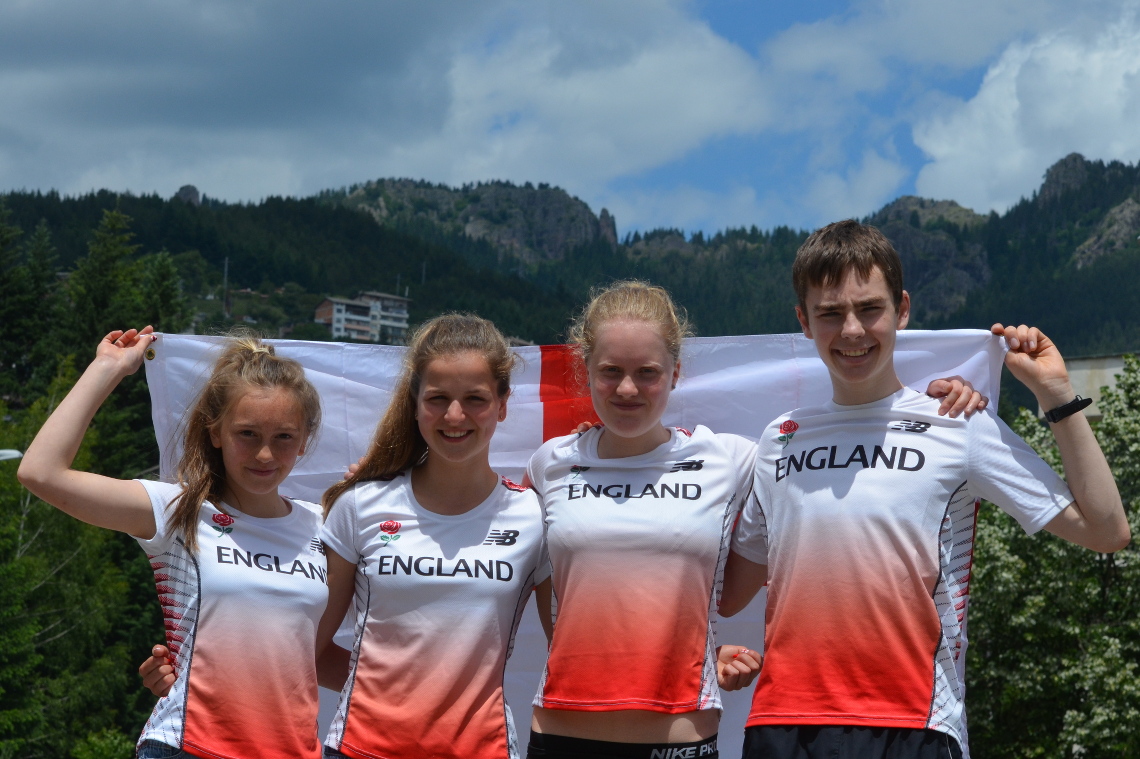 parkruns, Sat 27 June
From Petra Bijsterveld ... Results ...

Leeds Woodhouse Moor
1   16:48 Jack Wood
387 ran

York
(1  16:33 Eric Sofen, U/A)
36  20:15 Geoff Howard
390 ran

Bradford Lister Park
(1  17:06 Will Kerr, Saltaire Striders)
9   19:52 Andrew Overend
77  25:08 Alex Hyde
117 26:50 Petra Bijsterveld
356 ran

Harrogate Stray
(1  17:38 Stuart Little, Sheffield RC)
164 25:54 Julie Elmes
335 ran

Hilly Fields Lewisham
(1  16:33 David Morgan, Serpentine RC)
4   18:10 Alex Hirst
143 ran

Dragons Back race, Fri 26 June
From Alison Weston ... congratulations to Brian Melia on finishing 17th in the Dragon's Back 'ultra' 'ultra' race race on Friday - 5 days of running covering the length of Wales - 300km and 16,000m of climbing in 54hr 34min. A really amazing achievement! Results
Read Brian's report.
Eldwick Gala, Thu 25 June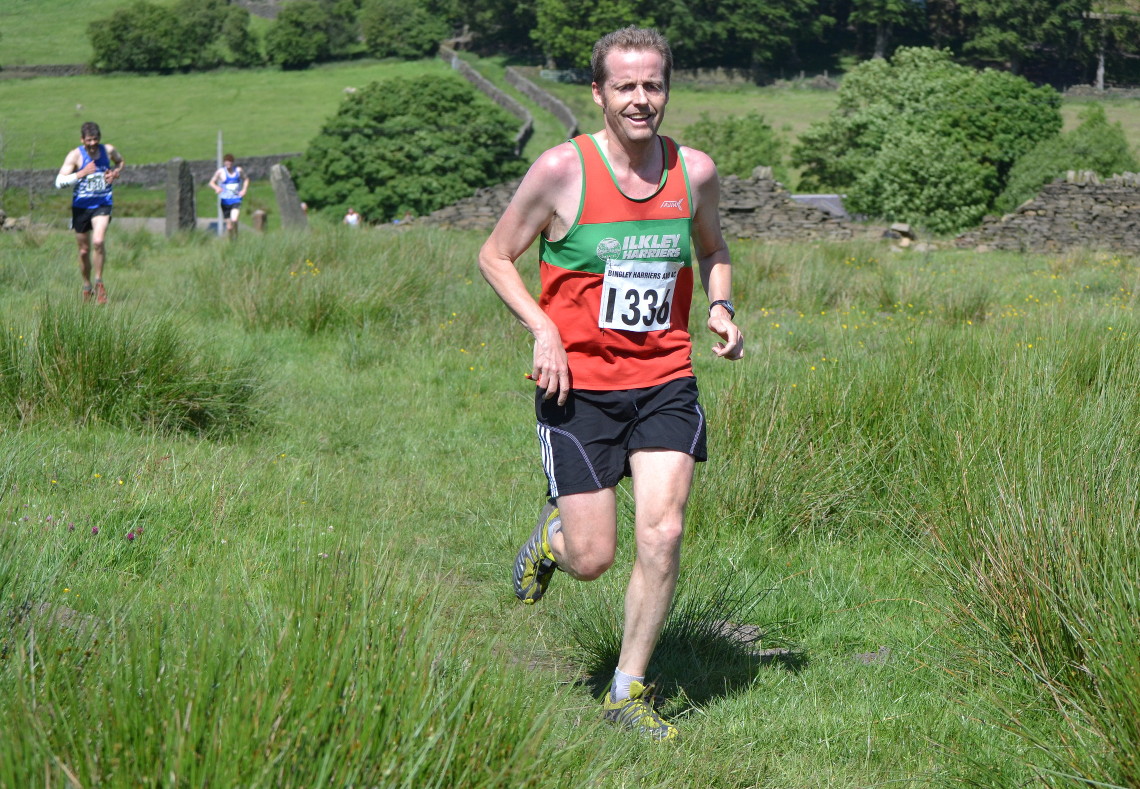 (1 18:36 Matt Lockyer, P&B)
9  20:20 Steve Turland
58 29:09 Sue Morley
66 finished

BMAF 5k, Sun 21 June
From Geoff Howard ... Sally Malir and I ventured across to Horwich for the BMAF 5k Championships. Sally finished 3rd V50 lady and I was 2nd V70 man. Results ...

(1 15:39 Kerry Liam Vilson, Ronhill Cambuslang Harriers, V40)
85 19:47 Sally Malir
93 20:24 Geoff Howard
147 finished

Freckleton Half, Sun 21 June
From Steve Weston... The Weston family made the trip over to windy Fylde so that I could spend Fathers Day doing the Freckleton Half marathon. This is the UK's longest running half marathon and it has a brilliant community feel to it. The half marathon is the centre piece of a weekend gala with a sports day, a fun fair and numerous other events (imagine Ilkley carnival with a 600 entry road race).
The course sets off on a ramble round Freckleton before heading out into the country towards Wrea Green and returning via Lytham. There was plenty of support out on the course and it was a thoroughly enjoyable race. I can recommend it as an early summer target for those not wanting their winter training to go to waste.
It was windy on the day but thankfully there was a decent smattering of hedges to break up the wind, and only a relatively short section where you were slogging headlong into it.
I faded in the the last two miles, but I was looking for a top 30 place so I was happy with my 29th. Ben Fish won for the 9th time!
Results ...

(1 1:09:19 Ben Fish, Blackburn Harriers)
29 1:24:40 Steve Weston
601 finished

Puma Pudsey 10k, Sun 21 June
From Gavin Lamb ... Took a new race tactic on this and turned up on the start line a couple of minutes after the gun had gone and out of breath getting there (I think my race was 10.5k!). Not to be recommended if you are after a good time and finishing place but it did feel good going past the 440+ people during the race. Somehow managed to clock a faster time and exactly the same position as last year.
Results ...

(1  35:18 Frank Beresford, Otley)
42  44:02 Gavin Lamb
486 finishers

Helm Hill fell race, Sun 21 June

(1 22:14 Mark Addison, Helm Hill)
18 26:15 Mark Mon-Williams 1st V50
23 27:11 Steve Turland
80 finished

Junior fell news, Sun 21 June
From George Elmes ... 15 juniors competed in the Turner Uphill race, round 6 of the Junior FRA Champs (most taking the opportunity to camp with there parents at the start of the race and have a cracking weekend). A tough uphill only course and some great performances from all. This season's target was to improve on our best ever result last year of 4th club. MISSION ACCOMPLISHED!!!! I am pleased to report that we finished joint 2nd out of over 60 clubs competing! 2nd best Junior fell club in the country is a massive accomplishment for every JIH that competed in an English Championship race this season. Well done to all - so proud of you all. Full report with pictures on the junior pages.
Buckden Pike fell race, Sat 20 June
Jann Smith reports ... 3.7m / 1594ft, and a quote from Barlick Fellrunners website ....'Special mention should perhaps be made of Norman Bush of Ilkley Harriers. He runs in the Vet 70 category, yet he finished in 55th position, comfortably in the top half of the field, once more demonstrating what a top athlete he remains, in spite of his advancing years....'
Results ...

(1 34:08 Ted Mason, Wharfedale)
9  38:22 Dave Wilby 
20 41:31 Jim Ryder
54 48:36 Jann Smith 1st F40
55 48:44 Norman Bush  1st V70
78 53:22 Jamie Partovi
123 finished

Reservoir Bogs, Sat 20 June

(1 50:27 James Logue, CVFR)
44 77:20 Peter Haines
77 finished

parkruns, Sat 20 June
From Petra Bijsterveld ... Results ...

Leeds Woodhouse Moor
(1  17:18 Richard Shuttleworth, U/A)
23  19:36 Tom Worboys
342 ran

Bradford Lister Park
(1  17:44 Andrew Bedford, Saltaire Striders)
25  22:10 Phil Hirst
111 26:29 Petra Bijsterveld
349 ran

Skipton Aireville Park
(1  19:26 Benjamin Small, Keighley and Craven)
13  22:52 Harry Sime
14  22:53 Robert Sime
40  25:47 Charlotte Smithson
101 ran

Beamsley Beacon fell race, Thu 18 June
From Dave Wilby ... Another win for Jack Wood tonight at Beamsley Beacon despite the fact he set off at a crawl, didn't really start racing until a couple of miles in, and took a long route back down. Oh the benefit of youth!! Good to see a healthy turnout of Harriers.
Results ...

1  36:21 Jack Wood
5  38:51 Dave Wilby
11 41:03 Martin Archer
21 43:02 Mark Calderbank
25 44:05 David Chandler
28 44:58 Steve Weston
46 47:51 Chantel Busby
76 59:45 Peter Lewis
77 60:13 Anna Barlow
78 60:25 Sue Morley
84 finished

HDSRL 4, Wetherby, Wed 17 June

(1  25:21 Mike Burrett, Harrogate)
42  30:50 Mark Iley
53  31:34 Andrew Sheldon
97  33:45 Caz Farrow
116 34:32 Philip Hurst
171 37:12 Jean Sullivan
198 38:34 Christine Cox
235 40:06 Geoffrey White
241 40:20 Paul Sugden
262 41:43 Julie Elmes
311 46:51 Claire Murphy
335 finished

Overall League placings and handicap race start times should be out next week ...
Notice, Club night Tuesday 16 June
ILTSC are hosting a major tennis tournament, so we cannot meet there and instead we will meet at the Old Bridge, 7pm, for the Tuesday night run.
Hawkswick Dash, Sun 14 June

(1 11:44 Ted Mason, Wharfedale)
9  13:56 Steve Turland
10 14:02 Mark Mon-Williams 1st V50
49 18:17 Chloe Haines
75 finished

Fleetwood Rotary 10k, Sun 14 June
From Geoff Howard ... An almost inevitably breezy day for the out and back flat coastal Fleetwood Rotary 10k. A relatively small field of 103 headed by unattached Adam Siodowicz in 35m 26s. I managed 11th (first v50) in 42m 48s.
Liverpool Rock 'n' Roll Marathon, Sun 14 June
From Tom Worboys ... The second time in a row I've done this. It's a nice mildly undulating course with live music every mile or two, going past some of Liverpool's most iconic landmarks. The highlight for me was running up Penny Lane, with the same song being belted out of a sound system. The oddest point was being asked if I had any scissors, just after I'd finished...
I completed the run in 3:28.38.
Howtown fell race, Sat 13 June
From Jamie Partovi ... AL 13.3m/ 4593ft. My first Long so didn't place well but a really good route and well worth it. Great views of Ullswater towards the end. 53 ran, results to follow...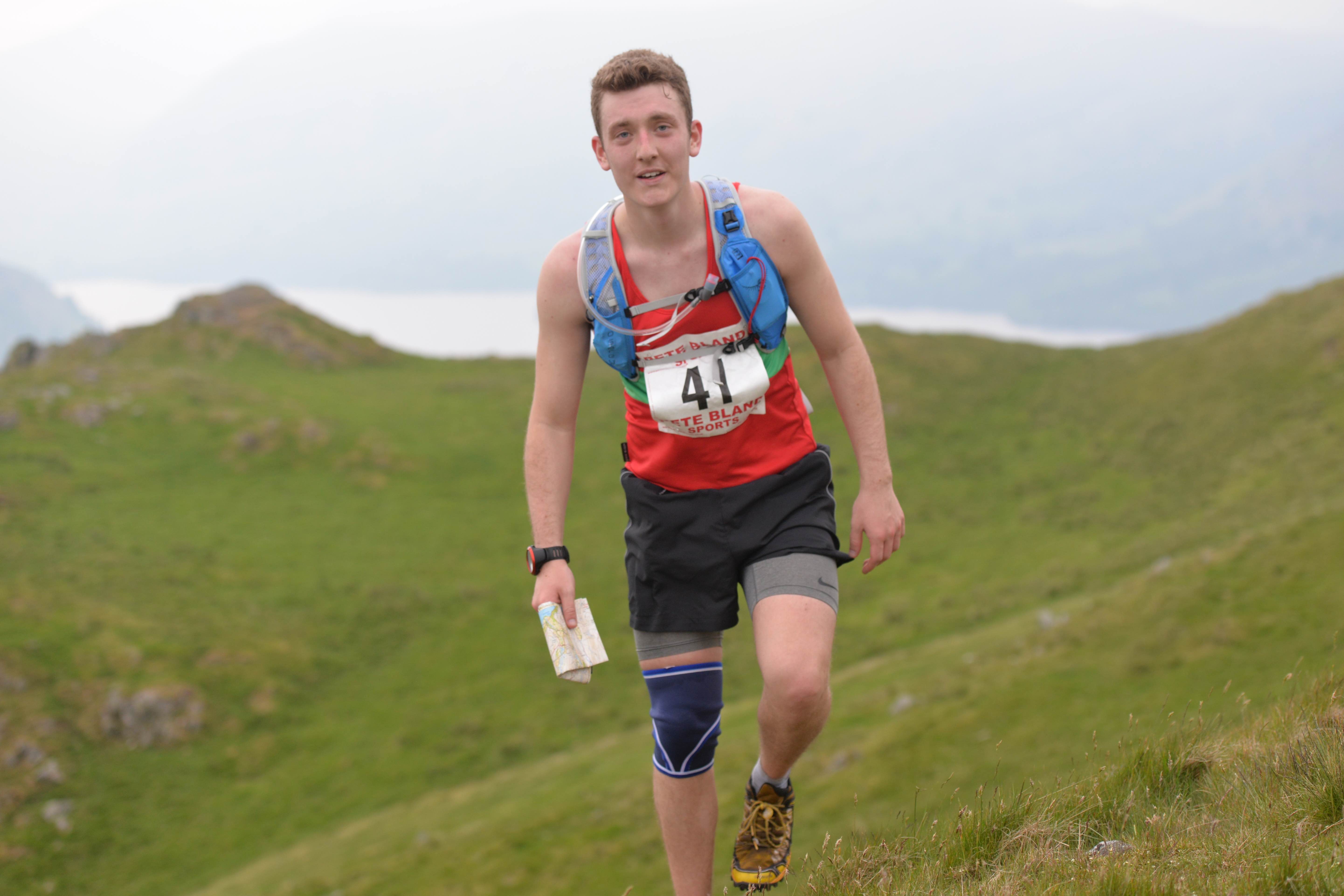 Swaledale Marathon, Sat 13 June
From Duncan Cooper ... If anyone ever fancies a trip to the North Dales this is a great off-road marathon taking in all types of terrain around Swaledale and Arkengarthdale. Results ...

(1  3:00 Matthew Hayes, East Hull)
17  3:43 Duncan Cooper
66  4:15 Catherine Farrow
136 4:54 Adela Reperecki
454 ran/walked

parkruns, Sat 13 June
From Petra Bijsterveld ... Results ...

Leeds Woodhouse Moor
(1  15:49 Chris Smithard, Deeside Orienteering)
24  19:41 Arthur Reilly
45  20:51 Jann Smith 2nd F
303 ran

Bradford Lister Park
(1  17:36 Ged Callan, Bingley Harriers)
75  24:51 Alex Hyde PB
324 ran

Newbury
(1  17:08 Tony Carter, Tyne Bridge Harriers)
52  21:55 Will Worboys
407 ran

Harrogate Stray
(1  18:26 Mark Bryant, Leeds City)
141 26:34 Julie Elmes
265 ran

Skipton Aireville Park
(1  18:27 James Raven, Cardiff AAC)
6   20:56 Lewis Carr (junior)
17  22:43 Tom Worboys
22  23:40 Harry Sime
23  23:41 Robert Sime
40  26:33 Charlotte Smithson
44  26:51 Emma Curran
66  30:52 Dylan Shinn (junior)
102 ran

Woodentops, BEM
Congratulations to fell race organisers Dave & Eileen Woodhead who have both been awarded the British Empire Medal in the Birthday Honours List, for services to Fell Running. Dave & Eileen's excellent races over 30 years have been a highlight of many a Harrier's running year; their efforts for Yorkshire fell running have helped progress many of our runners to higher level competition; goodness knows how many Harriers photos there are amongst the 250,000 excellent fell-running photos they've published online (and printed and distributed freely before the days of the internet); and they have often lent a hand at Harriers races too. They are an inspiration. A thoroughly deserved honour.
Membership Survey, results
From Hilda Coulsey, for the Committee ... We had a fantastic response with 108 people taking the time to provide very useful insights and ideas which will help us take the Club forward. Read a summary of the results.
Benefits of England Athletics membership
Ilkley Harriers membership includes, for all first-claim members, membership of England Athletics with an individual competition license. At a recent Consultation Meeting staged by EA for clubs, EA provided this list of benefits.
Full Bronte 5 mile, Thu 11 June
From Hilda Coulsey ... On a super evening three Harriers tackled this challenging road race of two laps up and round Penistone Hill from Haworth. None of us had done it before and I would recommend it, great views. It'll be in my diary for next year. It was a YVAA championship run and congratulations to Sally Malir and Sally Morley on their prizes for first LV 50 and second lady. Thank you too for the support; Georgia Malir, Pete Shields, Steve Weston and anyone else I missed.
Results ...

(1  28:07 Craig Shearer, KCAC)
20  32:20 Sally Morley 2nd Lady
35  33:56 Sally Malir 1st FV50
107 44:48 Hilda Coulsey
142 ran

Sally Malir sets a new Club Record for LV50, beating Bernie Gibbons' 40:18 at Roundhay Park in 2005, and also beats Emma Barclay's LV45 record from the 2013 Full Bronte.
Kettlewell Anniversary fell race, Thu 11 June

(1 37:00 Ted Mason, Wharfedale)
7  42:03 Dan Wilkinson
17 46:14 Paul Calderbank
26 47:33 David Chandler
25 50:34 Chantal Busby
63 60:21 Sue Morley
70 finishers

Photo NLFR: Dan models the new Club vest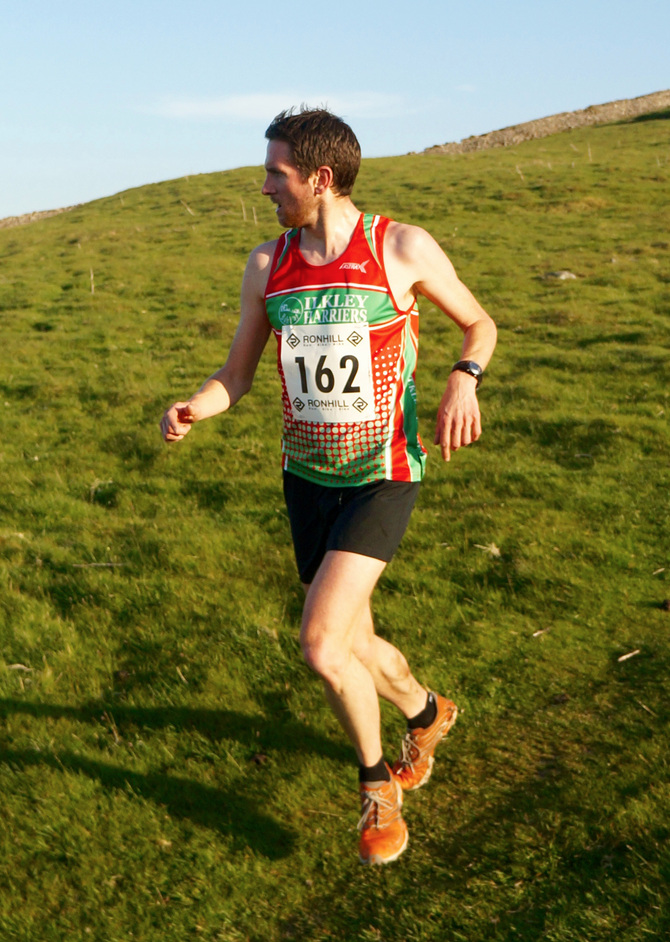 Badger Stone Relays, Wed 10 June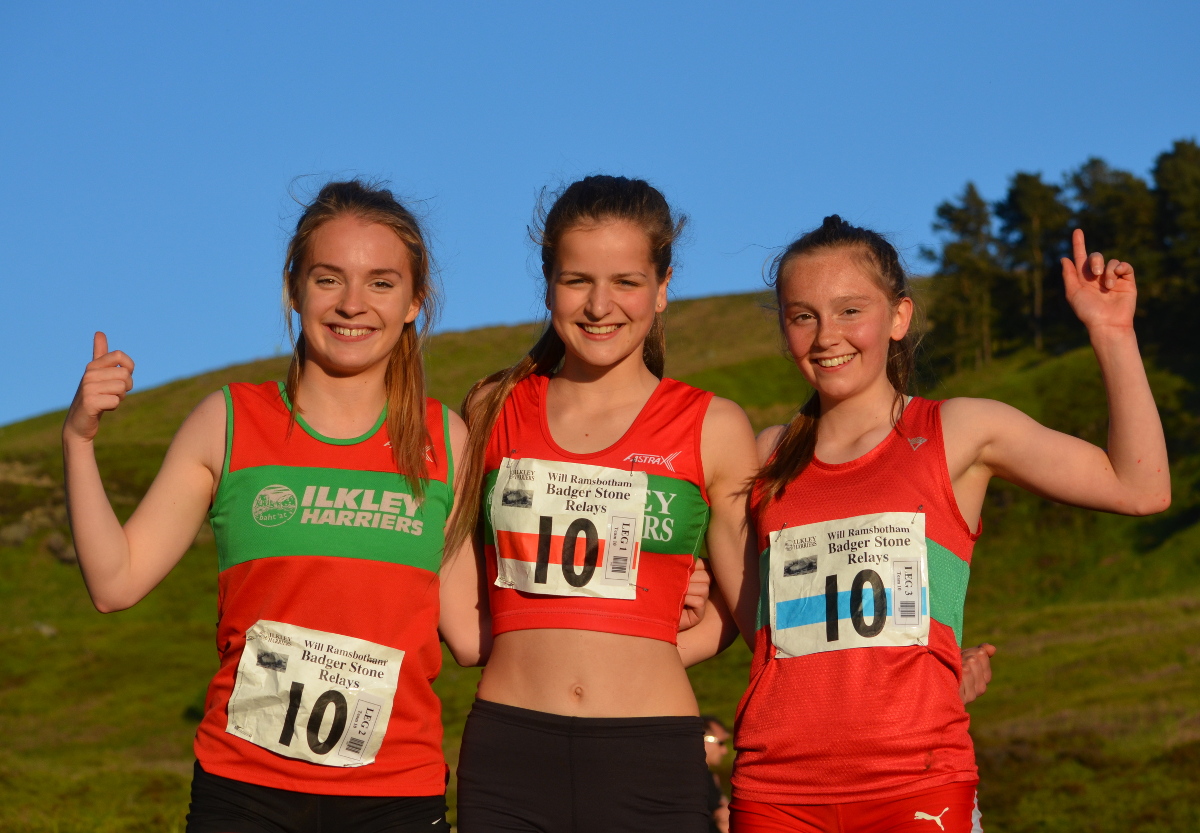 32 teams enjoyed fast, sunny running at this super event. Thanks to all the runners who came, and to the many helpers. Ilkley's (young) ladies' team (photo) won the ladies team prize.
Results and photos on the Badger Stone Relays page.
Selected Ilkley results (i.e. the senior ones I could spot, and some juniors ...)

2nd team Mark & Ruaridh Mon-Williams, Dan Wilkinson
1st ladies team Jemima Elgood, Lucy Jacques, Lucy Haines

2 mile leg
(1 13:42 Joe Baxter, P&B)
3  14:12 Dan Wilkinson
4  15:04 Ruaridh Mon-Williams
9  16:15 Mark Mon-Williams
11 16:33 Jez Hellewell
12 16:36 Daniel Hayes
13 16:37 John Hayes
15 16:42 Jemima Elgood, fastest lady
15 16:42 Martin Archer
22 17:06 Justin Phillips
24 17:28 Tom Worboys
28 17:57 Lucy Haines
36 19:18 Arthur Reilly
37 19:33 Will Worboys
44 20:46 Lucy Jacques
51 22:45 Sarah Hayes

Some very fast times from Ilkley juniors on the 1 mile relay, and some on the 2 mile legs, too. See full results on the Badger Stone Relays page.
Otley 10, Wed 10 June

(1    54:45 Tesfaye Debele, Leeds)
41  1:06:57 Jonathan Sinclair
54  1:08:48 Andrew Overend
66  1:10:39 Michael Lomas
80  1:11:51 Michael Duffield
95  1:12:48 Jane McCarthy
239 1:25:22 Helen Waddington
310 1:35:34 Petra Bijsterveld
372 finishers

International selection
FOUR of our U18 runners have been selected to run for England in the International Youth Cup for mountain running on 27th June in Smolyan, Bulgaria. Announced on England Athletics. Congratulations to Ruaridh Mon-Williams and Lucy Haines on their 2nd England vests; Jemima Elgood and Sarah Pickering on their England debuts.
Kettlewell fell race, Sun 7 June

(1  9:38 Sam Tesla, Rossendale)
8  11:20 Iain Gibbons
19 12:37 Mark Mon-Williams
61 16:21 Chloe Haines
98 finished

Penyghent fell race, Sat 6 June

1   45:51 Tom Adams
30  57:03 Jim Ryder
96  70:00 Norman Bush 1st V70
106 71:44 Alison Eagle
130 79:58 Sue Morley
139 finished

Welsh 1000m Peaks Race, Sat 6 June
From Dave Wilby ... 20m/8800ft, a true monster and one of the iconic long fell races in the British calendar. The race offers a point to point route from the North Welsh coast over the Carneddau & Glyderrau mountain ranges, and finishing on the summit of Snowdon. 5 summits in total with 3 significant climbs of 2-2500ft each out of the valleys and a good number of other undulations along the way. The weather was fairly clear and warm in the sheltered spots, but the wind on the tops was so bad that even the train up Snowdon was forced to stop running. My race never really took off for some reason but I found enough to secure an 8th place finish in 4:29, Jamie Hutchinson had a very good run to finish 56th in 5:45, and Outi Kamarainen had an excellent run to finish 6th lady in 6:00hrs. 122 finished with 16 retirees, showing just how tough it was at times.
Wharfedale Half Marathon, Sat 6 June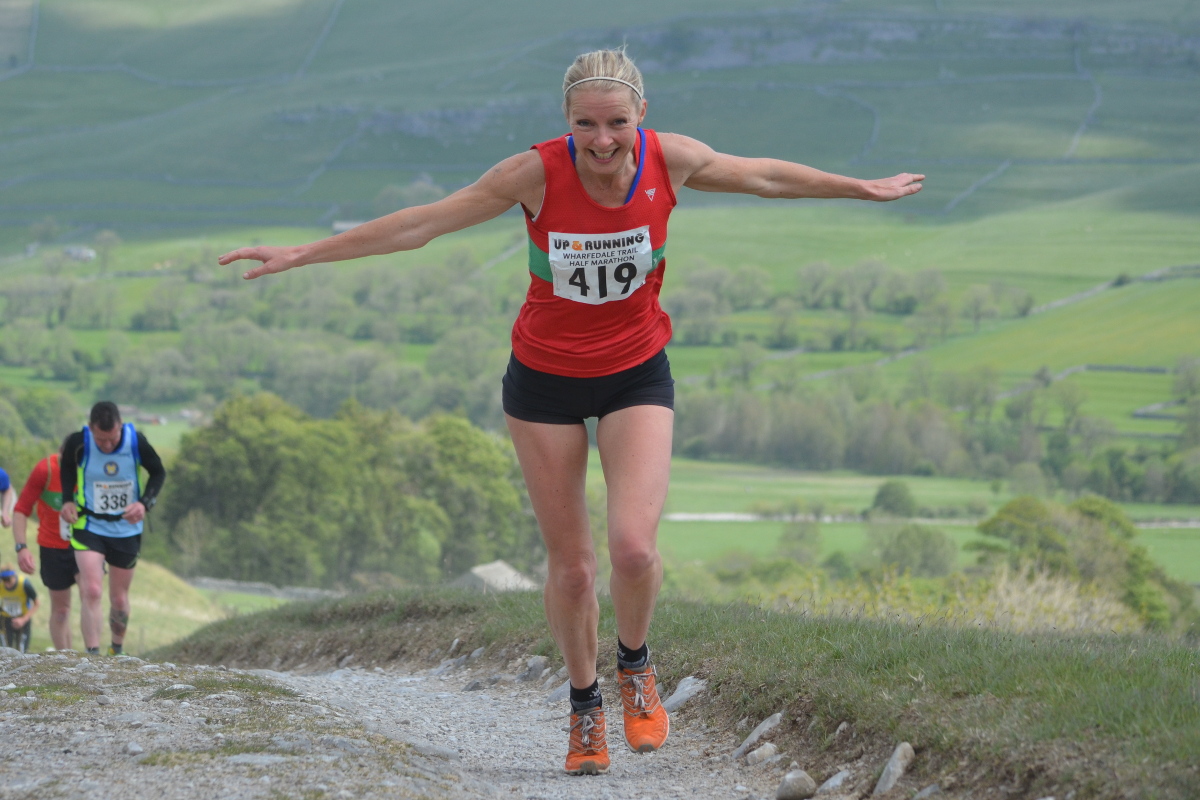 (1  1:29:50 Frank Beresford, Otley AC)
7   1:36:01 Dan Wilkinson
10  1:37:35 Ben Sheppard
16  1:41:53 Mark Mon-Williams
31  1:46:26 Jonathan Sinclair
51  1:50:06 Paul Calderbank
55  1:50:39 David Chandler
68  1:53:57 Michael Duffield
70  1:54:11 Jann Smith 1st F45
84  1:57:04 Dave Robson
87  1:57:12 Tom Worboys
89  1:57:35 Ben Joynson
162 2:08:04 Chantal Busby
164 2:08:10 Kevin Lawson
182 2:11:34 Andrew Wilson
221 2:15:58 Jean Sullivan
225 2:16:33 Sarah Hayes
250 2:20:30 Susan Short
298 2:27:49 Jayne Fort
301 2:28:36 David Green
327 2:35:21 Petra Bijsterveld
350 2:42:40 Sally Wright
355 2:44:16 Sue Bickerdike
366 2:46:09 Sue Williamson
370 2:48:36 Paul Sugden
371 2:48:39 Emma O'Looney
378 2:51:09 Abigail Bailey
385 2:56:55 Emily Pearson
403 finished

This was a counter in the Ilkley Harriers Race League.
parkruns, Sat 6 June
From Petra Bijsterveld ... Results ...

Leeds Woodhouse Moor
(1  17:16 Tom Eames, West Sufflok AC)
38  20:01 Adrian Bastow
174 24:45 John Marshall
462 ran

Bradford Lister Park
(1  17:03 Will Kerr, Saltaire Striders)
298 31:59 Alex Hyde
471 ran

Sewerby
(1  17:52 Harry Holmes, York Knavesmire Harriers)
21  22:18 Geoff Howard
138 ran

Skipton Aireville Park
(1  18:27 Lucas Payne, Barlick Fell Runners)
18  23:23 Laura King 2nd F
126 ran

Otley Chevin fell race, Wed 3 June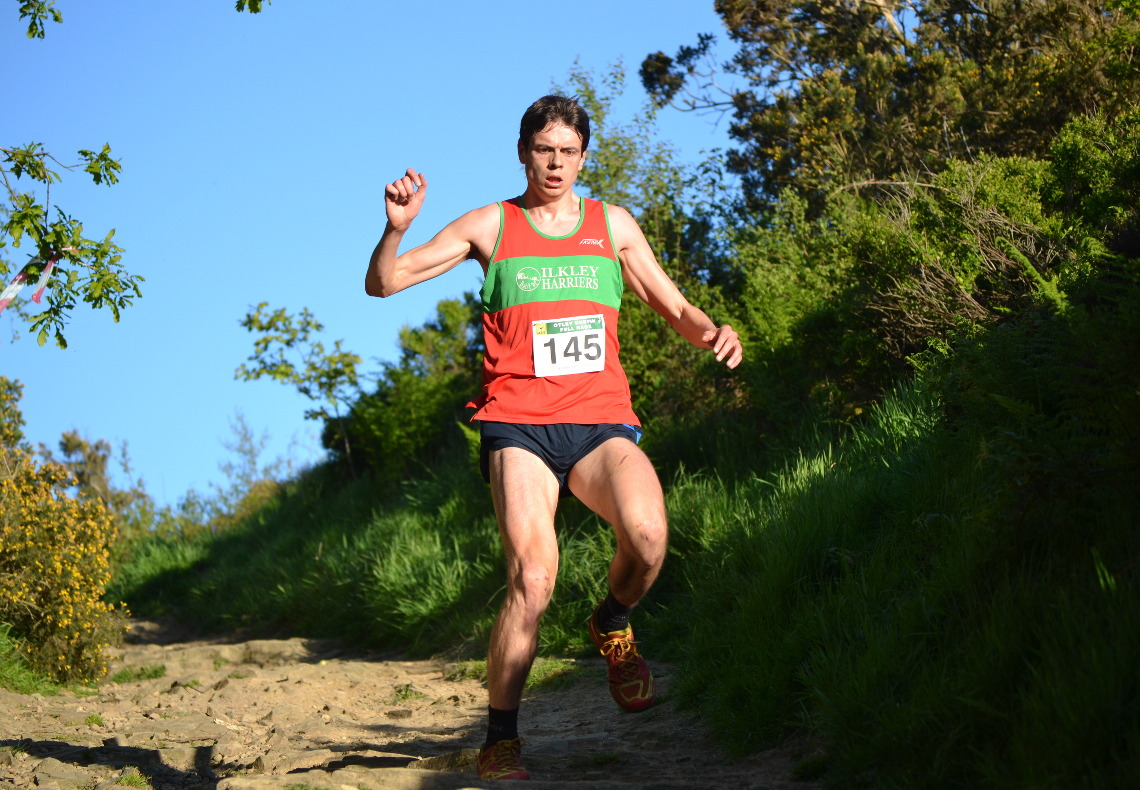 From Ben Sheppard ... What a great win for Jack Wood in 17:41 against some top quality runners! On a beautiful sunny night there were quite a few Harriers out to do battle with local rivals. After legging it over the cobbles we were slogging steeply up the Chevin to emerge from the trees to glorious sunshine, spectators and dog walkers before subjecting our quads and other bits to the punishment of the kind of downhill terrain that demands you go flat out but offers you no soft landings while twisting and turning you with every precariously landed foot strike. Super performances from talented youngsters Lucy Haines and Chloe Haines. Results ...

1   17:41 Jack Wood
9   19:35 Dave Wilby
12  19:44 Ben Sheppard
27  21:09 Michael Lomas
58  22:27 Paul Calderbank
61  22:39 Lucy Haines
81  24:32 Outi Kamarainen
95  25:32 Jamie Partovi
110 27:17 Norman Bush
120 28:44 Chloe Haines
145 finished

HDSRL 3, Thirsk, Tue 2 June
Updated results are on the HRL website now (6 June), will do the Harriers results here if it looks like this has settled down....
---