Latest News and Results ...
Please send any Harriers results to news@ilkleyharriers.org.uk for this web site and the newspaper.
WYXC, Sun 1 Dec
From Will Buckton ... Sally Morley had another great run to finish 8th and Sally Malir and Kate Archer finished in the top half of the field to help Ilkley to 6th team on the day and 6th in the final standings. Sally Morley's excellent cross country season means she has taken 1st LV40 in the West Yorkshire League, winning her age category in all three of the races she competed in. In the men's race Jim Ryder was again first Harrier to finish, after a close battle with the improving Steve Coy. Ilkley's men were 13th team on the day and 7th team in the overall league. Results ...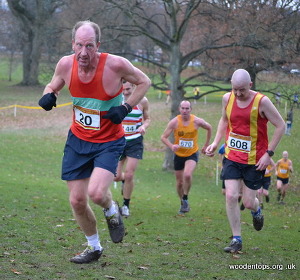 Ladies
(1 19:09 Katie Walshaw, Holmfirth)
8  20:42 Sally Morley
24 22:18 Sally Malir
31 22:48 Kate Archer
59 24:49 Sarah Edwards
75 27:04 Gaenor Coy
82 28:13 Di Kitchen
86 29:41 Emma Payne
91 30:19 Julie Elmes
93 finished
6th team, 6th team

Men
(1  29:07 David McNameee, Skyrac)
72  34:33 Jim Ryder
74  34:41 Steve Coy
95  35:31 Will Buckton
109 36:09 Mark Iley
130 38:09 Nick Pearce
162 42:36 Paul Sowden
172 finished
13th team, 7th team overall


There were 39 juniors racing with excellent results on the day and in the League, report in the junior section.
Run Sunday, Sun 1 Dec
Steve Turland was 3rd in 19:12 at this weekly 3 mile timed run at Danefield, Lynn Donohue was 17rth in 25:44 and 29 finished this week.
Parkruns, Sat 30 Nov

Bradford Lister Park
The following club members participated:
1   15:55 Tom Adams
30  20:47 Nick Pearce
212 30:36 Christine Reilly
324 finished

Middlesbrough Albert Park
90 27:39 John Marshall

Skipton Aireville Park
66 31:19 Elaine Ibbotson

York
11 19:09 Adam Bennett PB


From Adam ... I got a new PB on the Parkrun - 19:09. So actually slower that my 10k 5k pace! There was a strong headwind which made the cycling down (to the start) and running tough and I had had two Christmas meals on the days previous so probably slowed me down a bit. Hopefully I'll get sub 19 next week.
Peco XC 1 Temple Newsam, Sun 24 Nov
Henry Heavisides reports ... There was a record turnout of more than 500 (651!) runners for the first Peco race of the winter, with an excellent contingent of Ilkley Harriers. The course was a 'something for everybody' kind of route, with hills for the fell runners, hard gravel paths for the road runners & sufficient mud for those who like that kind of thing. There were some delays at registration & recording runners at the finish...the finish line had to be moved back down the course as the funnel became congested....still it was the first race with the new number system. Matt Newell was first Harrier to finish, reflecting the good work he's been doing in training recently. Results ...

(1  26:27 Tom Bishop, Leeds Triathlon Centre )
22  28:54 Matt Newell
36  29:34 Martin Archer
39  29:44 Gavin Lamb
49  30:12 Steve Coy
54  30:25 Rob Cunningham
60  30:43 Jim Ryder
86  31:45 Jamie Hutchinson
111 32:40 Henry Heavisides
121 33:07 Steve Newell
195 35:39 Adrian Bastow
266 37:38 Andrew Jackson
306 40:14 Nick Mellor
324 41:28 Eric Morley
336 42:09 Peter Lewis
340 42:39 Paul Sugden
387 men finished

Ladies
(1  28:43 Lois Rosindale, Leeds Triathlon Centre)
10  34:17 Eleanor Kitchen
36  36:33 Amanda Fox
42  37:03 Jo Foster
89  40:25 Di Kitchen
94  40:48 Gaenor Coy
98  41:02 Hilda Coulsey
106 41:19 Lynn Donohue
155 44:19 Julie Elmes
156 44:23 Petra Bijsterveld
158 44:26 Emma Payne
167 44:46 Sue Williamson
195 46:13 Sue Morley
223 48:49 Kate Lofthouse
264 women finished


For the seniors, this was the final coounter in the XC/Trail section of the Ilkley Harriers Race League.
Some excellent junior results too.
Run Sunday, Sun 24 Nov
Steve Turland was 2nd in 19:24 at this weekly 3 mile timed run at Danefield, 17 finished.
Liverpool Cross Challenge, Sat 23 Nov
From Georgia Malir ... on Saturday I competed in the second of The British Athletics Cross Challenge series. The race also incorporated the European Cross Country Championship trial. The field was stacked including the likes of Emelia Gorecka, who has been pretty much unbeatable throughout the whole of her running career. With only six places available on the GB team the race was bound to be a fight all the way to the line! With such a high standard of competition the plan was to sit in the front group and see how long I could hold on. Before long 4 athletes were out the front, leaving me and 5 other girls chasing them down. As I came into the finishing straight I heard the commentator announce that the fight was on for 5th place and the last automatic qualifying spot on the team! Unfortunately my legs couldn't carry me any faster and I crossed the line closely behind the girls I'd been running with throughout the race in 10th place, not with a GB vest but only a few seconds away! Oh well, I'd given it everything so maybe next year! Unsurprisingly Emelia Gorecka won the race in 14:27 and I was 10th in 15:10. Check out some of the footage from my race.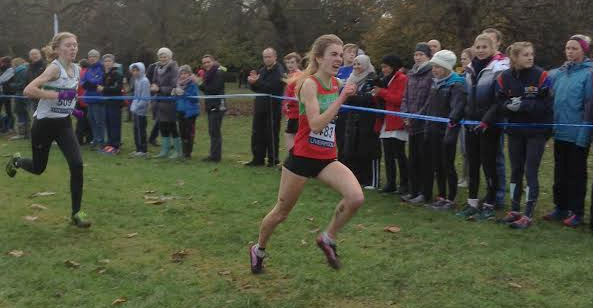 British Masters XC Relay Championships, Sat 23 Nov
From Henry Heavisides ... There were 24 teams from all over the country entered in the M55 category of the British Masters XC championships at Moorways Stadium in Derby. For our age group the race was 4 legs of just over 3k each. Eddie Irving got us off to a fantastic start running the fastest 1st leg in 11:37, giving him the 2nd fastest M55 leg overall....in a very high quality field. Richard Reeve, returning to racing after recent injuries ran well in 13:15 to put us in 4th place after leg 2. Nick Pearce maintained 4th position in 12:41. I was overtaken by a couple of runners to bring us home 6th overall with a time of 12:52 for my leg. The winning team were Oxford City AC. There wasn't much of a gap between the first 7 or 8 teams in our age group. Results
Tour of Pendle Sat 23 Nov
Quite a few Harriers at this tough long fell race, results ...

(1  2h17:22 Matthew Roberts, Eryri)
59  2h47:07 Daniel Wilkinson
78  2h49:05 Will Buckton
79  2h49:27 Ian Rowbotham
118 2h58:03 Paul Calderbank
140 3h02:30 Neil Smith
151 3h05:05 Dick Waddington
157 3h06:49 Kate Archer
234 3h21:42 John Hayes
321 3h42:28 Chantal Busby
331 3h44:30 Steve Weston
350 3h52:40 Val Kerr
356 3h53:45 Adela Reperecki
421 finished, 16 retired


Dan Wilkinson says ... it was freezing, Will Buckton and I played cat and mouse for the entire race, eventually, after he spent the middle half of the race in front I overtook him on the final descent and finished in 2:47, he was 2 mins behind, which was 17 minutes faster than his 2013 time!
From Adela Reperecki ... a really tough one. A good experience tho. It took me around 3.54 and Val Kerr came in before me. Kate Archer came in at around 3.06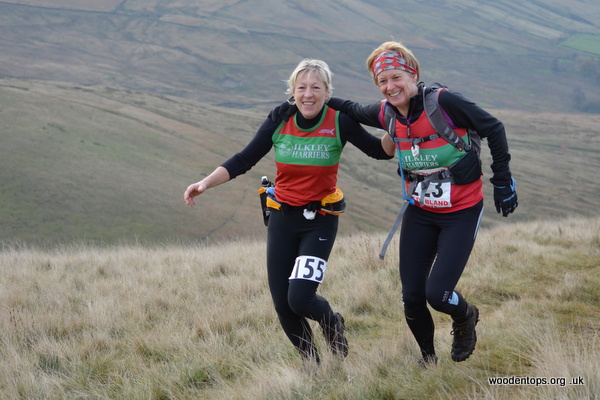 From John Hayes ... When I queued for my number in Barley village hall, the man in front of me took it. It turned out he was called Jonathan Haynes. He was looking doubtfully at the missing "athan" and "n" and was scratching his head why his club was shown as Ilkley Harrierrs. I pointed out that we shared similar names and grabbed my number from him. This near disaster averted I headed to the start line. There I decided to try and keep pace with Kate Archer who had been my unofficial "pacemaker" for much of the Langdale Horseshoe. However, this plan went awry as she skipped away from me up the first hill. In her place I found Neil Smith to run with. I ran alongside him for a while attempting light-hearted chat. But Neil soon tired of my idle ramblings and he too sped off ahead of me. I then gave up trying to latch on to other Harriers and ran/stumbled/crawled around the rest of the course. This race is the roller coaster of fell running - lots of steep ups and downs and it leaves you feeling a bit sick and dizzy at the end of it..... But fun nonetheless which is why we keep going back to it!
Parkruns, Sat 23 Nov

Skipton Aireville Park
38 27:11 Hilda Coulsey

Bradford Lister Park
12 20:15 Arthur Reilly
72 24:47 Will Worboys
73 24:52 Cameron Reilly:

Ben Rhydding Primary School XC, Sat 23 Nov
478 kids were running today! Results on the junior pages.
Ilkley Harriers of the Month, October
Nick Pearce
3rd V60 (Bronze) in English & GB FRA Championships and his result at Snowdonia Marathon
Other nominations were:
Norman Bush - 3rd V70 (Bronze) in GB FRA Champs
Val Kerr - Snowdonia Marathon result
Tom Adams - breaking Alistair Brownlee's record at Withins
Georgia Malir - 2nd in U20 Cross Challenge
Pete Shields - for great support to other in their training and racing
Will Buckton - good fell results throughout the month and being part of the fell relay team
Dan Wilkinson Ð results including Bronte Way and Shepherds Skyline
Jane McCarthy
Bilbao Half Marathon, and Langdale fell race
Other Harriers of the Month ...
Abbey Dash 10k, Sun 17 Nov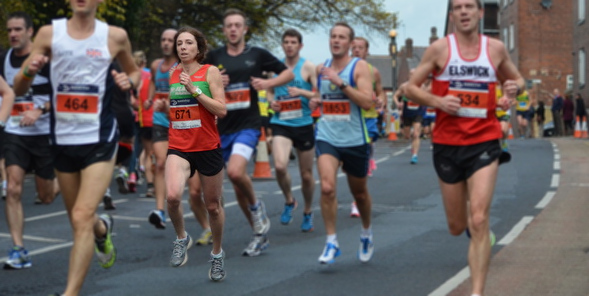 From Henry Heavisides ... Conditions were near perfect for today's Abbey Dash in Leeds: dry, mild & virtually no wind. The start was bit chaotic, being changed from previous years to allow a record 12500 entries, the system of runners being in 'pens' based on anticipated times didn't seem to be particularly effective. There were lots of Ilkley vests throughout the masses of runners. The results seem to miss the name of the club for several Ilkley Harriers, including (I think) our first 3 male finishers: Dan Wilkinson, Rob Cunningham & Ben Sheppard. Sally Morley did a great run in the fastest IH ladies 10k time this year (setting a new F40 club record) & finishing 2nd F40 in the race. Also in the prizes were Hilda Coulsey (2nd F60) & Henry Heavisides (2nd M55).
Results...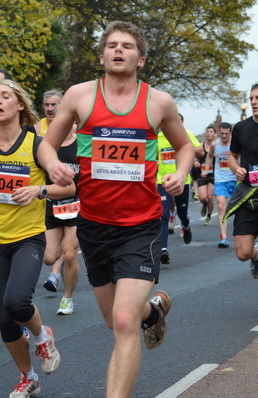 (1   29:23 Matty Hynes, N York Moors)	
356  35:48 Dan Wilkinson
410  36:24 Rob Cunningham
439  36:57 Sally Morley
485  37:05 Ben Sheppard
510  37:36 Henry Heavisides
585  37:56 Steve Turland
621  38:36 David Brown
697  39:04 Andrew Merrick
844  38:17 Adam Bennett    PB
926  40:17 Kate Archer
1105 42:15 Simon Jenkins   PB
1115 42:03 Amanda Sterling
1139 41:48 Adrian Bastow
1546 43:21 Nigel Tapper
1647 44:13 Sean Murphy
1684 44:56 Jane Bryant
1752 45:18 Helen Horton
1837 45:22 Keith Wood
1879 44:51 Eric Hawthorn
2852 48:02 Dave Ibbotson
3099 50:09 Hilda Coulsey
3379 51:24 Allison Ricci
3490 48:34 Will Worboys
3644 51:04 Geoffrey Bowman
3702 52:19 Julie Elmes    PB
3929 53:13 Sue Williamson
4292 54:45 Emma Payne
4516 55:48 Sally Wright   PB
4895 56:34 Jacqui Weston
5432 56:18 Natalie York
5614 56:02 Donna Hattersley
6279 57:56 Elaine ibbotson
6282 56:35 Les Bradshaw
6715 59:14 Catriona Hawthorn
6921 56:57 Sheena O'Connor
7928 58:20 Gillian Booth
9443 finished

WYXC, Sun 17 Nov

Ladies, 10th team
(1 24:52 Katie Walshaw, Holnfirth)
13 28:34 Sally Malir
47 32:18 Sarah Edwards
61 35:14 Di Kitchen
62 35:29 Gaenor Coy
79 finished

Men, 10th team
(1 34:38 James Hall, Wharfedale)
53 40:40 Jim Ryder
57 40:47 Will Buckton
63 41:02 Steve Coy
77 42:04 Mark Iley
91 42:57 Arthur Reilly
134 50:14 Paul Sowden
142 finished


38 juniors raced, with superb individual and team results, more on the junior pages.
Run Sunday, Sun 17 Nov
Weekly 3 mile timed run on Otley Chevin. Results:

(1 18:50 Jon Deegan, Ambleside)
 6 23:37 Alison Weston 
11 finishers

Harriers vs. Cyclists, Sat 16 Nov
For the 4th year in a row Tom Adams beat all runners, in his best time yet of 34:02, but this year he also beat all those on bikes! Dave Wiby was one of those cyclists, his placing affected by a puncture. No Rob Jebb (the 3 Peaks Cyclocross champion) this year, but could Tom beat even him (as Simon Bailey did in 2009?) Have a look at the photos on Woodentops.org.uk and the cracking race video on Youtube.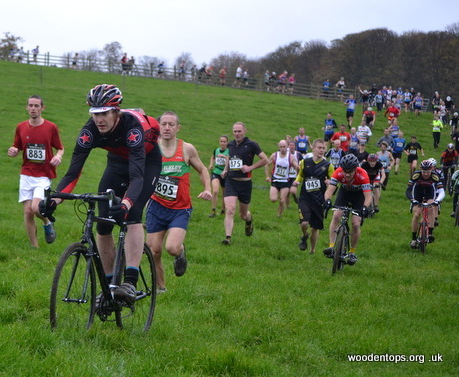 1   33:06 Tom Adams
(the next 6 places were cyclists ...)
47  41:10 Stuart Pitches
56  41:53 Ian Rowbotham
62  42:24 Paul Calderbank
75  43:48 Duncan Cooper
133 49:05 Dave Wilby & bike
149 53:04 Neil Bloor
199 62:17 Amanda Newham
207 finished

Parkruns, Sat 16 Nov

Skipton Aireville Park
(1 18:11 A mystery runner!)
32 26:41 Janet Grace
37 26:54 John Brown
80 37:09 Oscar Stapleton (junior)
83 finished

Bradford Lister Park
199 31:16 Christine Reilly

Harrogate Stray
147 26:55 Petra Bijsterveld

Cote d'Azur Marathon, Sun 10 Nov
From Pete Shields ... Caz Farrow and Nicky Green ran in the Cote d Azur Marathon, a point to point route that took them from Nice to Cannes, west on the coast road. Caz and Nicky have really focused on this race and worked extremely hard over the last year in preparation, one period of their training included 90/100 miles per week. They were well prepared, however, you can be well prepared in this athletics game but there are other considerations that come into play one being the weather! The Riviera seems a safe bet to run a race so late in the year but unfortunately, not this one. We had followed the forecasts over the last week, the weather had been fairly settled other than race day, where high winds were forecast from the west, the race as previously stated was going west into it, its force gauged at 42/48 kph, not gusting just blowing!
They both started the race with the other 13,000 competitors trying to keep as much to their race plans as possible, Nicky went through 10k in 41:51, half in 1:27.47 and 30k in 2:05:06 the wind started to make play at this point slowing her pace down by over a minute per Km, she even thought of running backwards at one point because of the difficulty the wind was having on her breathing, she wasn't joking! Her finishing time considering the conditions was 2:58:31 which got her 3rd female over 40 a PB by 10 secs and 120th place; we are left with what could have been.
Caz went through the first 10 miles in 66 mins, a PB and part of her plan, through the half in 1:28, she then got a niggle in her hip at 26kms but kept pushing on, going through 20 miles in 2:14 another PB; unfortunately, a combination of the hip problem and even bigger problem of the wind ended her race shortly afterwards. This didn't come easy to such a hardy competitor but after some reflection she will be taking her place at the Elite start in London, health allowing. Again what could have been, such are the vagaries of our sport.
Wadsworth Half Trog, Sun 10 Nov

(1 1:08:42 James Logue, CVFR)
22 1:22:19 Jamie Hutchinson
79 1:43:16 John Coates
124 finished

Run Sunday, Sun 10 Nov
Weekly 3 mile timed run on Otley Chevin. Results:

(1 20:25 Simon Edgar, LBT)
8  24:33 Will Worboys
11 27:57 Emma Payne
25 33:20 Petra Bijsterveld (sweeper)
25 finishers

Rhobell Fawr, Sat 9 Nov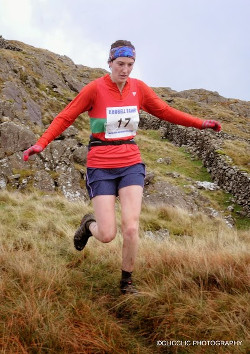 From Sarah Edwards ... I needed another qualifying race for the Three Peaks before 1st January. I don't have the legs for the long races at the moment so I scoured the FRA calendar for AM races. There are a few...in Wales! I drove down to a place called Llanfachreth for a lovely little race called Rhobell Fawr. It's a 6.5 miles/1900ft out and back race on a mixture of public bridleway and open fell. The bottom section was fast good running but the top was rough, slippery and wet. With a hailstorm at the top just before we set off it was cold at the trig and very slippy. A slow trudge up and flying, if a little ungainly, sprint down. All in all a really fun race. Results ...

(1 56:42 Matthew Fortes, Eryri)
26 75:07 Sarah Edwards 3rd lady
43 finished

Burley Moor run, Sat 9 Nov
Quite a few Harriers out in this IH Race League counter, Results ...

(1  48:02 Liam Dunne, Otley)
4   50:56 Will Buckton
5   51:17 Alistair McInnes
7   53:25 Ben Sheppard
8   54:39 Justin Phillips
9   54:56 Rob Cunningham
11  55:01 Richard Joel
12  55:22 Dick Waddington
15  55:27 Duncan Cooper
17  56:05 Kate Archer
19  56:35 Emma Barclay
29  58:58 Steven Weston
30  59:01 Andrew Merrick
45  61:07 Alison Eagle
50  62:03 Alison Weston
57  63:21 Chris Oxlade
63  65:20 Kevin Gooch
64  65:23 Nigel Tapper
68  65:51 Val Kerr
75  67:15 Adela Reperecki
84  70:01 Rachael Gooch
85  70:24 Keith Wood
86  70:31 Helen Horton
90  71:11 Jan Carrier 
95  72:29 Ian Conyers
101 73:19 Peter Lewis
104 73:24 Anna Nolan
108 74:11 Sarah Hayes
111 74:14 Lyn Donohue
120 77:11 Eric Morley
122 77:12 Geoffrey White
123 77:15 Jean Sullivan
131 80:05 Sally Wright
132 82:14 Julie Elmes
133 82:28 Paul Sugden
151 96:05 Laura Dawes
153 finished


Evil Sheriff Duathlon, Sat 9 Nov
Jamie Hutchinson reports ... a great event in Sherwood Pines Forest starting with a 5k run, followed by a two lap bike course covering 20k, before a final 3k run. A real sprint event where you go as hard as you can and hope you can hold on. I did it on a cross bike and finished in 1 hour 18 mins coming in 7th overall, 2nd in my category, out of 307 duathletes. Karl Webster won in 1 hour 16 mins.
Parkruns, Sat 9 Nov

Skipton Aireville Park
(1 19:59 Gary Chapman, KCAC)
21 25:21 Jane Bryant (1st lady)
69 34:14 Elaine Ibbotson
94 finished

Bradford Lister Park
7   19:36 Henry Heavisides
236 31:57 Christine Reilly

St Albans
60 21:59 Joe Reynier (junior)

Guy Fawkes 10, Sat 3 Nov
Results from www.ukresults.net

(1    55:26 Jack Simpson, Leeds)
24  1:04:26 Nick Richardson
79  1:10:25 Andrew Merrick
164 1:16:53 Nigel Tapper
229 1:19:53 Philip Hirst
263 1:22:05 Paul Sowden
304 1:23:41 Adela Reperecki
314 1:24:00 David Ibbotson
321 1:24:17 Helen Horton
426 1:29:16 Stuart Herrington
448 1:30:22 Will Worboys
461 1:30:49 Hilda Coulsey
542 1:34:39 Paul Sugden
568 1:36:16 Petra Bijsterveld
614 1:39:13 Julie Elmes
801 finished


This was a Harriers Race League counter
Run Sunday, Sun 3 Nov
Weekly 3 mile timed run on Otley Chevin. Results:

(1 19:15 Patrick Cotton, U/A)
2  19:31 Steve Turland
28 finishers

Shepherds Skyline, Sat 2 Nov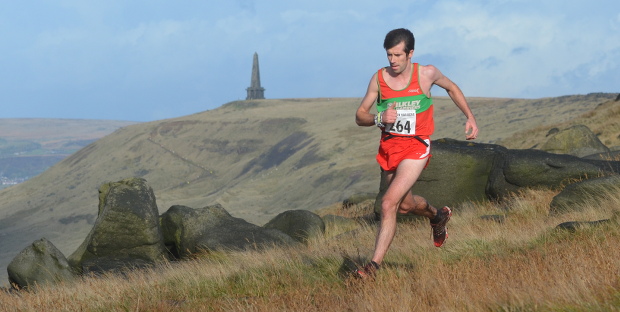 1  41:44 Tom Adams
24 49:23 Dan Wilkinson
88 57:41 Roy Ruddle
277 finished

WYXC 2, Bramley, Sat 2 Nov

Ladies
(1 18:11 Katie Walshaw, Holmfirth)
8  20:02 Sally Morley
29 21:46 Emma Barclay
32 21:55 Sally Malir
34 22:02 Kate Archer
58 24:42 Sarah Edwards
81 28:59 Julie Elmes
90 finished
3rd team

Men
(1  33:17 Joshua Woodcock-Shaw, Spenborough)
62  39:12 Jamie Hutchinson
67  39:31 Mark Iley
72  39:59 Will Buckton
77  40:13 Steve Coy
92  41:06 Nick Pearce
105 42:01 Arthur Reilly
120 43:58 Ben Joynson
136 47:04 Paul Sowden
146 finished
12th team


Many great junior Ilkley results too.
Parkruns, Sat 2 Nov

Skipton Aireville Park
19 24:26 Diane Haggar
78 34:37 Elaine Ibbotson

Bradford Lister Park
14 20:05 Caz Farrow

Harrogate Stray
135 26:15 Eric Morley

Leeds Hyde Park
17 18:57 Henry Heavisides

Newcastle
159 23:18 Andrew Wilson

Chevin Chiller, Thu 31 Oct
From Jez Hellewell ... A great race on The Chevin last night. 6.66 km of undulating paths. I was beaten by Spider-Man, as was everybody else I think! No shame in that. Quite a sight with 180+ runners flying around The Chevin with head torches on!
Results.

(1  28:54 Andy Bedford, Saltaire Striders)
14  32:08 Jez Hellewell
67  39:38 Adela Reperecki
145 51:09 Emma Payne
182 finished

Cross Challenge, Sun 27 Oct
From Sally Malir ... The British Athletics Cross Challenge Series got underway on Sunday in Bristol. Georgia Malir made the long journey but made sure that it was worth her while! The course was an undulating, grassy 4.5k and the conditions were blustery. Georgia came in 2nd under 20 women behind Alex Clay (Invicta East Kent).
Read the report on British Athletics website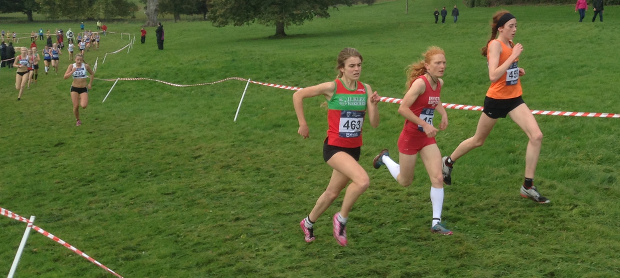 Bronte Way, Sun 27 Oct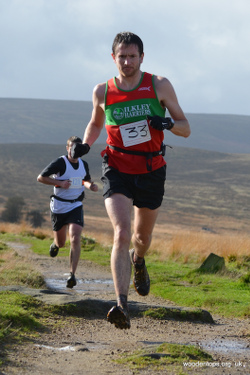 Dan Wilkinson reports ... I ran the Bronte Way and managed 10th in 59:38, starting in heavy rain, then hail, but finishing in beautiful autumn sunshine outside the pub. Tim Ellis CVFR won in 53:11, 180 finished. Results.
Bradford City Runs, Sun 27 Oct
Simon Jenkins reports ... It was a breezy and showery day with a bit of sun. The course was undulating through some of the less salubrious back streets of Bradford. The cold rain certainly made you want to finish as quick as possible!

Half marathon
1  Matt King 1.15.58
28 Simon Jenkins 1.39.59 pb

5k
1 Gerrard Mills Bradford Airedale AC 16.56
6 Karen Lambe 24.09

Guisborough 3 Tops, Sun 27 Oct
From Alison Weston ... took part in a great AM fell race in Guisborough on Sunday. Starting from the rugby club the race took in High Cliff, Roseberry Topping and Hanging Stone before going back up the moor to a 4th trig point beyond High Cliff. So it should be the 4 tops race really! I finished in 1hr 30 but not sure of my position. Lots of good running with a bit of route choice too.
Run Sunday, Sun 27 Oct
Weekly 3 mile timed run on Otley Chevin. Results:

(1 17:45 Scott Harrington, Otley)
6  20:58 Emma Barclay  New record
23 28:37 Emma Payne
28 finishers

Harewood 10, Sun 27 Oct
Ewan Welsh reports ... the Harewood 10 trail race, a bit wet, a bit sunny, a bit slippy, a bit of tarmac, a bit windy ... but all very refreshing and therapeutic as a balance against the wilderness of working life! Results ...

10 mile trail race
(1 63:18 Lee Dalton, Nidd Valley)
30 71:24 Paul Calderbank
32 71:32 Nicky Green  1st female
76 78:38 Ewan Welsh
301 finished

5 Mile Trail Race
(1 34:15 Josh Brown, Rothwell, B11-12)
 3 35:46 Steve Coy
94 finished

And several Harriers juniors well placed in the 2 mile 'Hop'

The OMM, Sat/Sun 26/27 Oct
Results up now from two days of racing on the Brecon Beacons. Andrew Priestley and former Harrier Heather Dawe were 1st ladies on the Elite course. Quite a few other Harriers in it: Jack Wood 8th on B Class, Outi Kamarainen 17th and 3rd Mixed team on B, Emily Wood 60th and 4th ladies team on the C (any more? Let us know your results, please).
Snowdonia Marathon, Sat 26 Oct
From Peter Shields ... went over to Wales to support two of of our athletes today in the Snowdonia Marathon. As marathons go this is one of the toughest in the UK and has to be given a lot of respect. Nick Pearce and Val Kerr dipped their feet into the magic of this event and performed brilliantly. Nick ran 3h21:21 to win the male V60 race and Val ran 3h55:13 to come fourth in the fv50 race.
Following the race as it circuited Snowdon from Llanberis was inspiring, especially with our two athletes to support. The course is a little more than undulating with two very significant climbs of 6.5 and 5+miles plus the odd one in between! Val and Nick looked well throughout and as I said gave inspiring performances, well done to both of them.
From Val ... Awesome - both the race and Nick's performance (I even spotted him at the top of Pen-y-Pass on the S4C TV coverage). 4 hours with no rain, magnificent scenery, a fabulous course (in spite of the hills) and a finish that every fell runner would die for. Thanks to Mark and Pete for their great support around the course.
The winner was Rob Samuel (Eryri Runners) who notched up his third victory in 2:43:50.
This has to be one of the best marathons in the UK and I would definitely recommend it to anyone who doesn't mind a few (big) hills. Entries open on 1st January but it fills up very fast (2000 limit).
Great Whernside fell race, Sat 26 Oct
From Will Buckton ... Six Ilkley Harriers made the much shorter trip to Kettlewell for the Great Whernside fell race. The demanding FRA Category A Short route climbs 475m to the summit in just 3.25km. Martin Archer, Jim Ryder and Will Buckton arrived at the top in close succession and Martin made a flying descent to come home 16th in a strong local field.

(1 31:49 Ian Holmes, Bingley)
16 35:58 Martin Archer
23 37:04 Will Buckton
25 37:27 Jim Ryder
33 39:05 Ian Rowbotham
56 42:40 Bob Hamilton
64 44:01 Chris Oxlade
114 finished

Parkruns, Sat 26 Oct

Skipton Aireville Park
11 23:11 Oscar Stapleton  (junior)
42 28:14 Petra Bijsterveld 

Bradford Lister Park
56  23:13 Joe Reynier  (junior)
296 40:26 Abbie Reynier  (junior)

Harrogate Stray
144 26:25 Geoffrey Howard

Leeds Hyde Park
146 25:16 Harry Stead  (junior)
288 31:02 Christine Reilly

York
38 21:52 Adam Bennett

FRA Relays, Sun 20 Oct
Will Buckton reports ... Ilkley Harriers rounded off the fell season with strong performances at the FRA relays (Aka the UKA British Fell & Hill Relay Championships) in Llanberis, North Wales. Tom Adams brought the men home in second after leg one, less than a minute behind Murray Strain of HBT, leaving Dan Wilkinson and Rob Cunningham with the task of following Tom on leg two. Will Buckton and Nick Pearce navigated their way safely through leg three to pass over to Dave Wilby who was 20th on his leg, bringing the team home in 28th overall out of 99 teams. Ilkley ladies' Kate Archer was 13th lady on the final leg in a strong field of 32 to help the team to 20th ladies overall.
Photos from Graham and Alison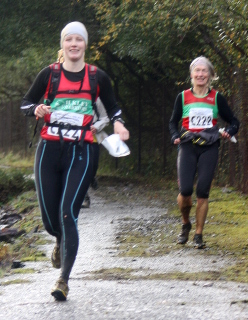 Men
(1 4h02.00 Dark Peak)
28 4h54:17 Ilkley (93 teams)

  34:36 Tom Adams 
1:38:01 Dan Wilkinson & Rob Cunningham
1:51:52 Will Buckton & Nick Pearce
  49:48 Dave Wilby 


Ladies
(1 5h02:26 Hunters Bog Trotters)

20 6:24:50 Ilkley (32 teams)

  52:53 Di Haggar 
2:02:20 Natalie Curtis & Alison Weston
2:28:00 Rachael Gooch & Outi Kamareinen 
1:01:37 Kate Archer 

Bridlington Half, Sun 20 Oct
From Pete Shields ... a shout up for Caz Farrow and Nicky Green who have run at Brid today both winning their age groups, Nicky in 1h26 for the v40, Caz in 1h32 for the v35, this is after several weeks of 90+ miles per week in preparation for the Nice Marathon in November. Results ...

(1 1h09:57 Marius Ionescu, Altrincham & District)
35 1h26:55 Nicky Green
71 1h32:41 Caz Farrow
638 finished

WYXC 1, Wakefield, Sun 20 Oct
From Will Buckton ... The West Yorkshire Cross Country League got underway at Wakefield and Ilkley were well represented in both the male and female races. Sally Morley had an excellent run to finish 7th, less than two minutes behind winner Pauline Munro of Wetherby. Jamie Hutchinson was first Harrier in the men's race, finishing 49th and helping Ilkley to 11th team.
Results ...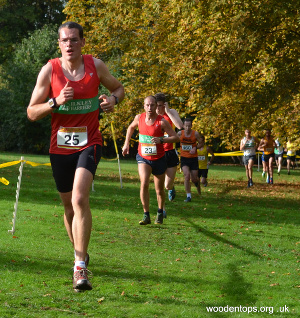 Ladies
(1 20:42 Pauline Munro, Wetherby)
7  22:16 Sally Morley
21 24:12 Sally Malir
23 24:20 Emma Barclay
56 29:25 Gaenor Coy
57 29:41 Di Kitchen
65 31:33 Julie Elmes
70 finished
6th team

Men
(1  32:27 James Walsh, Leeds)
49  39:53 Jamie Hutchinson
62  40:45 Mark Iley
79  42:06 Steve Coy
80  42:13 Arthur Reilly
118 49:46 Paul Sowden
123 51:48 Pete Shields
123 finished
11th team


There were some fabulous results from our juniors, from the very first race of the day which we won (and won the team event in) and throughout the junior classes.
Yorkshire Marathon, Sun 20 Oct
Results ...

(1   2:13:31 Edwin Korir)
1442 4:04:59 Christine Cox
1399 4:06:30 Eric Hawthorn
1866 4:20:18 Andrew Mitchell
2301 4:28:15 Charlotte Smithson
3188 5:05:16 Catriona Hawthorn
3873 finished

Great Birmingham Run, Sun 20 Oct
Results ...

(1  1:02:32 Thomas Ayeko, Uganda)
9069 2:12:07 Sally Wright

Les cretes la hulpoises, Sun 20 Oct
From Henry Heavisides ... this 16.7k race around La Hulpe in Belgium is a mix of forest trails, footpaths & country lanes. It includes 7 climbs up most of the local hills. There were about 1000 runners taking part with a brass band playing us off at the start. Results...

(1 1h02:31 Fabrice Van Espen)	
47 1h14:29 Henry Heavisides
536 finished

Run Sunday, Sun 20 Oct
Weekly 3 mile timed run on Otley Chevin. Results:

(1 20:10 Zander lee, U/A)
8  24:36 Will Worboys
14 28:26 Petra Bijsterveld 
21 finishers

Bilbao Night Half Marathon, Sat 19 Oct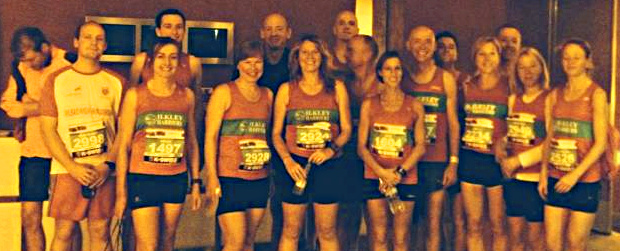 Nigel Tapper tells all ... another great turnout for this year's International road challenge with excellent category positions by some in what turned out to be a very tough event! Most people would rather forget the very congested, narrow out'n'back first 6km, the gloom and the heat/humidity but looking at the results we didn't do so bad in a field full of club runners with few or no fun runners to be seen!
The course started and finished outside Bilbao's Guggenheim Museum to a crescendo of fireworks. The route took in out and back paths and roads both sides of the river with a significant city centre loop. Congestion and on-coming runners over the first 6km were the initial challenges followed by heat and humidity in that order. We reckon most people were probably about 5 mins down on their usual times due to the conditions. Nevertheless it was certainly different and can be ticked off our bucket list even though nobody appears keen to repeat it!
Results...

(1   1:08 Manuel Nuevo)
229  1:29 Andrew Merrick 5th MV50
296  1:31 Jane McCarthy  3rd LV40
788  1:40 Alex Hirst 
821  1:41 Nigel Tapper 
944  1:42 Phillip Hirst 
1186 1:45 Jane Bryant 
1742 1:52 Dougie Scarfe 
1964 1:55 Anna Nolan 
2021 1:55 Helen Horton 
2831 2:10 Judith Scarfe 
2946 2:14 Matthew Rutter 
2976 2:16 Jacqui Weston 
3104 2:29 Suzanne Bickerdike 
3105 2:29 Emma O'Looney 
3134 Finishers 

parkruns, Sat 19 Oct

Skipton Aireville Park
(1 19:49 James Raven, Cardiff)
6  21:48 Oscar Stapleton (junior)
84 finishers

Harrogate Stray
83  23:52 Dave Ibbotson
162 26:26 Petra Bijsterveld
250 30:07 Elaine Ibbotson

Leeds Hyde Park
280 31:01 Christine Reilly

Roundhay Park
16 20:32 Geoff Howard

York
122 27:07 Adam Bennett

Lakeland Classics Trophy final results
Will Buckton reports ... Ilkley were 11th team out of 20 in this series of long races (see summer newsletter page 14 for some background info). Individual results ...

(1 298.4 Ben Abdelnoor Ambleside)
36 212.7 Will Buckton
40 207.9 Steve Turland
67 156.2 Neil Smith
88 77.6 Clare Smith
89 completed the series 

Withins Skyline, Sun 13 Oct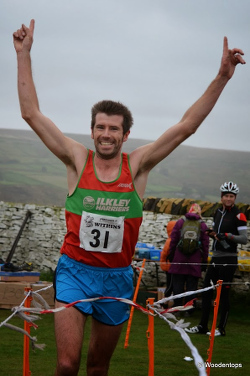 From Race Organiser Dave Woodhead ... "Tom Adams is maturing into one of Britain's best athletes and smashing Alistair Brownlee's 2006 course record time by 2 minutes is only enhancing this fact. Remember Alistair, 18 years old back then, had just returned from competing in the Beijing Olympics and was the World Triathlon & European Duathlon champion."

1   39:26 Tom Adams  Record
14  46:23 Martin Archer
42  50:57 Jim Ryder
46  51:09 Ian Rowbotham
59  52:08 John Houlihan
61  52:12 Richard Joel
88  54:42 Rob Cunningham
91  54:48 Duncan Cooper
106 56:11 Alistair Barlow
122 57:39 Jann Smith
189 65:10 Adela Reperecki
234 73:21 Amanda Newham
251 82:40 Julie Elmes
261 finished

Woodland Challenge, Sun 13 Oct
A Harriers Race League counter, Phil Hirst got some good points as 1st V55, results ...

( 1 36:07 David Watson. Holmfirth)
 80 48:52 Phil Hirst
182 57:30 Paul Sugden
193 58:09 Hilda Coulsey
284 finished

Run Sunday, Sun 13 Oct
Weekly 3 mile timed run on Otley Chevin. Results:

(1 22:19 David Womersley, Hyde Park)
9  28:25 Petra Bijsterveld 
20 finishers

Langdale Horsehoe, Sat 12 Oct
From Dave Wilby ... Will Buckton set a great new PB, Ben Sheppard wasn't far behind in his first ever Lakes fell race (!!) and Jane McCarthy was a fabulous 5th lady and 2nd V40, behind the winner of the Lakeland Classics series and the joint winners of the English & British Champs...fine company indeed!! Loads of other Harriers out, great to see a good turnout at a proper fell race, perfect day for it.
From Ben Sheppard ... So this is Lakeland fell racing. Steep climbs, boggy traverses, technical descents, splendid views, a couple of hairy moments, a pastie and a pint in the good company of kind and generous clubmates. Some classy and gutsy performances from Harriers not only at the front of the pack (Dave and Jane in the prizes) but throughout the field, some first timers and some seasoned veterans - in Bob's case a mere 31 years after his previous running of this race!
Be inspired by Bob's photo story of the day.

(1  2h07:00 Ben Abdelnoor, Ambleside)
10  2h17:30 Dave Wilby
47  2h33:06 Will Buckton
87  2h45:15 Ben Sheppard
94  2h46:32 Jane McCarthy  5th lady, LV40 prize
135 2h52:52 Dick Waddington
190 3h06:16 Kate Archer
214 3h10:30 John Hayes
250 3h15:45 Neil Smith
344 3h47:49 Clare Smith
345 3h47:49 Eleanor Bradley
351 3h50:25 Bob Hamilton
357 3h54:45 Helen Waddington
363 3h58:28 Steve Weston
381 finished

Ilkley had 3rd ladies team, comprising
Jane McCarthy, Kate Archer, Clare Smith and Eleanor Bradley.

Wasdale, Sat 12 Oct
Will Buckton reports ... Iain Gibbons cemented his position as 13th senior male in the BOFRA Championship with 17th place finish at the Wasdale Show fell race, a dash up and down the 802m summit of Kirk Fell. Results ...

(1 38:03 Sam Watsson, Wharfedale)
17 49:39 Iain Gibbons
55 ran

Coniston 14, Sat 12 Oct
From Jean Sullivan ... A superb location, with fantastic scenery for this 13.895 mile run! Lots of sunshine, great send off and welcome home by a local jazz band and excellent home made cakes available afterwards!
Jonathan Sinclair adds ... Saw Alex's heels for the first 2 mins and sorry I didn't see Jean to say hello (or Ben Shepherd who usually comes to this one and I see has been posting some great results this year) but did reach the finish rather more slowly than last year. Wonderful to be out again after a few months injury.

(1  1h16:03 John Herbert)
18  1h29:51 Alexander Sinclair
40  1h34:53 Jonathan Sinclair 2nd MV50
518 2h05:09 Jean Sullivan

parkruns, Sat 12 Oct

Skipton Aireville Park
(1  18:15 Jack Smith, Wharfedale)
4   19:39 Steve Turland
8   20:44 David Brown
11  21:25 Oscar Stapleton (junior)
25  22:43 Ben Joynson
51  26:24 Janet Grace
64  28:54 Petra Bijsterveld
83  32:22 Elaine Ibbotson
85  32:23 Rosalind Brown
102 35:17 Katie Turland (junior)
111 finished

No other parkrun results this week

Primary Schools XC, Sat 12 Oct
700 (OK, 697!) children ran at Ghyll Royd School's event today, the first in this year's Wharfedale Primary Schools' XC League. Results ...
Ian Hodgson Mountain Relay, Sun 6 Oct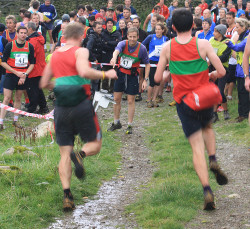 From Will Buckton ... the IHMR is an ultra competitive event as the northern fell running clubs take their strongest runners to the Lake District to take on the 40km/2450m ascent, split into four legs. Visibility on the day was poor and navigational skills were required as well as fitness - eight teams were forced to retire lost. Ilkley's men showed their strength in depth as, despite sustaining some last minute injuries, they were able to take a strong team and made no navigational errors to finish 20th overall in these challenging conditions. Ilkley ladies rounded off their impressive season with fourth in a close competition.

1  3h47:35 Borrowdale

20 4:29:46 Ilkley Open
24   40:58 Iain Gibbons, Rob Cunningham
24 1:22:30 Dan Wilkinson, Steve Turland
28 1:07:26 Will Buckton, Nick Pearce
13 1:18:52 Dave Wilby, Martin Archer

42 5:11:03 Ilkley Ladies
34   44:52 Nicky Jaquiery, Alison Eagle
58 1:41:35 Jann Smith, Rebecca Mon-Williams
34 1:12:09 Alison Weston, Kate Archer
43 1:32:27 Andrea Priestley, Sally Morley

62 teams finished

Chester Marathon, Sun 6 Oct
From Neil Bloor ... took a trip to Chester but limped over the line in 4h16 after a bad cramp attack in the heat at mile 21. However thought it worth mentioning what a great event this was - really well organised, very enthusiastic supporters and refreshment volunteers, the organisers even welcome everyone personally over the line at the end. There were around 4500 entries and both male and female course records were broken this year which made it interesting for spectators.
Open 5, Ilkley, Sun 6 Oct
From Jo Taylor ... Despite not touching the Moor the routes were great quality, with enough challenge on both run and mountain bike sections to make the day enjoyable without being impossible in the heat of an October day in Ilkley! After doing these races for a number of years we were delighted to see it at home. We were 13th mixed pair with 425 points which we were happy with. There were plenty of better results than that amongst Harriers. Well done Sue Booth for taking on the planning. Results
Run Sunday, Sun 6 Oct
Weekly 3 mile timed run on Otley Chevin. Results:

(1 18:50 James Tarran, Valley Striders)
2  19:09 Jamie Hutchinson
30 finishers

WMRA Grand Prix, Slovenia, Sat 5 Oct
Well done to Tom Adams on a top 10 place (9th in 45:49 and 2nd Brit by just 11s) in the sixth race in the World Mountain Running GP, held in Ljubljana. Results ...
Saddleworth Edges, Sat 5 Oct
From Ian Rowbotham ... A challenging step start led onto the moor. Then over 5 miles of stunning edge running with the views to match most of the time. Much of this scenic run is on challenging surfaces including dark peat. It's a well run race with a strict kit check. Thanks to the marshals and those who provided the results by the time you have had a drink of water! Recommended. Ian Rowbotham 11th 1st Vet 50. Results ...

(1 60:50 Coln Bishop, Saddleworth)
11 69:47 Ian Rowbotham  1st V50
140 finished

parkruns, Sat 5 Oct

Skipton Aireville Park
(1 17:57 Jack Smith, Wharfedale)
2  18:06 Matthew Cox
7  20:51 David Brown
13 22:07 Emma Barclay
30 25:29 Kevin Lawson
61 29:31 Joe Ibbotson
83 32:44 Elaine Ibbotson
84 32:48 Christine Reilly
103 finishers

Bradford Lister Park
44  22:16 Phil Hirst
85  24:08 Will Worboys
128 25:49 Peter Lewis

Leeds Hyde Park
284 28:29 Harry Stead (jun)

Preston
16  20:50 Oscar Stapleton (jun)


---