Bob Graham Round, 21 June, by Brian Melia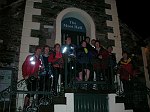 I just wanted to say a big thank you to my team who helped on my Bob Graham Round 21st June. My time was 22 h 43 m.
Clockwise on leg 1 were Andy Wilson and Iain Gibbons, leg 2- Eddie Winslow and Jamie Hutchinson, leg 3- Alison Weston, Jonathan Sinclair, Alex Sinclair and Eddie Winslow. Leg 4- Ian Hughes and Dave Wilby. Leg 5- Heather Dawe, Tony Chamley, Kate Sinclair and Alison Weston. Susan my wife did a fantastic job with getting me sorted with dry gear and supplies. My mum and her husband Matt ferried people around to pick up cars or start legs and like Susan basically got no sleep!
My team was amazing I cannot believe the support every single one gave me as the day went on. The weather on leg 3 and 4 was yuk. As we came down to Wasdale at the change over point there was 3 inches of water in the pack on Alison's back. I pay special thanks to the navigators on all the legs they were superb and as the conditions deteriorated Alison on leg 3 and Ian Hughes on leg 4 were breathtakingly accurate in their navigation it was great to see them in action. The pacers were pushed to the limit, Iain pulled a rather big camera out of the bag after leg 1 and Jamie was excess baggage with sun cream on leg 2. Time recording was almost impossible due to rain and wind although the sheets may be recoverable once they have dried out on the radiator. It was good to have my long time running pal Jonathan and his son Alex Sinclair on leg 3 and later as the weather went awol Eddie did a great job bringing them to safety of shelter in Wasdale while Alison and I ran on, she even managed to read a goodwill text message from Alison Eagle in the ensuing blasts. Leg 4 looked to be improving up Yewbarrow, but it quickly changed and nearly blew us into Ennerdale at windy gap between Great Gable and Green Gable. There was a slight party atmosphere on arrival at Honister realizing the attempt was still on. Heather after a great run of her own on the Scafell massif earlier in the day led me up Dale Head force feeding me chocolate which was very welcome. Tony Chamley and Kate kept my spirits up.
I always wondered what it would be like coming off Robinson to finish the Bob Graham. I now know. As Heather and I came up to the pub at Swinside Jamie turned up again after a couple of swift ones in the pub (more like 3 or 4) alongside Richard, my son, to run me to Moot hall. Susan bombed by hotly pursued by Aidan with Alison and Kate onboard, who were promptly dropped off to run with in with us. It was a great finish in a fab time, for me. Andy Wilson and his son Matt had hung around in various cafes to be at the finish my mum was in tears Susan looked at bit stunned that it was over. One bottle of cider later in Alison's caravnette with Dave Heather and Susan was enough to hit the spot I cannot remember much else. A celebration breakfast with everyone at Booths in the morning was welcome although to be honest I could not eat that much! Obviously I had been well (force) fed the previous day!
I will have lots of memories about the round not put into the short note above, but I would just like to say to everyone a BIG THANKS, Ilkley Harriers have some very special runners and I have a special wife.