Latest News and Results ...
Please send any Harriers results to news@ilkleyharriers.org.uk for this web site and the newspaper.
Junior sessions 3rd-20th March
For parents of juniors doing sessions with Shirley (Sportshall Athletics at IGS or High Jump at Ghyll Royd), there are no sessions for 3 weeks, info on the junior site. Sessions led by other coaches will continue as normal.
East Hull 20, Sun 9 March
Steve Weston reports ... I spurned the dips and climbs of Spen 20 to travel over to Humberside for the East Hull 20. Sort of gently undulating the race runs North from the clubhouse up through quiet lanes and footpaths of Holderness, Todays run was made harder by the ludicrous 18 degree temperature and the westerley breeze. I was chasing a sub 2.10 and paid for it in the later stages. NIcky Green ran an intelligent race to finish 1st lady in 131 minutes...
A very enjoyable, well organised race I can thoroughly recommend it.

(1 1:55:15 Will Beauchamp, Sheffield RC)
28 2:11:49 Nicky Green 1st female 	
44 2:17:54 Steve Weston		
233 3:01:45 Paul Sugden  PB by 5mins 22s	
351 runners

Spen 20, Sun 9 March

(1  1:52:02 Scott Harrington, Otley)
100 2:39:12 Tom Worboys
257 finished

Dent 14, Sat 8 March
Caz Farrow reports ... A few Harriers travelled over to Dentdale for what turned out to be a lovely day. 14.2 mile course, undulating, scenic, plenty of afternoon tea included in race entry. Recommended.
Some pictures and full results on www.dentdale.com

(1  1:18:01 Ian McBride, Royton RR)
17  1:28:49 Mark Mon-Williams
49  1:35:23 Caz Farrow 3rd lady
122 1:45:58 Rebecca Mon-Williams
296 2:05:18 Dave Ibbotson
438 finished

Stan Bradshaw Pendle Round, Sat 8 March
10.4 miles/1936ft Jann Smith reports ... myself and Kate Archer had a go at this one. Apparantly this course was devised to avoid paths to limit erosion, making it tough terrain, tussocks, bogs and ditches galore and the strong headwind on the top made it feel like running on a treadmill for a few miles. Good race and quality field. Some photos on Woodentops. Results ...

(1  1:06:11 Rob Hope, P&B)
79  1:29:13 Kate Archer
82  1:29:13 Jann Smith
208 finished

Parkruns, Sat 8 March
Dick Waddington reports ... from Skipton Aireville Park ... great new all tarmac route so no slippy slidy meant PBs all round:

1  19:28 Dick Waddington
10 21:14 Oscar Stapleton (junior)
26 23.27 Helen Waddington
32 24.20 Josh Waddington (junior)
54 27:19 Petra Bijsterveld
82 32:13 Amy Foy
99 ran

More Parkrun reports later

Wharfedale Primary Schools XC, Sat 8 March
Over 400 primary school children ran in the final race in the Wharfedale Primary Schools XC League, at Ashlands School. Next Saturday the grand finale of the League is the Relays and League Presentations at Nell Bank. Details on the junior pages.
Harriers League Update, 5 March
From Martin Wright ... Peter Lewis has submitted a wild card for the recent Bradford Parkrun and recorded a score of 94.85. This shoots him up to 2nd in the league overall. League page
Ilkley Harriers of the Month, February
February
Jane McCarthy
Dewsbury 10k results
Other nominations were:
Kate Archer - results at Rombalds
Sally Morley - Dewsbury 10k results
Matt Newall - Dewsbury 10k, PECO 4 and training
Hilda Coulsey - PECO results
Steve Weston
Fell race organisation
January
Julie Elmes
Improvement, stepping in as ladies XC Captain, participation in WYXC, PECO, Yorkshire and Northern XC races
Other nominations were:
Georgia Malir - XC races and international results
Caz Farrow - 1st woman in Central Lancs Half Marathon
Steve Weston - 1st Harrier at the Brass Monkey
Tom Adams - 1st places in Stoop Fell Race and Peco XC at Golden Acre
Matt Newell - good performance at PECO XC
Jacqui Weston - organising Annual Awards Do
Dan Wilkinson
Stanbury Splash result
More Harriers of the Month ...
25th Ilkley Moor fell race, Sun 2 March
231 runners enjoyed the senior race, in its 25th year, with a fine win by Tom Adams. Over 170 juniors ran too, the junior races now in their 12th year. Yet another super Ilkley Harriers event, well done to all the organisers and helpers. Results and photos on the Ilkley Moor fell race page.
Harriers results summary ...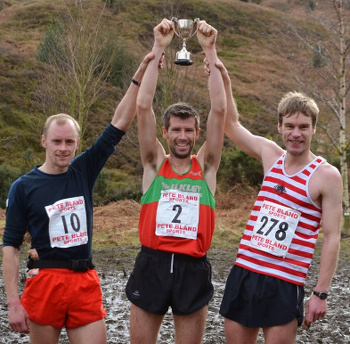 1   36:41 Tom Adams 
15  44:27 Gavin Lamb 
19  45:28 Will Buckton 
20  45:32 James Wood-robertson 
26  46:45 Ben Sheppard 
34  47:23 Jim Ryder 
42  48:11 Dick Waddington 
44  48:41 Ian Rowbotham 
48  48:54 Adam Bennett 
55  49:57 Nick Pearce 1st V60
56  50:02 Rob Cunningham 
62  50:21 Jane Mccarthy 3rd Lady
63  50:26 Richard Joel 
66  50:54 Andy Brook-dobson 
69  51:08 Alistair Barlow 
71  51:29 John Hayes 
77  51:59 Kate Archer 5th Lady
80  52:11 Johnathan Whittaker 
84  52:24 Alison Weston 2nd FV40
85  52:36 Malcolm Pickering 
92  53:17 Jack Cummings 
102 54:19 Alison Eagle 1st FV50
103 54:22 Emma Barclay 
136 58:05 Tom Bennett 
142 58:32 Lucy Williamson 
150 59:01 Michael Duffield 
158 61:09 Sarah Edwards 
180 64:28 Alison Bennett 
202 70:04 Amanda Newham 
214 72:47 Sue Morley 
217 73:28 Kate Wilkinson 
221 76:35 Sarah Hayes 
231 finished


Ilkley won both the men's and ladies team prizes.
Peco XC race 5, Northcliffe Park, Sun 2 March

(1  30:25 Simon Pass, Saltaire Striders)
38  33:10 Steve Coy
269 47:49 Lynn Donohue 
277 48:11 Hilda Coulsey 
339 52:35 Julie Elmes 
356 54:29 Petra Bijsterveld 
410 finished

Black Combe fell race, Sat 1 March
AM 13km/1000m Will Buckton reports ... Results ...

(1 1h08:50 Rob Jebb, Bingley)
49 1h30:35 Will Buckton
182 finished

Trollers Trot, Sat 1 March
From Jez Hellewell ... heard a couple of excellent results at today's Trollers Trot: Jann Smith 3rd overall in a fantastic 3h27 & Toni Melechi, returning to racing after injury, was 2nd in the half in 1h40. trollerstrot.com

Run 25
(1 3h19:00 Paul Carman, Wharfedale)
3  3h27:29 Jann Smith
52 4h16:17 Adela Reperecki
84 4h35:33 Neil Bloor
142 6h02:39 John Coates
152 finished

Run 12
(1 1h37:38 Phil McGeever, Horsforth)
2  1h40:25 Toni Melechi
12 2h10:25 Susan Short
13 2h10:26 Ian Conyers
25 finished



Parkruns, Sat 1 March

Skipton Aireville Park
16 23:25 Lewis Carr (junior)
41 31:32 Dylan Carr (junior)

Bradford Lister Park
53  23:39 Joe Reynier (junior)
89  25:19 Peter Lewis
287 39:39 Abbie Reynier (junior)

Preston 
19 20:54 Oscar Stapleton (junior)

Seville Marathon, Sun 23 Feb
Claire Mcloughlin reports ... I did the Seville Marathon with my Harrier Dad Mike Baldwin - 3:56:48
Huddersfield 10k, Sun 23 Feb

(1  35:54 Simon Cook, U/A)	
331 56:58 Jean Sullivan
527 finished

National XC, Sat 22 Feb
Sally Malir reports ... The English National Cross Country Championships was held at the beautiful venue of Wollaton Park in Nottingham. The weather was sunny but very breezy and the course was varied and challenging including log jumps and stream crossings.
There were many records broken, from the number attending the event to record fields of finishers from the 10 races in the programme. There were over 10,000 spectators and entrants at the event and this made for a fantastic atmosphere. The first Ilkley Harrier to race was George Hardesty (U15 Boy) Who finished 282nd in a time of 17:45.
The Junior Women's race was next, Georgia Malir ran well to finish in 8th position in a time of 22:39. This race was won by Georgia Taylor Brown in a time of 21:03 who led from start to finish and had nearly a minute on the chasing pack of which Georgia Malir was part. There was a record number of finishers in this race 134.
In the Under 13 girl's race there was again a record number of finishers, 431, and the Ilkley girls came 47th team. Individual results were 116th Bethan Morley 13:28, 295th Emily Elmes 14:44, 316th Eva Jeffels 14:50, 361st Ella Shouler Harris 15:20 and Alessandra Ricci 402nd in 14:04.
The Ilkley Under 15 Girls finished 25th team being led home by Lucy Haines 94th in 17:46 with Tilly Melechi in 146th position in a time of 18:11, 178th Jemima Elgood 18:27, 296th Georgia Flaxman 20:49, 302nd Molly Jeffels 20:49 and Elizabeth Westhead 311th in 20:54.
The Under 13 Boys race was the last junior race of the day with another record number of entrants, 385. The two Ilkley boys ran brilliantly and gained fantastic finishing positions of 72nd Euan Brennan in 12:11 and Dominic Coy 188th in 13:00
Next were the senior races, the Women's race finished a record number of competitors 708. Ilkley had three women in this event. Sally Morley ran well and came in 54th in 31:49, Allison Ricci 536th in 42:57 and Julie Elmes 641st in 47:08.
Ilkley had two men in the spectacular finale to the day. Stephen Coy was 728th in 47:37 and Will Buckton also ran ( but I can t find his result).
The whole day was very exciting and well organized a fantastic event to take part in, a definite for me next year!

Junior Women
(1 21:03 Georgia Taylor-Brown, Sale)
8  22:39 Georgia Malir
134 finished

Senior women
(1 27:42 Gemma Steel, Charnwood AC)
54 31:49 Sally Morley
536 42:57 Alison Ricci
641 47:08 Julie Elmes
708 finished

Senior men
(1  36:23 Steve Vernon)
728 47:37 Steven Coy
1657 finished


And, as usual, some excellent performances from our junior Harriers, with a minibus going downto Nottingham.
Flower Scar fell race, Sat 22 Feb

(1  47:11 Simon Bailey, Mercia)
112 83:04 Nick Mellor
127 finished

Parkruns, Sat 22 Feb
Tom Adams won the first 'all-tarmac' Skipton Parkrun (it's moved off the woodland circuit for the rest of the winter).

Skipton Aireville Park
1  15:51 Tom Adams
12 23:11 Lewis Carr (junior)
38 29:20 Dylan Carr (junior)

Leeds Hyde Park
139 24:41 John Marshall

York
8  18:21 Adam Bennett

PECO XC 3, Middleton Park, Sun 12 Feb
The first counter in this year's Ilkley Harriers Race League. Will Buckton reports... Tom Adams recorded another win for Ilkley Harriers in the third PECO Cross Country race at Middleton Park. Tom finished over a minute clear of second place. Next home for Ilkley was 16 year old triathlete Matt Newell. Matt finished 20th overall out of 619 runners, just three minutes behind Tom. Alison Eagle was the first of the Ilkley ladies to cross the line, taking 33rd lady out of 231. Hilda Coulsey ran well to take 1st F60 and 89th overall, after running Bradford Parkrun the previous day. Results ...
PECO XC, Sun 16 Feb
Round 4, results ...

(1  33:25 Colin Walker, P&B)
13  35:25 Matt Newell
32  36:36 Steve Coy
67  39:20 Rob Cunningham
119 41:45 Steve Newell
150 43:36 Ben Joynson
184 45:05 Alison Eagle
299 50:55 Hilda Coulsey
305 51:24 Peter Lewis
320 52:01 Eric Morley
326 52:33 Lynn Donohue
380 56:41 Julie Elmes
402 58:29 Sue Morley
407 58:37 Sally Wright
416 59:24 Petra Bijsterveld
422 60:14 Sue Williamson
472 finished
4th ladies' team
9th men's team


Parkruns, Sat 15 Feb

Skipton Aireville Park
1 22:27 Dick Waddington

Bradford Lister Park
5  18:57 Will Buckton
26 21:48 Oscar Stapleton (junior)

Leeds Hyde Park
15  19:59 Jack Wood
121 25:56 John Marshall

Primary Schools XC, Sat 15 Feb
Well done to the 315 runners this morning, results are now up on the junior site.
Wadsworth Trog, Sat 8 Feb
Will Buckton reports ... I had been told this (BL 32.2km/1220m )was harder than the Three Peaks, and I wasn't disappointed. A real battle through energy sapping bogs and tussocks, with a strong headwind thrown in for good measure. Photos on Woodentops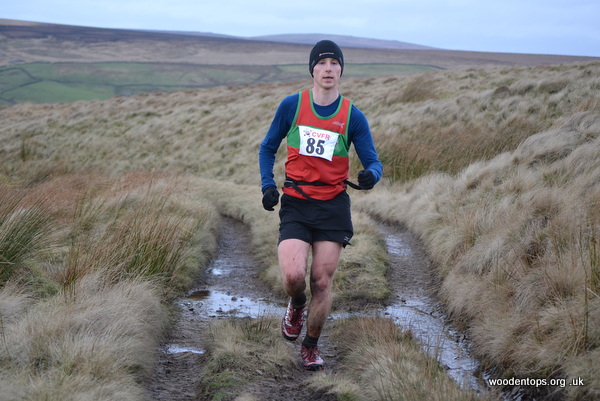 Results...

(1 3h00:22 Simon Harding, Macclesfield)
17 3h36:42 Will Buckton
61 4h06:03 Brian Melia
140 5h16:10 Adela Reperecki 
158 finished

Parkruns, Sat 8 Feb

Skipton Aireville Park
5  24:26 Sarah Pickering
7  25:00 Malcolm Pickering
9  26:11 Lewis Carr (junior)
28 35:03 Dylan Carr (junior)

Bradford Lister Park
40  22:28 Cameron Reilly (junior)
91  24:53 Hilda Coulsey
105 25:29 Paul Sugden
107 25:41 Oscar Stapleton (junior)
126 26:28 Peter Lewis
215 29:20 Emma O'Looney

Leeds Hyde Park
177 John Marshall

York
81 22:53 Adam Bennett

Dewsbury 10k, Sun 2 Feb

(1  30:24 Mohammad Abu-Rezeq, Altrincham AC)
68  36:10 Matt Newell
139 38:32 Mark Iley
148 38:42 David Brown
179 39:41 Jane McCarthy
180 39:41 Andrew Merrick
182 39:55 Sally Malir
222 41:11 Steve Newell
250 41:36 Adrian Bastow
313 42:28 Rachel Carter
402 44:49 Helen Horton
482 46:29 Helen Waddington
560 49:11 Hilda Coulsey *
790 54:35 Petra Bijsterveld
920 58:02 Fiona Schneider
1063 finished


Hilda's time is a new LV60 Club record, beating Margot Dale's 2006 time of 49:21 (also from Dewsbury.) And Sally Malir has equalled Alison Bennett's 2008 Abbey Dash time for LV45's
This was a counter in the Ilkley Harriers Race League.
YVAA GP 1, Sun 2 Feb
Alison Eagle reports ... the 2014 YVAA Grand Prix series began on a lovely sunny day over in the Fulneck Valley, Pudsey. A wonderful muddy two laps of the woods with a steep climb to finish. Just two Harriers running but plenty of support, both Sue and I gaining good points in our respective categories...

Ladies
(1 36:24 Tanya Seager, Stainland)
5  40:11 Alison Eagle (2nd V50)
25 50:21 Sue Morley (5th V55)
49 finished

Rombalds Stride, Sat 1 Feb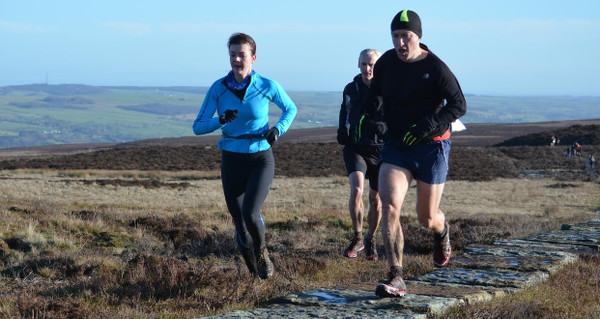 Three Harriers in this Woodentops photo and lots in Graham's photos and on Woodentops.
Dick Waddington reports ... Good weather, but icy on the flagstones over Ilkley Moor and boggy everywhere else - if there were a team prize, I reckon we'd have won it.
Results ...

(1  2h54L41 Edward Davies)
6   3h00:26 Mark Mon-Williams
7   3h00:45 Will Buckton
8   3h02:08 Dan Wilkinson
12  3h13:33 Ben Sheppard
14  3h16:42 Dick Waddington
15  3h17:29 Duncan Cooper
26  3h24:17 Neil Smith 
    3h24    Kate Archer 3rd lady
28  3h24:41 John Hayes
30  3h26:14 Rob Cunningham
51  3h38:26 Rebecca Mon-Williams
58  3h41:15 Outi Kamarainen
72  3h52:51 Alison Weston
78  3h54:25 Paul Stephens
110 4h11:40 Adela Reperecki
131 4h22:46 Val Kerr
149 4h34:07 John Coates
151 4h36:24 Sharon Meadows
160 4h42:10 Lyn Donohue
168 4h46:58 Dave Taylor
170 4h46:58 Gavin Burgess
177 4h50:07 Nick Mellor
185 4h53:58 Stephen Rhodes
206 5h10:03 Rebecca Moores
251 5h53:16 Jacqui Weston
253 5h54:35 Jo Taylor
452 finished


Shout if we've missed anyone - no club given in the results...
Parkruns, Sat 1 Feb

Skipton Aireville Park
12 25:44 Dan Hayes (junior)
26 29:05 Joshua Waddington (junior)

Leeds Hyde Park
177 26:14 John Marshall


---