Latest News and Results ...
Please send any Harriers results to news@ilkleyharriers.org.uk for this web site and the newspaper.
Notice of Ilkley Harriers Annual general Meeting, Tue 14 Oct
From the Secretary, Paul Stephens ... this is to advise everybody that Ilkley Harriers AGM will now take place on Tuesday the 14th October (after the 23rd September attempt was inquorate) at the Ilkley Lawn Tennis and Squash Club at 8.40 pm. There will be sandwiches available.
The AGM is important and we do need new officers and Committee members. A nomination form is available on the committee page. Please return these to me by Sunday the 12th Oct at the latest (either by e-mail to secretary@ilkleyharriers.org.uk or to my home address as on the form).
We also have a revised constitution to agree. Please come along and support your club. And there is of course time for a run beforehand.
The agenda, revised constitution, nomination form, and other items can be found on the committee page.
YVAA XC Champs, Sun 28 sep

Men 35-49
(1 28:35 Richard Harris, Rotherham)
26 33:30 Steve Turland
38 35:26 Mike Duffield
41 36:02 Arthur Reilly
50 finished

Men 50-69
(1 Simon Wright, Doncaster)
33 Malcolm Pickering
50 Phil Hirst
59 Dave Ibbotson
65 finished

W35+ and M70
(1 15:40 Helen Berry, Homfirth)
23 18:50 Beth Massey
48 21:08 Lynn Donohue
66 23:05 Petra Bijsterveld
71 23:40 Donna Hattersley
93 finished

Lancaster 5k, Sat 27 Sep
From Geoff Howard ... I've run many times at Saltaire but never before at Salt Ayre, Lancaster and Morecambe's AC's base, with its excellent clubhouse and track. They held a flat fast 5k (five runners under 16m) at the unusual time of 6.30pm. James Bowness (Trafford AC) was the winner in 15m 21. Some way behind, but pleased to dip under 20m for the first time this year, I managed 19m 57s, first v70, in 34th position out of 76.
Thieveley Pike, Sat 27 Sep
From Steve Turland ... Perhaps not the best preparation for the YVAA XC the following day but a very enjoyable race over the Lancs border. 1300ft in just over 4 miles so a tough little race, with a full set of junior races too. Won by Simon Bailey, I finished in 11th place in 38 mins 30. Still awaiting full results but Chloe and Sarah Haines there too with Sarah picking up a prize. It felt a long way round the XC course today.
Causeway Coast half marathon, Sat 27 Sep
From Hilda Coulsey ... Billed as "One of the most scenic marathons in the world" and my childhood home I ran a wonderful half marathon on cliffs, beaches and rocks. It was challenging; up and down seemingly hundreds of inlets, hugging the coast/ cliff-line from Ballintoy to Portballantrae past the magnificent Giants Causway. An ultra (60k), marathon, half, 10k and 2 walks are all available and the scenery really is magnificent (thankfully the weather was kind).
Half: (Mark McKinstry 1:26:51), I was 160th in 2:17:45 out of the 379 who ran.
parkruns, Sat 27 Sep
From Petra ... A win for Alex Hirst at Hilly Fields in Lewisham this week! Results ...
 
Cardiff
(1  15:33 Tesfaledet Goitom, U/A)
23  17:47 Mark Mon-Williams
132 22:00 Rebecca Mon-Williams
605 ran

Bradford Lister Park
(1  17:15 Matthew Merrick, Bingley Harriers)
10  19:41 Tom Worboys
53  22:26 Philip Hirst
408 ran

Harrogate Stray
(1  17:33 Unknown, U/A)
122 24:37 Pete Shields
339 ran

Lewisham Hilly Fields
1   18:49 Alex Hirst
131 ran

Skipton Aireville Park
(1  17:24 Lee Athersmith, Bingley Harriers)
5   19:35 Oscar Stapleton (junior)
10  20:43 Derek Oliver
110 ran

Super junior results
A super weekend of competition for some of our younger runners. Harry Maslen U20 finished 5th (out of 42) in the English Schools Combined Events decathlon today, beating the 6,000 points total again, and helping West Yorkshire to team Bronze; and Ruaridh Mon-Williams and Lucy Haines represented England on the fells both for the first time, in the 'Home Countries International Junior Mountain Running Championships' (phew!) in Ireland.
Ilkley Triathlon, Sun 21 Sep
From Hilda Coulsey ... Plenty of Harriers were out enjoying a super day from the Lido. Many thanks to all the marshals and volunteers, particularly the Coy family, who spent the long day welcoming, helping and supporting us all so well (as well as organising the previous day's Aquathlon!)
Results ...


(1    56:33 Team 3 men in a tub)
11  1:00:25 Ralph Tench 1st M45 
31  1:04:55 Jonathon Schneider 
35  1:05:46 Steve Newell 
60  1:08:53 Rachel McKay 2nd F30 
80  1:11:37 John Hayes
91  1:12:40 Michael Duffield 
168 1:19:17 Naomi Elliott 1st FJ 
226 1:25:35 Sarah Hayes 
234 1:26:39 Hilda Coulsey 1st F60 
261 1:31:31 Fiona Schneider 
328 finished

Embsay fell race, Sun 21 Sep
Congrats to Dan Wilkinson on his 3rd place, results soon ...
Viking 4 Peaks Chase, Sun 21 Sep
Jamie Hutchinson reports ... 8m 1500 ft climb organised by Cleveland mountain rescue starting from Lordstones cafe near Stokesley. An initial short climb and loop back through the event centre at Lordstones before heading north along the ridge taking in a few bumps before the turn and heading back through the woods and minimal up and down. Great race with bonus of on site cafe facilities!
The race was won by Paul Williams in 62:32. I finished in 66:05 and 7th, 72 ran.
Utterley Butterley fell race, Sun 21 Sep
Petra Bijsterveld reports ... I went to Marsden for this new race starting at Butterley Reservoir and taking in a further 4 reservoirs in just under 5 miles. Billed as a good introduction to fell running I was seduced by the photos of the route on their website, and the race certainly lived up to it. Well marked and taking us through beautiful landscapes. Thankfully it was dry as the stone flagged paths would not have been so trouble free in the rain. I would certainly recommend this race, assuming they put it on again.
Results ...

(1  30:10 Paul Green, Sale)
56 51:55 Petra Bijsterveld
68 finished

Ilkley Aquathlon, Sat 20 Sep
The 3rd Ilkley Aquathlon, jointly organised by us and Ilkley Swimming Club at Ilkley Lido was a great success with 171 competing on the day including many Ilkley juniors. Well done to Steve & Gaenor Coy co-ordinating.
Gt Langdale Half, Cumbria, Sat 20 Sep

(1  1:18:58 Ross Anderson, Jarrow & Hebburn AC)
34  1:34:42 Caz Farrow	1st F40	 
72  1:47:23 Ewan Walsh 
138 1:59:57 Jean Sullivan
277 finished

Three Shires fell race, Sat 20 Sep
Jann Smith reports ... Results from Three shires Fell Race. 12.4 miles/ 4003ft. Starts from Little Langdale and summitted 4 x Lakeland peaks, Wetherlam, Swirl How, Pike O Blisco and Lingmell. Ilkey were 1st ladies' team.

55  2:26:12 Nick Pearce
89  2:40:22 Will Buckton
118 2:47:06 Kate Archer
121 2:47:43 Jann Smith
191 3:18:00 Chloe Haines
220 ran

Scafell Pike fell race, Sat 20 Sep
Steve Turland reports ... 4.5m and 3000ft, a real leg burner this one. I finished in 14th place in 78 mins. Joss Naylor was there giving out the prizes!
parkruns, Sat 20 Sep
From Petra ... Results ...
 
Leeds Woodhouse Moor
(1  16:34 Nathan Marsh, Tonbridge AC)
33  20:12 Arthur Reilly
63  21:45 Tom Worboys
80  22:12 Will Worboys (PB)
396 ran

York
(1  16:35 Ben Jones, Worcester AC)
31  20:02 Geoffrey Howard
149 25:13 Pete Shields
303 ran

Bradford Lister Park
(1 17:38 Quentin Lewis, Baildon Runners)
61 24:02 Sarah Haines
436 ran

Harrogate Stray
(1  17:35 Mike Appleton, Ripon Runners)
162 27:11 Julie Elmes
294 ran

Hilly Field, Lewisham
(1  18:25 Jonathan Tipper, U/A)
7   20:21 Alex Hirst
134 ran

Skipton Aireville park
(1  18:02 Neil Maloney, Skipton AC)
2   20:21 Oscar Stapleton (junior)
99 ran

Burnsall, Sun 14 Sep

(1 13:15 Simon Bailey, Mercia)
12 17:38 Steve Turland
22 18:31 Dick Waddington
70 finished

Yorkshireman, Sun 14 Sep
Helen Waddington reports ... Results ...

Yorkshireman Full	
(1  3h20:37 Shaun Wilkinson, KCAC)
58  4h38:49 Adela Reperecki 1st FV50
147 finishers

Yorkshireman Half
(1   1h36:55 Ben Mounsey             
4    1h46:42 Nick Richardson  (2nd V40)
92   2h25:50 John Coates             
123  2h35:11 Lynn Donohue           
128  2h38:10 Helen Waddington        
155  2h47:57 Hilda Coulsey (2nd FV60)
244 finishers


The Half was a counter in the Ilkley Harriers Race League.
LDMT, Sun 14 Sep
Alison Weston reports ... Long day out for most of us at the weekend on the 60th Lake District Mountain Trial a one day orienteering event in Patterdale this year over a choice of 3 courses :- Classic (~16 miles, 7000ft), Medium (~12 miles, 5,000ft) or Short (well relatively -10 miles 3,500ft).
The Haines family turned out in force with Hector winning the long Classic route in 04.09hrs, over 30 mins ahead of the second runner, Peter and Chloe completing the Medium course and Sarah the short course (wait until Lucy is old enough to run too!!) Jonathon Whitaker easily won the Medium course and Helene ran the short course to test her knees on downhills (plenty of that!!).
I struggled with route choice a bit as there was a long way between some check points and all sorts of routes tried by different runners. For one leg some runners dropped down to Grisedale tarn and up onto Helvellyn ridge, others up Swirral Edge to the ridge or a direct way via red tarn. I opted for a steep climb up to join Striding Edge in the mist and then a long run along Helvellyn ridge. Who knows which was best? 'Dithering' certainly does NOT help though!
Results ...

Medium
1  4h14:04 Jonathan Whittaker 
11 4h53:10 Peter Haines
12 4h57:34 Alison Weston (3rd Lady)
22 5h23:15 Chloe Haine (9th Lady)
41 5h56:49 Richard Joel
64 finished

Short
(1 4h15:22 Gareth Bryan-Jones, Ochil Hill Runners)
8  4h49:16 Helene Whitaker 2nd Lady, 1st LV40
16 5h09:53 Sarah Haines5th Lady, 1st LV50
36 finished

Hodder Valley Show fell race, Sat 13 Sep
From Dan Wilkinson... Duncan and I made the trip over to the Forest of Bowland for the last race in the English Champs. It looked like the 400 limit of runners had almost been met, which made the run out of the showground more of a stampede. The route packs 1,500 ft of climbing into just 4 miles, so was really tough. I managed to break the old course record by around 16 seconds, unfortunately so did the 51 men in front of me, so no points again. Results ...

(1  32:44 Morgan Donnelly, Borrowdale)
52  40:14 Dan Wilkinson
131 46:09 Duncan Cooper
202 finished

Rombalds Romp, Sat 13 Sep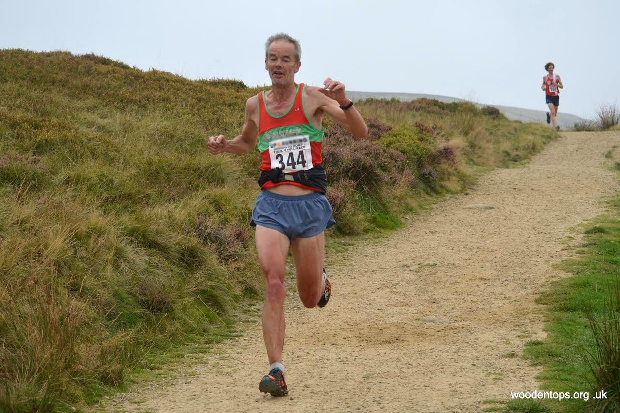 Will Buckton reports ... Muddy conditions for Abbey Runners' trail v fell race. A well flagged and marshalled route with a free bottle of beer. Results ...


Fell
(1 47:51 Chris Miller, Harrogate)
11 54:47 Will Buckton
12 55:16 Nick Pearce 1st V60
33 62:07 Mike Baldwin
60 finished

Trail
(1 44:16 Frank Beresford, Otley)
12 61:59 Will Worboys
35 finished


parkruns, Sat 13 Sep
From Petra... Results ...

Leeds Woodhouse Moor
(1  16:37 David Driver, Barnsley AC)
166 24:42 Harry Stead (junior)
414 ran

Bradford Lister Park
(1  17:57 Will Kerr, Saltaire Striders)
12  20:25 Tom Worboys
409 39:54 Abbie Reynier (junior)
444 ran

Harrogate Stray
(1  16:07 Jamil Parapia, Otley AC)
39  21:13 Geoffrey Howard
148 25:45 Peter Shields
174 26:31 Julie Elmes
329 ran

Skipton Aireville Park
(1  16:57 Gregan Clarkson, Kingston upon Hull AC)
3   20:29 Oscar Stapleton (junior)
64  28:17 Alex Millar
110 ran

Roseberry Topping, Wed 10 Sep
From Jack Wood ... Took a day off to cycle through the North York Moors to a short fell race up and down Roseberry Topping. Very steep and technical in places with a surprising amount of route choice. Well organised and lots of wine given out as prizes. Results ...

(1 11:11 Jack Willis, M'bro & Cleve H)
10 14:28 Jack Wood
78 finished

Ilkley Harriers of the Month, August
Gavin Lamb
Burnsall
Other nominations were:
Steve Turland - Burnsall
Paul Wood
website
More Harriers of the Month ...
Vale of York Half Marathon, Sun 7 Sep
From Sally Malir ... the race must have been one of the nicest road races that I have ever done, helped along by a beautiful September morning. We started at Sherburn Air Club and ran along closed, scenic flat roads perfect!
I decided that I was going to force myself to try a new race strategy as anything under a marathon I tend to set off far too fast and suffer later on. The plan was to take the first three miles easy then work my way through the field from there on. This plan worked really well and I finished strongly and a minute ahead of my target time.
I finished 5th lady overall in a time of 1.27:18 which puts me 5th also in the UK for my age group!
I am now having a couple of weeks rest before starting marathon training.
Results ...

(1  1:09:27 Jason Cherriman, Leeds)
79  1:27:18 Sally Malir
82  1:28:05 Tom Worboys
287 1:40:07 Ewan Welsh
865 finished

Great North Run, Sun 7 Sep

(1    1:00:00 Mo Farah)
404   1:26:25 Rob Cunningham
5254  1:47:29 Kevin Lawson
5703  1:48:33 Christine Cox
6195  1:49:37 Andrew Wison
6664  1:50:37 Chris Cunnibgham
7909  1:53:09 Dave Ibbotson
8982  1:55:13 Charlotte Smithson
11396 1:59:07 Tim Ratcliffe
12954 2:01:38 Alison Ricci
15811 2:06:37 Robert Morse
19422 2:13:10 Sally Wright
30724 2:34:54 Carole Cunningham

Ben Nevis fell race, Sun 7 sep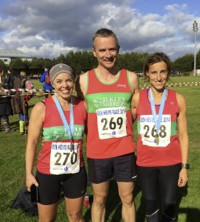 From Dick Waddington ... three Harriers headed up to Fort William for the Ben Nevis Race at the weekend. The TV cameras were out for the BBC who were doing a documentary on one of the runners for Scottish TV. We were paraded around the start field by a pipe band - very atmospheric! You get a nice warm up on the flat for a mile before the fun begins - pleasant blocky paths, followed by a Whernside-like grassy bank, topped by scree and an eerie summit plateau. There was great support with jelly babies aplenty. The descent is a heart-in-the mouth, goes on forever, make it stop, are we there yet, surely we are by now experience until you hit the tarmac to realise you have a mile to go on legs that seem to be have been donated by someone who can't run. Fantastic fun (Helen might not agree with that bit)! Results...

(1  1:34:43 Finlay Wild, Lochaber)
147 2:11:03 Dick Waddington
191 2:17:26 Jane McCarthy
478 3:21:06 Helen Waddington
486 finished

Salford 10k, Sun 7 Sep
Dan Wilkinson reports ... closed roads and a good crowd at the end helped lift an otherwise dreary and uninspiring tour of industrial Salford. Back to the fells. Results...

(1 30:58 Mohammed Abu-Rezeq, Altrincham & D)
13 35:15 Dan Wilkinson
2735 finished

Bradley fell race, Sun 7 Sep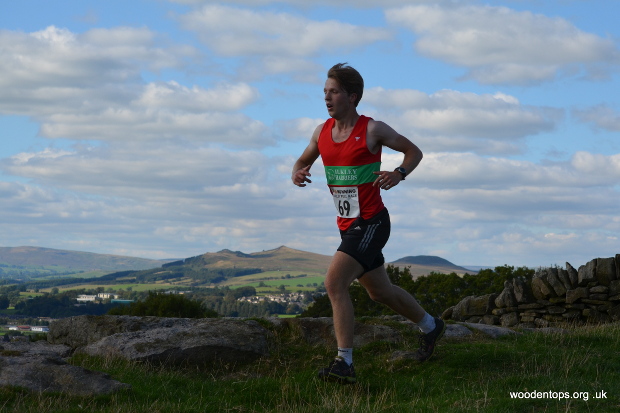 Woodentops photos. Results ...

(1 19:10 Ted Mason, Wharfedale)
8  22:48 Mark Mon-Williams
22 25:46 Jonathan Schneider
32 27:21 Jann Smith 1st lady
72 39:56 Fiona Schneider
75 finished

parkruns, Sat 6 Sep
From Petra ... Again some excellent Harrier parkrun times this week, notably Sarah Pickering being the first female over the finish line at Bradford. Results ...

Leeds Woodhouse Moor
(1  16:50 Christopher Mann, Hyde Park Harriers)
21  19:14 Tom Worboys
292 ran

York
(1  17:22 Richard Ginn, Pocklington Runners)
20  20:31 Geoffrey Howard
228 ran

Bradford Lister Park
(1  17:25 Chris Williams, Queensbury AC)
15  21:02 Malcolm Pickering
18  21:21 Sarah Pickering (junior) 1st F
22  21:19 James Pickering (junior)
117 26:38 Sally Pickering
218 30:29 Anna Pickering (junior)
367 ran

Harrogate Stray
(1  17:01 David Driver, Barnsley AC)
131 26:47 Petra Bijsterveld
267 ran

Skipton Aireville Park
(1  19:33 Logan Hargreaves-Madhas, Wharfedale Harriers)
4   20:34 Oscar Stapleton (junior)
43  26:40 John Brown
72  30:14 Claire Murphy
94 ran

Fountains Abbey
(1  17:12 Toby Osman, Ripon Runners)
3   19:10 David Schneider
4   19:28 Jonathan Schneider
70  26:13 Fiona Schneider
162 ran

Ilkley Incline, Wed 3 Sep
68 runners competed in the super Ilkley Incline uphill race, organised for the 10th time by Geoff Howard. Ilkley's Jack Wood sprinted it out with top international mountain runner Emma Clayton to win in 7:47; Emma's 7:49 smashed the ladies' course record. Georgia Malir led in a string of talented young Ilkley Harriers to take the ladies' team prize to match Ilkley's men's team prize. And there were Ilkley prizewinners in many other categories. Results & photos on the Ilkley Incline page.
The Incline was preceded by the fast, furious, fun Junior Sprint Fell Relays which had a record 21 teams.
This was a counter in the Ilkley Harriers Race League.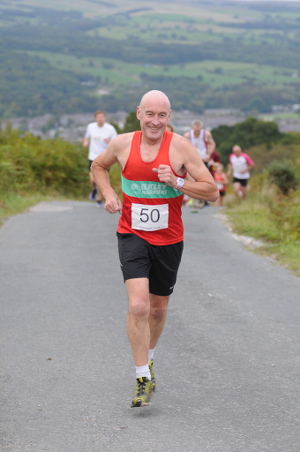 1   7:47 Jack Wood
3   8:08 Ben Stevens
7   8:33 Georgia Malir
9   8:37 Jonathan Schneider
15  8:54 Ben Sheppard
16  8:57 George Stevens
18  8:69 David Schneider
19  9:09 Tom Worboys
22  9:15 Lucy Jacques
24  9:26 Steven Weston
26  9:39 Lucy Haines
27  9:44 Sarah Pickering
28  9:53 Arthur Reilly
31  9:57 Malcolm Pickering
32 10:00 David Chandler
33 10:02 Richard Joel
35 10:21 Jane McCarthy
36 10:23 Will Worboys
39 10:44 Mike Baldwin
40 10:47 Lucy Williamson
48 11:01 Alison Weston
51 11:25 Chloe Haines
54 11:44 Philip Hirst
57 12:14 Peter Lewis
59 12:29 Geoffrey White
61 13:15 Hilda Coulsey
62 13:36 Petra Bijsterveld
64 13:53 Fiona Schneider
65 14:19 Jacqui Weston
66 15:04 Julie Elmes
68 finished

Wetherby 10k, Sun 31 Aug

(1  32:49 Andrew Grant, Harrogate) 
270 48:22 Chris Cuningham
307 49:30 Christine Cox
495 56:33 Jacqui Weston
542 58:17 Julie Elmes
625 59:54 Sally	Wright
863 finishers

Junior Home Fell Trials, Sun 31 Aug
Some super results from Ilkley's U17's ... Preliminary results
Blackshaw Head, Sat 30 Aug

(1 36:40 Alex Whittern, CVFR)
13 42:47 Ian Rowbotham  1st V50
114 finished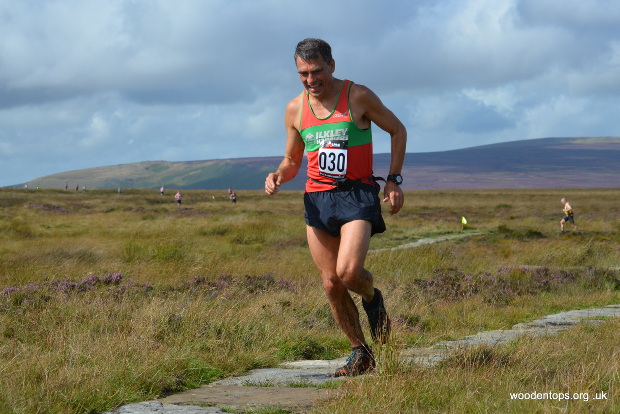 Pendle 3 Peaks, Sat 30 Aug
From Jamie Hutchinson ... starting from Barley 9m miles and 2500 ft height gain! I ran well for the first few miles but then dropped a few places over the 2nd half of the race. Flagged to first control and then a little bit of navigation needed, which resulted in a bit of head scratching for the leaders. Great conditions for running and really enjoyable race. I finished in 11th and 1 hour 33 mins - the race was won by Richard Pattinson in 1 hour 25 mins. I managed 1st in my category (albeit 3 M45s beat me!)
parkruns, Sat 30 Aug
From Petra ...Quite a few Harriers out parkrunning this Saturday. The Schneiders made Skipton parkrun a family affair with David coming first, followed hot on the heels by brother Jonathan in 4th place, and Fiona also running a brilliant time on this hilly (by parkrun standards) course.
It is Skipton parkrun's first anniversary next Saturday and it would be great if a few Harriers wanted to join them for the run and a small celebration in the park afterwards.
Results ...

Leeds Woodhouse Moor
(1  17:16 Rashaad Jorden, U/A)
39  20:54 Michael Duffield
155 25:43 Harry Stead (junior)
359 ran

Bradford Lister Park
(1  18:13 Joe Woodley, Skyrac AC)
35  22:29 Phil Hirst
99  25:31 Samuel Turland (junior)
323 44:29 Katie Turland (junior)
337 ran

Harrogate Stray
(1 17:50 Ben Pye, Wetherby Runners)
19  20:42 Tom Worboys
21  20:52 Oscar Stapleton (junior)
162 27:30 Julie Elmes
308 ran

Hilly Fields, Lewisham
(1  18:29 Laurie Pope, South London Harriers)
3  18:51 Alex Hirst
139 ran

Skipton Aireville Park
1   19:36 David Schneider
4   20:35 Jonathan Schneider
40  26:35 Fiona Schneider
74 ran

Kilnsey Show, Tue 26 Aug

(1 08:07 Rob Hope, P&B)
25 10:55 Steve Turland
42 12:17 Norman Bush
48 12:32 Alison Weston
61 13:30 Chloe Haines
73 finished

Tour of Norland Moor, Sun 24 Aug
Jamie Hutchinson reports ... a 10k trail run round the moor at Copley near Halifax, starting with a pretty tough first half mile or so of climb. I climbed well with the leaders but fell off the pace as the course levelled off. Great views round the moor as a few of us swapped places, before gradual descent back toward Copley followed by a flat last quarter of a mile. I came in 41:26 and 7th. The race was won by Clive Fitzpatrick in 38:38 and 99 ran.
Pendleton Fell Race, Sat 23 Aug
From Jann Smith ... one of the longer fell races this weekend (5m / 457 ft AS) started from Pendleton village at the back of Pendle Hill and took us straight up the back end of Pendle Hill and back down on part of the Full Tour of Pendle race route.

43 48:28  Jann Smith  2nd F40

Burnsall road and fell races, Sat 23 Aug
From Petra Bijsterveld ... A number of Harriers were at the Burnsall Feast for the road and fell races, the road race being a counter in the Ilkley Harriers Race League. Whilst driving there I was almost washed off the road at Bolton Abbey by a monsoon-like cloudburst, but the rain held off for the rest of the afternoon. I had not been to this event before and enjoyed all aspects, the gala with its family fun, running the road race and then watching the junior and senior fell races. The senior fell race was started by 94 year old Bob Newbould who won the race in 1939! Some excellent Harrier results below.
Results: fell, and road.

10 mile road race
(1    54:22 Matt Whitfield, Bristol and West AC)
20  1:04:29 Gavin Lamb
35  1:08:03 David Schneider
36  1:08:05 Mark Iley
58  1:13:56 Jonathan Schneider
63  1:14:13 Ewan Welsh
95  1:23:27 Stephanie Fox
96  1:23:37 Jean Sullivan
103 1:26:19 Stephen Rhodes
105 1:26:36 Hilda Coulsey 1st L60
115 1:29:18 Paul Sugden
132 1:33:32 Petra Bijsterveld
135 1:35:27 Fiona Schneider
146 ran

Senior classic fell race
(1  15:01 Ted Mason, Wharfedale Harriers)
23  19:09 Steve Turland 2nd V45
35  20:37 Richard Joel
49  21:38 Jane McCarthy 2nd L40
58  22:07 Alison Weston
75  23:04 Steven Oxlade
123 finished

Malham show, Sat 23 Aug

(1 18:43 Sam Watson, Wharfedale)
10 24:47 Norman Bush 1st V70
33 finished

Patterdale Dog Day (Fell Race), Sat 23 Aug
Justin Phillips reports ... I scampered up the 900ft climb like a springer spaniel after a tennis ball only to descend like a slobbering Bloodhound en-route to the vets, finishing 16th in 29 minutes 30s. 36 ran and top dog for the day was Inov-8 sponsored Rhys Findlay-Robinson who broke the course record in about 22 minutes (he went on to finish 5th at the Grasmere Guides race on the Sunday). Results
Weasdale Horseshoe Sat 23 Aug
Sue Morley reports ... I ventured to the lovely Howgills for this race of 8 1/2 miles and 2000 feet of climb. In good clear conditions I had a a good view of the scenery and a personal best.

(1  56:29 Gary Priestly, Salford Harriers)
68  96:33 Sue Morley 

parkruns, Sat 23 Aug
From Petra ... Results ...

Bradford Lister Park
(1  17:46 Will Kerr, Saltaire Striders)
14  21:18 Cameron Reilly (junior)
342 ran

Skipton Aireville Park
(1  17:41 Lee Athersmith,Bingley Harriers)
5   21:01 Oscar Stapleton (junior)
6   21:23 Tom Worboys
14  23:04 Hannah Partner
61  28:56 Alex Millar
90 ran

Fountains Abbey
(1  17:28 Mike Appleton, Ripon Runners)
29  21:17 Geoff Howard
211 ran

Sedbergh Hills, Sun 17 Aug
From Dan Wilkinson ... Conditions were tough today for the 2nd long counter for the English Fell Champs, horizontal rain, clag and at one point sleet I think! Most competitors were layering up and I was forced to put hat and gloves on at the top of the calf as the MWIS predicted -5 windchill hit, in mid August! Things were just as tough on the ground with the steep trods reduced to slides and the traverses slimy mud. Of course all this made it more fun and on reflection this was one of the best races I have done. Ged Callan from Bingley featured in my field of vision again as I followed him round, not managing to pass him and finished 55th M in 2:33. The quest for champs points continues... Results ...

(1  2h06:10 Rob Hope, P&B)
57  2h33:33 Dan Wilkinson 
102 2h50:09 Nick Pearce 2nd V60
159 3h03:36 Jann Smith  3rd F45
162 3h04:27 Alison Weston
262 finished

Gargrave Show, Sat 16 Aug
Joanne Williamson, FU17 winner, pictured. And Euan Brennan won the U14 class.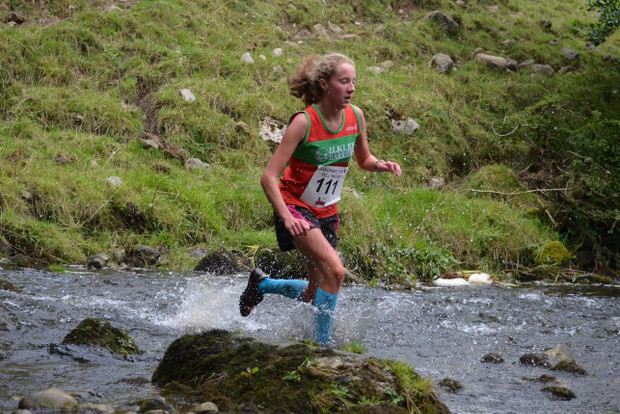 parkruns, Sat 16 Aug

York
(1 16:24 Kim Critchley, York Knavesmire Harriers)
53 20:38 Geoffrey Howard
297 finished

Bradford
(1  17:33 Tom Collinge, U/A)
17  20:11 Sally Malir
26  21:03 Cameron Reilly
99  25:02 Hilda Coulsey
305 36:26 Abbie Reynier
369 finished

Skipton
(1 18:07 Chris Barnes, Blackburn Harriers & AC)
5  20:23 David Schneider
18 22:46 Jonathan Schneider
50 26:55 Fiona Schneider
89 finished

Fountains Abbey
(1 17:14 Toby Osman, Ripon Runners)
15 20:16 Tom Worboys
215 finished

Lanhydrock
(1  17:49 Nick Loewendahl, St Austell)
115 30:43 Harry Stead
170 finished

YVAA Grand Prix, Tue 12 Aug
From Lynn Donohue ... Race 8 of 10 held at Bingley very muddy in places due to the recent heavy rain and a steep uphill start in a farmers field. Rough underfoot and more technical than recent races nice views across Shipley Glen only one harrier racing, next race Tuesday 19 August at West Park Leeds at 7:15pm. Reminder that the cross country champs is on 28 September at Nunroyd Park. Results ...

Ladies race
(1 42:08 Mags Beever, Stainland)
23 52:15 Lynn Donohue
70 finished

Round Hill fell race, Sun 10 Aug
The 12th edition of the Round Hill fell race was the first wet one. Results ...

(1    55:20 Adam Osborne, Leeds)
6   1:00:47 Nick Richardson
11  1:01:31 Ben Sheppard
13  1:01:48 Jamie Hutchinson
26  1:05:42 Nick Pearce
28  1:05:53 Dick Waddington
35  1:06:44 Justin Phillips
38  1:07:43 Paul Calderbank
44  1:09:03 Will Buckton
65  1:13:27 Ben Johnson
79  1:17:45 Brian Mellia
80  1:18:07 Chantel Busby
95  1:22:48 Philip Hurst
111 1:32:23 Sue Morley
114 1:39:55 Sally Wright
117 1:49:40 Petra Bijsterveld
119 1:55:45 Eric Morley
120 1:56:45 Paul Sugden
123 finished


This was a counter in the Ilkley Harriers Race League.
Sedbergh, Sat 9 Aug
From Dave Woodhead ... Ilkley girls at Sedbergh Winder Hill summit finish of British Uphill's and World Trial today.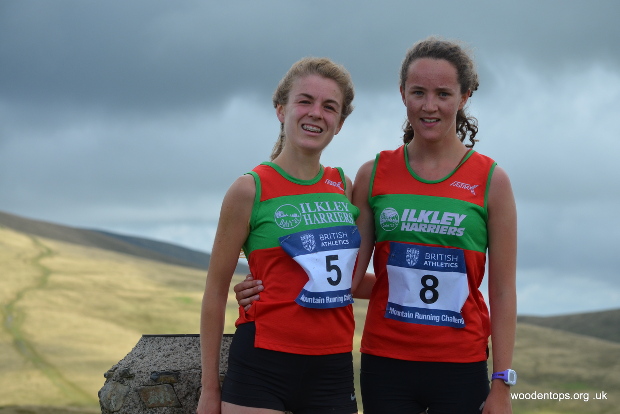 Turner Landscape fell race, Sat 9 Aug
From Will Buckton ... AM 17km/910m. After battling my way to the Lakes through a stream of incompetent drivers I made it to Seathwaite just before the start of the race. After registering I returned to the car to see the race starting without me! I quickly changed into my fell shoes and pinned my number to my vest and set off in pursuit of the runners. I soon caught the back-markers and managed to pick off a few more to finish 31st out of 89. A great route which takes in the summits of Grey Friar, Swirl How, Brim Fell, Coniston Old Man and Dow Crag. A great low key atmosphere with coffee and cakes at the finish, recommended.

(1 1h32:48 James Logue, Calder Valley)
31 1h55:16 Will Buckton
89 finished

Arncliffe Gala, Sat 9 Aug
From Jack Wood ... The latest in my cycle-to-a-BOFRA-race series was Saturday's Arncliffe Gala. Thankfully I had some time before the race to sit in the sun and recover from the hilly Malham road. There were some good junior Harrier performances including Ruaridh Mon-Williams 1st U17 and Euan Brennan 2nd U14. The senior race got started at a fast pace along a track. We then climbed steeply before going along a ridge and back down into the village. Iain Gibbons ran well to finish 20th, two places ahead of me in 22nd. Norman Bush came in 48th. Results ...

(1 10:38 Simon Bailey, Mercia)
20 13:01 Iain Gibbons
22 13:18 Jack Wood
48 15:48 Norman Bush
85 finished

parkruns, Sat 9 Aug
From Petra ... Results ...

Bradford Lister Park
(1  17:36 James Goodall, Eccleshill RR)
32  22:22 David Chandler
38  22:48 Philip Hirst
313 37:56 Abbie Reynier (junior)
365 ran

Harrogate Stray
(1  17:52 Warren Lowcock, U/A)
136 26:54 Petra Bijsterveld
140 27:13 Fiona Schneider
226 ran

Skipton Aireville Park
(1  19:44 John Potter, Bridlington RR)
42  28:05 Alex Millar
77 ran

parkruns, Sat 2 Aug
From Petra ... Quite a number of Harriers out at parkrun this Saturday and some outstanding results, Sally Malir was the 1st woman home at Bradford and Hannah Partner achieved the same feat at Skipton. Steve Weston flew across the Stray to come 7th at Harrogate (his first parkrun) and Alex Hirst continues in fine form in Lewisham coming in 4th. Results ...


Bradford Lister Park
(1  18:02 Paul Clegg, Bingley Harriers)
17  20:35 Sally Malir 1st F
74  24:02 David Chandler
365 39:59 Abbie Reynier (junior)
408 ran

Harrogate Stray
(1  16:50 Richard Ebbage, Ripon Runners)
7   18:21 Steve Weston
146 26:29 Julie Elmes
258 ran

Lewisham Hilly Fields
(1  18:49 Richard Mathie, Imperial College Cross Country & AC)
4   19:26 Alex Hirst
93 ran

Skipton Aireville Park
(1  17:39 Lee Athersmith, Bingley Harriers)
19  23:18 Hannah Partner 1st F
48  29:48 Alex Millar
76 ran

Fountains Abbey
(1  17:35 Mike Appleton, Ripon Runners)
29  22:43 Will Worboys
197 ran

Hellifield Gala fell race, Sat 2 Aug
A good 9th place for Jamie in the senior race, and Juniors running too - see the Woodentops photos

(1 Jimmy Craig, Barlick)
9 Jamie Hutchinson
52 finished


---