Latest News and Results ...
Please send any Harriers results to news@ilkleyharriers.org.uk for this web site and the newspaper.
Ilkley Incline, Wed 3 Sep
Don't forget it's the super Ilkley Incline uphill race THIS WEDNESDAY 3rd September, race starts 7pm. Registration on the night only at Wells Road at the foot of Keighley Road at junction with Wells Road, GR SE 114469. Recommend you get there early to register. More details on the race on the dedicated race page.
Preceded by the fast and furious Junior Sprint Fell Relays at 6pm.
Wetherby 10k, Sun 31 Aug

(1  32:49 Andrew Grant, Harrogate) 
270 48:22 Chris Cuningham
307 49:30 Christine Cox
495 56:33 Jacqui Weston
542 58:17 Julie Elmes
625 59:54 Sally	Wright
863 finishers

Junior Home Fell Trials, Sun 31 Aug
Some super results from Ilkley's U17's ... Preliminary results
Blackshaw Head, Sat 30 Aug
Results soon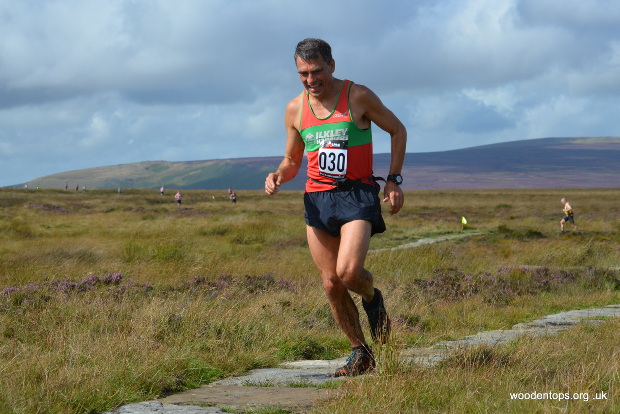 Pendle 3 Peaks, Sat 30 Aug
From Jamie Hutchinson ... starting from Barley 9m miles and 2500 ft height gain! I ran well for the first few miles but then dropped a few places over the 2nd half of the race. Flagged to first control and then a little bit of navigation needed, which resulted in a bit of head scratching for the leaders. Great conditions for running and really enjoyable race. I finished in 11th and 1 hour 33 mins - the race was won by Richard Pattinson in 1 hour 25 mins. I managed 1st in my category (albeit 3 M45s beat me!)
parkruns, Sat 30 Aug
From Petra ...Quite a few Harriers out parkrunning this Saturday. The Schneiders made Skipton parkrun a family affair with David coming first, followed hot on the heels by brother Jonathan in 4th place, and Fiona also running a brilliant time on this hilly (by parkrun standards) course.
It is Skipton parkrun's first anniversary next Saturday and it would be great if a few Harriers wanted to join them for the run and a small celebration in the park afterwards.
Results ...

Leeds Woodhouse Moor
(1  17:16 Rashaad Jorden, U/A)
39  20:54 Michael Duffield
155 25:43 Harry Stead (junior)
359 ran

Bradford Lister Park
(1  18:13 Joe Woodley, Skyrac AC)
35  22:29 Phil Hirst
99  25:31 Samuel Turland (junior)
323 44:29 Katie Turland (junior)
337 ran

Harrogate Stray
(1 17:50 Ben Pye, Wetherby Runners)
19  20:42 Tom Worboys
21  20:52 Oscar Stapleton (junior)
162 27:30 Julie Elmes
308 ran

Hilly Fields, Lewisham
(1  18:29 Laurie Pope, South London Harriers)
3  18:51 Alex Hirst
139 ran

Skipton Aireville Park
1   19:36 David Schneider
4   20:35 Jonathan Schneider
40  26:35 Fiona Schneider
74 ran

Kilnsey Show, Tue 26 Aug

(1 08:07 Rob Hope, P&B)
25 10:55 Steve Turland
42 12:17 Norman Bush
48 12:32 Alison Weston
61 13:30 Chloe Haines
73 finished

Tour of Norland Moor, Sun 24 Aug
Jamie Hutchinson reports ... a 10k trail run round the moor at Copley near Halifax, starting with a pretty tough first half mile or so of climb. I climbed well with the leaders but fell off the pace as the course levelled off. Great views round the moor as a few of us swapped places, before gradual descent back toward Copley followed by a flat last quarter of a mile. I came in 41:26 and 7th. The race was won by Clive Fitzpatrick in 38:38 and 99 ran.
Pendleton Fell Race, Sat 23 Aug
From Jann Smith ... one of the longer fell races this weekend (5m / 457 ft AS) started from Pendleton village at the back of Pendle Hill and took us straight up the back end of Pendle Hill and back down on part of the Full Tour of Pendle race route.

43 48:28  Jann Smith  2nd F40

Burnsall road and fell races, Sat 23 Aug
From Petra Bijsterveld ... A number of Harriers were at the Burnsall Feast for the road and fell races, the road race being a counter in the Ilkley Harriers Race League. Whilst driving there I was almost washed off the road at Bolton Abbey by a monsoon-like cloudburst, but the rain held off for the rest of the afternoon. I had not been to this event before and enjoyed all aspects, the gala with its family fun, running the road race and then watching the junior and senior fell races. The senior fell race was started by 94 year old Bob Newbould who won the race in 1939! Some excellent Harrier results below.
Results: fell, and road.

10 mile road race
(1    54:22 Matt Whitfield, Bristol and West AC)
20  1:04:29 Gavin Lamb
35  1:08:03 David Schneider
36  1:08:05 Mark Iley
58  1:13:56 Jonathan Schneider
63  1:14:13 Ewan Welsh
95  1:23:27 Stephanie Fox
96  1:23:37 Jean Sullivan
103 1:26:19 Stephen Rhodes
105 1:26:36 Hilda Coulsey 1st L60
115 1:29:18 Paul Sugden
132 1:33:32 Petra Bijsterveld
135 1:35:27 Fiona Schneider
146 ran

Senior classic fell race
(1  15:01 Ted Mason, Wharfedale Harriers)
23  19:09 Steve Turland 2nd V45
35  20:37 Richard Joel
49  21:38 Jane McCarthy 2nd L40
58  22:07 Alison Weston
75  23:04 Steven Oxlade
123 finished

Malham show, Sat 23 Aug

(1 18:43 Sam Watson, Wharfedale)
10 24:47 Norman Bush 1st V70
33 finished

Patterdale Dog Day (Fell Race), Sat 23 Aug
Justin Phillips reports ... I scampered up the 900ft climb like a springer spaniel after a tennis ball only to descend like a slobbering Bloodhound en-route to the vets, finishing 16th in 29 minutes 30s. 36 ran and top dog for the day was Inov-8 sponsored Rhys Findlay-Robinson who broke the course record in about 22 minutes (he went on to finish 5th at the Grasmere Guides race on the Sunday). Results
Weasdale Horseshoe Sat 23 Aug
Sue Morley reports ... I ventured to the lovely Howgills for this race of 8 1/2 miles and 2000 feet of climb. In good clear conditions I had a a good view of the scenery and a personal best.

(1  56:29 Gary Priestly, Salford Harriers)
68  96:33 Sue Morley 

parkruns, Sat 23 Aug
From Petra ... Results ...

Bradford Lister Park
(1  17:46 Will Kerr, Saltaire Striders)
14  21:18 Cameron Reilly (junior)
342 ran

Skipton Aireville Park
(1  17:41 Lee Athersmith,Bingley Harriers)
5   21:01 Oscar Stapleton (junior)
6   21:23 Tom Worboys
14  23:04 Hannah Partner
61  28:56 Alex Millar
90 ran

Fountains Abbey
(1  17:28 Mike Appleton, Ripon Runners)
29  21:17 Geoff Howard
211 ran

Sedbergh Hills, Sun 17 Aug
From Dan Wilkinson ... Conditions were tough today for the 2nd long counter for the English Fell Champs, horizontal rain, clag and at one point sleet I think! Most competitors were layering up and I was forced to put hat and gloves on at the top of the calf as the MWIS predicted -5 windchill hit, in mid August! Things were just as tough on the ground with the steep trods reduced to slides and the traverses slimy mud. Of course all this made it more fun and on reflection this was one of the best races I have done. Ged Callan from Bingley featured in my field of vision again as I followed him round, not managing to pass him and finished 55th M in 2:33. The quest for champs points continues... Results ...

(1  2h06:10 Rob Hope, P&B)
57  2h33:33 Dan Wilkinson 
102 2h50:09 Nick Pearce 2nd V60
159 3h03:36 Jann Smith  3rd F45
162 3h04:27 Alison Weston
262 finished

Gargrave Show, Sat 16 Aug
Joanne Williamson, FU17 winner, pictured. And Euan Brennan won the U14 class.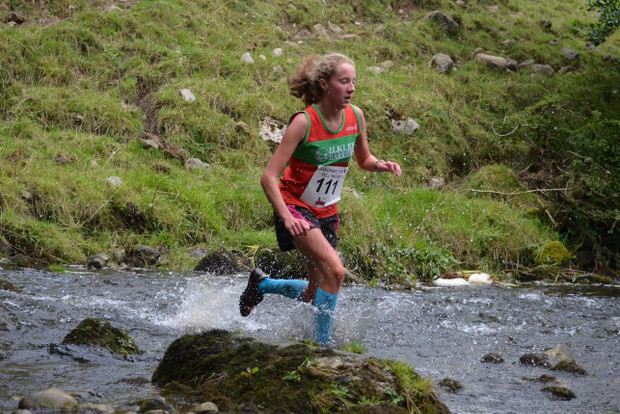 parkruns, Sat 16 Aug

York
(1 16:24 Kim Critchley, York Knavesmire Harriers)
53 20:38 Geoffrey Howard
297 finished

Bradford
(1  17:33 Tom Collinge, U/A)
17  20:11 Sally Malir
26  21:03 Cameron Reilly
99  25:02 Hilda Coulsey
305 36:26 Abbie Reynier
369 finished

Skipton
(1 18:07 Chris Barnes, Blackburn Harriers & AC)
5  20:23 David Schneider
18 22:46 Jonathan Schneider
50 26:55 Fiona Schneider
89 finished

Fountains Abbey
(1 17:14 Toby Osman, Ripon Runners)
15 20:16 Tom Worboys
215 finished

Lanhydrock
(1  17:49 Nick Loewendahl, St Austell)
115 30:43 Harry Stead
170 finished

YVAA Grand Prix, Tue 12 Aug
From Lynn Donohue ... Race 8 of 10 held at Bingley very muddy in places due to the recent heavy rain and a steep uphill start in a farmers field. Rough underfoot and more technical than recent races nice views across Shipley Glen only one harrier racing, next race Tuesday 19 August at West Park Leeds at 7:15pm. Reminder that the cross country champs is on 28 September at Nunroyd Park. Results ...

Ladies race
(1 42:08 Mags Beever, Stainland)
23 52:15 Lynn Donohue
70 finished

Ilkley Harriers of the Month, July
Nick Pearce
First V60 kentmere, Snowdon, and Addingham Gala!
Other nominations were:
Georgia Malir Junior Women's European Mountain running champion, 6th female and 2nd FU23 at Snowdon International
Lucy Haines for her fell results (not a senior)
Dan Wilkinson for organising the Addingham Gala and Kentmere and 7th at Rydal
Andrew Sheldon
HDSRL co-ordination
More Harriers of the Month ...
Round Hill fell race, Sun 10 Aug
The 12th edition of the Round Hill fell race was the first wet one. Results ...

(1    55:20 Adam Osborne, Leeds)
6   1:00:47 Nick Richardson
11  1:01:31 Ben Sheppard
13  1:01:48 Jamie Hutchinson
26  1:05:42 Nick Pearce
28  1:05:53 Dick Waddington
35  1:06:44 Justin Phillips
38  1:07:43 Paul Calderbank
44  1:09:03 Will Buckton
65  1:13:27 Ben Johnson
79  1:17:45 Brian Mellia
80  1:18:07 Chantel Busby
95  1:22:48 Philip Hurst
111 1:32:23 Sue Morley
114 1:39:55 Sally Wright
117 1:49:40 Petra Bijsterveld
119 1:55:45 Eric Morley
120 1:56:45 Paul Sugden
123 finished


This was a counter in the Ilkley Harriers Race League
Sedbergh, Sat 9 Aug
From Dave Woodhead ... Ilkley girls at Sedbergh Winder Hill summit finish of British Uphill's and World Trial today.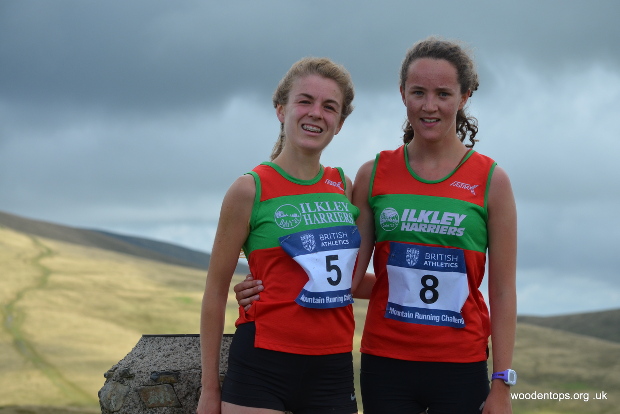 Turner Landscape fell race, Sat 9 Aug
From Will Buckton ... AM 17km/910m. After battling my way to the Lakes through a stream of incompetent drivers I made it to Seathwaite just before the start of the race. After registering I returned to the car to see the race starting without me! I quickly changed into my fell shoes and pinned my number to my vest and set off in pursuit of the runners. I soon caught the back-markers and managed to pick off a few more to finish 31st out of 89. A great route which takes in the summits of Grey Friar, Swirl How, Brim Fell, Coniston Old Man and Dow Crag. A great low key atmosphere with coffee and cakes at the finish, recommended.

(1 1h32:48 James Logue, Calder Valley)
31 1h55:16 Will Buckton
89 finished

Arncliffe Gala, Sat 9 Aug
From Jack Wood ... The latest in my cycle-to-a-BOFRA-race series was Saturday's Arncliffe Gala. Thankfully I had some time before the race to sit in the sun and recover from the hilly Malham road. There were some good junior Harrier performances including Ruaridh Mon-Williams 1st U17 and Euan Brennan 2nd U14. The senior race got started at a fast pace along a track. We then climbed steeply before going along a ridge and back down into the village. Iain Gibbons ran well to finish 20th, two places ahead of me in 22nd. Norman Bush came in 48th. Results ...

(1 10:38 Simon Bailey, Mercia)
20 13:01 Iain Gibbons
22 13:18 Jack Wood
48 15:48 Norman Bush
85 finished

parkruns, Sat 9 Aug
From Petra ... Results ...

Bradford Lister Park
(1  17:36 James Goodall, Eccleshill RR)
32  22:22 David Chandler
38  22:48 Philip Hirst
313 37:56 Abbie Reynier (junior)
365 ran

Harrogate Stray
(1  17:52 Warren Lowcock, U/A)
136 26:54 Petra Bijsterveld
140 27:13 Fiona Schneider
226 ran

Skipton Aireville Park
(1  19:44 John Potter, Bridlington RR)
42  28:05 Alex Millar
77 ran

parkruns, Sat 2 Aug
From Petra ... Quite a number of Harriers out at parkrun this Saturday and some outstanding results, Sally Malir was the 1st woman home at Bradford and Hannah Partner achieved the same feat at Skipton. Steve Weston flew across the Stray to come 7th at Harrogate (his first parkrun) and Alex Hirst continues in fine form in Lewisham coming in 4th. Results ...


Bradford Lister Park
(1  18:02 Paul Clegg, Bingley Harriers)
17  20:35 Sally Malir 1st F
74  24:02 David Chandler
365 39:59 Abbie Reynier (junior)
408 ran

Harrogate Stray
(1  16:50 Richard Ebbage, Ripon Runners)
7   18:21 Steve Weston
146 26:29 Julie Elmes
258 ran

Lewisham Hilly Fields
(1  18:49 Richard Mathie, Imperial College Cross Country & AC)
4   19:26 Alex Hirst
93 ran

Skipton Aireville Park
(1  17:39 Lee Athersmith, Bingley Harriers)
19  23:18 Hannah Partner 1st F
48  29:48 Alex Millar
76 ran

Fountains Abbey
(1  17:35 Mike Appleton, Ripon Runners)
29  22:43 Will Worboys
197 ran

Hellifield Gala fell race, Sat 2 Aug
A good 9th place for Jamie in the senior race, and Juniors running too - see the Woodentops photos

(1 Jimmy Craig, Barlick)
9 Jamie Hutchinson
52 finished

Rydal Round, Thu 31 July
Dan Wilkinson reports ... I had the day off to go over to Ambleside Sports where the Rydal Round follows a similar route to the Fairfield Horseshoe. There is a fair amount of support out on the fell which was nice to see. I set off with the front 10 and settled into the chasing group as we got to the top of the ridge, as we reached Fairfield we lost sight of the front runners but overtook a couple of people who had dropped off the group. Our group then became 2, as, in a rerun of Kentmere I followed Bingley's Ged Callan into the field to finish 7th. Results ...

(1 1:25:02 Alistair Dunn, Holme Hill)
 7 1:32:42 Dan Wilkinson
107 finished

YVAA Grand Prix 6, Tue 29 July
From Lynn Donohue ... Race number 6 in the series at Crossgates Leeds, two Harriers racing on a pleasantly warm evening with a bit of a welcome breeze. A good course mainly across farmers' fields, some woodland, a water jump, rolling rather than hilly. Results ...

Women
(1 32:22 Tanya Seager, Stainland)
24 42:48 Lynn Donohue
78 Finishers

Men
(1 27:56  Dave Watson, Holmfirth)
78 38:31 Phil Hirst
138 finishers


Next race 6 August at Knavesmire York
Adidas Thunderun 24 hour relay, 26/27 July
From Jann Smith ... I was asked to compete in this event held at Catton park near Burton on Trent as a competitive team of 6 x men and 2 x women representing Hope Technology. 500 teams entered and we came 2nd overall. It was really fun, everyone camps together as teams. The route is a 10K hilly off road with lots of woodland. The relay starts at noon Saturday and finishes at noon Sunday and it is the team who can do the most laps as a relay that wins. Headtorches were needed for the night laps and it was certainly different being woken up at 3am and trying to do a fast 10k at 4am wearing a headtorch.
Ilkley Harriers had two teams in this, report soon, hopefully.
Ultra Tour of the Lake District, 25-27 July
From Duncan Cooper... Hot conditions for both the Lakeland 50 and 100 mile events at the weekend with some welcome rain near the finish. I took Clare and Neil's recommendation for this event to try my first proper ultra. Great support along a beautiful route through the Lake District, from north of Ullswater to Coniston. Duncan Cooper finished 116th in 12hrs 17mins (603 started, 550 finished)
From Sharon Meadows ... Was very apprehensive for this years Lakeland 100 attempt due to numerous accidents and injuries this year, and was in two minds even to start or not. Decided could not quit before I even started, probably not the best mind set. As it happens the heat got the better of me. Despite drinking constantly became dehydrated and felt too queezy to eat. I managed 66 miles before calling it a day and was quite pleased in the end to have got that far. Covered Coniston - Seathwaite - Boot - Wasdale Head - Buttermere - Braithwaite - Blencathra - Dockray - Dalemain and Howtown, about 15,000 feet of ascent. Third time lucky?!!!
Cowling Gala fell race, Sun 27 July
Results from BOFRA

(1 18:20 Jack Simpson, Leeds)
7  21:02 Ruaridh Mon-Williams 
12 22:20 Luch Haines FU17 record, 2nd lady
25 26:36 Hannah Partner
37 finished

Saltaire Shaker 15K, Sun 27 July
From Paul Sugden... Results ...

(1   53:39 Scott Harrington, Otley AC
58 1:18:25 Will Worboys
84 1:25:17 Paul Sugden
168 runners

parkruns, Sat 26 July
From Petra ... Results ...

Leeds Woodhouse Moor
(1  16:51 Gwylim Thomas, Valley Striders)
15  19:02 Jack Wood
101 23:37 John Marshall
302 ran

Bradford Lister Park
(1  17:24 Chris Williams, Queensbury RC)
40  22:50 Edward Bickerdike (junior)
250 35:41 Jacob Ireton-Bourke (junior)
302 40:27 Abbie Reynier (junior)
341 ran

Hilly Fields, Lewisham
(1  18:59 Steve Canwell, U/A)
2   19:08 Alesx Hirst
117 ran

Skipton Aireville Park
(1  19:49 Christopher Harrop, Sheffield Tri)
14  22:42 Oscar Stapleton (junior)
59 ran

Golden Acre Park Relays, Wed 23 July
From Lynn Donohue ... A beautiful evening's racing at Golden Acre Park, only one Ilkley team out of a total of 142 - numbers swelled because of the lovely weather no doubt. Results ...

(1    43:49 Leeds City AC, new course record)
109 1:09:15  Ilkley Harriers leg 1 Lynn Donohue, leg 2 Sally Wright, leg 3 Keith Wood
141 teams finished

Kentmere Horsehoe, Sun 20 July
From Jann Smith ... Some good results in the 4th English Championships race of the series which started in blistering heat and finished in torrential rain. 12.5miles/ 3300ft ascending. Results ...

(1  1:27:55 Tom Addison, Helm Hill)
57  1:49:34 Dan Wilkinson
95  1:55:03 Ben Sheppard
117 1:57:45 Nick Pearce 1st V60
195 2:10:14 Jann Smith  2nd F45
209 2:11:26 Alison Weston 3rd F45
221 2:13:12 Andrew Merrick
243 2:16:31 Kate Archer
271 2:25:25 Norman Bush
354 finished

Harrogate 10k, Sun 20 July

(1  30:55 Marc Scott, RZH)
127 46:42 Phil Hirst
218 52;11 Hilda Coulsey
260 54:01 Peter Lewis
331 58:51 Julie Elmes
403 finished


This was a counter in the Ilkley Harriers Race League.
Cracoe fell race, Sun 20 July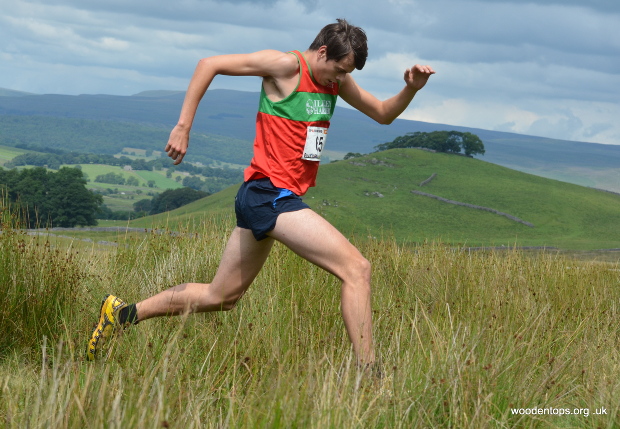 Results of this BOFRA race ...

(1 22:31 Jack Smith, Wharfedale)
5  25:03 Jack Wood
12 26:29 Iain Gibbons
13 26:35 Steve Turland
53 35:59 Chloe Haines 1st LU23
56 38:34 Sue Morley
65 46:22 Eric Morley
69 finished

U17
(1 24:44 Thomas Nelson, Wharfedale)
6  27:48 Luch Haines 1st LU17
10 29:26 Jemima Elgood 4th LU17
18 finished

Snowdon international mountain race and Super Cup, Sat 19 July
From Nick Pearce ... Great runs from Tom Adams (3rd) and Georgia Malir (6th female and 2nd FU23 - she's only 18!) in the uphill Super Cup Race.
I appear to have been the sole Ilkley Harrier in the International Mountain Race, finishing 112th and first V60 in 1 hr 2 min 34 secs. Yes, just 5 seconds outside Kenny Stuart's 1985 course record. Because of the risk of electrical storms, the race this year didn't go all the way to the summit and runners turned at Clogwyn, about 3/4 of the way up the mountain. Oh well, I can dream of chasing Kenny into the finishing funnel! Results
Bingley Show 10k, Sat 19 July
Gavin Lamb reports ... Lots of fun on the new route for this year. After a couple km all but top 3 leaders had to detour around a crazy horse blocking the main path only to run into the back of 2 stubborn horse riders who would not shift for the racers. Almost like a restart after most of field caught by time got past them. I was in 5th when I missed a marker and followed wrong route to finish line and to come in 4th - a little short in distance per the watch though!

(1  41:08 Frank Berisford, Otley)
4,5 or DQ 43:28 Gavin Lamb - only 9.6 km	

Ingleborough fell race, Sat 19 July

(1   52:17 Mark McGoldrick, Wharfedale Harriers)
55 1:08:26 Richard Reeve (2nd M55)
125 finished

parkruns, Sat 19 July

Leeds Hyde Park
(1 16:56 Jonny McKenna, Clayton-le-Moors)
3  18:03 Jack Wood
197 ran

Harrogate Stray
(1  18:45 Jeremie Maillard, U/A)
109 27:05 Julie Elmes
199 ran

Washburn Valley Relays, Fri 18 July
From Jean Sullivan ... a great event organised by Otley AC held on a lovely summers evening! 5 teams ran from Ilkley Harriers. A total of 59 teams participated. Results ...

(1   58:45 Otley Chippendales               
10 1:07:34 Rebecca, Ruairidh and Mark Mon-Williams
24 1:16:30 Jean Sullivan, Richard Joel, Steph Fox
34 1:22:23 Alison Ricci, Caroline Craske, Andrew Jackson
37 1:24:27 Christine Cox, Keith Wood, Lyn Donohue   
49 1:31:53 Sally Wright, Val Kerr, Amanda Newham

Wharfedale TTT, Kettlewell, Sun 13 July
Some great results in today's Junior English Fell Championships and Junior Yorkshire Fell Championships including U16 Silver Lucy Haines and Bronze Jemima Elgood, amd U18 Silver Lucy Williamson, pictured. Full results later. Junior report on the Junior pages.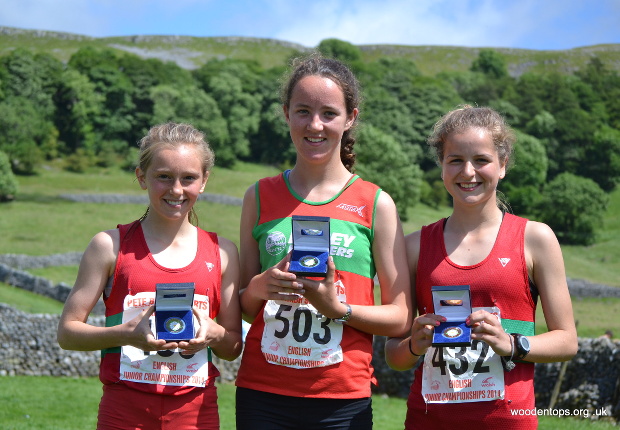 Woodentops photos, and Graham Weston's photos
Wharfefale TTT, 11-13 July
From Jann Smith ... A great weekend in Kettlewell with private fields provided for camping , and a marquee serving morning fry ups and evening BBQ's . The challenge was 3 x races in one weekend.Tarmac, Tussocks and Trail. Friday night was an eyeballs out 2.5 mile uphill only road race up the notorious ' Park Rash ' ( then you have to run or walk the 2.5 miles back after !) Then Saturday you're given grid references for 10 x checkpoints and its a tough 13 x mile Cat A fell race. By Sunday the legs are like jelly and to make you feel worse you're shoved in with The cream of the crop of the nations U16 and U18 fell runners with fresh legs doing their championship race which is a 4.5 mile Cat A race. Great fun and a good challenge. Quite a few harriers there in the seperate races. Steve Turland was overall 5th Male, I was overall 2nd lady and Alison Weston was overall 4th lady. Me, Steve and Alison were also 2nd team.
From Alison Weston ... a great weekend of 'hot' running around Kettlewell. Results ...

Friday uphill only race 11.7.14  2.5 miles 950ft
(1. Andy Brown 19.21 Bingley Harriers)
10. Steve Turland 22.30
15. Jann Smith 23.39 3rd Lady 1 LV45
19. Ewan Walsh 24.25
26. Alison Weston 25.27 2LV45
 
Saturday Fell race 12.7.14  12.5 miles 3,000 ft
 (1. Andy brown 1.42hr)
7. Steve Turland 1.48 4th MV40
11. Paul Calderbank 1.50
17. Alison Weston 2.00 2nd L, 1st LV45
19. Dave Tait 2.02 1st MV60
22. Jann Smith 2.04 3rd L
43. Chantel Busby 2.31
 
Sunday fell race 13.7.14 ? 4.5 miles
 (1. Gareth Booth 33.27 Horwich)
20. Steve Turland 37.42
32. Normal Bush 42.16
34. Alison Weston 42.27 4th L 1st LV45
35. Jann Smith 42.31 5th L 2nd LV45
Sarah Haines 46.35 1st LV55
Chloe Haines 50.43 1st FU23

Eccup 10, Sun 13 July
From Petra ... Results ...

(1  0:54:05 Nathaniel Williams, U/A)
49  1:05:32 Gavin Lamb
92  1:08:51 Rob Cunningham
112 1:10:10 Rachel Carter 2nd F35
117 1:10:43 Kate Archer 3rd F35
240 1:18:36 Stephen Rhodes
272 1:20:02 Anthony Swanepoel
284 1:20:49 Chris Cunnningham
365 1:24:50 Christine Cox
558 1:36:33 Petra Bijsterveld
697 finished

European Mountain Running Championships, Sat 12 July
From Sally Malir ... Just a quick note before I leave Gap. Georgia had a fantastic run to become the Junior Women's European Mountain Running Champion. The junior Women's Team also gained a silver medal. The Senior Women's Team gained a silver medal and also the Senior Mens team.
Addingham Gala fell race, Sat 12 July
A fabulous local fell race from Addingham Gala field to the top of Beamsley Beacon and back. Organised by Dan Wilkinson and Ilkley Harriers for the Addingham Gala Committee. Full results and photo links on the Addingham Gala fell race web page

(1 43:41 Simon Pass, Saltaire Striders)
6  46:45 Ben Sheppard
8  47:18 Ian Rowbotham
12 49:26 Jack Wood
13 49:33 Alistair McInnes
16 50:20 Martin Archer
17 50:38 Nick Pearce 1st V60
19 51:33 Rob Cunningham
20 51:48 David Schneider
38 62:18 Hannah Partner 3rd lady
48 72:32 Geoffrey White
50 91:44 Laura Dawes
51 finished


This was a counter in the Ilkley Harriers Race League.
Wasdale Horseshoe, Sat 12 July
From Roy Ruddle ... The Met Office forecast rain for most of the race, but it didn't arrive until the very end. In other words, conditions were glorious, and heat and sunburn the only problems (oh, and the effort involved in this hard race!).

(1  4:09:38 Simon Harding, Macclesfield Harriers)
38 5:20:39 Will Buckton
48 5:29:25 Dick Waddington
50 5:30:01 Jane McCarthy
59 5:44:32 Roy Ruddle
68 5:56:19 Neil Smith
70 6:02:12 Brian Melia
109 ran

Leeds 10k, Sat 12 July

(1   31:45 Nathaniel Williams, U/A)
75   38:47 Dick Waddington
162  41:34 Sally Malir 1st L50
395  45:22 Tom Worboys
1431 48:46 Helen Waddington
716  48:49 Christine Cox 2nd L55
789  49:30 Kevin Lawson
798  49:33 Charlottte Smithson
7138 finished

SLMM, 12/13 July
From Sarah Edwards ... My dad and I headed up to the Lakes for the 36th Saunders Lakeland Mountain Marathon this year having decided to step up a class from Wansfell to Harter Fell for the first time. On Friday evening we registered for the race in beautiful weather in Deepdale and got a bit of a shock when we looked at the estimated straight like distance and height. The average straight line height over the last 3 years for Harter Fell has been around 850 metres per day. This year day 1 was 1750 metres in about a 17.4km distance and day 2 was 1138 metres in a 13.4km distance. Welcome to Helvellyn...! Navigation was generally pretty easy but we did make one bad route choice on day one when we had to get from a mine in Grisedale to a shoulder near Stang End North of Glenridding Beck. We slogged straight up from 225m to the Hole in the Wall at 720m in a kilometre and over the other side. A hasty decision that lost us about 30 minutes as we could have taken the long way round along the Grisedale valley working our way North West on good paths cutting out around 400m of climb. The weather was hot all day with the sun coming and going and lakes really looking at its best. We were 17th overnight having arrived at the finish at the southern tip of Thirlmere in 5 hours 22 minutes. A chat to Amanda at mid-camp revealed she'd taken the sensible route out of Grisedale. We had just got our tent set up and settled down for a rest when the heavens opened and it rained on and off all night. Sunday morning we awoke to low cloud and poor visibility on the tops but it was forecast to improve through the day. Sure enough as we climbed steeply out of the Thirlmere and contoured around Helvellyn at 675 metres the cloud continued to lift. Up and over Whiteside and down back into Glenridding and Grisedale the sun came out and it was another beautiful day. A sneaky steep climb out of Grisedale and back into Deepdale saw us finish day two in 3 hours 48 minutes. We finished 14th overall minus functioning legs to a lovely jacket potato, cumberland sausage and mushy peas. I'm now in serious need of a rest!
... and John Hayes ... Our course had some interesting route choices, in particular on day one where at one stage you could either go in a straight line up and over a huge climb or take an enormous detour down the valley which was about three times longer but which cut out the horror of the climb. We took the latter route which turned out to be much quicker (and less tiring!). Daniel was running his first ever mountain marathon accompanied by his uncle Martyn and to make it a "family race" we entered the same category. Sarah and I were pleased to come 36th overall but we were outclassed by Daniel and Martyn who came in at 5th. I'm not quite sure how they did so brilliantly except - I suppose - that Daniel, at 15, has youth on his side. I hadn't banked on this, assuming that the fable about the tortoise and the hare would work in our favour. It turns out to be a myth (in particular when the young "hare" is full of energy gels which the older "tortoise" kindly handed him before the start thinking his son would need them more...)

Harter Fell Class:
(1 Fiona Bunn & Nigel Bunn 6 hrs 40)
5 Daniel Hayes & Martyn Pegg 8 hrs 33
14 Sarah Edwards  and Dad 9 hrs 11
36 John Hayes & Sarah Hayes 10 hrs 17
44 Edward Ingham & Amanda Newham10 hrs 48
50 Gavin Burgess & Alex Miller 10 hrs 58
(139 started, 106 finished)

parkruns, Sat 12 July
From Petra ... Results ...

Bradford Lister Park
(1  18:29 Luke Jones, Claremont Road Runners)
39  23:02 Joe Reynier (junior)
324 40:08 Abbie Reynier (junior)
362 ran

Harrogate Stray
(1  16:01 Jamil Parapia, Otley AC)
146 26:59 Julie Elmes
254 ran

Skipton Aireville Park
(1  17:33 Lee Athersmith, Bingley Harriers)
10  21:41 Oscar Stapleton (junior)
26  23:50 Lewis Carr (junior)
62  29:14 Dylan Carr (junior)
68  29:51 Alex Millar
99 ran

Bull Hill, Thu 10 July
Dan Wilkinson reports ... I was 11th ...Results ...

(1 33:21 Chris Farrell, Horwich RMI)
11 38:06 Dan Wilkinson
209 finished

Stirton fell race, Wed 9 July
From Jamie Hutchinson ... A beautiful evening for the Stirton fell race a 5.5 mile race starting with an uphill road section before venturing off road and up and over Flasby fell descending into the woods before a climb back over Flasby and a run back toward the road and the finish. A great little race £3 and a bottle of beer! Results ...

(1 38:45 Edward Evans, Craven Energy)
3  40:38 Jamie Hutchinson
14 44:43 Richard Joel
20 45:47 Rob Cunningham
69 ran

Thornes Park, Wakefield 5k, Wed 9 July
Geoff Howard reports ... a glorious evening at a splendid venue with people of all ages taking part in just about every type of athletic and Sports Centre activity (oh, to have such a facility in the Wharfe Valley). The 5k (the second of a series of three) was an out and back to a hilly three lap loop (including a duck pond) reminiscent of Roundhay or Skipton Park Runs. It was well organised and marshalled but the chip timing was a trifle questionable in that, although we all wore chips on our shoe laces, there was only a detector mat at the finish but not the start. Unattached Christopher Price won in 17m 33s and, as there was no v70 category, I managed to be first and only v60 (nice to revisit one's youth) in 21m 26s.
YVAA Grand Prix series, Wed 9 July
From Lynn Donohue ... Race 5 of the series took place on Wednesday 9 July at West Vale near Greetland, Halifax; a warm evening on a testing hilly course which included running down the length of a stream which caught many by surprise on a dry night! Two Harriers running tonight - can recommend this series lovely hot roast beef sandwiches after and a great veggie option all included in the race fee of £5. Results...

(1 34:55 Tanya Seager, Stainland)
22 47:38 Lynn Donohue  2nd vet 50
31 52:47 Amanda Newham
44 ran

Lakeland Trails Marathon, Sun 6 July
From Ben Sheppard ... Turned out nice again in Coniston. Fully marked (phew!), marshalled and supplied with food and drink stations, with a festival atmosphere at the end - live entertainment, catering and sports massage by the lake. For me a dip in the lake with the post race holy trinity of hog roast, ice cream and beer. A great family day, it doesn't exactly attract a stacked filed of fast road runners or fell runners, meaning I could squeeze in the top ten in 3:37. The winning time was 3:05. Highlight of the day was accompanying my three and a half year old daughter in the under 8s mini-race around the finish loop - she was chuffed with her finisher's medal. Results
parkruns, Sat 5 July
No Harriers parkrunning this week.
HDSRL Handicap race, Tue 1 July
A record field for a Harrogate League handicap race. Results and photos

(1  56:18 Bev Davies, Thirsk        1st in handicap
92  29:53 Andrew Grant, Harrogate   Fastest time
8   55:04 Laura Dawes
40  43:36 Jean Sullivan
41  51:07 Donald Macrae
80  40:43 Adrian Weatherley
89  38:21 Stephen Rhodes
102 57:36 David Millson
116 43:18 Helen Waddington
119 47:50 Sue Williamson
136 43:01 Stephanie Fox
171 36:40 Rachel Carter
173 46:32 Louise Airey
174 33:33 Mark Mon-Williams
179 34:46 Dick Waddington
199 finished


---