Latest News and Results ...
Please send any Harriers results to news@ilkleyharriers.org.uk - they'll be forwarded to Paul for this web site and to Alison B for the newspaper report.
Renew now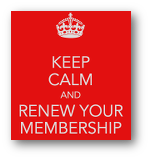 All existing members will have been sent a membership renewal email in w/c 2 Oct 2017. (If you haven't received your email please check your junk email folder first, then if you need to, email the Membership Secretary, Petra Bijsterveld mship@ilkleyharriers.org.uk.)
As last year, there's no need to return the membership form unless any details have changed. And online payment by bank transfer is preferred, please.
Thanks for renewing your membership.
Camp Hill 10k, Sun 22 Oct

(1  39:51 Scott Waardman, Richmond)
128 65:24 Jayne Norman
249 finished

parkruns, Sat 21 Oct
Shaun Lee Johnstone Memorial 10 Mile Multi-Terrain, Sun 15 Oct

(1 57:25 Andrew Grant, Harrogate)
25 73:59 Paul Calderbank
158 finished

Heart of Eden half marathon, Sun 15 Oct
From Jean Sullivan ... This is the 2nd year that this race has been on and I would definitely recommend it if you are after a low key, friendly, hilly road race with beautiful scenery!
It is described as a 'challenging' road race set in the heart of the beautiful Eden Valley, Cumbria and it certainly is, with an undulating course throughout! The race starts in the market town of Appleby-in-Westmorland, and goes through the picturesque villages of Murton, Dufton and Long Marton along the foothills of the northern Pennines. Apparently there are views, on a clear day, of Blencathra and the Lakes but it was very overcast for today's run so I didn't see these sights!
The race was fantastically organised with great support provided by the marshalls. A souvenir mug filled with delicious soup and a bread roll was awarded to each runner at the finish!
Results ...

(1 1:20:18 Jack Eyre, Eden Runners)
56 1:53:32 Jean Sullivan 
115 finishers

The Lakeland Four Passes, Sat 14 Oct
From Steve Turland ... No summits, but this well organised event took in four of the Lakeland Passes with 4,500ft of climbing in its 19 miles. With all the top runners in Wales that weekend I found myself at the front of the field and was actually leading the race at Wasdale. Unfortunately I faded a bit in the second half and finished in 4th place out of a field of a couple of hundred. There is a new event in the calendar next year - the Lakeland Five Passes - about 30 miles and 10,000ft of climb. Looks a great circular route from Grasmere...
WYXC, Sat 14 Oct
From Alison Bennett ... The 2017/18 Cross Country Season kicked off at Wakefield's Thornes Park with the first race in the West Yorkshire League Series. This is a tough discipline for strength and endurance and there was a good turnout of Ilkley Harriers taking part on this unusually warm day. The Ilkley men were led home by Jack Wood whilst Jemina Elgood was the first Ilkley female.
Results ...

Men, 12th team
(1 32:40 Daniel Garbutt, Skyrac)
5  33:15 Jack Wood
33 36:44 Matthew Cox
72 39:41 Tim Ashelford
133 44:21 Stephen Coy
149 45:39 Mark Iley
153 46:02 Robert Budding
154 46:22 Arthur Reilly
193 finished

Ladies, 7th team
(1 20:24 Emma Clayton, Leeds)
6  21:28 Jemima Elgood
27 23:33 Kate Archer
53 25:46 Sally Malir
105 29:45 Diane Kitchen
113 31:06 Gaenor Coy
122 31;47 Hilda Coulsey
136 36:47 Jacqui Weston
141 finished

Helvellyn Lakeland Trails Series, Sat 14 Oct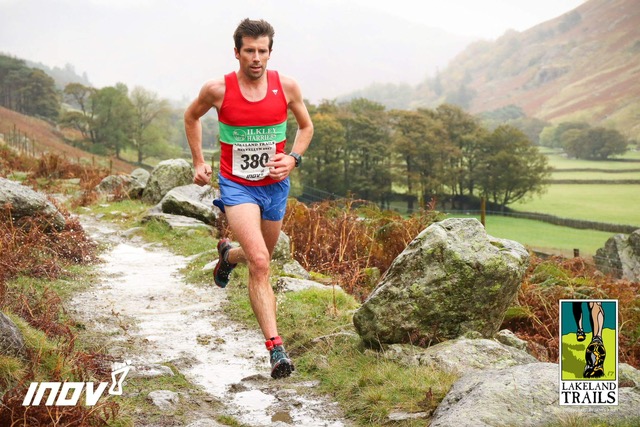 From Jane McCarthy .... Four Harriers travelled to Glenridding on Saturday 14th October for the first race in the 'Dirty Double' finale weekend of the Lakeland Trails Series. These have been super events, three in Spring/Summer and three in Autumn, in beautiful locations and extremely well organised, over flagged trail routes. Typically there are multi-distance options, 5km, 10km or 18km Challenge or Races, depending on the level of competitiveness you are seeking. Running the 15km Race on Saturday was under the foothills of Helvellyn on pretty runnable trails, just a couple of sections of tricky rock to negotiate. Tom Adams cruised to another victory by a substantial margin. Helen Waddington ran a solid race after a nasty recent bout of flu, and I enjoyed seeing Rob Cunningham on the course. I (rather embarrassingly) sprinted past him in the finishing field, although he was clearly saving himself for the finale race on the Sunday where he and Tom both had superb results on a wet weather 'emergency' route.

Helvellyn Trail Results (14/10/17)
1     52:31 Tom Adams  
32  1:07:51 Jane McCarthy 
33  1:07:54 Rob Cunningham 
221 1:31:34 Helen Waddington 
313 finished

Ullswater Trail Results (15/10/17)
1    48:12 Tom Adams
19 1:04:40 Rob Cunningham 
391 finished

parkruns, Sat 14 Oct
From Petra Bijsterveld ... Results ...

Bradford
(1  18:19 Martin Fillingham, Saltaire Striders)
49  23:17 Philip Hirst
412 ran

Cannon Hill, Birmingham
(1  17:28 unknown)
102 23:39 Lucy Jacques
138 24:40 Ethan Thompson
530 ran

Temple Newsam
(1  19:28 Charles Casey, Harrogate Harriers)
22  24:43 Alison Weston
137 ran

Skipton
(1  18:48 Daniel Hale, St Andrews XC)
20  21:41 Derek Oliver
148 ran

Chicago Marathon, Sun 8 Oct
From Andrew Merrick ... A 6 hour delay on my direct flight from Manchester wasn't quite the start I had in mind on my trip to Chicago, having decided to come out of marathon retirement to use my about to expire GFA time to complete my fifth major...
A very well organised event, down to the iconic yellow school buses available on Friday and Saturday to shuttle competitors to the Expo from various central points.
The race itself starts and ends from a large park in the centre of Chicago within walking distance of most city centre hotels. The 7:30am start (picture taken en route) was welcome given that temperatures peaked at about 26 degrees. The start area was also very well organised with all "corrals" carefully marshalled and a large finish area complete with band, beer tents, food stalls and a large massage tent...... a great area to chill and compare notes after the run, which would have been even better if my friends hadn't spent two hours in the medical tent (all fine later that day after a heat induced collapse metres from the finish).
Over 1,000 Brits made the trip - the big 6 seeming to be an increasing popular focus... It didn't take me long to find a few on the start line for a pre race chat and we also managed to catch up to compare notes afterwards (the Union Jack running vest was quite visible!). We had all been thrown early on by our respective running watches not being able to cope with the buildings - I should have remembered that from New York - which is challenging particularly in the first couple of miles when you are trying to settle into your target pace.
Great support pretty much everywhere throughout the run, and drink stations every couple of miles - I didn't find many fans of the particular Gatorade endurance sports drink they had an offer so most of us stuck with water.
So an event to be recommended if you like your big city marathons. If I was doing it again, I would include an American Football game at Soldier Field - a fantastic looking city centre stadium, and remember that the Museum of Modern Art is closed on Mondays. And the architecture tour is to be recommended.
For the record, run completed in 3:17, consistent with the level of training I had done.
Back off road now for me with the contemplation of another final marathon in February 2019 in Tokyo, albeit not an easy one to get into. Oh, and the pizza was great too......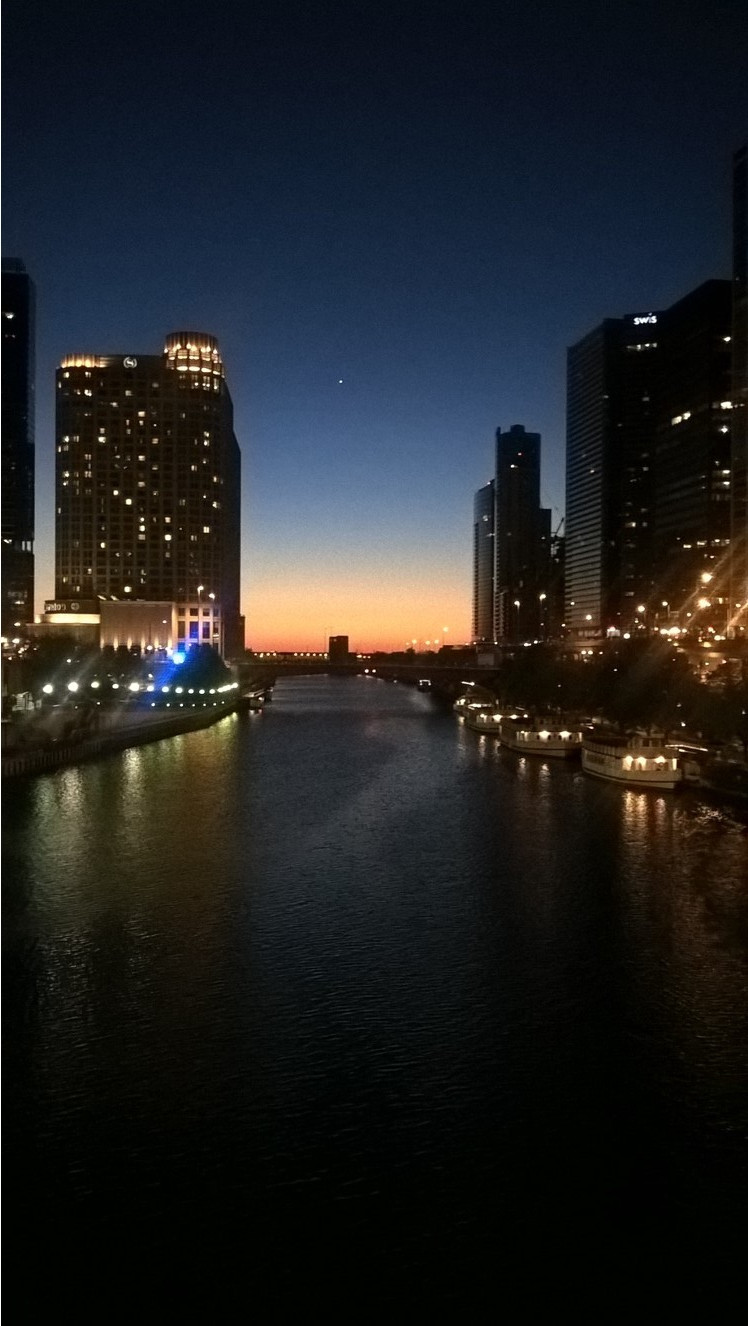 Yorkshire marathon and 10 mile, Sun 8 Oct
From Hilda Coulsey... A great day for running in York, bright but not too warm and not raining. Quite a few Harriers were out, in both the marathon and the 10 mile. There was lots of support on the way which was welcome as I needed it in the last mile, a sneaky little hill - I was thinking of the marathon runners having to tackle it. The times were very good and although I didn't see too many Harriers on the day it was great to see on the results list those of us who have done these sort of races before and many new runners too. Brilliant. The university is a good place to host this sort of event, with lots of toilet and coffee options, and the organisation worked well..
Results: !0 mile, Marathon....

10 mile
(1     50:15 Dominic Shaw, New Marske Harriers Club)
73   1:05:48 Jane McCarthy
1120 1:30:09 Hilda Coulsey
2403 1:44:57 Damaris Bedford
2404 1:44:58 Dawn Turner
2649 1:50:11 Libby Heppenstall
2650 1:50:11 Diane Ollier
3177 finished

Marathon
(1   2:24:13 Ross Houston)
551  3:33:26 Mike Helme	Male
721  3:41:10 Michael Duffield
936  3:46:40 Caroline Howe
937  3:47:48 Jonathan Turner
1899 4:16:55 David Howe
3366 5:11:58 Fiona Schneider
4139 finished

From Caroline Howe ... Near perfect conditions for the Yorkshire Marathon, which seems to be getting more popular each year. It's a relaxed atmosphere at the York Uni campus where the race begins, and the first couple of miles, which include passing the Minster, are really iconic. The first half through villages up to Stamford Bridge is scenic and has great support (including the high-fiving vicar in Stockton-on-the-Forest!) before a bit of a drag to 16 followed by a looooong out-and-back between 16 and 20 miles (luckily i had vocal support crew in that stretch!) In what was my fourth marathon, my aim was to achieve my first sub 4 hours, and happily I beat that, and beat my pb by 15 mins, finishing in 3:46. Running the majority of the way with fellow Harrier Jonathan, who I encountered at around 10 miles, really helped. David Howe, completing his 17th marathon, was among the 6 Harriers who finished the race - well done all!
The 10-miler was a counter in the Ilkley Harriers Race League.
Withins Skyline, Sun 8 Oct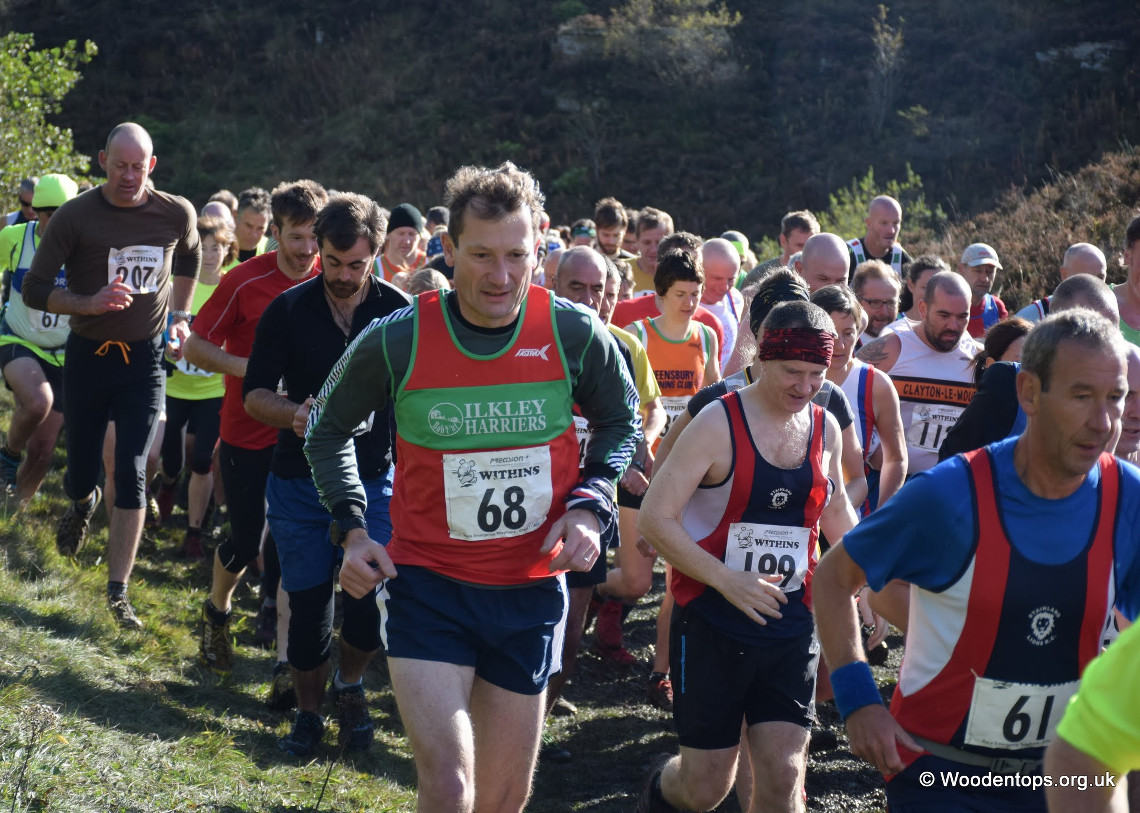 Provisional results on woodentops.org.uk

(1  42:40 Harry Holmes, P&B)
32  50:49 Harry Gott
151 60:42 Robert Budding
165 61:59 Rachel Carter
194 64:02 Mary Gibbons
203 64:47 Sarah Haines
358 finished

Bangor Half Marathon, Sun 8 Oct
From Sue Williamson ... Last year Lucy took part in the 10k race, this year she decided to compete in the half marathon. Conditions were ideal,cool and dry with views of Snowdonia, the coast and Anglesey. Lucy had a great race until she was overtaken coming back into the city centre she had no more power in her legs go to any faster, but came an impressive second female. The overall race winner was fellow student from Bangor university.

(1 1:25:01 Robert Fox, Bangor university
   1:33:35 Emma Bailey, Barlick Fell Runners)
17 1:33:51 Lucy Williamson
267 competitors in the half marathon

Royal Parks Half Marathon, Sun 8 Oct
From Paul Sugden... I completed this in 2:03:52 finishin 7701 out of 16455
Kielder 10K and HM, 7/8 Oct
From Petra Bijsterveld ... This was my third visit in as many years to Kielder. Having run the full marathon in 2015 and 2016 I fancied a change. I remember getting half way last year and thinking I would be able to enjoy the scenery quite a lot more if I could stop after 13 miles! So I made 2017 a weekend of 2 halves, with the 10K on Saturday afternoon and the Half Marathon on Sunday morning. This seemed a suitable game plan in the context of marathon training, and I am pleased to report it all went more or less as I intended. The only minor snag was that I started too far back in the line-up for the 10K, which I intended to race to the best of my ability. Having been cheered over the startline by Steve Cram and Aly Dixon I spent the first mile and a half struggling to get past people on what is not too wide a track. Most of the total elevation gain of 420 feet is in the first mile but I was so preoccupied with making forward progress without elbowing fellow runners out of the way that I did not really notice it, which was an unexpected bonus. I managed to pace the following 5 miles evenly and was pleased with my time of 55 minutes, I could not have given it any more and my legs were almost buckling beneath me by the time I reached the finish. After a night's rest I was back for the HM which was going to be a long slow run wearing a race number. Initially my legs were complaining about not having had much rest and I had to remind them that this was precisely why we were there, 'running on tired legs' and all that. They got the idea after about 4 miles and got into the groove. I mostly managed to enjoy the run, feeling quite relaxed, stopping here and there to take photos, and I still had enough left for a faster last mile and a sprint towards that same finish line as the day before. I went straight to the sports massage, new for 2017 was that rather than sit and wait on chairs they had mats and foam rollers in the marquee so you could foam roll your own legs whilst waiting your turn for the massage. Having had my calf muscles expertly treated I was just in time to see the winner of the marathon, Russell Maddams of Keswick, come over the line in 2:46.
I think I was possibly the only Harrier there. As I have said in previous years, I can wholeheartedly recommend these very friendly and well-organized races to all. Medals, t-shirts and goody bags are always of the highest quality (and I got double of everything this time!) I am sure I will be at Kielder again in 2018.
Results: 10k, HM ...

10K
(1  33:55 Marc Fenwick, Tyne Bridge Harriers)
275 55:09 Petra Bijsterveld
875 ran

HM
(1  1:20:27 Benedict Moore, Gosforth Harriers)
607 2:18:57 Petra Bijsterveld
894 ran

Langdale Horseshoe, Sat 7 Oct
From Ben Sheppard ... There were a few friendly Harrier faces at the start line. A bumper crop of 500 had pre-entered. Not sure how many started, but there were around 345 finishers. One if the casualties was our own Dan Wilkinson, who it would seem has been riding his bike so much he's forgotten how to stay upright when running. In fairness, the wet rocks were treacherous throughout, and in particular on the technical traverse under Esk Pike, where Dan took a tumble and dislocated his shoulder. Thankfully he was able to get himself safely off the mountain and down the tourist path to safety with the help of a fellow runner. Jack Wood ran around the top 5 until the final long descent off Pike of Blisco when a footwear malfunction provided a convenient excuse for dropping a few places. I managed to follow runners who knew the right way, even taking a sneaky detour around the notorious Bad Step, and finished almost 15 minutes slower then my course best. Solid runs also from Duncan Cooper, Dick Waddington, Kate Archer, Paul Carman and Jann Smith.
Results ...

(1  2:13:14 Carl Bell, Keswick)
10  2:22:51 Jack Wood
69  2:50:04 Ben Sheppard
106 3:03:59 Paul Carman
146 3:19:42 Dock Waddington
203 3:34:32 Duncan Cooper
224 3:37:50 Kate Archer
249 3:42:30 Jann Smith
346 finished

parkruns, Sat 7 Oct
From Petra Bijsterveld ... Results ...

Bradford
(1  17:51 Will Kerr, Saltaire Striders)
4   18:59 Will Wood
18  20:56 Rhys Jones
408 ran

Harrogate
(1  15:14 Paul Pollock, Abbey Runners)
53  22:19 Geoff Howard
435 ran

Skipton
(1  17:15 Jake Ridding U/A)
16  22:01 Adrian Bastow
51  25:20 Chris Cunningham
156 ran

Fountains Abbey
(1  17:36 Reece Dalton, Ripon Runners)
46  22:39 Norman Bush
328 ran

Stretford
(1  15:32 unknown)
9   18:31 Rob Cunningham
433 ran

Blackpool
(1  16:06 Joseph Monk, Blackpool Harriers)
91  27:46 Karen Lambe
183 ran

Isle of Arran races, 6/7 Oct
Goat Fell Vertical Race, Friday 6th October / Ultra Trail Races, Sat 7th Oct
>
From Ewan Welsh ...
Travelled up to the Isle of Arran on the weekend to take part in the inaugural Ultra Trail Scotland events. The events consisted of a 74k or a 25K race on the Saturday with the option of the GoatFell Vertical race (to the top of Goat Fell) on the Friday.
Cometh Friday, at 3.30pm, a small elite band of troubadours gathered at the bottom of Goat Fell (or next to an eating establishment called the Wine Port, if that inspires you), for the Vertical race. A straight up route consisting of 6.5K and 875m+ of rock, that's granite rock, the sticky kind!
It equates to 4miles and 2870ft for the traditionalists that manage to set their Garmins to imperial, I'm still a map and compass man myself, I have a little special customised laminated map of that area of Arran that I hold dear to me heart like an old familiar friend where we don't have to communicate to know, it just is!
As there were only 7 entrants to this unique event I knew at least a Top Ten place was possible , quite a unique position for a runner of my ability. We all got to know each other on first name terms, via a degree of translation, as we had 3 Spaniards in our midst. We started off with staggered starts at 2 mins intervals, I was 3rd off scratch, this reminded me of old fashioned club handicaps that were in vogue in the 80's. My tactic was to go off as hard as I could to try and catch the person in front, until someone passed me, then try and hang in, suffer for it, until someone else passed me, hang in, suffer for it, then consolidate myself for the really steep part at the end, funnily enough that's exactly what happened.
I finished 3rd in 52mins (or half way up the field if you prefer proportional representation to first past the post) , first was a young Irish lad from Shettleson Harriers (he's a top hill runner) , he ran it in 36 mins if I recall correctly.
Main enjoyment came from my attempts to explain the history of Walsh Fell shoes to the Spanish collective (they thought I was going for a trendy retro look !) whilst we all gathered at the top of the mountain in the mist and the other Shettleston Harrier (who was the 2nd placed finisher), taking the time to also illustrate what the view would be on a clear day!
Now , the main events on the Saturday, due to weather conditions both races on the Saturday had to be cancelled, the Ultra Race was stopped an hour into the event. Mainly due to the adverse conditions across the top and specifically the narrow ridges, mainly the high winds with low visibility. A tough decision for the organisers, who had put a great deal of effort into the weekend, this included entertaining a visiting Spanish contingent.
However, indulge me for a moment while I make a point in support of organisers everywhere. The cancellation was completely the correct decision given runners safety was paramount, irrespective of the fact the course was flagged, conditions were such that there was far too great a risk. I meandered up to the top later in the day when the weather improved slightly, the conditions were ok, until you ventured onto the ridges then there was a dramatic downturn on those conditions.
I've been up there more times than I can recall over the years and have to say it was one of the worst conditions I had experienced, was manageable in parts if you are just out a run and are mindful enough to make rational decisions at the correct point it time, in a race situation that's not always the case, so it was absolutely the correct decision and made me appreciate the organisers even more, who worked had worked very closely with the Mountain Rescue Team throughout the pre-race organisation and the weekend. Given the effort to get the weekend off the ground it was admirable they kept an objective viewpoint on the day and made the decision. Plans are afoot for next year, I'll be aiming to return in support of this event (as it will be sunny next year) and I still had a great weekend stoating about some hills/mountains/ridges/cafes/ferries.
New Chair
Geoff Howard has agreed to chair the Harriers for this year 2017 / 2018. The committee are delighted and look forward to continuing the development of our club.
Ilkley Harriers of the Month, September
Harrier of the month nominations: Geoff Howard for park run times and Leeds Golden Mile; Brian Melia Ultra Tour Monta Rosa; Iain Gibbons for 4th at Burnsall Fell and 7th at Embsay fell; Ewan Walsh for Incline time; Jo Foster 1st LV45 Scafell Pike fell
The winner is Brian Melia.
Volunteer of the month: Helen and Dick Waddington for organising the Incline; David Ibbotson, whilst recovering, for leading the Tuesday and often Saturday groups; Gavin Lamb for auditing the accounts at short notice
The winner is David Ibbotson.
More Harriers of the Month ...
Rombalds Romp, Sun 1 Oct
From Dan Wilkinson ... 5 Harriers completed the fell vs trail race on the moor at the weekend. Considerably more boggy than the last time I ran it; thigh deep bogs in places and huge puddles of gloopy mud in the now deforested section made things interesting.
Results ...

(1 52:57 Callum Hanson, P&B)
4  54:51 Dan Wilkinson
12 57:47 Gavin Lamb
13 59:03 Steve Turland
63 82:20 Claire McLoughlin
64 82:21 Mike Baldwin
78 finished

Knaresborough Crag Rat Run, Sun 1 Oct
From Caroline Howe ... As a "crag rat" myself (a person who hails from Knaresborough) I couldn't pass up the opportunity for a run round my home town, in what was the second year of this race. Half the route on tarmac, half off road, all the pre-race chat was dominated by footwear choice. Trail shoes were definitely the order of the day with some very muddy trails following plenty of rain. A scenic, gently undulating course on varied terrain, starting at the cricket club and taking us down the crag, through woodland, along the river and finally a short steep climb back up the crag, with 2 laps of a soggy cricket field thrown in, this was a thoroughly enjoyable not-quite-5 miles. Nothing fancy like chip timing, but for a bargainous £6 entry you got a fab, friendly, well organised race with a medal, box of Yorkshire tea and Lion Bar at the end, plus some amazing cakes! Highly recommended!

(1 28:25 David Smithers, York Knavesmire) 
91 42:29 Caroline Howe 
188 finished

Hodgson Brothers fell relays, Sat 30 Sep

(1 2:39:50 keswick AC)
13 3:03:03 Ilkley men 
42:21 Euan Brennan,  Matt Cox 14th on leg
46:21 Jack Wood, Tom Adams 2nd on leg
50:30 Dave Wilby, Jack Cummings 12th on leg 
43:51 Paul Carman, Martin Archer 21st on leg

62 4:08:27 Ilkley ladies
56:32 Sarah Edwards, Mary Gibbons
70:09 Jann Smith, Jo Foster
70:26 Alison Weston, Outi Kanarainen
51:20 Jane Mcarthy, Kate Archer

69 teams

Thieveley Pike fell race, Sat 30 Sep
From Steve Turland ... results ...

(1 36:33 Andrew Worster, Todmorden)
7  39:25 Steve Turland
139 finished

Evensplits 5k Series Race 4, Wed 27 Sep
From Sally Armitage ... Results ...

(1 16:11 John Hobbs, Valley Striders)
53 20:13 Sally Armitage 
55 20:22 Robert Budding 
67 21:12 Sally Malir 
96 23:36 Harry Sime 
128 ran

Yorkshire Fells Championship, Great Whernside, Sat 23 Sep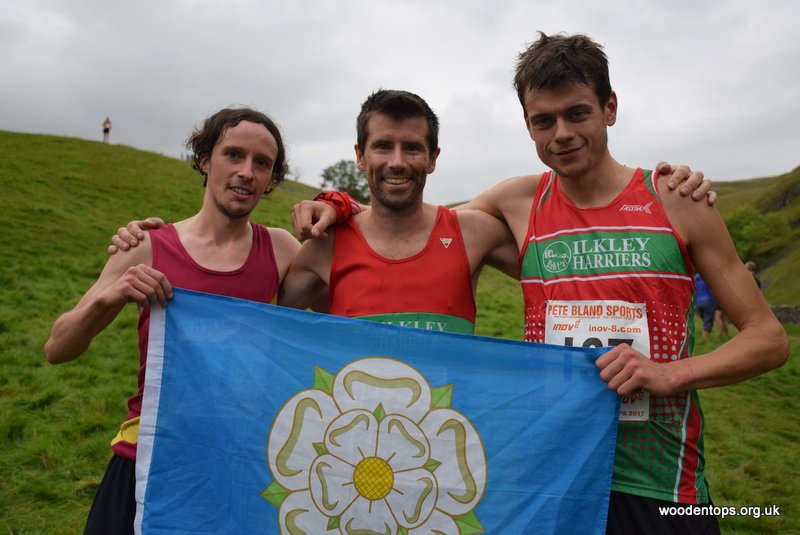 Well done to Tom Adams, Champion, and Jack Wood second Yorkshireman.
Results ...

(1 29:25 Sam Tosh, Rossendale)
4  30:02 Tom Adams
7  30:18 Jack Wood
92 37:55 Steve Tirland
244 finished

Leeds Golden Mile, Sat 23 Sep
From Geoff Howard ... Three Harriers took part in the Leeds Golden Mile event on Saturday. The annual event is a series of timed mile runs round the track at Leeds Beckett University at 15 minute intervals. We ran in separate runs (referred to as heats and each having about a dozen runners of mixed ages and expected times) and our times were: Sally Armitage 6m 11.5s, Geoff Howard 6m 29.4s and Petra Bijsterveld 7m 22.2s.
GB & NI Fell Champs, Peebles, Sun 17 Sep
From Julie Brennan ... Euan Brennan came 3rd in the U!7 Boys race, with the England team taking a clean sweep of the medals to also win the team gold. In the U20 women's race the Ilkley girls also put in a good performance, Lucy Haines finishing 9th & Jemima Elwood 11th.
Embsay fell race, Sun 17 Sep

1  19:04 Jack Wood
3  20:43 Jack Cummings
7  21:46 Iain Gibbons
30 26:03 Duncan Cooper
79 finished

Ilkley Aquathlon, Sat 16 Sep
212 competitiors enjoyed our event, co-hosted with Ilkley Swimming Club. Thanks to the many helpers.
Results.
Scafell Pike Fell Race, Sat 16 Sep
From Jo Foster ... Three Harriers raced this 4.5 mile, 2999ft (7.2km, 914 m) fell race up and down England's highest mountain from Wasdale. The weather did us proud and the sun even came out. Jim Ryder ran well for 13th place overall and 1st V50. Congratulations to Robin Nicholson for completing all three peaks' fell races - Snowdon, Ben Nevis and Scafell Pike - in the same year. Jo Foster was annoyed to be overhauled on the final descent and came in as 4th lady, 1st V45. Highlight of the day was shaking hands with legendary Joss Naylor at the prize giving.
From Alison Weston ... Jo and Jim were also 2nd fastest couple in the Scafell race and received 2nd 'Jack and Jill' prize!

(1 58:05 Simon Booth, Borrowdale)     
13 67:34 Jim Ryder 1st V50
34 75:18 Robin Nicholson                     
54 81:40 Jo Foster  1st LV45

Salomon Ring of Steall, Sat 16 Sep
From Jamie Hutchinson ... A tough mountain race 29km and 2500m covering a version of the classic Ring of Steall. Damp conditions underfoot made for a boggy ascent from Kinlochleven and tricky conditions traversing the Devils Ridge. I paced it well making sure I have something left for the ascent back over from Glen Nevis. More exposed running and scrambling before the long, and boggy, descent back into Kinlochleven. I crossed the finish line in 5 hours 44 minutes and was pretty shattered ! The race was won in 3 hours 24 minutes by Stian Angermund-Vik and 440 finished this most spectacular and challenging course - not for the faint hearted!
Three Shires Fell Race, Sat 16 Sep
From Dave Wilby ... Lovely weather for this Lakeland Classic which takes in the summits of Wetherlam, Swirl How, Pike O'Blisco & Lingmoor. A good number of Harriers made the trip, and Alison Weston showed us all how it's done by taking home the FV50 prize and comfortably going under 3hrs.

(1  2:01:55 Jonny Malley, Ambleside)
12  2:17:44 Dave Wilby
36  2:29:47 Paul Carman
67  2:43:03 Dave Robson
87  2:53:03 Kate Archer
95  2:55:15 Alison Weston
105 3:02:11 Michael Duffield
127 3:13:51 Jann Smith
133 3:19:36 Mary Gibbons

parkruns, Sat 16 Sep
From Petra Bijsterveld ... Results ...

Stewart (Middlesbrough)
(1  18:57 Oliver Williams, U/A)
23  22:19 Caroline Howe
201 ran

Skipton
(1  17:34 Jake Ridding, U/A)
13  21:19 Jonathan Turner
63  25:29 Chris Cunningham
168 ran

Horton
(1  20:04 Ian Gostling, Kent AC)
6   22:13 Geoff Howard
67 ran

Stretford
(1  17:23 Stephen Watmough, Warrington AC)
9   18:27 Rob Cunningham
494 ran

Harriers League update
From Jane McCarthy... It has been a BUSY Summer of racing, with 7 races in the Harriers League since the last update in June. There are now 6 races left in the League Calendar, so time to start thinking about choosing a wildcard race if you haven't already - this is a great opportunity to boost your points. Remember you can choose any race where the result can be verified, and send to janemccarthy@me.com within two weeks of competing.
After a total of 18 races, top of the Overall League is Dave Robson, with 10 qualifying races done, and 872 points scored. Dave may still improve his overall score as it is taken from a runner's best 3 races in each category.
Alison Weston is currently second in the Overall League, with 773 points from 9 races, Alison just needs a wildcard race to score from the maximum of 10 races. In third place, also with 9 races counting is 2015 League winner Michael Duffield. Hilda Coulsey is looking in a strong position with 8 races and 685 points. So too are Tom Adams in 5th place with 605 points from 6 races - managing 6 wins out of 6, and scoring more than 100 points in his most recent League race win - Addingham Gala - due to entering (incredibly) his first Vet Category (V35). Next are Jane McCarthy and Jack Cummings neck and neck having both scored from 6 races and strong average points of 96 points per race.
In the individual leagues, Jack Cummings looks set to win the Fell Category with an excellent 380 points from a maximum of 4 races, helped by his first senior race win at Buckden Pike. Adela Reperecki once again leads the Trail section with 342 points (narrowly ahead of Dave Robson and Michael Duffield). Hilda Coulsey is in a familiar lead position on Road (350 points), although Alison Weston is not far behind with 346 points.
Enjoy the final races of the year - Yorkshire 10 mile, Guy Fawkes 10, Full Tour of Pendle, Burley Moor Run, PECO and The Stoop!
There will be a discussion opened on the Harriers Forum to think about new races for 2018, so please make your contribution there if you have ideas of races that you would like to see included in the 2018 Harriers Race League. Happy Racing!
2017 League results after 18 races
League Calendar
Great North Run, Sun 10 Sep

(1    1:00:06 Mo Farah)
3649  1:42:49 George Fisher
3932  1:43:37 Cariline Howe
4530  1:45:09 David Howe
9005  1:54:32 Charlotte Smithson
11317 1:58:18 Emma Curran
14053 2:02:39 Chris Cunningham
19096 2:11:03 Alex Hyde
23198 2:18:21 Barbara Bullock

Burnsall fell race, Sun 10 Sep

(1 15:03 ted Mason, Wharfedale)
4  16:23 Iain Gibbons
13 18:03 Steve Turland
61 finished

Yorkshireman, Half, Sun 10 Sep

(1  1;40:06 Christopher Holdsworth, CleM)
136 2:46:24 Claire Mcloughlin
152 2:51:47 Sarah Hayes
166 2:58:30 Rachel Griffin
226 finished

Lake District Mountain Trial, Sun 10 Sep

Short course
(1 2:51:17 James Titmuss)
3  3:34:49 Lucy Haines
5  3:40:46 Peter Haines
9  3:56:56 Sarah Haines
47 finished

parkruns, Sat 9 Sep
From Petra Bijsterveld ... Results ...

Bradford
(1  17:10 Will Kerr, Saltaire Striders)
28  21:18 Sally Malir 1st F
336 ran

Skipton
(1  16:42 unknown)
23  22:40 Geoff Howard
144 ran

Stretford
(1  15:42 Chris Greenwood, U/A)
13  18:32 Rob Cunningham
404 ran

Ilkley Harriers of the Month, August
Harrier of the month nominations: Alison Weston for the Burnsall double (including 3rd lady on the fell) and Borrowdale; Tom Adams for 10k pb at Blackpool Illuminations; Norman Bush for his 6 fell races this month, all good results
The winner is Norman Bush.
Volunteer of the month: Petra Bijsterveld for conscientiously collating the park run results weekly.
More Harriers of the Month ...
Ultra Tour Monta Rosa, Thu 7 Sep
From Brian Melia ... I have wanted to run The Monta Rosa as a 170km 12000M D+ race for three years now. Lizzy Hawker the Multiple UTMB winner was Race director and eventually put a route together as an event. It began at 4 pm on Thursday 7th September.
Starting in Grachen (Switzerland)- There was a steep climb up over some big monster mountains and over the new 494m suspension bridge which opened recently....it mentioned not to run over it, but was still very bouncy.... then to Europahutte, then an easy long trail path into Zermatt. From there it all changed and became very difficult. I struggled up over the glacier then round to Lago Cime Bianchi surrounded by a moonscape in Italy. From there it was a magical descent through grassy valleys and steep drops to Refugio Ferraro. I ran most of the way with a couple of well-known trail runners Jason Poole and Denise Zimmermann. We picked up another runner and followed instructions up and over the Col Bettaforca; unfortunately the route had been changed. We contacted Lizzy on the mountainside and she agreed we had gone further and higher and were not advantaged, so we carried on. We had lost probably an hour and were getting a little cold by this time. We arrived in Gressony about 20 minutes ahead of a fellow British runner -Nicky Spinks. We climbed through the night to a beautiful Cafe at the top of Passo Dei Salati at 2900M. It began to snow so I was pleased to have some soup before getting frozen on the descent to Alagna. There I sat with a very ill Nicky who needed a cup of tea and a bed to warm up. She dropped which was the sensible thing to do. Her friend Jean Brown turned up just as we were leaving. With the continual change of gear to cope with the weather Jean joined my self and Jason for the huge 3 hour climb up to Col du Torlo 2701M. We then descended well to Macugnaga. Fortunately, there was an excellent aid station that served fresh pasta and coffee. It did the trick and we left to do the last big climb over Monte Moro 2853M. We visited the Madonna statue then a beautiful descent over slabs of rock, fortunately dry, to run alongside the dam above Saas Fee. We then ran on to start the brilliant last section from Saas Fee to Grachen...21 km. Completely unbelievable balcony path with scary drops. I ran well for the final 50km and nearly caught second lady. I missed out on 1st V50 by a little way. I was a little disappointed, but overall I have to be pleased, as it was really tough race. People were dropping all the way round. I finished 11th man and 13th overall.
It is a completely different experience to the Mt Blanc series of races, It is in its infancy, but should, with Lizzy's drive,end up as a world class event. It is a much more personal journey than I was expecting, but overall I was pleased to have entered and finished.
Results for the Incline, Wed 6 Sep
From Helen Waddington... A huge thank you to all the helpers and runners who took part in this year's Incline. It was a lovely evening for the race and the atmosphere was great with lots of familiar faces and a high quality field - at least 5 international runners?! Happy to be corrected if there were more! So great to see so many Harriers and as usual sweeping up many of the prizes. We would like to thank Neil Chapman for numerous and important duties - before, during and after the race! Val Kerr, Jann Smith and Sarah Hayes (and kids) helping man the registration which is always fraught, John Hayes and Alison Weston for packing up, Julie Melechi who always holds the traffic for us on the road, Sarah for sweeping (again!) Rob King and Andrew McCarthy who get the results down in double quick time on their MTBs, Val again for marshalling and last but not least Jane McCarthy for finalising the results which requires brain power I don't possess. Gosh I hope I haven't forgotten anybody! It is truly a team effort and makes our lives so much easier on the night so THANK YOU all and congratulations to all the runners for taking part!
Results

(1  7:12 James Hall, Wharfedale)
2   7:13 Tom Adams
3   7:29 Jack Wood
4   7:31 Robert Little
5   8:00 Jack Cummings
7   8:16 Matthew Cox
10  8:36 Daniel Hayes
13  8:57 Paul Carman
16  9:23 Dave Robson
18  9:27 Jemima Elgood 1st lady
21  9:49 Ewan Walsh
23 10:05 Lucy Haines
24 10:06 Michael Duffield
25 10:17 Duncan Cooper
27 10:19 John Hayes
28 10:24 Ian Russell
29 10:25 Laura King
34 11:00 Helen Thurston
36 11:07 Jann Smith
37 11:08 David Howe
39 11:25 Mary Gibbons
42 11:37 Alison Weston
43 11:38 Geoff White
48 12:33 Caroline Howe
49 12:36 Petra Bijsterveld
56 13:34 Hilda Coulsey
58 14:17 Peter Lewis
62 finished

Also, a record number of teams in the junior relays that precede the Incline, more on the junior pages.
Wetherby 10k, Sun 3 Sep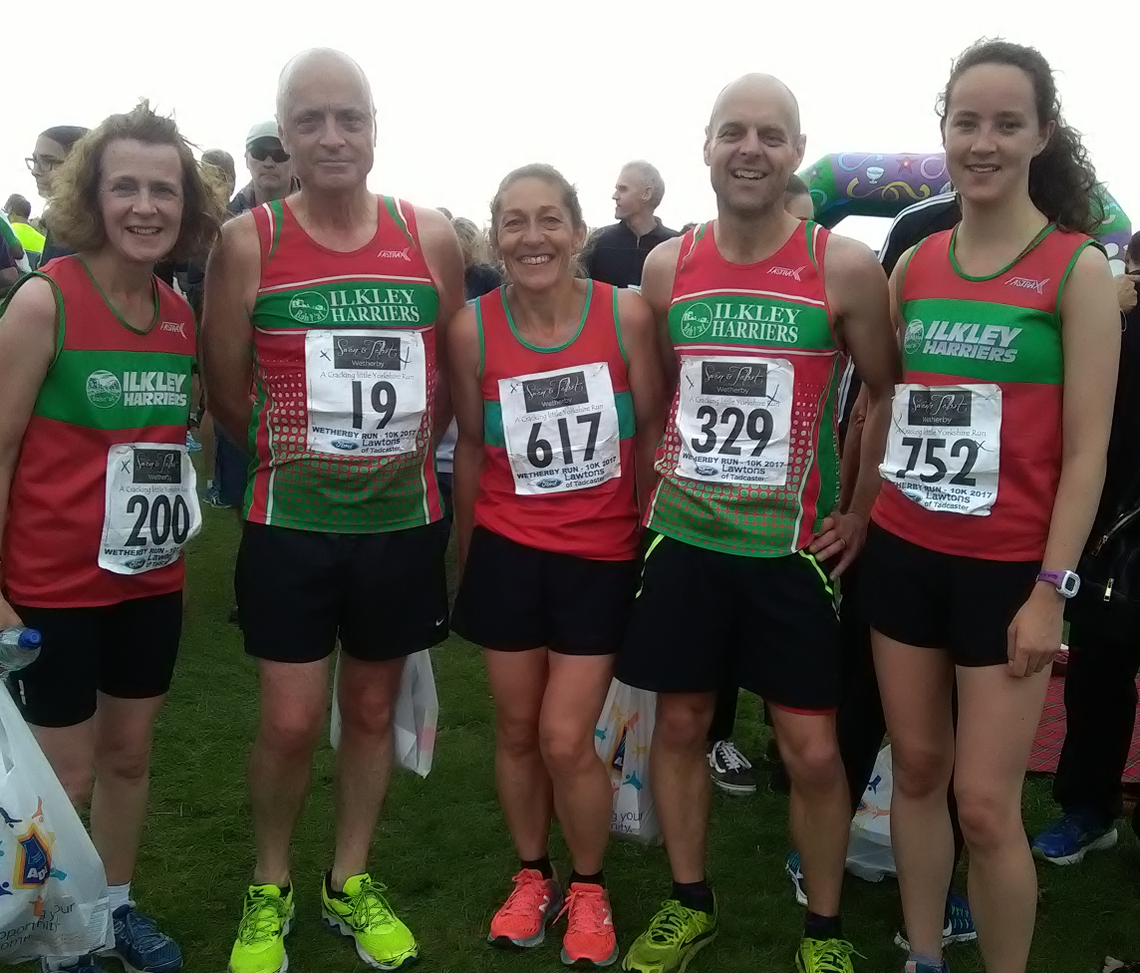 From Alison Weston ... another league event and very well organised. A mixture of road and track with the highest point on a bridge over the A1(M)! Lucy was first harrier home in 67th position and a great time of 41:09 followed by Dave Robson in 84th. Helen ran a strong race, her first race at 10K for a long time. Philip, Alison and Jean finished quite close together followed by Emma and Sally.
Results ...

(1  32:39 Rob Scott, RZH)
67  41:06 Lucy Williamson
84  41:21 Dave Robson
134 44:49 Helen Thurston 44:54
204 47:24 Philip Hirst
215 48:22 Alison Weston
237 49:10 Jean Sullivan 
469 55:16 Emma Curran
699 62:51 Sally Armitage
911 finished

Bradley fell race, Sun 3 Sep

(1 23:34 James Hall, Wharfedale)
39 34:18 Mary Gibbons
67 42:07 Deborah Varney
75 finished
Bernadette Raven was 1st U17 girl in 25:46 in the same race

Ben Nevis Fell Race, Sat 2 Sep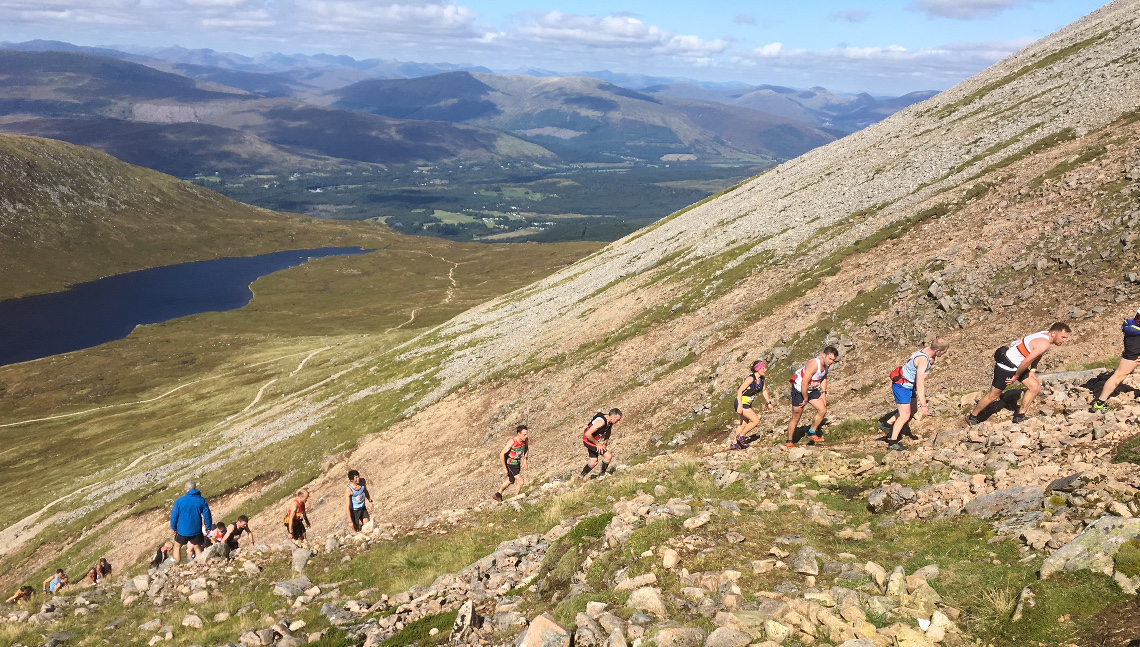 From Jim Ryder... Four Ilkley Harriers gathered in a field near Fort William to be set up the hill by a band of bagpipers. All completed the race successfully on a beautiful and clear day with views from the summit.
Race was won by Finlay Wild for seventh year in a row
Results ...

(1  1L31:37 Finlay Wild, Lochaber)
118 2:10:07 Jim Ryder
270 2:33:33 Robin Nicholson 
307 2:38:48 Michael Lomas 
487 3:40:26 Martyn Stocker
489 finished

Grisedale Horseshoe, Sat 2 Sep

(1  1:55:26 Ted Ferguson, Borrowdale)
25  2:17:08 Steve Turland
37  2:24:56 Lucy Haines
54  2:42:36 Peter Haines
69  2:51:30 Jamie Hutchinson
108 3:15:08 Sarah Haines
140 finished

Derwentwater Lakeland Trails 15k Race - Keswick, Sat 2 Sep
From Helen Waddington... The route for the fifth race in this series has had to be altered from its original course following the bad floods of 2015. Instead of a nice flat warm up along the old railway for a couple of miles, there is now a steepish start on roads giving way to gradually ascending tracks through Brundholme Woods. This had added an extra 200-300 feet of climbing since I last ran this race back in 2011. I am putting my slower time down to this (although it didn't seem to have the same effect on Jane McCarthy who was faster!) The route covers the boggy moorland above Glenderaterra Beck and the foothills of Blease Fell before looping back on a more runable gradiant beneath Lonscale Crags and finally a long and rocky trail descends to the finish in Fitz Park, Keswick. Tom Adams won finishing a good 5 minutes clear of the next runner. Another great run by Jane McCarthy 3rd lady and 2nd LV40.
Results:

1     56:42 Tom Adams
22  1:14:49 Jane McCarthy 
109 1:36:37 Helen Waddington

parkruns, Sat 2 Sep
From Petra Bijsterveld ... A first finish for Jack Wood at Skipton this week. However, just pause and take a look at Geoff Howard's result who is running in the V70 category. Jack's age grading is 77%, but Geoff's is a phenomenal 84%! Junior results to be viewed too of course if you click on the link.
Results ...

Rothwell
(1  18:40 Jamie Gibbs, U/A)
16  21:47 Geoff Howard
219 ran

Skipton
1   16:37 Jack Wood
65  27:15 Karen Lambe
91  29:21 Sue Verspyck
148 ran

Kilnsey Show fell race, Tue 29 Aug

(1  8:03 Nick Swinburn, Northumberland)
3   8:15 Jack Wood
27 10:43 Steven Gott
40 11:17 Paul Calderbank
43 11:32 Lucy Haines
53 12:11 Jamie Hutchinson
60 12:25 Richard Joel
68 13:05 Peter Haines
69 13:10 Norman Bush
88 14:26 Mary Gibbons
116 finished

Bernadette Raven won a close-fought FU17 race

Reeth Show fell race, Mon 28 Aug

(1 15:48 Ben Mounsey, Calder Valley)
6  17:52 Iain Gibbons
85 finished

Blackpool Illuminations 10k, Sat 26 Aug
From Petra Bijsterveld ... Tom Adams won this race in a very swift 31:24. 909 finished. Results
Malham show fell race, Sat 26 Aug

1  17:10 Jack Wood
39 25:52 Norman Bush
46 27:25 Alison Eagle
72 finished

Rathlin Island 10 mile, Sat 26 Aug
From Hilda Coulsey... Billed as the most challenging road run in Northern Ireland and having experienced what Yorkshire organisers can dream up I thought bring it on. My challenge was the ferry journey across a pretty treacherous channel, now a dive site with lots of ship wrecks, I'm not good on boats! The issue was that the run was exceptionally "undulating", sharply, with both short and long climbs. The second half was out and back and I was being encouraged much more than usual by those returning in front of me. When the results came out I realised I was the only female over 60 (one man also over 60), and obviously I looked my age, it was mostly good club runners that were taking part. My time definitely reflected the terrain (not the ferry journey, I had picked a calm day) and was 9 mins slower than last week's Burnsall run. Nevertheless I was second FV 50! Worth a go if you are ever anywhere near - a friendly, happy bunch of runners and islanders.
Results ...

(1    57:57 Philip Goss, North Belfast Harriers) a new course record
132 1:41:49 Hilda Coulsey
190 finished

parkruns, Sat 26 Aug
From Petra Bijsterveld ... Results ...

Harrogate
(1  17:23 Andrew Dobby, Harrogate Harriers)
94  23:29 Philip Hirst
210 26:54 Karen Lambe
420 ran

Southwark
(1  17:12 James Tidd, Windsor, Slough, Eton and Hounslow AC)
17  19:36 Rob Cunningham
292 ran

Skipton
(1  17:41 Tom Brewster, Clayton-le-Moors Harriers)
15  20:20 Kate Archer 1st F
180 ran

Keswick
(1  17:08 Sam Stead, Keswick AC)
27  21:32 Helen Thurston 1st F
189 ran

Wetherby
(1  17:54 Tim Street, Holmfirth Harriers)
35  22:22 Geoff Howard
129 ran

Evensplits 5k series race 3, Wed 23 Aug
From Petra Bijsterveld ... A nice sunny but not too warm evening at the Brownlee Centre on Bodington Fields for the third race in this series of six (though I am hoping it will become a permanent monthly fixture....). Nice to meet Sally Armitage who recently joined the club having only taken up running earlier in the year, and who managed to get a shiny new PB. These friendly races are open to juniors and seniors alike and I would recommend this series to anyone who wants to test themselves on the tarmac.
Results ...

(1  15:30 Adrian Holliday, U/A)
70  20:45 Sally Armitage 
95  24:03 Harry Sime
100 24:53 Petra Bijsterveld 
120 ran

Brian Sweet
Sadly, Brian Sweet died on Tuesday 15 August, at home, aged 87. The club has many 'new members' since Brian last ran with us. However, there are many members who will remember Brian with great fondness for his commitment to the club. Brian led Tuesday night groups, and was still doing the Harrogate Race League, well into his 70's.
He was an inspiration to many.
The funeral will take place on Friday 25th August 2.20 pm at Rawdon crematorium.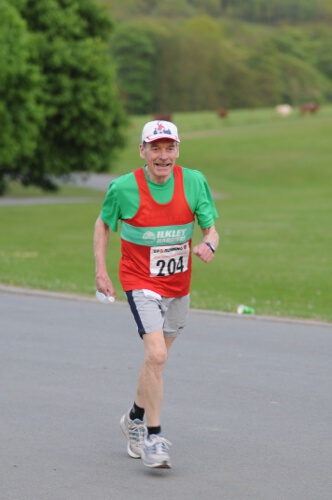 Sedbergh Hills, Sun 20 Aug
From Jamie Hutchinson.... you need to go some to pack as many climbs into a 14mile fell race. Add to this slippery trods for contouring and you have a pretty tough race.
Just a couple of harriers made it to Sedbergh - I just didn't have the legs to stay with Steve Turland as he disappeared out of sight going up Arant Haw. The race was won by Garry Greenhow from Ambleside AC in 2:20:28, with Steve Turland coming in 38th and 2:54:28 and I managed to finish in 3:10:56 and 59th - 169 ran.
Gargrave show fell race, Sat 19 Aug

(1 23:05 James Hall, Wharfedale)
31 32:53 Norman Bush
39 32:25 Alison Eagle
43 37:12 Natalie Curtis
56 finished

Burnsall 10 mile road race, Sat 19 Aug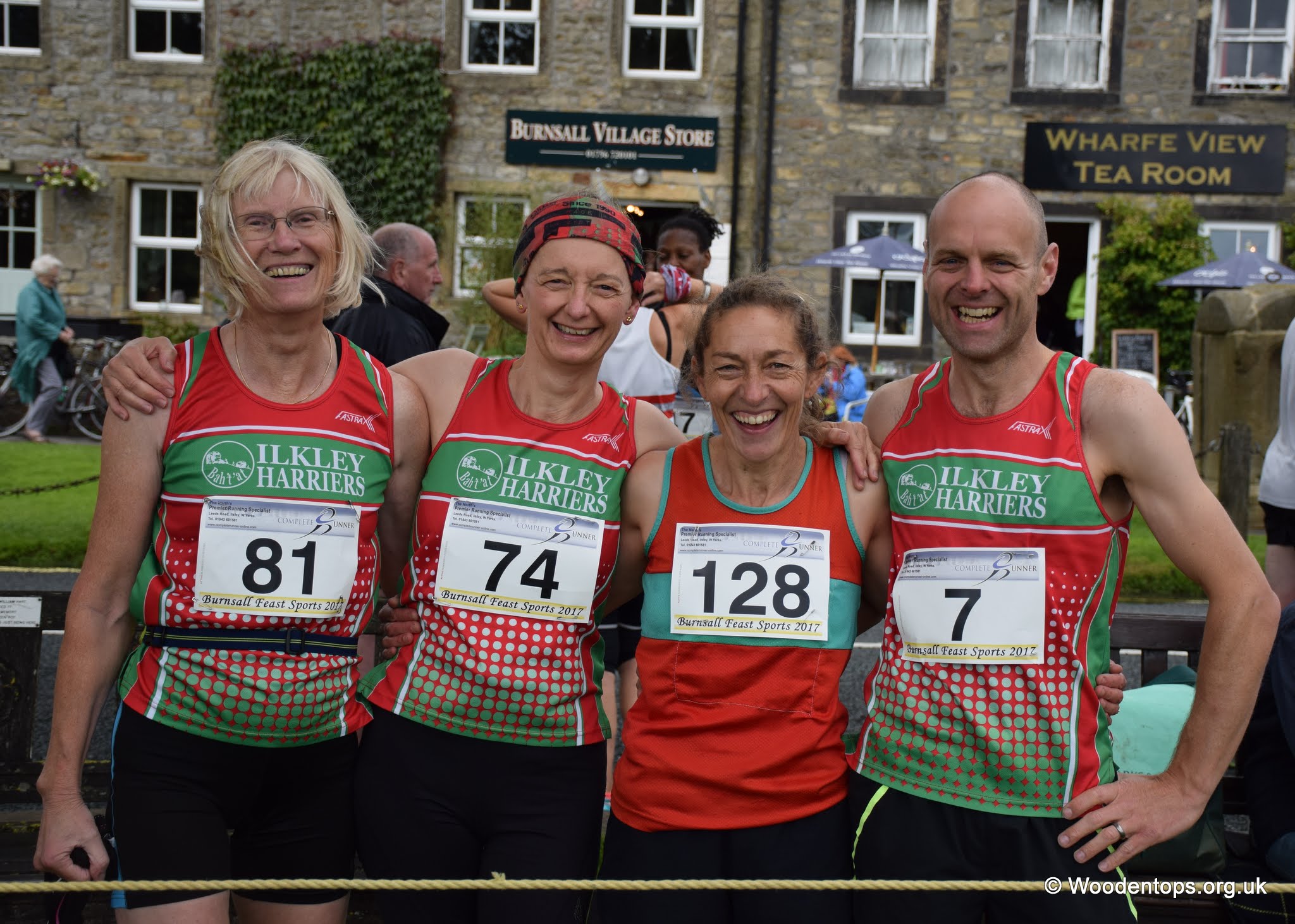 From Petra Bijsterveld ... Burnsall Feast is a traditional Dales village summer gala with fun for all the family, including junior fell races and for the seniors a 10 mile road race and the classic fell race to choose from, or to run both!
The road race is a counter in the Harriers League this year but only four Harriers lined up. Early on in the race we were tested by a stiff breeze and intermittent heavy showers which due to the wind took on a rather horizontal character. The course is undulating with around 800ft of ascent but there is lovely scenery in compensation for the effort required. The back of the field spread out so much that for the second half of the race I found myself completely on my own without anyone in sight either in front or behind. I liked the peace and quiet but it is harder to maintain the tempo. I was pleased to get back to Burnsall and treated myself to the nicest flapjack ever, full of banana and chocolate!
Results ...

(1  57:33 Julian Hood, Skipton)
27  68:49 Dave Robson
78  83:06 Alison Weston
102 92:33 Hilda Coulsey
108 97:02 Petra Bijsterveld
120 finished

Burnsall fell race, Sat 19 Aug
From Petra Bijsterveld ... The classic fell race is 800 ft straight up and down over just 1.6 miles. Alison Weston did the double and managed to come home as 3rd lady having already done the road race, a fantastic result. I very much enjoyed spectating on the bridge from where one can see the entire race, a long line of dots moving up and down the fell.
Results ...

(1 14:28 Sam Tosh, Rossendale)
11 17:09 Ruaridh Mon-Williams
86 24:43 Robert Budding
94 25:37 Alison Weston 3rd lady
129 finished

Pendle Three Peaks fell race, Sat 19 Aug
From Jim Ryder ... There were three Harriers out in what was a really tough 9 miles - very windy, wet underfoot and lots of vertical!
Results ...

(1 1:22:51 Daniel Mills, Barlick)
21 1:40:39 Jim Ryder, 2nd V50
61 2:02:30 Jo Foster 3rd Lady, 1st LV45
93 2:19:12 Adela Reperecki, 1st LV55
115 finishers

parkruns, Sat 19 Aug
From Petra Bijsterveld ... Results ...

Bradford
(1  18:00 Alexander Flaherty, Bingley Harriers)
87  24:12 Sarah Haines
415 ran

Harrogate
(1  17:20 Aidan Adams, Leeds City)
349 36:44 Emma Curran
378 ran

Stretford
(1  16:36 Chris Stanford, Warrington Tri Club)
10  18:28 Rob Cunningham
438 ran

Dalby Forest
(1  17:55 Matthew Middleton, Scarborugh AC)
8   19:57 Jez Hellewell
184 ran

Trelissick
(1  18:39 Tom Phillips, Woodford Green AC)
155 31:52 Sue Verspyck
248 ran

Blackpool Air Show 10k, Sun 13 Aug
From Geoff Howard ... I managed to keep my feet firmly on the ground along the upper and lower levels of Bispham promenade's flat, fast, smooth but rather monotonous 10k course prior to Blackpool flying other types of ancient body along the coast as part of its air show later in the day. Quite a warm day but the temperature was moderated by a a gentle sea breeze which helped me to get within one second of my 2016 annual 10k time at 42m 41s but not enough to be 1st v70 who was a whipper snapper from Bedford, Rob Wells, about half a minute faster. The overall winner was Rob Webb of Rossendale in 33m 11s. As always with events organised by Dave Whewell of Wesham Harriers, it was an enjoyable, well organised, friendly, gimmick free and inexpensive race.
Firefighter's 5 - Birkenshaw, Sat 12 Aug
From Sally Armitage ... results ...

(1  27:01 Jonathan Johnson, Rotherham Harriers)
58  36:32 Sally Armitage
144 42:20 Peter Shields
267 ran

Ennis Track AC Fleadh 5 miles, Sat 12 Aug
From Jean Sullivan ... To celebrate 'Fleadh Cheoil na hEireann', Ireland's national festival of traditional music being held in Ennis, Co. Clare, Ennis AC hosted a 5 mile road race to commemorate the start of the celebrations.
As this coincided with our trip to Ireland Richard and I decided to enter the race (our 1st ever race in Ireland!). A very well organized, but laid back event. This undulating course along Irish country roads was very well marshalled and all finishers received a lovely teeshirt. It attracted a fast field with the 1st runner finishing in just over 25 minutes. I smiled as I approached the finish line as the PA system announced the arrival of Jean Sullivan who had travelled all the way from Yorkshire for the event!
Results ...

(1 25:43 Niall Shanahan, Crecora)
19 33:03 Richard Joel 
54 40:06 Jean Sullivan 
92 finishers

Arncliffe fell race, Sat 12 Aug
Provisional results ...

(1 10:47 Ted Mason, Wharfedale)
24 13:51 Lucy Haines, first lady
54 16:10 Peter Haines
55 16:17 Norman Bush
74 18:17 Peter Lewis
89 finished

Turner Landscape, Sat 12 Aug
From Jamie Hutchinson ... a cracking run from Turner Hall campsite and taking in Grey Friars, Swirl How, Coniston Old Man and White Moss. 12 miles and mostly pretty runnable apart from ascent (slow!) of Grey Friars. Enjoyed the route and lovely descent back into the campsite and flagged although following the flags proved mildly challenging - use of campsite showers a bonus!
The race was won by John Helme from Ambleside in 1 hour 32 - I managed 2 hrs 5 mins and 28th - 80 ran.
parkruns, Sat 12 Aug
From Petra Bijsterveld ... Results ...

Bradford Lister Park
(1  16:53 Jack Thorp, Bingley Harriers)
96  25:08 Anna Nolan
415 ran

Harrogate
(1  16:16 Nike Burrett, Leeds City)
215 28:04 Karen Lambe
369 ran

Trail Race raised over £2000
Our Trail Race in May raised £2,223.07 for its charity, Give A Child A Hope for the champions at The Revival Centre in Uganda. Here's a letter of thanks.
World Long Distance Mountain Running Championships, Sun 6 Aug
Well done to Jack Wood, 51st overall in 3h59:39 and fourth GB team counter.
Round Hill Fell Race, Sun 6 Aug

(1  55:55 Chris Miller, Harrogate)
5   59:52 Ben Sheppard
7   62:35 Michael Lomas
14  65:17 Dave Robson
26  68:59 Michael Duffield
33  70:02 Nick Pearce 1st V60
52  74:00 John Hayes
117 91:56 Bob Hamilton
127 98:53 Amanda Newham
135 finished

York 10k, Sun 6 Aug
From Caroline Howe ... First time doing the York 10k. Well organised as the Run for All events usually are. The course is quite windy with a few sharp corners, and fairly congested, as you'd expect. But a great course as it takes in all of York's main sights - no boring bits! A great atmosphere during the race, and also before and after at the event village. I managed 46:12, a PB by nearly 3 minutes. Only one other Harrier in the 5000+ field.
Results ...

(1   31:41 Liam Rabjohn, RZH)
695  46:12 Caroline Howe 
1791 54:29 Diane Kitchen 
5286 finished

Hellifield Gala fell race, Sat 5 Aug

(1 23;29 John Spill, P&B)
26 35:35 Norman Bush
48 finished

Borrowdale Fell Race, Sat 5 Aug
From Dick Waddington ... Borrowdale Fell Race is one of the classics of the Lakes, taking in Scafell Pike, Great Gable and Dale Head in 27km and 2000m of climbing. The eye watering record is 2.34 by Billy Bland, who was on hand to keep the gate open as we went up the first climb out of the valley to Bessyboot.
There was a good turn out of Harriers and we were split between wearing just a vest or a waterproof at the start - heavy showers kept drifting through the valley. It's a long and wild climb skirting Glaramara; the bogs were well topped up and the rocks were pretty slippy. By Esk Hause the rocks were drying out and skipping over the rocks was a bit easier. Scafell Pike was shrouded in clag and the big group in front of headed off in what I thought was the direction of Lingmell, so I peeled off and found the scree run that I shared with only one other. I didn't see any other runners until Styhead. Great Gable was no less steep than usual, but it soon passes to give way to a very pleasant traverse along the ridge down to Honister. Dale Head and the descent through slate quarry really finished off any good feeling that was left in my legs! I was pleased to get a PB by a few minutes from my last go at this race in 2012.
Well done to everyone who ran, especially Alison Weston, who was 2nd F50.
Results ...

(1  2.50.05 Carl Bell Keswick AC)
94  4.05.31 Paul Carman
137 4.25.29 Dick Waddington
178 4.46.41 Jamie Hutchinson
180 4.47.14 Kate Archer
187 4.53.39 Alison Weston
200 4.59.53 Outi Kamarainen
207 5.05.21 Jann Smith

Glacier 3000, Sat 5 Aug
From Jane McCarthy ... After reading Dave Wilby's write up of this race a few years ago I was excited to be participating myself this year. Saturday morning was glorious, and starting in the stunning Swiss town of Gstaad the atmosphere was relaxed, friendly and the race very well organised. The uphill only route covers 26km and 2000m of climbing, starting with a more gentle 15km of trail and tarmac followed by 11km of gruelling uphill climbing to finish on the Glacier at 3000m. This race has the most incredible scenery from start to finish and superb support and refreshments along the route. Hoping to do it again. There is a marathon option also.

(1        2h32:49 Shaban Mustafa)	
22nd lady 3h42:01 Jane McCarthy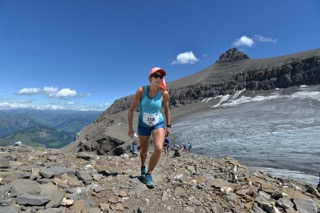 parkruns, Sat 5 Aug
From Petra Bijsterveld ... Results ...

Highbury Fields
(1  18:06 Quentin Guillet, U/A)
60  22:25 Tom Worboys
217 ran

Bradford Lister Park
(1  18:07 Alexander Flaherty, Bingley Harriers)
11  20:41 Rhys Jones
394 ran

Pontefract
(1  16:55 Terence Forest, Cairngorm Runners)
26  21:51 Geoff Howard
283 ran

Skipton
(1  18:38  Kyle Rabjohn, Richmond and Zetland)
3   18:56 Rob Cunningham
50  24:51 Chris Cunningham
194 ran

Eshton Moor fell race, Thu 3 Aug

(1 33:03 Ted Mason, Wharfedale)
40 44:49 Norman Bush
76 finished

---