Latest News and Results ...
Please send any Harriers results to news@ilkleyharriers.org.uk for this web site and the newspaper.
PECO XC 2 Nostell Priory, Sun 14 Dec
From Petra Bijsterveld ... Results ...

Men:
(1  28:41 Frank Beresford, Otley AC)
4   29:22 Jack Wood
26  31:08 Matt Newell
48  32:34 Steve Coy
121 35:58 Steve Newell
140 36:43 Ben Joynson
148 36:58 Tom Worboys
234 40:58 Will Worboys
306 46:12 Geoffrey White
324 48:54 Don MacRae
345 ran

Ladies:
(1  32:06 Becky Penty, Highgate Harriers (guest))
6   35:18 Jane McCarthy
74  44:35 Nicky Hopwood
92  45:58 Petra Bijsterveld
151 50:29 Julie Elmes
168 52:31 Sally Wright
172 53:00 Kate Lofthouse
212 ran

parkruns, Sat 13 Dec
From Petra Bijsterveld ... Results ...

Bradford Lister Park
(1  18:50 Martin Fillingham, Saltaire Striders)
13  21:56 Martin Chandler
212 ran

Cross Flatts
(1  19:11 Danny Cassidy, U/A)
4   19:39 Tom Worboys
58 ran

Skipton Aireville Park
(1  17:56 Lee Athersmith, RAF AC)
4   20:19 Oscar Stapleton (junior)
6   21:28 Jann Smith 1st F
75 ran

Fountains Abbey
(1  18:20 Alex Fawcett, Ripon Runners)
48  24:54 Norman Bush
122 ran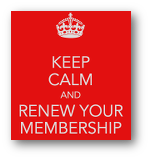 Membership renewal is due now
All existing members have been sent a membership renewal form (in mid November). (If you didn't receive yours, please email the Membership Secretary, Rachel mship@ilkleyharriers.org.uk.)
Please check the details on the form, mark any changes clearly, sign, and return with payment. Thank you for your continued support and we look forward to seeing you at training sessions, and at races, - on the roads, trails, and fells.
Prospective new members ... please see our Membership page for details and an application form.
WYXC 4, Guiseley, Sun 7 Dec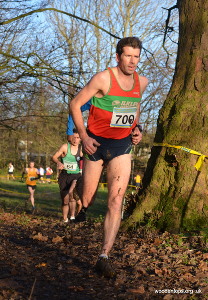 A fantastic win for Tom! Results ...

1   33:50 Tom Adams
79  41:39 Mark Iley
91  42:10 Steve Coy
102 43:41 Arthur Reilly
151 finished

Senior ladies, 11th team
(1  22:17 Alex Bell, P&B)
25  26:37 Sally Malir
69  32:08 Chloe Haines
80  34:04 Gaenor Coy
85  34:24 Petra Bijsterveld
95  36:04 Julie Elmes
100 finished


Some great junior results too, with 37 running, and 3 top-3 team placings including our U17 girls who were first team.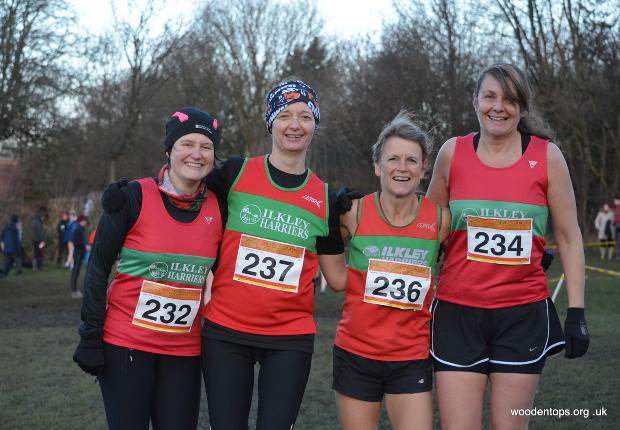 Frostbite 30, Sat 6 Dec
From Ben Sheppard ... the approximately accurately named Frostbite 30 started off frosty (with blue skies in nidderdale) and ended up 34 miles and 4,500ft climb, its new route adding four miles and 1,100ft to last year's. The winning time was about 45 mins slower too. Duncan Cooper, Caz Farrow and I enjoyed trails around Pateley Bridge in woodlands, along the river up the valley, by the reservoirs and on the double track of the Nidderdale Way, with fantastic views. A brilliant local ultra. Give it a go. www.never-rest.com

(1 4h53:00 Ben Harris)
8  5h22:41 Ben Sheppard
15 5h51:44 Duncan
108 men + 37 women finished (same race)

parkruns, Sat 6 Dec
From Petra Bijsterveld ... Results ...

Bradford Lister Park
(1  18:26 Will Kerr, Saltaire Striders)
35  23:26 Helen Waddington
38  23:38 Nicky Hopwood
72  25:19 Joshua Waddington (junior)
252 ran

Harrogate Stray
(1  17:44 Warren Lowcock, U/A)
154 28:08 Eve Whitaker (junior)
155 28:09 Helene Whitaker
237 ran

Skipton Aireville Park
(1 18:40 Carl Kernick, U/A)
15  23:21 Oscar Stapleton (junior)
73 ran

Fountains Abbey
(1  16:53 Toby Osman, Ripon Runners)
35  22:52 Norman Bush
130 ran

Pendle
(1  20:01 Paul Carman, Wharfedale Harriers)
9   22:31 Jann Smith
42 ran

PECO XC 1, Sun 30 Nov
Well done to Jane McCarthy, winning lady! Results ...

Ladies
1   34:40 Jane McCarthy
44  42:47 Helen Waddington
58  43:45 Nicky Hopwood
87  46:39 Lynn Donohue
97  47:04 Petra Bijsterveld
121 48:34 Hilda Coulsey
136 49:25 Sue Morley
153 50:36 Julie Elmes
214 56:40 Kate Lofthouse
254 60:31 Christine Reilly
270 67:39 Claire Shouler
278 ran

Men
(1  27:53 Joe Baxter, Pudsey and Bramley)
17  30:44 Dan Wilkinson
41  32:22 Matt Newell
65  33:30 Steve Coy
167 37:26 Mike Helme
197 38:28 Adrian Bastow
300 43:08 Will Worboys
315 43:30 Peter Lewis
339 44:54 Dave Ibbotson
350 45:40 Geoff White
393 50:30 Paul Sugden
394 50:43 Don Macrae
420 ran


This was race 22 in the Ilkley Harriers Race League, just 2 races to go!
parkruns, Sat 29 Nov
From Petra Bijsterveld ... One solitary junior Harrier at parkrun this week! Results ...

Skipton Aireville Park
(1  17:45 Lee Athersmith, RAF AC)
6   20:35 Oscar Stapleton (junior)
106 ran

Wharfedale Primary Schools XC, Sat 29 Nov
Nearly 500 children ran at Ben Rhydding in the 3rd race in the League. Results etc. on the junior pages.
British & Irish Masters Cross Country, Nottingham, Sat 22 Nov
Well done to Sally Morley, 10th in her category, in which England's ladies won the team prize. Results
WYXC 3, Keighley, Sat 22 Nov

(1  24:05 Dominic Easter, Leeds City)
77  30:32 Steve Coy
92  31:06 Mark Iley
117 33:52 Arthur Reilly
148 finished

Ladies 8th team
(1  18:27 Katie Walshaw, Holmfirth)
16  21:56 Sally Malir
30  22:45 Caz Farrow
75  28:16 Petra Bijsterveld
84  29:20 Gaenor Coy
91  30:36 Julie Elmes
94 finished


In addition there were 42 Junior Harriers racing with 7 team placings.
Check out the Woodentops photos
parkruns, Sat 22 Nov
From Petra Bijsterveld ... Results ...

York
(1  16:56 James Elgar, Newport and East Wales Tri)
74  21:35 Joe Reynier (junior)
311 ran

Hilly Fields, Lewisham
(1  18:06 Matt McDaniel, U/A)
6   19:38 Alex Hirst
138 ran

Pendle 
(1  20:35 Paul Carman, Wharfedale Harriers)
7   22:19 Jann Smith 1st F
33 ran

Ballina
(1  17:07 John Byrne, Mayo AC)
15  21:31 Geoffrey Howard
129 ran

Abbey Dash, Sun 16 Nov
From David Green ... Thirty Harriers competed in the Age UK Leeds Abbey Dash on Sunday. This course starting at Wellington Street heads out to Kirkstall Abbey before heading back along the A65 and ending on the Headrow attracted 12,000 entrants and remains one of the most popular 10k races in Yorkshire. The cool, dry conditions with little wind and a flat course allowed a fast pace with Andrew Butchart (Central AC) to finish first in 29.17 with Tom Adams first Harrier home in 31.43. Three Harriers achieved personal bests, Michael Duffield (40:48), Will Worboys (45:52) and David Green (49:09). Geoffrey Howard was the first vet 70 in an impressive 42:01.
Geoff Howard's 42:01 knocks some more time off the V70 Club record, beating his 43:07 from a month ago at Pilling.

(1   29:17 Andrew  Butchart, Central AC)		
94   31:43 Tom Adams		
539  37:55 Stephen Whiteley
567  38:04 Dick Waddington PB
596  38:13 Rob Cunningham
678  39:09 Andrew Merrick
684  39:14 Jane Mccarthy PB		
689  39:22 Mark Iley		
912  39:21 Tom Worboys		
931  40:42 Kate Archer
961  40:58 Adrian Bastow
975  40:48 Michael Duffield  PB	
1205 42:01 Geoffrey Howard 1st V70		
1562 43:43 Nigel Tapper		
1563 43:26 Jon Cooper		
1806 45:54 Eric Hawthorn		
2113 45:24 David Chandler		
2489 45:52 Will Worboys	PB	
2846 49:09 David Green	PB	
2912 49:59 Nick Mellor		
2938 48:55 David Ibbotson		
3174 49:31 Chloe Merrick		
3190 50:37 Paul Sugden		
3480 51:55 Sheena Pickersgill		
3846 53:21 Kathryn Sugden		
4132 52:21 Julie Elmes		
4607 55:35 Natalie York
5811 51:07 Sarah Hayes	PB
5995 57:29 Catriona Hawthorn		
6780 59:53 Elaine Ibbotson		
9524 finished

Full Tour of Pendle, Sat 15 Nov
Jann Smith reports ... on this AL 16.8 miles/ 4830ft toughie, it has the same ascent and descent as the Three Peaks but in a shorter race. The hills are steep and have earned their names for a reason .. ' Geronimo', ' The Big Dipper' and the 'Big End' to name but a few. Conditions underfoot were very boggy and there was thick fog. I ran really well trying to stick with the leading ladies but then at the last trig frustratingly took a wrong turn in the fog and ended up doing an extra 3 miles and losing twenty minutes. But it was still great fun and is a great ' tough' race. Hope the other Ilkley Harriers taking part fared better.
From Adela Reperecki ... took part in this tuf race for the second year. Conditions were hard in the fog and I ended up following a runner who was not in the race! (Doh) Oh dear! Then I got on the wrong track following other runners and added 20 or more mins time last year. On the whole I enjoyed the race and it was a good experience! I enjoyed the challenge!
John Hayes adds ... In a moment of madness, I once more entered this very tough fell race. It involves 6 progressively steeper hill climbs leading to utter desperation by the time of the last near vertical climb. This year was made more dramatic by the mist and I made up a few places taking a bearing off the last summit as others scattered deliriously in all directions. Apart from using a map and compass, my race tactics were twofold: 1. Eat more en route; and 2. Set off slowly to preserve energy for the later climbs. I felt good about my time although I was about 10 minutes slower that last year. I put this down to two things: 1. I was weighed down with food; and 2. I set off more slowly than last year...

(1  2:21:32 Karl Gray, Calder Valley)
129 3:12:54 Paul Calderbank
175 3:23:34 Jann Smith
208 3:30:18 John Hayes
234 3:37:36 Chantal Busby
346 4:15:02 Adela Reperecki
372 finished

Runners vs. Cyclists, Sat 15 Nov
Some photos by Woodentops, and Graham Weston.

(1  35:43 Rob Jebb, Hope Factory Racing, cycle)
26  42:39 Lee Morley (cycle)
124 51:59 Alison Weston
143 54:32 Chris Oxlade
147 54:50 Neil Bloor
172 57:48 Hannah Partner
205 64:20 Amanda Newham
230 finished

parkruns, Sat 15 Nov

Skipton Aireville Park
(1 18:07 Lee Athersmith, Bingley Harriers)
4  19:23 Tom Worboys
87 runners

Leeds Woodhouse Moor
(1 16:59 Paul O'Callaghan, Tadworth AC)
5  17:35 Jack Wood
288 runners

Preston
(1 17:11 Jake Lonsdale, Preston Harriers)
13 19:51 Oscar Stapleton (junior)
198 runners

Bradford Lister Park
(1 17:11 Peter Hopson, U/A)
59 23:42 Helen Waddington
344 runners

Hilly Fields
(1 17:25 Mark Hall, Kent AC)
4  18:42 Alex Hirst
127 runners 

Ilkley Harriers of the Month, October
Charlotte Smithson
Yorkshire Marathon time, improvement
Other nominations were:
Hilda Coulsey - Gt Eastern Half V60 Club record
Ruaridh Mon-Williams - FRA relay leg 1 time
Jack Wood - fell results including Withins and Saddleworth Edges - 3rd in both
Mike Duffield - Bradford Half PB
Geoff Howard - Lancaster 10k V70 Club record
Andrew Merrick - Yorkshire Marathon time
Mens FRA relay team - best ever Club performance
Paul Stephens - for work on the new constitution
Will Buckton, Alison Weston
Organising FRA teams
More Harriers of the Month ...
Full steam ahead
From Jane Bryant ... I am pleased to announce that Helen and Dick Waddington have volunteered to organise our Ilkley Incline race from next year.
And at last week's Committee meeting, Hilda Coulsey became Ladies Road Captain so we now have a full complement of Captains, and Val Kerr (joint Ladies Fell Captain) and Dan Wilkinson were co-opted as Committee members.
There's a complete list on the Committee page.
Ilkley Harriers Race League update
21 races done and we are in the final straight, who's your money on? Ilkley Harriers Race League.
Wadsworth Half Trog, Sun 9 Nov
From Jamie Hutchinson ... 9m/1400ft climb a glorious day for bog hopping over the moors above Old Town, near Hebden Bridge. I'd used the National Cross duathlon champs the day before as a warm up! I ran well throughout the 9 mile just losing a couple of places in the last few miles and the inevitable nav error along with a number of others. Satisfying little race - recommended!
Results ...

(1 65:20 Ben Mounsey, CVFR)
18 82:53 Jamie Hutchinson
105 finished

YVAA Grand Prix, Spenborough, Sun 9 Nov
From Lynn Donohue ... there were two Harriers running in the final race of a 10 race series, I was 4th V50 overall in the series (7 races to count). YVAA

(1 33:49 Tanya Seager, Stainland)
31 45:41 Lynn Donohue
55 51:06 Amanda Newham
80 finished

Burley Run fell race, Sat 8 Nov
A win for Dan Wilkinson, setting a new course record, and Dave Wilby 3rd.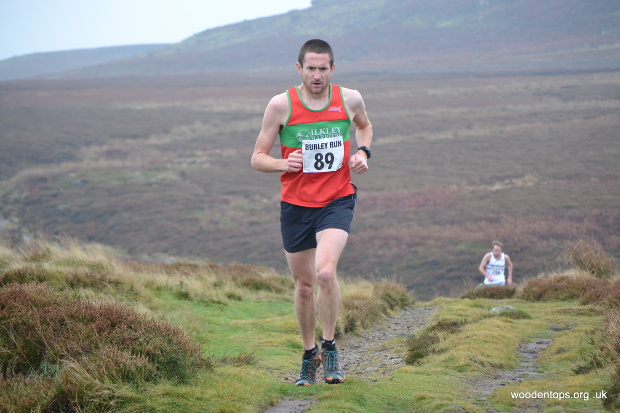 1   46:09 Dan Wilkinson (new course record)
3   47:52 Dave Wilby
4   48:21 Ben Sheppard
8   51:54 Richard Joel
23  57:08 Ben Joynson
41  61:52 Paul Stephens
51  62:57 Ian Marshall
57  63:49 Phil Hirst
68  65:48 Adela Reperecki
77  66:42 Helen Waddington
86  68:04 Caroline Rashe
87  68:05 Peter Lewis
90  69:06 Jean Sullivan
99  70:28 Alison Ricci
103 71:18 David Green
109 72:16 Geoffrey White
114 73:47 Hilda Coulsey
117 74:27 Petra Bijsterveld
126 78:15 Sally Wright
129 79:46 Jacqui Weston
140 86:38 Julie Elmes
147 finished


This was a counter in the Ilkley Harriers Race League.
parkruns, Sat 8 Nov
From Petra Bijsterveld ... Results ...

Leeds Woodhouse Moor
(1  16:25 Jonny McKenna, Clayton-le-Moors Harriers)
40  19:26 Tom Worboys
420 ran

Bradford Lister Park
(1  17:13 Will Smith, Keighley and Craven AC)
13  20:00 Jane McCarthy 2nd F
67  23:48 Chris Cunningham
400 ran

Harrogate Stray
(1  18:31 Charles Casey, Tyne Bridge Harriers)
46  22:37 Geoff Howard
149 26:28 Eve Whittaker (junior)
150 26:30 Helene Whittaker
290 ran

Hilly Fields
1   18:50 Alex Hirst
130 ran

Skipton Aireville Park
(1  18:31 Lucas Payne, Barlick Fell Runners)
8   20:28 Oscar Stapleton (junior)
64 27:27 Dylan Carr (junior)
122 ran

Fountains Abbey
(1  17:20 Reece Dalton, Ripon Runners)
46  22:39 Norman Bush
216 ran

Guy Fawkes 10 mile, Sun 2 Nov
Hilda Coulsey reports ... A super morning for running and this well supported race never fails to disappoint with "beastly" hills forgotten if the promise of chocolate keeps you going. Results...

(1    57:00 Scott Harrington, Otley )
29  1:05:55 Rob Cunningham 
46  1:08:35 Dick Waddington 
68  1:10:14 Jane McCarthy  2nd F40
82  1:11:28 Caz Farrow  3rd F40
237 1:20:14 Will Worboys 
279 1:22:11 Chris Cunningham 
328 1:24:14 Jean Sullivan 
340 1:24:35 Adela Reperecki
423 1:28:21 Stephanie Fox 
512 1:33:04 Hilda Coulsey 
531 1:33:57 Petra Bijsterveld 
720 1:46:01 Michelle Snow 
756 1:49:11 Linda Wilson 
815 finished


This was a counter in the Ilkley Harriers Race League.
WYXC 2, Leeds, Sun 2 Nov

Men
(1  27:15 Tom Bean, City of York)
94  33:00 Steve Coy
117 34:16 Mark Iley
128 35:04 Arthur Reilly
189 finished

Ladies (11th team)
(1  19:37 Emma Clayton, Leeds City)
5   21:02 Georgia Malir
35  23:53 Sally Malir
65  26:23 Alison Weston
76  28:32 Chloe Haines
104 32:42 Julie Elmes
111 finished


U17 Ladies (3rd team)
(1 16:04 Eila Eadon, City of York)
7  17:05 Sarah Pickering
11 17:33 Luch Haines
13 17:42 Lucy Jacques
21 19:43 Elizabeth Westhead
23 20:26 Tilly Woodward
24 finished


Including these U17's, Ilkley had 40 juniors running with 7 team placings.
Shepherds Skyline fell race, Sat 1 Nov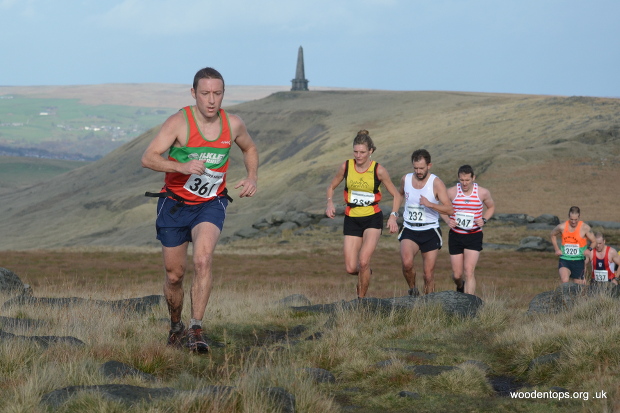 Report from Jack Wood ... the race started opposite the Shepherd's Rest Inn on the moor above Todmorden. We climbed gradually to a col and then on to the Stoodley Pike war monument before dropping steeply off the side, back up to the col and finally down a long descent to the finish. I was tired going up to the top but hung on and managed to make up a couple of places coming down including a sprint finish with a lad from Clayton. Good performances from the other Harriers Richard, Duncan, Will and Sarah.
Results...

(1  41:20 Ben Mounsey, Calder Valley)
6   46:20 Jack Wood
40  53:19 Richard Joel
46  54:16 Duncan Cooper
74  57:06 Will Buckton
150 64:03 Sarah Edwards
234 finished

parkruns, Sat 1 Nov
From Petra Bijsterveld ... Results ...

York
(1  17:25 Shaun Lawson, Easingwold RC)
41  20:29 Geoff Howard
394 ran

Bradford Lister Park
(1  16:50 Mark Ryall, Marshall Milton Keynes AC)
37  22:31 David Chandler
160 28:16 Jane McCarthy
425 ran

Harrogate Stray
(1  17:33 Alan White, Sale Harriers Manchester)
152 26:56 Julie Elmes
292 ran

Skipton Aireville Park
(1  18:45 Lucas Payne, Barlick Fell Runners)
4   20:19 Oscar Stapleton (junior)
7   20:45 Tom Worboys
98 ran

Bradford City Runs, Sun 26 Oct
Michael Duffield reports results ......

Half Marathon
(1 1:15:39 Frank Beresford, Otley AC)
14 1:33:05 Michael Duffield (PB)
239 ran
 
10K
(1 35:25 Tom Midgley, Otley AC)
14 42:48 Caz Farrow  2nd female
68 50:03 Ruth Kitchen
287 ran

Ljubljanski Half Marathon, Sun 26 Oct
Paul Sugden reports ... from Slovenia, results ......

(1   1:07:41 Rok Puhar, Slovenia)	
2653 1:53:37 Paul Sugden		
2940 1:56:09 Martin Wright		
f931 1:57:43 Sue Bickerdike		
m 4421 finishers
f 2737 finishers

Leicester Half Marathon, Sun 26 Oct
From Petra Bijsterveld ... I have friends in Leicester and this race was a good way of catching up with them and getting a run in too. Quite a large event with a full marathon, a half, and a corporate relay on offer. Whilst no one goes to Leicester for the scenery the route took in various parks, so it was not all doom and gloom on dual carriageways.
I felt fit and had hoped to sneak in just under 2 hours (which I have only managed once, on a flat course). With windy conditions and an uphill final mile this was always going to be a challenge. I reached 10 miles in 1hr 29 but could not sustain the pace. I gave it all I got and finished in 2 hours 8 seconds.

(1   1:07:32 Yared Hagos, Wallsend)
1146 2:00:08 Petra Bijsterveld
2337 finished

Gt Whernside fell race, Sat 25 Oct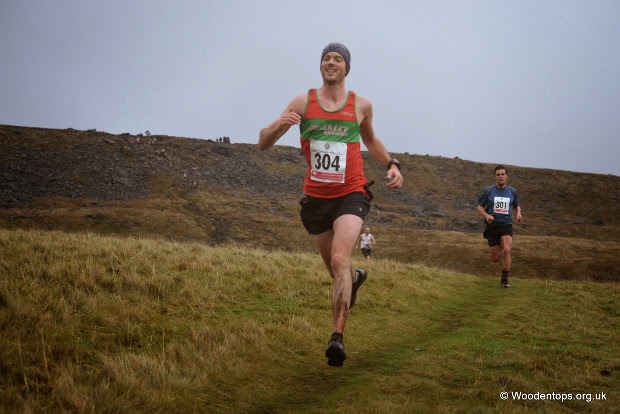 Form Justin Phillips ... I found myself with a free weekend to race but procrastinated so long about entering the Bradford 5k/10k/half marathon that I missed the entry cut off. So after turning to the Harriers site for inspiration I found the complete opposite to four laps of Bradford City Centre...the Great Whernside fell race.
Huddled together in a muddy field just outside Kettlewell it was great to catch up with so many friendly, familiar faces, a quick kit check later and we were off.
The route is two miles straight up to the summit, round the cairn before plummeting back down the same way - it's impossible to get lost. I employed my usual technique of setting off like a bullet for the first 250 metres before blowing up and hanging on until the top. As I climbed hands on knees past Hag Dyke it should have brought back happy memories of trips with the Scouts but in reality I was too busy sucking in air to notice.
By the time I reached the summit my legs were like jelly and thoughts of racing downhill were replaced with the simple goal of survival. Remembering the mantra 'Brain Off, Brakes Off' I managed to lose as many places as I gained whilst remembering to smile at the Woodheads' taking pictures and offering fantastic encouragement as always.

(1 30:48 Ben Townsey, Calder Valley)
38 38:08 Jonathan Whitaker
65 41:16 Justin Phillips
79 42:46 Jann Smith
95 44:40 Norman Bush
157 finished

parkruns, Sat 25 Oct
From Petra Bijsterveld ... Results ...

Bradford Lister Park
(1  17:19 Craig Shearer, Keighley and Craven)
6   19:42 Tom Worboys
9   20:11 Jane McCarthy 1st F
26  22:27 David Chandler
38  22:48 Phil Hirst
67  24:28 Joshua Waddington (junior)
91  25:14 Peter Lewis
364 ran
This was a counter in the Harriers Race League.

Harrogate Stray
(1  17:45 Ed Beecher, Leeds and Bradford Triathlon Club)
179 27:13 Julie Elmes
327 ran

Skipton Aireville Park
(1  17:28 Julian Hood, Skipton AC)
3   19:12 Steve Coy
21  22:13 Lewis Carr (junior)
120 ran


Bradford was a counter in the Ilkley Harriers Race League.
British Fell Relays, Sun 19 Oct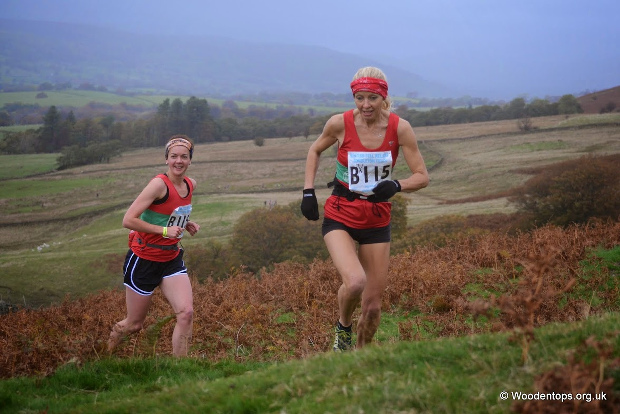 Report from Dan Wilkinson ... Wow, what a day for Ilkley men's team... the fell relays took place on the seldom visited Middleton fells, a gorgeous little range between the Dales and the Howgills. The area provided great fast grassy running and Dallam and Howgill Harriers provided an excellent arena for spectating the event and partaking in some post race refreshment. The PA was fantastic, never letting up with his funny quips for the whole six and a half hours we were there. Ruaridh Mon Williams set off for the men's team and stormed home in 28th place, although the course was long for a junior this was a very stong performance from Ruaridh. Next off were me and Mark Mon-Williams on the long pairs leg, we set off strongly gaining on the runners in front and eventually being passed by the superstar pairing of Jonny Brownlee and Rob Jebb approximately 2 miles into the course. We pushed hard but lost a few places in the second half of the race unfortunately coming home in 33rd. Next off was Dave Wilby and Jack Wood, we were expecting big things from them and they didn't disappoint, with Jack's exceptional navigation and return to form gaining the team 10 places over the third leg and 12th overall for leg 3. This meant the pressure was on for Tom, who set off in 23rd position, we had a quick sweepstake on how many places he'd gain and I think he surprised us all to come back 14th with the 3rd fasted time on leg 4. I think this may be the best open result for the Ilkley Harriers?
From Alison Weston ... A great show from Ilkley and very exciting to watch! Men's team were awesome this year finishing in 14th position and ladies did really well to come 10th position in a very competitive field. Sally Morley set us off to a great start, then Jann and Kate made easy work of the longest leg, Sarah and myself completed the navigation leg without any errors and then Jane brought us home in grand style. Looking at Graham's photos Jane had the most mud to wade through too! Great to have Ruaridh running leg 1 and in such a fast time. Hopefully there will be many more youngsters taking part in the coming years.

(1 3:43:55 Dark Peak FR)

14 4h08:11 Ilkley (men)
  46:18 Ruaridh Mon-Williams
1:29:00 Dan Wilkinson & Mark Mon-Williams
1:09:18 Jack Wood & Dave Wilby
  43:35 Tom Adams
  
103 5:05:06 Ilkley ladies (10th female team)
  53:40 Sally Morley
1:41:22 Kate Archer & Jann Smith
1:32:57 Sarah Edwards & Alison Weston
  57:07 Jane McCarthy
  
187 teams finished


Harewood 8 mile Trail Race, Sun 19 Oct
From Petra Bijsterveld ... Lots of races to choose from today but there was still a good Harrier turnout at this local race which is a counter in the Ilkley Harriers Race League. The usual 10 mile route had been shortened this year to 8 miles due to maintenance work on the Eccup Reservoir dam, though sadly this shortcut did not remove the steep climb in the final mile. Underfoot conditions were good with only the odd muddy patch, and the autumn sunshine made it feel quite warm despite the decidedly blustery conditions. A nice bottle of ale for all finishers made it all worthwhile.
Results ...

(1  44:56 Daniel Jenkin, Durham City Harriers)
58  63:50 David Chandler
76  65:41 Phil Hirst
97  67:24 Will Worboys
116 70:02 Stephanie Fox
141 72:52 Peter Lewis
144 73:12 Sarah Hayes
152 74:18 Hannah Partner
153 74:20 Nick Mellor
156 74:49 Frank Kew
164 75:11 Hilda Coulsey 1st F55
166 75:30 John Brown
187 77:46 Petra Bijsterveld
230 85:02 Sally Wright
267 finished

5 mile trail race
(1 27:45 Nicholas Hughes U/A)
4  32:55 Daniel Hayes 
73 ran


West Yorkshire XC race 1, Sun 19 Oct

Men
(1  32:59 Simon Deakin, Leeds)
77  41:38 Stephen Coy
85  42:19 Mark Iley
101 43:34 Arthur Reilly
105 44:05 Malcolm Pickering
165 finished

Ladies
(1  21:20 Claire Duck, Leeds)
15  23:59 Sally Malir
24  24:43 Caz Farrow
58  31:08 Di Kitchen
80 finished

U17 ladies
(1  16:35 Bethan Oates, Wakefield)
2   16:51 Sarah Pickering
7   17:53 Lucy Williamson
9   18:17 Lucy Jacques
14  19:07 Joanne Williamson
20  20:17 Tilly Woodward
21  20:21 Elizabeth Westhead
26 finished
1st team


45 Ilkley juniors ran brilliantly, with 7 teams in the results from U11 to U17
Bridlington Half, Sun 19 Oct

(1  1:13:37 James Bulman, New Marske)
230 1:53:22 Adela Reperecki
257 1:55:12 Dave Ibbotson
531 finished

Race you to the summit, Sat 18 Oct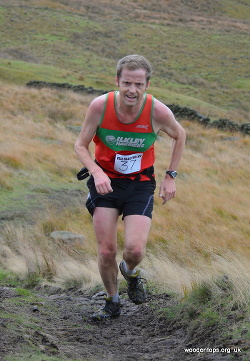 From Steve Turland ... this race was first run 48 years ago as a result of a bet by a local man that he could run from the Summit Inn to the White Lion and back in less than 30 minutes. Sounding like the sort of challenge that could be undertaken after several pints and a large kebab, it didn't sound that hard. Only snag is that the White Lion is just over 2 miles away with 850ft of ascent up and down the Pennine Bridleway.
Anyway, the local man won his bet and a large sum of money went to the local community. Sadly, 48 years on I would have failed to win the bet finishing in just over 34 minutes in 15th position. But all good fun nonetheless.
Round Rotherham 50, Sat 18 Oct
From Sharon Meadows ... It was a lovely day for the 50 mile trail race which follows the boundary of Rotherham in a circular route. As always it was very well organised with plenty of feed stations and showers/hot meals at the end. Its also very cheap to enter (£12). It was muddy underfoot and a bit slippery in places but overall conditions were quite good. It's undulating but not hilly so is ideal if anyone is thinking of doing an ultra for the first time. This was my 5th completion of the race although my second slowest time (but at least I finished it!) Not sure of the official winning times, results not up yet. Well done to Amanda Parnaby also who ran 30 miles despite being ill, and she still drove us home!
Lancaster 10k, Sat 18 Oct
From Geoff Howard ... I made another trip into deepest Lancashire for a race called variously the Lancaster, Pilling or Elleton Arms 10k depending upon which website you looked at. A nice flat fast course which I don't think I made full use of being 13th out of about 65 in 43m 7s. The winner was a v40 Jason Parker of Preston in 34m 56s. Results
This is a new V70 Club record, superceding Brian Sweet's 52:55 from the 2000 Kirkstall 10k.
parkruns, Sat 18 Oct
From Petra Bijsterveld ... Results ...

Colwick
(1  17:54 Stephen Shanks, Victoria Pk H)
6   20:00 Will Buckton
207 ran

Bradford Lister Park
(1  17:50 Will Kerr, Saltaire Striders)
188 29:15 Claire Murphy
374 ran

Harrogate Stray
(1  18:03 Matt Bailey, U/A)
164 26:33 Petra Bijsterveld
343 ran

Fountains Abbey
(1  17:49 Mike Appleton, Ripon Runners)
5   19:27 Tom Worboys
178 ran

Ilkley Harriers Annual general Meeting, Tue 14 Oct
From Paul Wood ... a quick summary, draft minutes should be available soon. A well attended AGM with 30+ people. An increase in subs by £2 to cover UKA increases was agreed (more info on subs and renewals soon). The proposed new Club Constitution was agreed. Committee and volunteer changes included new Treasurer Martin Archer, new Membership Secretary Rachel Carter, new Road Men's Captain Steve Weston, new XC Men's Captain Steve Coy. There are vacancies for a Deputy Chair, Road Ladies' Captain, Auditor, and some Committee places are vacant - contact Jane Bryant or Paul Stephens if you can help. See the committee page.
parkrun coming to Ilkley was discussed, as was the perennial issue of Tuesday nights.
Withins Skyline, Sun 12 Oct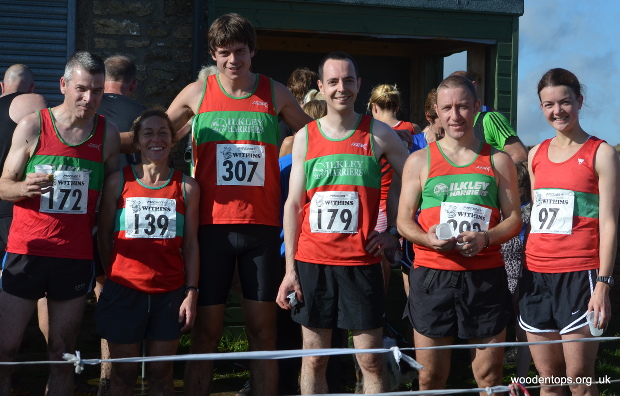 (1  41:05 Simon Bailey, Mercia)
3   45:01 Jack Wood
31  51:37 Richard Joel
50  53:43 Duncan Cooper
84  56:11 Kate Archer
96  57:09 Jann Smith
99  57:14 Ben Joynson
130 59:18 Alison Weston
141 59:54 David Chandler
160 62:25 Sarah Haines
174 64:10 Will Worboys
237 80:57 Jacqui Weston
251 91:09 Julie Elmes
255 finished


Lots of good junior results too, and more photos, all on woodentops.org.uk
Yorkshire Marathon, Sun 12 Oct
Andrew Merrick reports ... An unusual start to a marathon - there aren't many you can sleep in your own bed the night before, one of a number of things to be recommended about the Yorkshire Marathon...
A hassle free drive to the park and ride service from Elvington airfield got me to the York University campus with plenty of faffing time to spare and a reasonable amount of indoor space in which to faff. The short bag drop-off queues weren't exactly mirrored by the loo queues but otherwise all was good giving me enough time to finally decide on my race plan.... I had taken a more relaxed approach to training than the London 6 day a week spreadsheet driven approach. In a weak moment I might confess to missing colouring in the numbers green when the planned run had been completed, but otherwise it was definitely a more enjoyable experience, not least because you get to train in decent weather for autumn marathons. After careful (?) consideration I decided to go with the more aggressive of my two plans (Jane B's counsel of "start slowly" being put to one side at this point) - it was a simple plan in honour of Mr Weston, which involved sticking with the sub 3 pacer for as long as I could... He duly disappeared into the fog at mile 15 leaving me in my own mental version. With the help of very good support from the good people of York, particularly around the two way sections, I managed to get home in a respectable time. Unfortunately despite the level of pre race faffing time, I hadn't really thought through the pinning of my number - quite important I realised when running in support of Martin House.... I did my best to acknowledge most of the shouts of "come on Martin" ...
A friendly and well organised race, particularly the start pens, with a relatively flat course - undulating I think would be the appropriate expression - with a challenging uphill section just before the finish ...... and a helpful large arch over the road proclaiming, when close enough to read it, that you were almost at the finish line.... the actual finish being several hundred yards of pain further on. I couldn't comment on the scenery - it stayed foggy for most of the route.
There were a number of options back at the campus for the compulsory post race beer, before the bus back to the airfield and a rather sunnier drive home.
A marathon experience to be recommended.

(2   2:11:08 Bret Crosley, U/A))
141  3:06:44 Andrew Merrick
1530 3:57:22 Charlotte Smithson
3677 finished

Great Eastern Half Marathon, Sun 12 Oct
From Hilda Coulsey... I found myself in Peterborough this weekend and entered this half. It was flat (obviously!) and I missed our hills (weirdly?).

(1st 1:03:36 Jonah Chesum)
1270 1:48:07 Hilda Coulsey 
3787 finished


Hilda's time beats the F60 half marathon Club record of 1:53:22 she set at the Great North Run last year.
Lakes in a Day ultra, Sat 11 Oct
Eddie Winslow reports ... Lakes in a Day ultra, 48+ miles and a lot of climb, including Blencathra and Helvellyn summits. This was its first running but I anticipate that it will become an annual event for those who are looking for a very tough 50 miler. The route runs North to South through the Lake District from Caldbeck to Cartmel via Ambleside. The big climbs were in the first half, which left tired legs for the undulating second half. I was running well and finished 29th in 13h33m. That's my slowest ever 50 miler by some margin which gives an indication of just how tough the course was.
Langdale Horseshoe fell race, Sat 11 Oct
From John Hayes ... a classic on the fell-racing calender, this year's race was surprisingly challenging. If you click on the FRA forum a common theme emerges from everyone - the rocks were incredibly slippery meaning there were lots of tumbles by runners. Unfortunately there were a few nasty injuries with two runners lifted off by helicopter but both are thankfully OK. The concerned response of those who stopped to help was admirable and illustrated all that is good about the sport. Anyway, amidst all the carnage I enjoyed my run especially in the thick mist on the tops where I managed to overtake quite a number of runners by the simple expedient of stopping, getting out my map and compass and taking a bearing. I also took my now customary "cowardly" route which avoids the (terrifying) Bad Step on Crinkle Crags. Whilst this cowardice left me unable to boast at the finish, on the up side I predict it gained me about 20+ places!
From Helen Waddington ... Some amazing times given the conditions! Results ...

(1  2:16:00 Rhys Findlay-Robinson)
13  2:29:23 David Wilby                             
49  2:43:53 Ben Sheppard                            
55  2:45:02 Dan Wilkinson                          
137 3:02:48 Will Buckton                            
169 3:11:43 John Hayes                              
303 3:50:47 Bob Hamilton                            
341 4:08:27 Helen Waddington                        
342 4:08:28 Dick Waddington                 
352 4:19:53 Paul Calderbank                 
353 4:19:58 Chantal Busby                           
375 ran

Wharfedale Primary Schools XC, Sat 11 Oct
Over 700 young runners racing it out at Ghyll Royd School today, more on the junior pages
parkruns, Sat 11 Oct
From Petra Bijsterveld ... Results ...

Harrogate Stray
(1  16:50 Michael McKillop, U/A)
120 24:49 Pete Shields
192 27:31 Julie Elmes
331 ran

Edinburgh
(1  16:04 Ryan Riddell, Corstorphine AAC)
13  18:03 Mark Mon-Williams
17  18:12 Ruaridh Mon-Williams
83  20:27 Rebecca Mon-Williams
560 ran

Ian Hodgson Mountain Relays, Sun 5 Oct
From Alison Weston ... a great performance by both men's and ladies teams in this relay event from Patterdale. Shame the weather wasn't as good as it was in Ilkley but both teams coped really well in poor visibility. Fantastic to have young Georgia Malir in the ladies team for the first time this year running leg 1 with Sally Malir, then Jann Smith with Kate Archer over High Street (very difficult leg navigationally), Emma Barcley and myself on leg 3 setting off in mist at the bottom of Red Screes (at least we couldn't see how far it was to the top!) and finally Jane McCarthy running a great last leg with Sally Morley.
Alison Weston's photos
Results ...

(1 3:59:59 Borrowdale)

25 4:40:01 Ilkley
43:49   Rob Cunnigham & Iain Gibbons
1:20:57 Steve Turland & Mark-Mon Williams
1:16:59 Will Buckton &  Ben Joynson
1:18:16 Dan Wilkinson & Dave Wilby

31 4:52:22 Ambleside Ladies

37 5:11:30 Ilkley Ladies
48:58   Sally Malir & Georgia Malir
1:34:48 Jann Smith & Kate Archer 
1:11:36 Alison Weston & Emma Barclay
1:36:08 Sally Morley & Jane McCarthy 

70 teams finished

Horsforth 10K, Sun 5 Oct
From Petra Bijsterveld ... this local 10K along road and canal tow path now in its 30th year had a 3pm start this time and the t-shirts came with the slogan 'now with added lie-in'. Only 4 Harriers there, possibly due to plenty of other races to choose from this weekend. Pleasantly sunny and dry, the afternoon start did result in rather hot conditions to run in. I had run it several times before but had forgotten how uneven much of the tow path is. Having already suffered a stitch at the halfway mark I had to abandon hopes of a PB. Excuses excuses........
Results ...

(1  33:24 Philip Tedd, Woodhouse Grove School)
119 46:31 Phil Hirst
142 48:20 Chris Cunningham
219 54:21 Petra Bijsterveld
239 55:47 Fiona Schneider
335 finished


This was a counter in the Ilkley Harriers Race League.
Chester Metric Marathon, Sun 5 Oct
From Neil Bloor ... Alison and Neil Bloor ran the Chester Metric Marathon today (26.2k). The weather was mixed, started out freezing and ended up roasting, however the distance made a nice change and the race was very well organised and marshalled. We ran together, finishing in 2hrs 54 minutes, race winner was Duncan Clarke of Leeds in 1hr 44 mins.
To Ell and Back, Sun 5 Oct
From Clare Smith ... Adela Reperecki and I took part in this 20 mile event. Not classed as a race so no official placings or times but can be recommended as a great training event, with frequent checkpoints providing sustenance. Much of the route followed parts of the Calderdale Way, though I had some difficulty in interpreting the route description and added an extra mile to the total due to wandering! Fantastic weather for an October day too!
Saddleworth Edges, Sat 4 Oct
From Jack Wood... Crossed the Pennines on Saturday for a race that took us along the top of one of Saddleworth's steep sided valleys. Great scenery made more dramatic with dark clouds and mist. Underfoot it was wet and rocky like the paths on Ilkley Moor. One of the early marshals had a brainstorm and sent some people (including leading two) on a shorter route, but wouldn't have beaten them anyway. Dad survived the elements without waterproof trousers. Results ...

(1 60:02 Andy Fellet, U/A)
3  65:10 Jack Wood
86 finished

Manhattan Beach 10k, Los Angeles, Sat 4 Oct
From Jamie Hutchinson ... A beautiful morning in Manhattan beach and an early start at 730 to beat the heat. A great 'little' 10k with a bit of up and down and a great last mile or so along the beach and finishing near the pier. Still suffering with jet lag I finished in 39:51, 63rd overall and 5th in my age group. The race was won in 32:59 by David Cardona, 3309 ran/walked.
Jamie Hutchinson
parkruns, Sat 4 Oct
From Petra Bijsterveld ... Saturday was parkrun's 10th anniversary, having developed from 13 people running 5K around Bushy Park in London one morning to more than 50,000 people taking part in parkruns every week in the UK alone and half a million registered runners. I know parkrun is not a big feature for most Harriers, and of course the run is rather short and does not involve any fells! But give it a try if you have always wondered what it is about and never been, it is good fun for all the family and attracts runners of all speeds. Not being particularly fast I regularly get overtaken by men pushing prams around the course at high speed which always makes me smile.
Results ...

Bradford Lister Park
(1  18:20 Hannah Oldroyd, Airedale Dodgers)
7   19:56 Tom Worboys
48  23:43 Will Worboys
327 40:45 Abbie Reynier (junior)
356 ran

Harrogate Stray 
(1  17:58 Jack Brennan, Harrogate Harriers)
154 26:28 Petra Bijsterveld
288 ran

Durham
(1  16:52 Daniel Jenkin, Durham City Harriers)
12  19:55 Oscar Stapleton (junior)
250 ran

Hilly Fields, Lewisham
(1  17:59 Laurie Pope, South London Harriers)
4   18:35 Alex Hirst
134 ran

Skipton Aireville Park
(1  18:52 Alan Walsh, Wharfedale Harriers)
66  29:08 William Robson (junior)
95 ran


---