Latest News and Results ...
Please send any Harriers results to news@ilkleyharriers.org.uk - they'll be forwarded to Paul for this web site and to Alison W for the newspaper report.
Ian Hodgson Mountain Relays, Sun 4 Oct
From Dan Wilkinson ... A really close race at the front of this great mountain relay event this year and a superb performance by Ilkley ladies who improved their finishing time by 3 minutes on last year to finish 5th ladies team overall. Ultimately a disappointing day for the mens team with a couple of nasty injuries to key runners meaning we really struggled compared to previous years and finished 44th. However kudos does go to the injured runners Dave Wilby and Jack Wood for completing their legs in some pain so the rest of the team could complete their legs and the team the event.
From Jann Smith ... a lack of rain and fog this year meant our experienced team couldn't create any advantage on navigation but all runners nailed the route choices really well and the ladies team ran seamlessly to finish overall faster than last year and in the top five. Well done to Sally Malir for running so fast despite an injury and to Jemima Elgood in her first run for the senior team (hopefully the first of many), it was great to see Helene Whitaker back and Alison, Outi, Jann, Kate and Rebecca made up the team. Commiserations for the men who had a great team but had two injuries, both Dave Wilby (paired with Dan) and Jack Wood (paired with Steve Turland) being forced to walk parts of their legs. Hope they recover quickly!

(1 3:34:53 Borrowdale)
44 4:57:25 Ilkley men
50 5:08:23 Ilkley ladies (5th ladies team)
70 teams finished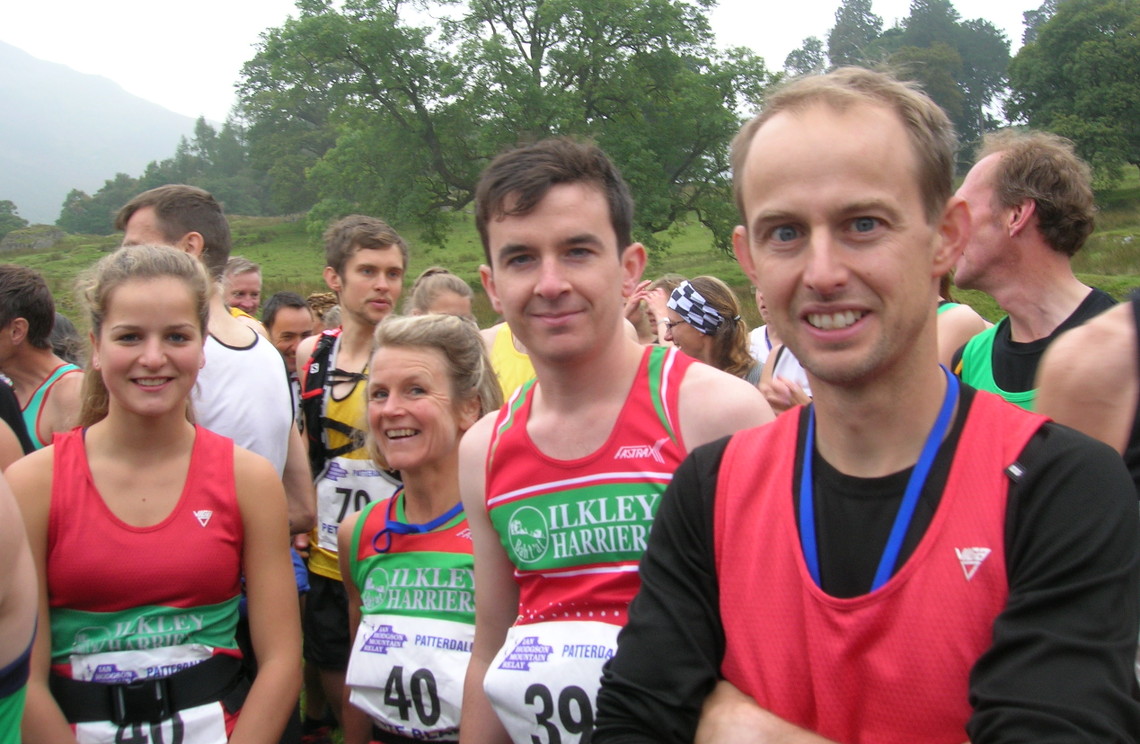 Kielder Marathon, Sun 4 Oct
From Petra Bijsterveld ... I chose Kielder for my first ever marathon because it looked beautiful and it certainly did not disappoint. Marketed as 'Britain's Most Beautiful Marathon' the route is one lap of Kielder Water on good wide trails which are often covered in pine needles, making it very pleasant underfoot. The trade-off is that is 'undulating'; I would say hilly. There is very little flat terrain apart from the dam!
Well organized and friendly, there was very little fault to find, apart from a short delay to the start due to a problem with one of the shuttle buses. As it was not cold this was a minor thing. Otherwise lots of water stations, plentiful toilets, t-shirt, goody bag, a truly beautiful medal, and the option of a sports massage at the end which could be pre-booked and which I took advantage of.
A lot of runners' names were called out at the finish over the PA system and I got the comment that there probably were not a lot of Bijsterveld's in Ilkley which was quite funny.
I had imagined that a time between 4 1/2 and 5 hours would be realistic for me on this sort of course. Irritatingly my garmin froze halfway round and by the time I was shuffling along the final miles I felt I had been running for an eternity and had no idea of the time elapsed. I was therefore more than happy to find myself crossing the line in just over 4 3/4 hours.
I am planning to go back next year and I can recommend this to any Harrier who wants to join me.
Results ...

(1  2:43:02 Matthew Jones, U/A)
450 4:47:57 Petra Bijsterveld
621 finished

parkruns, Sat 3 Oct
From Petra Bijsterveld ... Results ...

Leeds Woodhouse Moor
(1  15:57 Richard Allen, Bracknell AC)
33  19:43 Ben Joynson
54  20:54 Will Worboys
435 ran

Harrogate Stray
(1  17:28 Rosie Smith, Durham City AC)
47  21:42 Geoffrey Howard
330 ran

Hilly Fields Lewisham
(1  17:53 Hugh Salway, U/A)
2   17:58 Alex Hirst
179 ran

Leeds Temple Newsam
(1  17:34 Dan Grant, U/A)
49  25:23 Sue Morley
72  28:09 Eric Morley
142 ran

Skipton Aireville Park
(1  18:04 Will Rowe, U/A)
2   18:12 Oscar Stapleton (junior)
3   18:36 Mark Mon-Williams
106 28:51 Michelle Snow
178 ran

Bradford 10k, Sun 27 Sep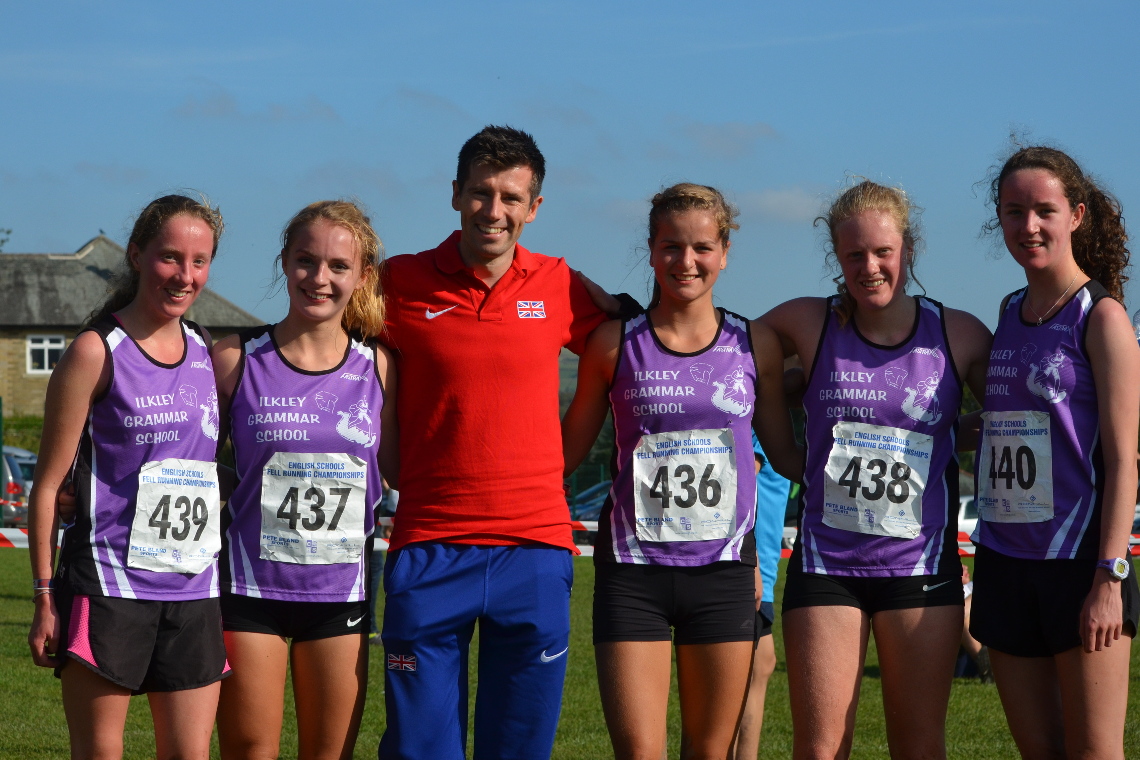 A win for Tom Adams, and Jane McCarthy 2nd lady with a PB, in this Harriers Race League counter. Tom then went on to present the prizes at the English Schools Fell Championships, where Ilkley Harriers runners competed for Ilkley Grammar School.

1   31:28 Tom Adams
40  38:40 Jane McCarthy 1st F40 PB!
62  40:13 Ben Joynson
69  40:49 Michael Duffield
124 44:03 Harry Sime
115 43:37 Will Worboys
458 57:52 Michelle Snow
683 finished

Berlin Marathon, Sun 27 Sep
From Dick Waddington ... Helen and I signed up for this our first marathon about 6 months ago (a 25th anniversary "present" to each other!) and set about changing our training to roads rather than fells. It turns out you have to run faster on roads, so speedwork was the order of the day. Unfortunately Helen's calf gave up 7 weeks ago, so she took to the purgatory that is a turbo trainer in the garage whilst it healed - which it did in the nick of time. Watching Everest the day before the race put everything into perspective nicely; exposure, frostbite and big falls seemed unlikely. My race went well and I was very pleased to finish in just over 3 hours, despite being tripped up and landed on by another runner after 15km. The 3 hour pacer just crept away from me in the last couple of miles. Helen was delighted just to get round without having to bail out and negotiate Berlin's subway. To top it all off, running through the Brandenburg Gate must be one of the best finishing straights anywhere. At the airport on the way home we saw a runner with bandaged knee and broken arm - marathon running isn't as safe as you might think.

(1   2:04:00 Eliud Kipchoge, Kenya)
1832 3:00:40 Dick Waddington
3558 4:12:27 Helen Waddington
41224 runners registered

Rab Mountain Marathon, 26/27 Sept
From John Hayes... This year's Rab Mountain Marathon was in North Wales. The terrain was tough - a mixture of rocks, heather, crags and steep mountain ridges. But it was all worth it for the amazing scenery and blazing sunshine. The format is a score event over two days and the tactical route choice was interesting as a new rule meant you couldn't score points on day 2 from a control you had visited on day 1. The aim of that rule was to make competitors go to the northern area on one day and the southern area on the next day. But we worked out a different plan which seemed to work. Daniel and I were 39th out of 174 in the short score and picked up the prize for coming 1st in the parent and child category.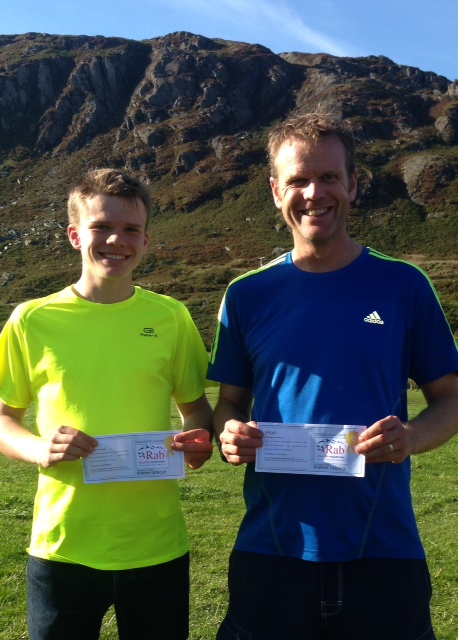 parkruns, Sat 26 Sep
From Petra Bijsterveld ... Results ...

Bradford Lister Park
(1  18:31 Martin Fillingham, Saltaire Striders)
10  20:28 Tom Worboys
340 ran

Harrogate Stray
(1  17:08 Oliver Watson-Sweeney, Giffnock North AAC)
164 26:14 Julie Elmes
368 ran

Hilly Fields Lewisham
(1  17:23 Danny Kendall, Cambridge Harriers)
3   17:41 Alex Hirst
181 ran

Skipton Aireville Park
(1  17:05 Lee Athersmith, RAF AC)
4   19:19 Oscar Stapleton (junior)
165 ran

2015 AGM, Tue 22 Sep
The 2015 Annual General Meeting of Ilkley Harriers Athletic Club was held at Ilkley Lawn Tennis and Squash Club starting at 8.40pm after the Tuesday night run. All members of Ilkley Harriers were welcome at the AGM.
A new committee was elected, subs were reduced and membership categories changed and a small change made to the Constitution as described in the Agenda.
We are currently without a Chairperson, so if anyone is interested in this position please contact Hilda Coulsey, the new Secretary, or any committee member.
Beefy's Nab fell race, Sun 20 Sep
From Richard Joel... a fairly low-key race with a field of just 32. Steep climbing to the top and some rough pathless descending (with a bit of route confusion thrown in for good measure). Results ...

(1 21:22 Joseph Crossfield, CVFR)
4  26:42 Richard Joel
32 finished

Embsay fell race, Sun 20 Sep

(1 18:53 Jomm Craig, Barlick)
37 26:11 Paddy Hagen
61 30:14 Sue Morley
82 37:48 Eric Morley
83 finished

Vale of York HM, Sun 20 Sep
From Petra Bijsterveld... My training plan tells me to 'race a half marathon' on week 14, and this road race just fell on the right day. Only in its second year, the Vale of York HM starts and finishes at Sherburn Aerodrome and takes you along closed roads through flat and rather uninspiring countryside. Even for a roadie like me it was rather grim, with the only tiny incline being provided by a bridge over the railway, twice. A misty morning made way for beautiful sunshine which on this sort of race was not particularly welcome.
Well organized with excellent parking, 3 water stations, and a nice medal and T-shirt at the end, I could recommend this to anyone who needs a flat road race, as it does exactly what it says on the tin.
I used this as a training run and did not look at the time until I crossed the finish line, instead I tried to run on heart rate and perceived effort. I struggled with a hamstring niggle, perhaps that is my excuse for being 3 minutes outside my best time, as I had quietly hoped to do better after a summer of marathon training.
Nice to see Sue Williamson, no other Harriers there today.
Results ...

(1   1:07:44 Dominic Shaw, New Marske Harriers) 
770  2:02:18 Petra Bijsterveld
1013 2:16:48 Sue Williamson
1218 ran

Ilkley Aquathlon, Sat 19 Sep
Well done to Gaenor & Steve Coy, and all the helpers who made the 4th Ilkley Aquathlon, jointly organiesed by us and Ilkley Swimming Club another great success for the Club. Results
World Mountain Running Championships, Sat 19 Sep
Well done to Tom Adams, part of England's Bronze medal winning team at the World Championshiops, held this year in Snowdonia. Other Harriers results later ....
Three Shires fell race, Sat 19 Sep

(1  1:56:44 Ricky Lightfoot, Ellenborough)
25  2:14:52 Dave Wilby
57  2:30:51 Dan Wilkinson
96  2:44:21 Helene Whitaker
105 2:45:50 Kate Archer
150 2:58:46 Paul Calderbank
234 3:29:17 Chantal Busby
270 finished

parkruns, Sat 19 Sep
From Petra Bijsterveld ... Results ...

Albert parkrun, Middlesbrough
(1  16:38 unknown)
53  23:03 John Marshall
261 ran

Harrogate Stray
(1  17:32 Mark Bryant, Leeds City)
171 26:10 Julie Elmes
377 ran

Hilly Fields, Lewisham
(1  17:34 Chis Ho, U/A)
2   17:52 Alex Hirst
198 ran

Skipton Aireville Park
(1  18:12 Lucas Payne, Barlick Fell Runners)
60  26:51 Kathryn Sugden
88  29:23 Michelle Snow
146 ran

Yorkshireman, Sun 13 Sep
Or rather Half-Yorkshireman, 4 Harriers in the shorter race (BL fell, 14.8M/1750'). Results ...

(1  1:37:22 Joe Baxter, P&B)
17  1:54:13 Nick Richardson
142 2:39:25 Richard Morris
236 3:31:57 Sue Williamson
237 3:31:58 Julie Elmes
254 finished

Budapest Half Marathon, Sun 13 Sep


(1   1:06:27 Henry Kemboi, Kenya)
89   1:21:15 Alex Hirst
19   1:28:08 Jane McCarthy
1479 1:45:37 Phil Hirst
425  1:53:04 Jane Bryant
1800 2:12:13 Jacqui Weston
9074 finished

Great North Run, Sun 13 Sep

(1      59:22 Mo Farah)
2527  1:39:32 David Howe
6169  1:50:03 Christine Cox
6509  1:50:50 Chris Cunningham
9509  1:56:51 Robert Meadows
10289 1:58:08 Gemma Buckley
12748 2:02:14 Nicky Hopwwod
14350 2:05:07 Charlotte Smithson
24730 2:23:37 Sarah Lewthwaite
50,000+ finished

World Masters Mountain Running Championships, Sat 12 Sep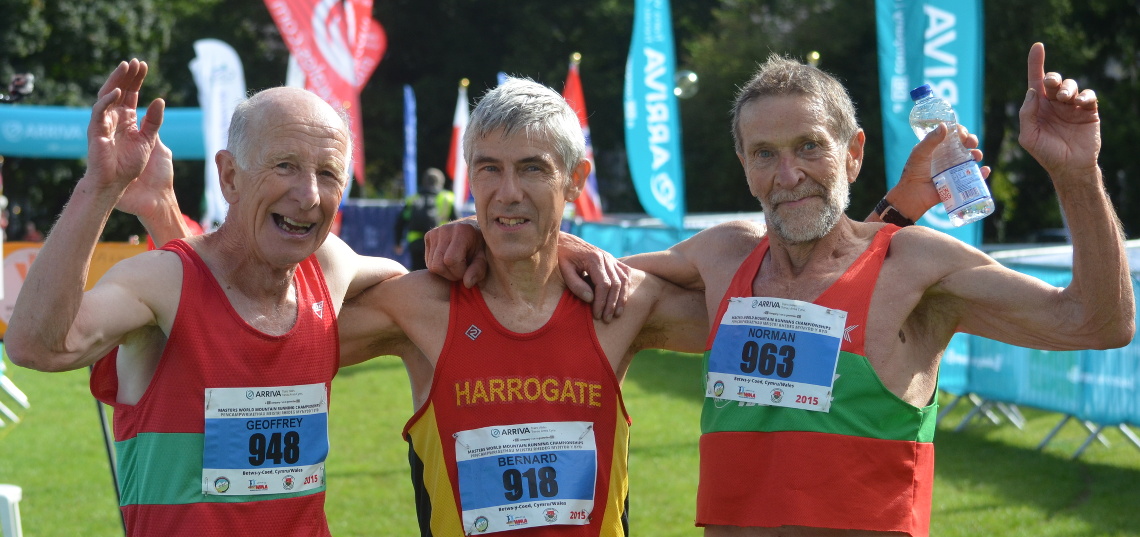 Ilkley Harriers now has TWO WORLD CHAMPIONS from the WMRC's World Masters Championship in Snowdonia! Norman Bush in the V75 class, and Geoff Howard V70. Results ...

8.7km 55+
(1 40:35  Franz Prager, Ger, M55)
55 48:57 Norman Bush 1st V75
56 48:57 Geoff Howard 1st V70
205 finished

10.6km 35+
(1  42:04 Zac Freudenberg, AV23)
71  50:36 Mark Mon-Williams 15th V50
147 58:15 Sally Malir 5th F50
158 59:32 Jann Smith 12th F45 
217 finished

Rombalds Romp, Sat 12 Sep
From Dan Wilkinson ... Some great results with Kelly Wilby 3rd and Sarah Edwards getting 3rd open prize. David Foyston was 6th in the trail race and John and Dan Hayes battled it out finishing a minute apart and both in the top 20. I managed 2nd place but didn't quite have the legs or lungs to match Wharfedale's Lee Athersmith. Results ...

(1 45:30 Lee Athersmith, Wharfedale)
2  46:12 Dan Wilkinson
12 50:49 Jamie Hutchinson
15 52:09 John Hayes
18 53:06 Daniel Hayes
33 58:05 David Foyston
48 64:11 Kelly Wilby
65 67:11 Sarah Edwards
80 72:07 Sue Morley
114 finished

Great Westmorland Trail Race, Sat 12 Sep
From David Chandler ... A great trail race through the rolling Cumbrian hills, the early wind and rain gave way to blue skies and a beautiful afternoon. After a few weeks out this certainly blew away the cobwebs with 7 miles of very runnable undulating trail and a superb 'Westmorland afternoon tea' at the finish. Many thanks to the Howgill Harriers!
Results to follow, provisionally 20th in around 54:24.
parkruns, Sat 12 Sep
From Petra Bijsterveld ... A long awaited win at Skipton for junior Oscar Stapleton this week! Results ...

Leeds Woodhouse Moor
(1  16:24 unknown)
131 25:28 Tom Worboys
333 ran

Skipton Aireville Park
1   18:31 Oscar Stapleton (junior)
32  23:19 Harry Sime
33  23:20 Robert Sime
69  27:32 Kathryn Sugden
113 ran

League update
From Martin Wight ... the latest Ilkley Harriers Race League update, after 16 races.
Ilkley Harriers of the Month, August
Dan Wilkinson
New email newsletter
Other nominations were:
Brian Melia - Joss Naylor Challenge
Dave Wilby - Glencoe Skyline
David Chandler
Burnsall races, and improvement
More Harriers of the Month ...
Wetherby Run 10k, Sun 6 Sep

(1  33:56 Mike Burrett, Leeds)
84  42:42 Michael Duffield
101 43:44 Dave Robson
156 46:19 Phil Hirst
299 51:53 Peter Lewis
705 finished

This was an Ilkley Harriers Race League counter.
Bradley fell race, Sun 6 Sep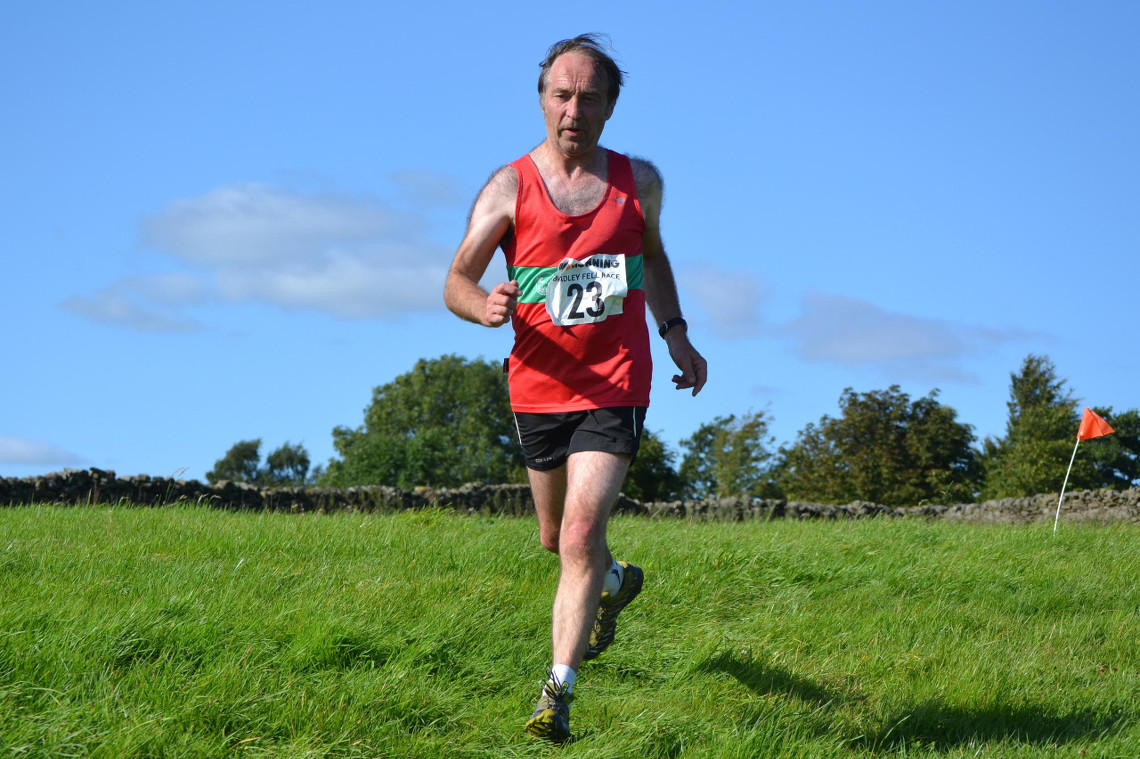 (1 24:25 Craig Shearer, KCAC)
50 38:45 Kelly Wilby
52 38:57 Sue Morley 1st F60
60 43:16 Eric Morley
66 finished

Ben Nevis fell race, Sat 5 Sep
From Peter Shields ... Nick Pearce, Kate Pearce and Pete Shields went up to Fort William this weekend to run the Ben Nevis Race. This was Kate's first run at the Ben where she handled the ferocious ascent and decent of the mountain as if it had been a regular event in her diary. Nick and Pete have been regular contenders to this race over the years, usually looking at different forms of transport to get there. Previously they have cycled there from Lands End and also walked from Glasgow. This year they caught the night sleeper to Inverness and then mountain biked over the Great Glen to Fort William. To say the route was technical in mountain biking terms would be an understatement but after 11 hrs of riding the bikes survived the trip, as for the riders the jury is still out!!
The race was held in great conditions, quite unusual for this event as for once the tops could be seen from ground level, there was still a little residual snow left on the mountain as a reminder how delicately balanced Mother Nature can be.
Nick and Kate got off to a great start, climbing to the summit with no great problems. The descent covered various stretches of different surfaces (big unstable boulders followed by fast moving scree, all at a steep angle).
Once that had been overcome there was the infamous Red Burn, equally as steep as the scree this was sodden grass that allowed no moment to relax. Placing their feet needed a real concentrated effort but that did not stop everyone dramatically falling or sliding which knocked any momentum the runners had going forward. There was still a difficult path to encounter where concentration and good foot placement were essential. Finally there was the 'coup de grace': three quarters of a mile of undulating tarmac road, where everyone struggled in one form or another, treading water would be the best generalisation.
Nick and Kate coped with all of that and also looked remarkably healthy running to the finish. Nick finished in 2hrs 10mins taking a very prestigious first vet 60 title. Kate finished in a time of 2hrs 25 mins a most commendable first attempt.
Peter had a different experience, health not being too good of late. He got to the start line with a plan but that was quickly changed as the race climbed, he pulled out after 30 mins of climbing but was luckily enough to see the winner, Finlay Wild, descend the mountain at an unbelievable pace, finishing in a time of 1hr 31mins, This was his sixth consecutive win! Rob Jebb of BIngley Harriers was second,, six minutes later. Diane Wilson of Dromore AC was First Lady in what looked to be an effortless 2hrs and 41seconds.
One has to applaud Nick Pearce, his results over the last year have been outstanding, winning many prestigious races within his age group. Nick now heads to Wales next weekend for the World Masters race where he must go in with a great deal of confidence.
Results ...

(1 1:30:56 Finlay Wild, Lochaber)
125 2:10:54 Nick Pearce 1st V60
232 2:24:55 Kate Archer
486 finished

Howgills Capricorn, Sat 5 Sep
From Dave Wilby ... The Capricorn was a score navigational event set this year in the perfect fell running territory of the Howgills, and offering courses of 3, 4 or 5hrs. The 5hr course was solo only and I managed to claim 8th place with 348 points. Jamie Hutchinson was 11th with 323, and Outi Kamarainen was 14th with 305. More importantly Outi also took the ladies title in a very closely fought battle, and with it a superb trophy displaying some very famous names.
In the 3hr event, pairs were permitted and Steve Turland teamed up with Fionnuala Swan to claim 3rd overall with 189 points.
parkruns, Sat 5 Sep
From Petra Bijsterveld ... Results ...

Bradford Lister Park
(1  16:47 Will Kerr, Saltaire Striders)
120 25:43 Alex Hyde
431 ran

Harrogate Stray
(1  18:33 Stephen Ellison, U/A)
133 27:02 Julie Elmes
327 ran

Hilly Fields, Lewisham
(1  17:32 Mark Lally, Beckenham RC)
2   17:55 Alex Hirst
179 ran

Skipton Aireville Park
(1  17:21 Tom Brewster, Clayton le Moor Harriers)
23  21:52 Lewis Carr (junior)
66  25:53 Dylan Shinn (junior)
100 27:58 Kathryn Sugden
115 29:13 Dylan Carr (junior)
185 ran

Ilkley Incline, Wed 2 Sep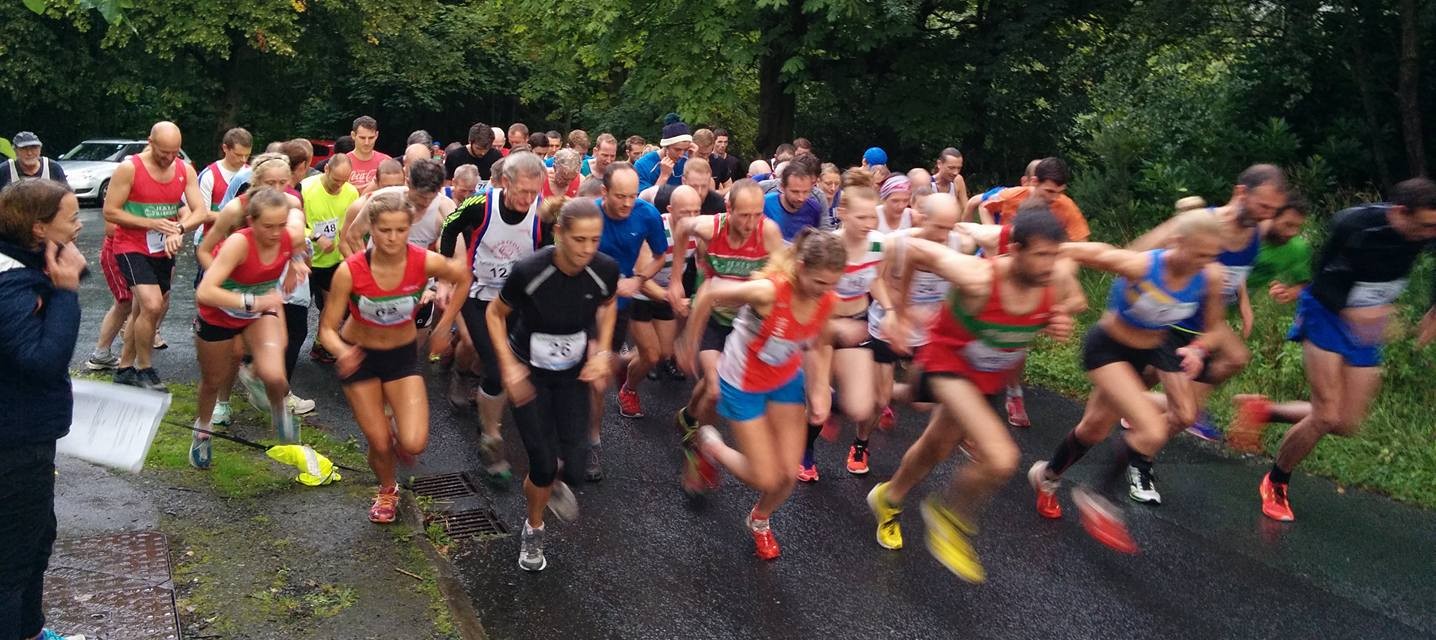 80 runners, and Tom Adams and Emma Clayton just outside the course records. Thanks to all the runners and marshals, and a big thank you to new organisers Helen & Dick Waddington.
This was an Ilkley Harriers Race League counter.
From Dick Waddington ... hank you to all of the 80 runners who turned out on what was at times a pretty grim night. We were delighted to see so many of you turning up to do this short but tough race. The conditions were very wet so sadly no records broken this year - both Tom Adams and Emma Clayton (current women's record holder) missed out by just 2 seconds each, but what incredible performances from them both. Performances were amazing across all categories and ages, so well done to you all.
Huge thanks go to all the volunteers who helped make this race possible. This was our first time organising this (or any!) race and we were both nervous about mucking it up! We could not have managed without such strong and capable support. In particular Sarah Hayes, Alison and Nea Weston (registration) John Hayes (tent support and marshalling) Julie, Toni and Lana Melechi (marshalling and finish), Neil Chapman (timing and finish), Rachel Carter (finish), Andy Jackson (finish), Jane McCarthy (results), Shirley and Paul (results), Rob King and Andrew McCarthy (super-quick MTB results delivery service), Jane Bryant and Jacqui Weston (marshalling and support) and Sarah Hayes again (sweeper). If we have forgotten anybody please forgive us!!!
We had some great prizes this year from a bigger spread of generous sponsors - thanks go to the Complete Runner, Ilkley Physio, Fuggle & Golding and Appleyard Lees.
It's been a steep learning curve organising a race for the first time, but hopefully next year will run like clockwork!
The senior race was preceded by the Junior Sprint fell Relays, fast and fun with 19 teams, with new organiser Jane McCarthy, junior sprint relay results.
Evening training, remember to 'Go with the Fluo'
Notice: The evenings are getting dark now and it is important on the evening Club runs to give a lot of consideration to your visibility to car drivers.
A fluorescent top helps you stand out in poor lighting conditions.
Reflective trim on your clothing will show up in car headlights.
A flashing red LED light attached to your clothing can help too (but take care with head-torches as they could dazzle car drivers).
Kilnsey Show fell race, Tue 1 Sep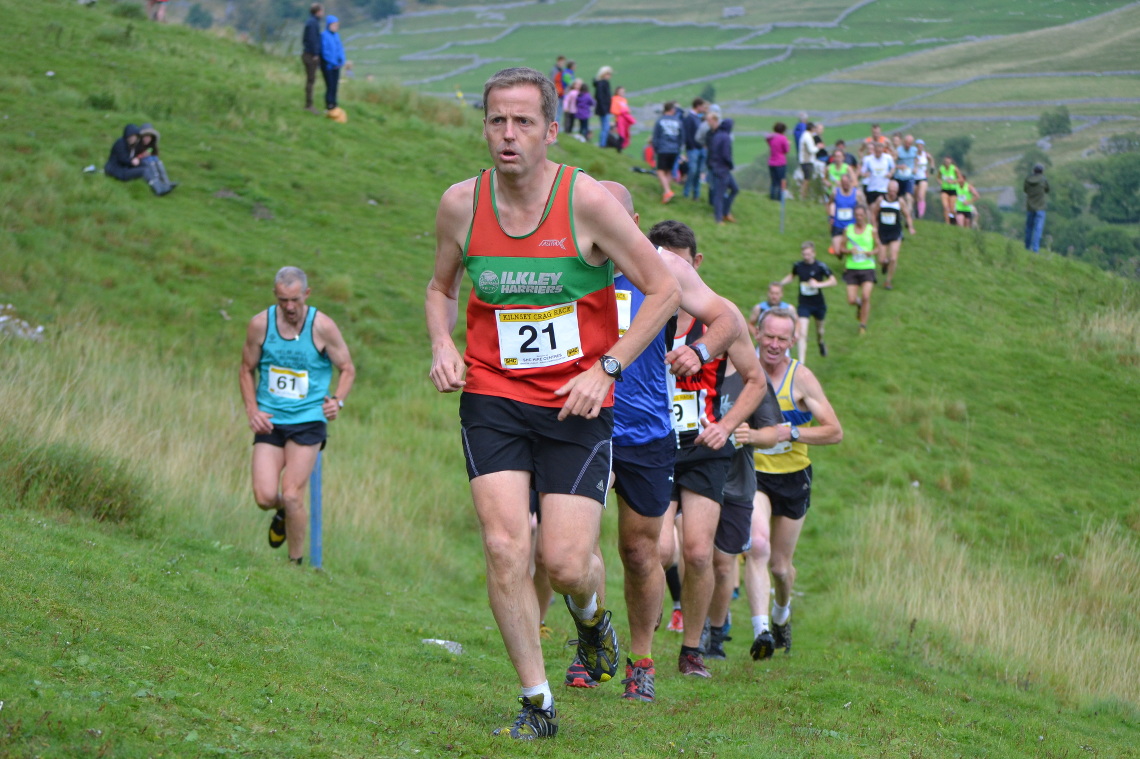 (1  8:01 Simon Bailey, Mercia)
27 10:54 Steve Turland
86 finished

Tour of Norland fell race, Mon 31 Aug
From Eric Morley ... This race was 10km with about 800ft of climb and run from Copley Cricket Club near Halifax. Most of the climb was in the first hill upto a lovely heather clad moor. A good beginner fell race. The race with 87 entrants was won by Rob James-Royton.

(1 37:51 Rob James Royton
65 59:20 Sue Morley
80 65:57 Eric Morley
87 ran

Rab mini mountain marathon, Sat 29 Aug
From Jamie Hutchinson ... Round 3 of 4 took place from Millbeck near Keswick. Four hours of fantastic running and some walking, around and over Skiddaw. I picked up 330 points and 9th overall. The race was won by Neil Talbott (U/A) with 415 points, 117 pairs/solos ran.
Arnison Crag Horseshoe, Sat 29 Aug
From Dave Wilby ... Bit of a shock to the legs and lungs to do a guides style race again, lovely little race with a long runnable grassy climb up and round the horseshoe, before a short sharp loose rocky descent back to the finish field. Never really got going but hung on for 5th in 27:14, behind Ben Abdelnoor who was a clear winner in 24:27.
Malham Show fell race, Sat 29 Aug
From Richard Joel ... 106 runners completed the senior BOFRA race at the Malham Show. This followed a number of junior races. The senior race is 2.5 miles up and back down the steep course. A great race and a fantastic family day out. Results ....

(1 17:53 Ted Mason, Wharfedale)
16 21:45 Steve Turland
24 22:43 Richard Joel
33 24:27 Norman Bush
107 finished

parkruns, Sat 29 Aug
From Petra Bijsterveld ... Results ...

Leeds Woodhouse Moor
(1  16:14 Adam Stacey, U/A)
113 22:58 Harry Stead (junior)
216 27:28 Max Stead (junior)
363 ran

Bradford Lister Park
(1  17:12 Will Kerr, Saltaire Striders)
321 34:13 Alex Hyde
432 ran

Hilly Fields Lewisham
(1  17:13 Noah Armitage-Hookes, U/A)
4   18:01 Alex Hirst
146 ran

Clair
(1  17:46 Louis Taub, Brighton and Hove City AC)
9   19:58 Andrew Overend
134 ran

Skipton Aireville Park
(1  17:34 Allen Bush, U/A)
33  22:36 Harry Sime
34  22:36 Robert Sime
166 ran

Rochdale Half Marathon, Sun 23 Aug
Harry Sime reports ... This was Rochdale's inaugural half marathon starting in front of the iconic town hall. There was a fun run followed by a 10k which started 10 minutes before the HM. The HM was 2 laps of a slightly extended 10k course. Overall about 1500 runners so first lap more crowded than the 2nd. It was well marshalled with water stations offering full bottles every 5k which was appreciated given the warm humid conditions. Roads were closed too. Other than the finish it was not a very memorable course although we were glad that there were no steep hills to remember but it wasn't flat either. Robert and I were the only Harriers and we were both pleased with our times for our first HM. Results ...

(1  1:13:09 Dave Archer, Hallamshire)
123 1:44:07 Harry Sime
124 1:44:07 Robert Sime
508 finished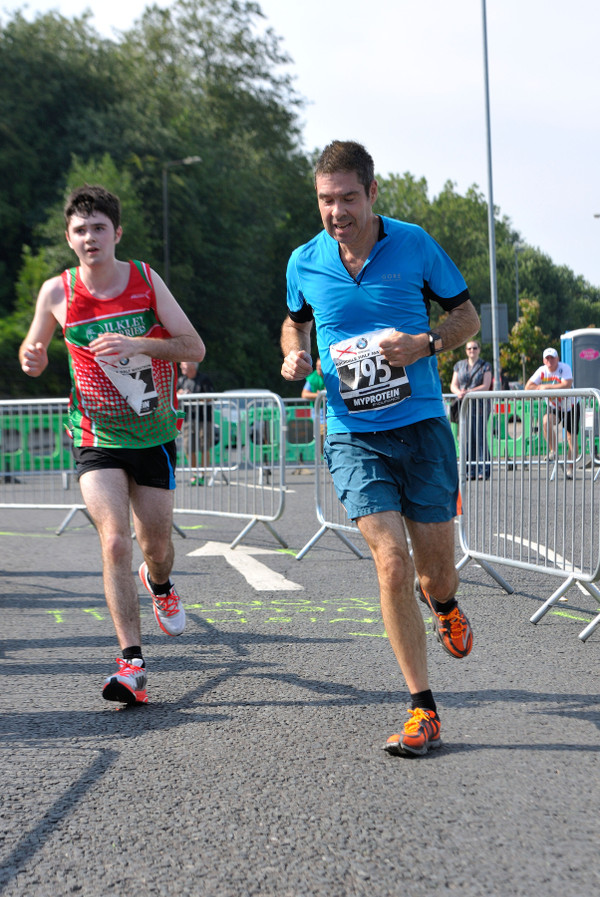 Burnsall 10, Sat 22 Aug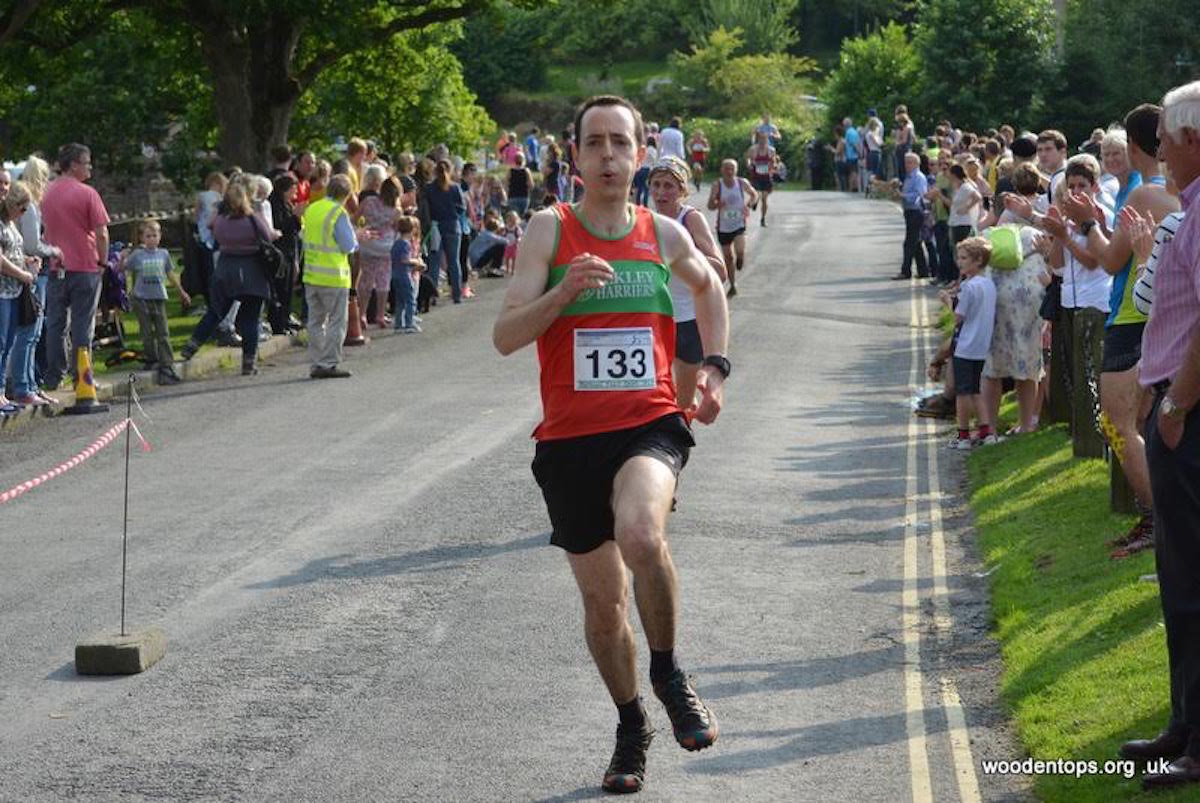 Hilda Coulsey reports ... Another great afternoon of sports and fun in Burnsall. It was hot and muggy, times were slow in the road race and less well attended this year whereas the fell race attracted a much larger group. Rob Cunningham come in first Harrier home for the 10 mile road race and Ben Shepherd in the Classic fell race. Crazy David Chandler did both. Prizes to Hilda Coulsey for 1st L50 in the road race and to Alison Weston, 1st L50 on the fell. Congratulations to all who entered. There were plenty of good junior performances too and lots of other good fun as well culminating in the fiercely contested egg throwing. All completed before the heavens opened.

(1  56:01 Ian Holmes, Bingley)
25  67:36 Rob Cunningham
35  70:27 David Chandler
78  85:18 Jean Sullivan
90  92:11 Hilda Coulsey
96  94:36 Paul Sugden
102 98:20 Petra Bijsterveld
116 finished

This was an Ilkley Harriers Race League counter.
From Hilda ... We have queried the times given to those of us in the second half of the race, with Garmin time about 3 mins faster than Burnsall time, and according to the organiser others also reported the problem. However there isn't anything that can be done and hence, as we say on our League webpage "only official published results are used", these times will be used in the calculations. Apologies to those affected.
Burnsall Classic fell race, Sat 22 Aug

(1  14:49 Sam Tosh)
17  18:32 Ben Sheppard
26  19:13 Steve Turland
37  20:01 Richard Joel
77  22:56 Paddy Hagan
78  23:05 David Chandler
83  23:22 Alison Weston
156 finished
5th team

Pendle 3 Peaks, Sat 22 Aug
From Jamie Hutchinson ... 9 miles and 2800ft climb. A great little race around and over Pendle Hill, very similar running to previous weekend at Sedbergh - soft underfoot with plenty of up and down. The race starts with the first and last few kms on tarmac and then three descent climbs and nicely runnable in between. I made it round in 1:43:11 and 21st overall with Nick Pearce just a few minutes behind me in 1:46:49 and 28th overall (1st V60). The race was won by Darren Kay from Calder Valley in 1:24:47, 149 ran.
Glencoe Skyline, Sat 22 Aug
From Dave Wilby ... 53km/4200m It's fell running Jim, but not as we know it. Weighing in at roughly half a Bob Graham, or back to back Jura's, the first ever Glencoe Skyline race brought a world class course and event management to a small corner of Scotland under the banner of Skyrunning. The route was exceptional taking in all the major summits of Glencoe in a very natural loop, and for good measure included the graded scrambles of Curved Ridge and a full length traverse of the Aonach Eagach ridge. Nothing was roped but there were mountain guides stationed on the hill in case of any difficulties, the whole course was flagged, and there were plenty of cameramen at opportune points! All the checkpoint marshalls were issued with cowbells, and there were groups of supporters all over the place which gave the race a real European feel, and made the whole thing an amazing experience. All competitors also carried GPS trackers so the folks at home could join in the fun watching the dots all day! For my part I came into the race doubting I'd last the course, but a mixture of good pacing and the inspirational race atmosphere meant it was only in the last two hours that the wheels wobbled, loosened and then eventually fell off completely. I had a great day out and was chuffed to bits to claim 25th place out of 148 very well vetted starters, in a time of 9:11hrs. The winner was Joe Symonds in 7:36hrs but as so often this summer the ladies stole the show. Current world champ Emelie Forsberg was 2nd overall in 7:44 and Jasmin Paris was 5th overall, only 10 minutes behind Emelie despite not feeling very well at times. It looks like this will happen again next year and I don't think it will take long for it to overtake all other Skyraces as the 'one to do', so get it on your list and get training.
parkruns, Sat 22 Aug
From Petra Bijsterveld ... Results ...

Leeds Woodhouse Moor
(1  16:34 Christopher Mann, Hyde Park Harriers)
117 24:49 Andrew Overend
307 ran

Bradford Lister Park
(1  18:12 Michael Malyon, Baildon Runners)
255 34:33 Alex Hyde
347 ran

Mile End
(1  16:09 Paul Martelletti, Victoria Park Harriers and Tower Hamlets AC)
26  20:27 Tom Worboys
181 ran

Hilly Fields Lewisham
(1  17:36 Noah Armitage-Hookes, U/A)
2   17:58 Alex Hirst
152 ran

Skipton Aireville Park
(1  18:09 James Raven, Cardiff AAC)
41  24:45 Dylan Shinn (junior)
76  30:59 Michelle Snow
102 ran

Skala uphill only race, Norway, August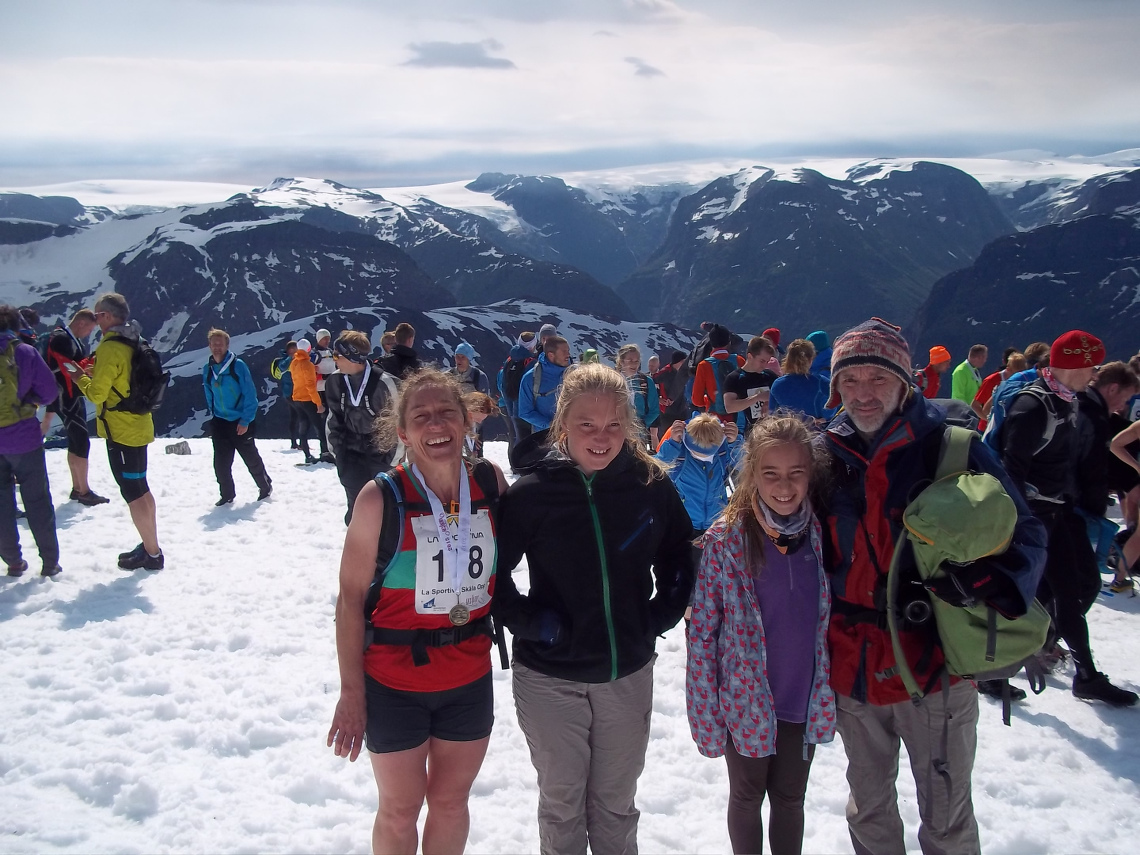 From Alison Weson ... we have just returned from almost 3 weeks in Norway and I took part in the uphill only race up mount Skala in Loen, just near the Nordfjord. It was about 1,842 m of climbing in 8.2 km from sea level. Pretty steep gradient all the way. There was no official kit list but you needed to carry a rucksack weighing at least 2.5kg at the bottom and top of the climb, with weighing scales provided at the start of the race! I struggled to get my pack to 2.5kg despite my heaviest gear and had to add plenty of food and water, despite there being 5 water stations on the way up.
The route past some very impressive waterfalls and the views from the top were amazing. There was quite a bit of snow from about 1,200m and big chunks of ice on a tarn halfway up. Felt very unusual for August! Graham and the gilrs set off walking up about 3 hours ahead of me and we timed it pretty well to meet up at the top. I reached the top in 2 hours 10, a whole hour behind the winning man. Lots of photos and admiring the surronding peaks and glaciers before everyone descended at their own pace. It seemed at lot further going down though!
Sedbergh Hills, Sun 16 Aug
From Jamie Hutchinson ... 14 miles and 6000ft climb. I knew this would be a toughie having done a few training runs in the area with Brian. Safe to say I made a steady start knowing what was to come. With 6000ft climb in 14 miles you can imagine there's a fair amount of walking uphill. The warm conditions with very little breeze made for a tough few hours. I felt fairly strong until the climb up to the Calf where I seemed to go backwards. Within the last few miles I realised I might be pushing it to get under 3 hours so put in a bit more effort and almost did it! I finished in 3 hours 45 seconds and 43rd overall. The race was won by Jo Symonds in 2:13:40, 121 ran.
Dig Deep Intro Ultra, Sat 15 Aug
From Andrew Merrick ... given the running exploits of a number of Harriers this summer, I am not sure I am worthy to use the U word, but I can recommend this race for anyone wanting to make a small step up from marathon distance to experience something a little different.
Based at a farm park in the Peak District, this was a well organised friendly event, with various presentations organised for the Friday night (together with pasta and local beer) in the barn that was the race headquarters. A longer distance (60 mile) race started at 6am on the Saturday morning with our 30 miler getting underway at 8. Pre race reccying essential, although the first and last few miles were signposted, as we headed off into beautiful but hilly Peak District countryside on a clear cool day - perfect running conditions.
A useful early ultra experience of in-flight refuelling both for me and my Garmin (a USB charger does work, although you can't access distance and time info whilst charging although it does continue to record). The one large food station was sufficient as were the three serious hills.
The location and relaxed nature of this event means it is one I would recommend as an ultra taster.

(1 4:26:54 Lee Kemp)
13 5:17:47 Andrew Merrick
129 finished

parkruns, Sat 15 Aug
From Petra Bijsterveld ... Results ...

Leeds Woodhouse Moor
(1  16:43 John Hobbs, Valley Striders)
7   18:03 Oscar Stapleton (junior)
120 23:46 Harry Stead (junior)
352 35:58 John Marshall
370 ran

Bradford Lister Park
(1  17:54 Andrew Siddle, Doncaster AC)
93  24:57 Peter Lewis
109 25:27 Alex Hyde
441 ran

Hilly Fields, Lewisham
(1  17:19 unknown)
5   18:38 Alex Hirst
148 ran

Skipton Aireville Park
(1  17:31 Tom Brewster, Clayton le Moors)
30  22:22 Harry Sime
31  22:22 Robert Sime
149 ran

Fountains Abbey
(1  16:57 Allen Bush, U/A)
28  20:51 Geoff Howard
39  22:10 Norman Bush
238 ran

Round Hill fell race, Sun 9 Aug
From Michael Duffield ... Results ...

(1    55:35 Lee Athersmith, Wharfedale)
15  1:05:09 Rob Cunningham
18  1:05:28 John Hayes
20  1:06:07 David Chandler
23  1:06:52 Nick Pearce
31  1:09:17 Micheal Duffield
36  1:10:52 Steven Weston
41  1:11:43 Dave Robson
50  1:13:38 Malcolm Pickering
55  1:15:05 Rebecca Mon-Williams
84  1:23:40 Philip Hurst
90  1:26:03 Chantel Busby
91  1:26:13 Peter Lewis
102 1:30:07 Sue Morley
106 1:32:13 Nigel Tapper
110 1:34:04 David Green
117 1:37:38 Paul Sugden
120 1:42:44 Sally Wright
121 1:43:16 Petra Bijsterveld
129 finished

This was an Ilkley Harriers Race League counter.
Joss Naylor Challenge, Sat 8 Aug
From Brian Melia... on Saturday 8th August at 6.00 am I began a Joss Naylor Challenge. Covering some 30 tops 48 miles and 17000 feet of ascent.
I had help from Pooley Bridge to Dunmail from Jamie Hutchison and Matt Neale. Then Dunmail to Joss's place at Greendale Bridge from Tom Phillips.
I started badly falling backwards over the sign in Pooley bridge gashing my leg and stunning myself, whilst trying to explain to another runner's support that I was leaving at 6 as Jamie and Matt were still in the loo and I had to set off!
I made Arthur's Pike on time at 6.35, but then i started to drop time at each top. I arrived at Kirkstone pass 9 minutes down then Dunmail raise 20 minutes down.
Tom encouraged me up Steel fell and Raise, but I lost more time. It was very wet under foot and energy sapping. Things stabilised across the Sca Fell massif, but I still arrived at Styhead 40 minutes down. I asked Tom if we should stop, but he wanted at least to go up Great Gable. Without stopping for any rest, I trotted up Gable to pull back 5 minutes and this helped surge me on, taking minutes here and there. Finally, coming off Haycock up to Seatallan I was able to think about getting under 12 hours, the cut off time for my age, 51 yrs old.
At Middle Fell I arrived at 17.40 with 20 minutes to get to Greendale. We ran hard off the top and happily I arrived at the finish 17.55.38secs. Jamie was not there as he expected me an hour later... he said he was snoozing!!
It was a magical day and made more special with Joss waiting to have a chat. A few minutes later Wendy Dodds also arrived for the celebration - two legends!!
My thanks to Tom Phillips, Jamie, and Matt Neale for their superb support. I was pleased I did not need to have another attempt as it has taken a lot out of me, which later on reflection has become apparent.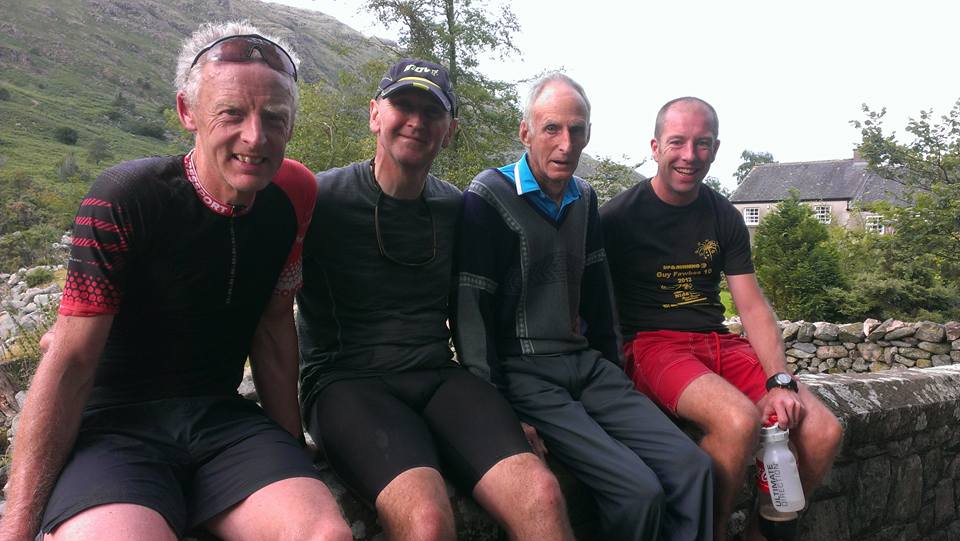 Turner Landscape, Sat 8 Aug

(1 1.30:38 Ben Abdelnoor, Ambleside AC)
8  1.40:32 Dan Wilkinson
31 1.57:36 Kate Archer  2nd lady
97 finished

Arncliffe Gala, Sat 8 Aug

(1 10:23 Simon Bailey, Mercia FR)
11 12:32 Mark Mon-Williams
101 finished

parkruns, Sat 8 Aug
From Petra Bijsterveld ... Results ...

Harrogate Stray
(1 17:42 Stephen Ellison, U/A)
6   18:37 Euan Brennan (junior)
351 ran

Skipton Aireville Park
(1  17:29 Lee Athersmith, RAF AC)
26  22:25 Harry Sime
27  22:26 Robert Sime
30  22:31 Archie Budding (junior)
32  22:46 Dylan Shinn (junior)
62  25:40 Hilda Coulsey
112 30:55 Michelle Snow
145 ran

Farleton Knott, Sun 2 Aug

(1 33:41 Tom Addison, Helm Hill)
31 45:45 Steve Turland
73 finished

parkruns, Sat 1 Aug
From Petra Bijsterveld ... Results ...

Preston
(1  16:45 Andrew Benson, Preston Harriers)
7   18:34 Oscar Stapleton (junior)
253 ran

Harrogate Stray
(1  17:15 Ed Beecher, Harrogate Harriers)
18  19:36 Euan Brennan (junior)
163 26:36 Julie Elmes
314 ran

Skipton Aireville Park
(1  18:09 Lee Athersmith, RAF AC)
24  22:56 Harry Sime
25  22:57 Robert Sime
121 ran

Humber Bridge
(1  19:00 Mick Clifford, U/A)
22  24:38 Sarah Edwards
62 ran

---