Ilkley Harriers Ilkley Moor fell race
The Ilkley Moor Fell Race has been staged by Ilkley Harriers every year since 1990. It is a hard fell race in Winter and is not suitable for beginners as there are some steep, slippery, and rocky descents.
Pete Bland Sports are again generously supporting the race in 2015, providing winners' prizes and race numbers, and their travelling shop will be at the event.
2015 results
2015 Photos
More on Facebook and Twitter
2015 Details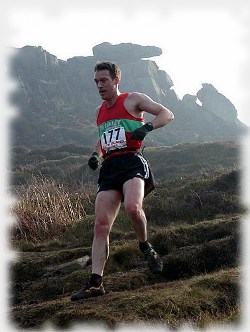 Sunday 22nd February 2015
Under FRA Rules
Race starts at 11.30am
AS (Category A, Short) fell race - 8km, 401m climb
Age 16+ (16 on the day of the race)
Demanding course (see description and course map)
ER - Experience Required, PM - course part-marked
Records - 35:31 Simon Bailey 2004; 42:03 Emma Clayton 2014
Start from near Wells Road, Ilkley GR 115470, nearest postcode LS29 9RF but do approach via Ilkley not over Keighley Gate Road by car.
Limit of 300 runners, no transfer of entries allowed, no refunds (in the unlikely event that we have to cancel the race we will endeavour to reschedule the race)
Race full (12 Feb), online entry provided by Sports Entry Solutions
Race number collection from 10.30 on the day.
On race day you will have to provide some ID (eg driving license, passport, metrocard) to demonstrate you are who you say you are and sign as a record that you have picked up your number.
U18 runners who have entered online must bring a completed FRA entry form to demonstrate that they have approval from a parent/guardian.
Any runner deciding to abandon after they have picked up their number must notify the race organiser as soon as possible.
The FRA Safety Requirements for fell races require thay you bring full FRA safety kit to the race. Based on previous years, most likely you will have to carry a windproof/waterproof top, but you may also have to carry other items from the FRA safety kit list, and if there are any kit requirements specified on the day there will be random kit checks.
Prizes: trophies for 1st man, 1st lady, 1st local man and lady (local meaning 1st-claim Ilkley Harrier). A long prize list for other categories including 1st men's (4) team and 1st ladies (3) team (bona fide clubs).
Cancellation? In the event of severe weather or other circumstances forcing cancellation, this will be notified here, and local clubs will be advised.
Hot drinks are available at the event again from Cafe2U
Junior races start from 10.30am, entry on the day only from 9.30am - more info on the junior page
Since 2013 we have had to obtain SSSI consent from Natural England for the event to proceed: one of the conditions set by them is that a no smoking policy is introduced for spectators, event organisers and participants.
Still got a question? See if it's been answered on the FRA forum thread on the race, ask it there, or email the RO Steve IMFR@ilkleyharriers.org.uk
Archive