The Ilkley Moor fell race was the first race that Ilkley Harriers offered junior races at, in February 2003. They've got better every year, with 86 children running in 2005, and 119 in 2006. There were 5 new records and one equalled.
Results 2006
You can download the results in

MS Excel format, or

Adobe PDF format
Photos 2006

Click here for lots of photos.

Click here for Dave Woodhead's photos.

Click here for Tim Done's photos.
Map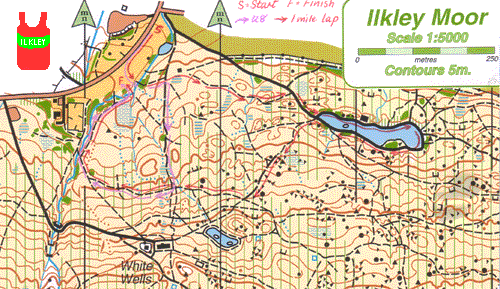 Thanks to Airienteers for use of this map.
Details
Sunday 25th February 2007, starts from 10.30
Entry on the day only, £1, registration open 9.30am
U8 (min age 6 on 1 Jan 2007), 0.5 mile
U10/U12/U14, 1 mile
U16, 2 miles (2 laps) - U14's may do the two mile race providing they speak to the organiser first.
Start on the grass near Wells Road, Ilkley GR 115470 - streetmap.co.uk
Toilet facilities in car park.
Ilkley Harriers Junior club Championship race - Phil Dean Trophies to be presented to first U10. U12, U14 & U16 girl and boy.
Lots of prizes!
Prizegiving at 11.35 - directly after the senior race start.
Records
| | | | |
| --- | --- | --- | --- |
| U8 | Marcus Preedy | Rossendale | 4.03 (2006) |
| U8 | Gabrielle Selman +Jasmin Wright | Wharfedale + U/A | 4.58 (2004 +2006) |
| U10 | Philip Done | Keighley and Craven | 8.38 (2006) |
| U10 | Georgina Spencer | Retford AC | 10.34 (2006) |
| U12 | Michael Hinchcliffe | U/A | 7.52 (2005) |
| U12 | Fiona Jordan | Ilkley Harriers | 8.22 (2005) |
| U14 | Thomas Sessford | Keighley and Craven | 6.56 (2006) |
| U14 | Holly Craig | Bingley | 8.01 (2006) |
| U16 | Sam Webster | Bingley | 13.16 (2005) |
| U16 | Alice Fulton | Bingley | 16.03 (2005) |
Archive

Click here for 2005 race results and photos

Click here for 2004 race results and photos
Click here for 2003 race results

Click here for 2003 photos (a few junior photos at the start}